My husband is taking full advantage now that I'm blogging. What you see on this blog is most often what we're having for dinner (if not the same week, in the last week or two). I really enjoy sharing what I have made and I hope you enjoy trying these recipes as well.
Recently, my husband was waiting at our local club warehouse while he was getting new tires. He came across a 'best of' issue of America's Test Kitchen. I love their shows on PBS and have tried a few of their recipes. In it he found a recipe for chicken fried steak. He called me up and asked me if I would like the magazine and I said sure. He said he would buy if I promised to make the chicken fried steak recipe. Alright, fine.
I have never had chicken fried steak and wasn't sure what to expect but I loved it! This recipe calls for sirloin steak instead of cubed steak. The steak is very tasty and very tender the way it's prepared. I personally don't like white gravy but my husband really liked it. This is the recipe that I mentioned in a previous post. My husband told me the other day that he would like me to make this dish at least once a month.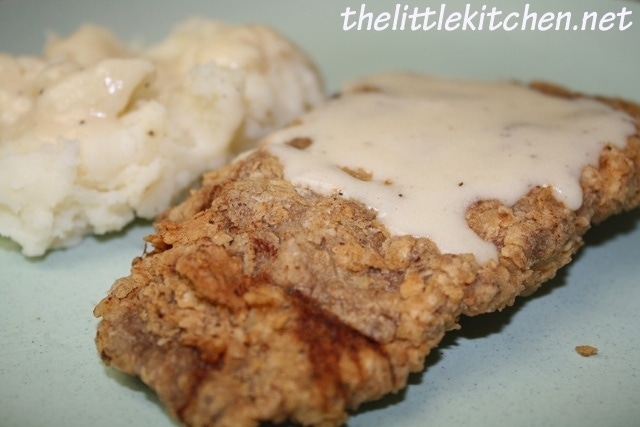 Recipe
Print
Pin
Save
Chicken Fried Steak Recipe
Ingredients
Gravy
3

Tbsp

unsalted butter

3

Tbsp

unbleached all-purpose flour

1/2

tsp

garlic powder

1 1/2

cups

low-sodium chicken broth

1 1/2

cups

whole milk

3/4

tsp

salt

1/2

tsp

pepper
Steak
3 1/2

cups

unbleached all-purpose flour

1/2

cup

cornstarch

1

Tbsp

garlic powder

1

Tbsp

onion powder

1/2

tsp

cayenne powder

2

tsp

baking powder

Salt & pepper

4

large eggs

1/4

cup

whole milk

1

pound

sirloin steak tips

flap meat cut into four 4-oz pieces- I also bought 3 sirloin tenderloin steaks & cut 1 in half to make 4 steaks

1 1/2

cups

peanut or vegetable oil

I used vegetable oil
Instructions
For the Gravy:
Melt the butter in a large skillet over medium heat.

Stir in the flour and garlic powder and cook until golden, about 2 minutes.

Slowly whisk in the broth, milk, salt and pepper and simmer until thickened, about 5 minutes.

Cover and keep warm while preparing the steak. (The gravy can be refrigerated in an airtight container for up to 2 days.)
For the Steak:
Whisk the flour, cornstarch, garlic and onion powders, cayenne, baking powder, 1 tsp salt and 2 tsp pepper in a large bowl. Transfer 1 cup of the seasoned flour to a shallow dish.

Beat the eggs in a second shallow dish.

Add the milk to the bowl with the remaining flour mixture and rub your figures until the mixture resembles coarse meal.

Pat the steaks completely dry with paper towels and season with salt and pepper.

Score the meat lightly using a knife at 1/4 inch intervals in a crosshatch pattern on each side.

Dredge each steak after scoring in the seasoned flour.

Using a meat pounder, pound the steaks to between 1/8 and 1/4 inch thick.

One at a time, coat the steaks lightly with the seasoned flour again, dip in the egg and then transfer to the bowl with the milk and flour mixture, pressing to adhere.

Arrange the steaks on a wire rack inside a rimmed baking sheet and refrigerate for 15 minutes or up to 4 hours; do not discard the milk and flour mixture.

Adjust an oven rack to the middle position and heat the oven to 200 degrees (if not already done so).

Heat the oil in a large Dutch oven over medium-high heat until just smoking.

Return 2 of the steaks to the bowl with the milk and flour mixture and turn to coat.

Fry the steaks until deep golden brown and crisp, 2 to 3 minutes per side.

Transfer to a clean wire rack set inside a rimmed baking sheet and keep warm in the oven.

Repeat with the remaining steaks. Serve with mashed potatoes and gravy.
Tips:
Often when a recipe requires hot oil to fry, I usually will heat the oil on low heat before I start anything else. This way, when I need it I can turn the oil to the correct heat level and it will heat very quickly to the correct temperature.

Be sure to prepare two cookie sheets each with a wire rack on it. Preheat the oven to 200 degrees ahead of time.

Make sure to pound the meat to at least 1/4 inch thick. I didn't get one of the steaks close to 1/4 and I think it got too thick for my taste when I fried it.
Notes
from The Best of America's Test Kitchen Recipes and Reviews 2010 Magazine
Now on to the giveaway, after making several of the recipes in America's Test Kitchen magazine (and enjoying most of them), I decided to buy the annual 2010 cookbook which is the expanded version of this magazine…so what do with the magazine? I'm giving it away along with a Kitchen Aid spatula. I love this spatula so much that I own two of them. I use them when making buttercream and royal icings and anything to do with baking.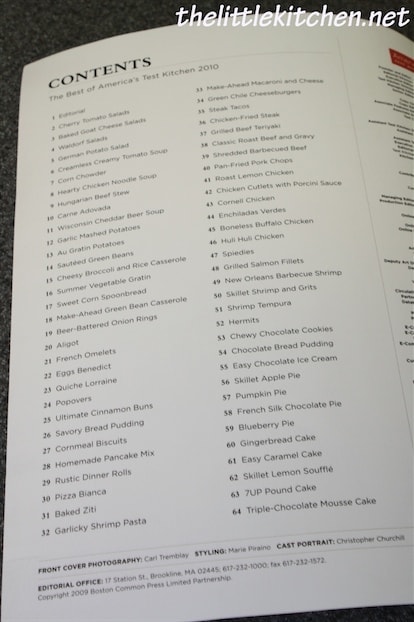 Here's a picture of the table of contents. Tons of great recipes!
How to enter this giveaway (you're eligble to enter if you have a U.S. shipping address):
Follow me on twitter and post a comment below with your twitter username.
Retweet this blog link and post a comment below with your twitter username.
Become a fan of the little kitchen on facebook and post a comment below with at least your first name and last initial.
Blog about this giveaway and post a comment with the link below.
Be sure to separately comment for each entry above (you can get up to four separate entries). If after random winner is chosen and entry is verified to be invalid, another random winner will be chosen.
You have until Tuesday, February 23, 2010 11:59pm Eastern time to enter. One winner will be chosen randomly from the comments below using random.org. The winner will be posted on this blog, on the little kitchen's facebook page and tweeted.
If you like this blog, subscribe via RSS or email to keep up with it. Also, share us with your friends on facebook!
Thanks and good luck!
A note on this blog: I currently use RapidWeaver to generate this blog's pages and am thinking about moving to WordPress. If anyone has any advice on creating a WordPress theme or moving from one blogging system to another, please email me at thelittlekitchenblog at gmail dot com. I downloaded and installed WordPress over the weekend. I have been playing around with different themes, it's a pretty neat blogging system.