KitchenAid 1000 Cooks for the Cure and 12-Cup Food Processor Giveaway (Closed)
Congratulations to Elizabeth! I hope you enjoy your food processor!!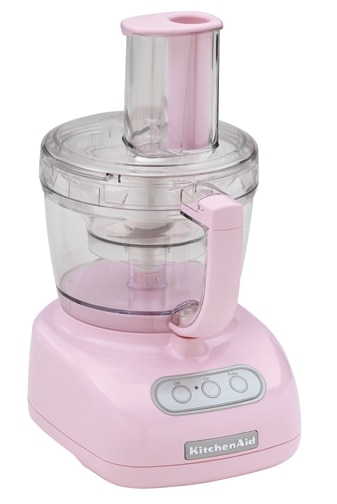 KitchenAid is once again committed to supporting Susan G. Komen for the Cure with their Cook for the Cure line. In 2011, they have promised a minimum of $450,000 in donations to the breast cancer foundation. This is the 10th year that one of my favorite appliance companies is a Komen for the Cure sponsor. Monies for the donations will come from sale and registration of pink KitchenAid products like the one pictured above, celebrity chef auctions and events like 1000 Cooks for the Cure.
For the second year, KitchenAid's goal is to have people like you and me host a Cook for the Cure party during the week of July 15-24. If you're one of the first 1000 cooks to commit to raising $50 during this time period, when you submit your donations, you'll receive a "Pass the Plate" platter. This year's plate is designed by Jacque Pepin. It's a unique and a really cool program, once you receive the plate, register it online at Cook for the Cure and every time the plate is passed on and submitted online, KitchenAid will donate an additional $5 to Komen for the Cure!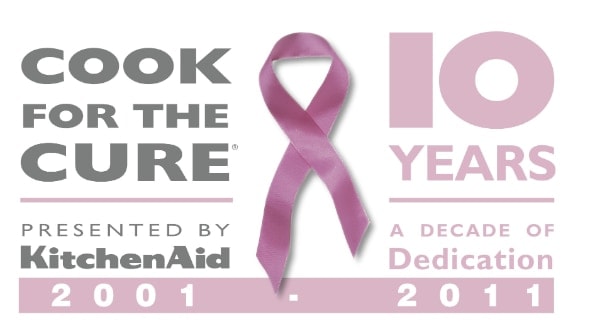 I'm hosting my first Cook for the Cure party this year and am hosting it in conjunction with my Bunko group. This month it's my turn to host Bunko so I thought I would combine the two. I'm going to ask my guests to donate at least $5. It's easy to host a Cook for the Cure party, you don't have to host a separate event if you're already planning a party or get-together with family and friends during July 15-24. Do you have a book club or scrapbooking crop? If so, you can plan your event and include a Cook for the Cure event. For more information, to register and for party tips, visit the Cook for the Cure page at KitchenAid.
I can't wait to share with you how my party goes and I hope you sign up to host one! Susan G. Komen for the Cure is an organization I happily support and volunteer with. My grandmother was diagnosed in 2006 and today is breast cancer survivor. Many, many people have been affected by breast cancer – one in eight women will be diagnosed with breast cancer in their lifetime. I appreciate companies like KitchenAid that support Komen for the Cure.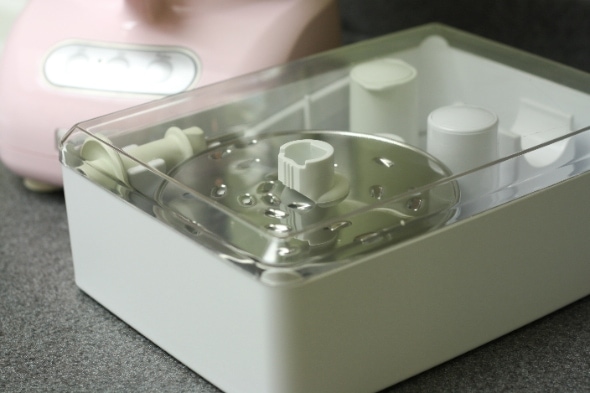 So Christmas happened once again in The Little Kitchen when my pink 12-Cup Food Processor arrived. It's so pretty and goes very nicely with my pink Artisan stand mixer. I just love love that it came with an accessory case (pictured above) that holds all of the blades, discs and other accessories.
The 12-Cup Food Processor features:
A 12-cup work bowl
A 4-Cup mini bowl & mini blade
3 Discs – a fine slicing one, a medium slicing one & a medium shredding one
a stainless steel multipurpose blade
a dough blade
Stay tuned, over the next couple of weeks, I'm going to share some great party recipes utilizing my 12-Cup Food Processor. And now for the giveaway. Please read the instructions carefully. If you don't do the mandatory entry, your bonus entries won't count. I have also added a bonus entry worth 5 entries if you register to host a Cook for the Cure party. Be sure to leave a comment for each entry!
Buy It
This pink KitchenAid 12-Cup Food Processor is available via Amazon at 28% off!
Win It
One winner chosen at random to receive a pink KitchenAid 12-Cup Food Processor. Retail value $249.99.
Mandatory Entry
Visit the KitchenAid website. Is there a product that KitchenAid offers that you have always wanted? Tell me about it. Be specific, stand mixer is not sufficient. (1 entry)
The mandatory entry must be done otherwise the bonus entries will not count.
Bonus Entries
'Like' The Little Kitchen on facebook and leave your first name & last initial in a comment below. (1 entry)
Subscribe to this blog via email and verify the subscription, the email address you leave in the email field must match the email address you subscribed with. (2 entries)
Sign up to host a Cook for the Cure party during the dates of July 15-24, 2011. Please leave the email address you registered for the party with in the email field. (5 entries)
Follow The Little Kitchen on twitter and leave your twitter handle. (1 entry)
Tweet about this giveaway w/ link and leave a link to your tweet. Use the sample tweet below or the tweet button at the bottom of this post.
Enter for a chance to win a Pink @KitchenAidUSA #CookfortheCure 12Cup Food Processor http://bit.ly/m7Jol3 via @TheLittleKitchn #Giveaway
(1 entry OR tweeps who follow me on twitter can also tweet TWICE per day for extra entries and must be as least 4 hours apart)
Click the 'Like' button at the bottom of this giveaway post. Leave your first name and last initial. (1 entry)
Follow KitchenAid on twitter and leave your twitter handle. (1 entry)
'Like' KitchenAid on facebook and leave your first name & last initial. (1 entry)
This giveaway is open to U.S. residents only (I'm very sorry to my international readers).
Leave a separate comment on this post for EACH entry to make all of your entries count. (If you already like on fb or subscribe via email, just leave a comment saying so.)
At the conclusion of the giveaway, the entry drawn as well as the mandatory entry will be checked and verified. If your entry cannot be verified at that time, it will not count.
You have until 11:59pm EST on Tuesday, July 12, 2011 to enter.
One random winner will be chosen via And the Winner is plugin (or random.org if the plugin malfunctions) from all comments submitted in this post. Once the winner is chosen, the winner will be contacted via email and if winner does not respond within 24 hours, winner forfeits prize and another winner will be chosen at random.
Some other notes on entering giveaways on The Little Kitchen:
* How to get the URL of your tweets
Disclosure: I received the same product the winner will receive. All opinions are my own and affiliate links are included in this post.