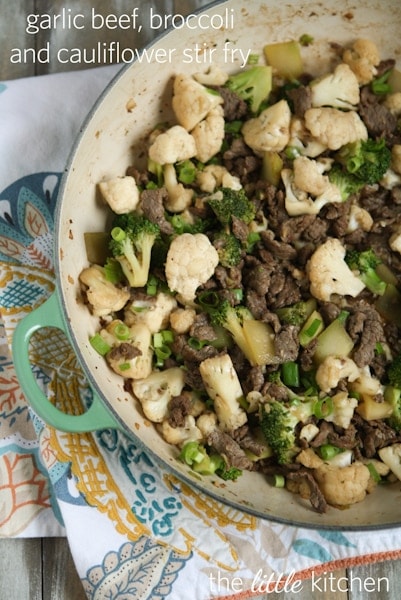 Curtis is obsessed with stir fries. I think he would like me to make them twice a week. Part of what I struggle with is making a variety of stir fries so I don't get bored with it – this garlic beef, broccoli and cauliflower stir fry is a keeper. Another thing Curtis is obsessed with is cauliflower. He swears it helps his liver. He had a little liver scare a over a year ago with some medication he was taking. He's fine now and thank goodness he is no longer taking that medication.
Anyways, he swears that cauliflower helps his liver. I just listen and after making a broccoli and beef stir fry that he loves, I started adding cauliflower to it. Amazing. I love that the cauliflower still crunchy and I love the amount of veggies we're getting.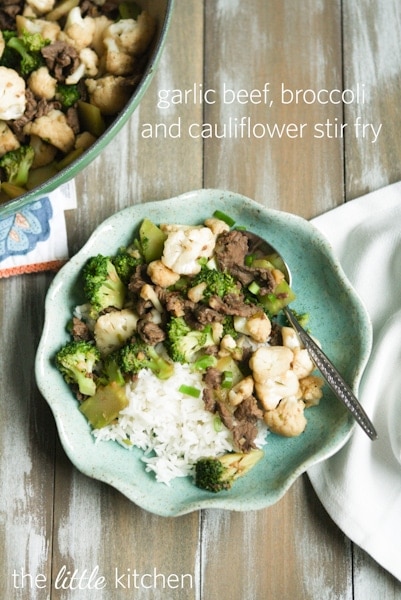 Do you notice a spoon in the picture? No chopsticks? I have a confession to make, I don't eat rice with chopsticks. I don't remember if I ever have. When I eat rice, I use a spoon or a fork. Noodle soups, that's another thing – I always use chopsticks. Uh oh and I know if my brother is reading this post, he's laughing at me. I'm still Asian, right, little brother?

This stir fry is a pretty quick meal and the most time consuming part is cutting up the beef and the vegetables – but it's completely worth it.
Recipe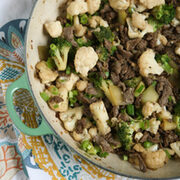 Print
Pin
Save
Garlic Beef, Broccoli & Cauliflower Stir Fry
Ingredients
3

cups

uncooked rice

7

garlic cloves

,

minced and divided in half

1

tsp

sesame oil

3 1/2

Tbsp

oyster sauce

1

lb

beef sirloin filet

,

sliced thin across the grain

salt and pepper

4

green onions

,

chopped, whites & green separated

1

Tbsp

vegetable oil

2

bundles of broccoli

,

chopped about 2-3 cups

1

head cauliflower

,

chopped about 2 cups
Instructions
Rinse and cook rice in your rice cooker according to manufacturer's instructions.

Marinate beef in 1 tsp sesame oil, half of the garlic & 1 1/2 Tbsp oyster sauce. Add salt and pepper.

Take a small bowl and add the rest of the garlic, white part of the green onions and 1/2 Tbsp oil. Mix and set aside.

Add 1/2 Tbsp oil to a large skillet or wok (I used a cast iron braiser) and turn heat to medium high. Add marinated beef and cook for 5-8 minutes, until browned. Remove beef and place onto a plate.

Add 3/4 cup water to the skillet and reduce heat to medium heat. Add broccoli & cauliflower and cover. Cook for about 5 minutes. Don't overcook the vegetables. Remove the vegetables and drain the water. Wipe the skillet with a clean paper towel if needed.

Return beef to the skillet and leaving room in the middle, add the garlic-green onion-oil mixture. Cook for 30-60 seconds and smash the garlic with the back of a wooden spoon. Incorporate the garlic mixture into the beef. Add back the broccoli and cauliflower. Add 1/2 tsp sesame oil & 2 Tbsp oyster sauce and mix together until heated through.

Season with salt and pepper. Garnish with remaining green onions and serve with rice.