Calphalon 2-Slot Toaster Giveaway (Closed)
And the winner is…Tammy! Congrats, Tammy. I hope you enjoy the toaster as much as I do!

Toasters are one of the essentials of any kitchen and a good, reliable toaster is so important. Believe me I know, the last two toasters we owned were horrible. I have learned my lesson, going cheap or scrimping on features is not worth it. We have gone through so much burnt bread, I would be embarrassed if I knew the number. So when I was offered the Calphalon 2-slot Toaster to review and giveaway, I was so excited.
I don't know how you like your breads, etc. toasted but I like mine lightly toasted. We also like to make tons of grilled cheese sandwiches and always toast it before we butter the bread which means it needs to be lightly toasted. The options on the 2-Slot toaster gives you a wide-range of darkness. The toaster has extra wide slots for those big bagels and thick-sliced breads. I love that there are different settings including defrost, bagel and reheat. And there's even a cancel button and a removable crumb tray.
The Calphalon 2-Slot toaster is apart of the Calphalon line of  Kitchen Electrics that features something Calphalon calls the Opti-Heat System. It is designed to give you accurate temperature control and the same results every time.  We're pretty happy with the consistent results we get with the Calphalon 2-Slot Toaster and I am very excited to be able to offer one to giveaway to of the little kitchen's readers.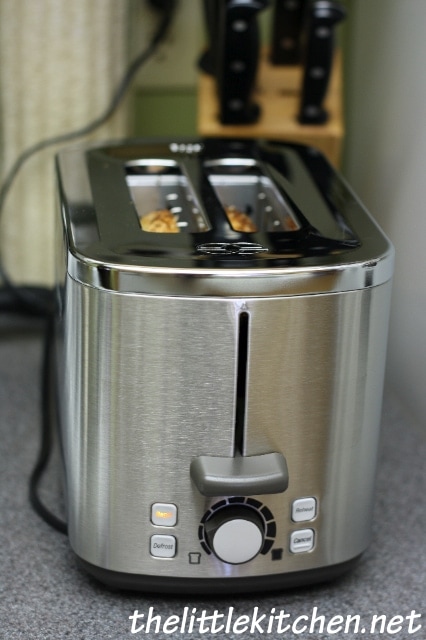 Isn't it pretty? It fits right into my little kitchen!

Buy It: For $59.95 directly from Calphalon (right now shipping is free on Calphalon.com, use code C82233 (valid thru Feb. 28, 2011) or on Amazon.com.
Win It Here! I'm happy to host a giveaway of one Calphalon Electrics 2-Slot Toaster. The toaster will ship directly from Calphalon.

Mandatory Entry: Tell me why you want to win a Calphalon 2-Slot Toaster and what you would use it mostly for. (1 entry)
The mandatory entry must be done otherwise the bonus entries will not count.
Bonus Entries (leave a separate comment for each entry, if the entry type is worth 2, leave two comments such as like TLK on fb #1, follow TLK on fb #2, etc. If you're already a fan or follower, just say so in your comment):
'Like' the little kitchen on facebook and leave your name in your comment. You can leave first name and last initial if you don't want to leave your full name. (2 entries)
Subscribe to this blog via email. Be sure to fill in the email address you're subscribing with and verify the subscription. (3 entries)
Follow Calphalon on twitter and leave your twitter handle in your comment. (1 entry)
'Like' Calphalon on facebook and leave your name in your comment. You can leave first name and last initial if you don't want to leave your full name. (1 entry)
'Like' this giveaway via facebook. Use the like button at the top or bottom of this post. Leave a comment here saying so. (1 entry)
Subscribe to this blog via RSS reader. (1 entry)
Follow me on twitter and tweet about this giveaway. Leave your twitter handle & a link to your tweet (How to get the URL of a tweet). (1 entry per day)
'I just entered in a @Calphalon 2-Slot Toaster #Giveaway at @thelittlekitchn http://bit.ly/h8eKef'
For those who don't have a twitter account or anyone else, leave a comment on any non-giveaway post and leave a comment here saying so. (1 entry per day)
This giveaway is open to U.S. residents only. Leave a separate comment for EACH entry, if you leave only one comment listing multiple entry types, you will only receive one entry. This makes it much easier for me and to make it so that all of your entries count. All entries will be checked and verified. You must enter a valid email address (so I have a way of contacting you), otherwise you forfeit the prize and another winner will be chosen. You have until 11:59pm EST on Monday, February 28, 2011 to enter. A random winner will be chosen via 'And the winner is' plugin.
Disclosure: I was provided with the same product the winner will be receiving for the purpose of this review. I was not provided with any compensation. The views and opinions expressed in this post are my own. Some links in this post are affiliate links.
Check out my other giveaways here.