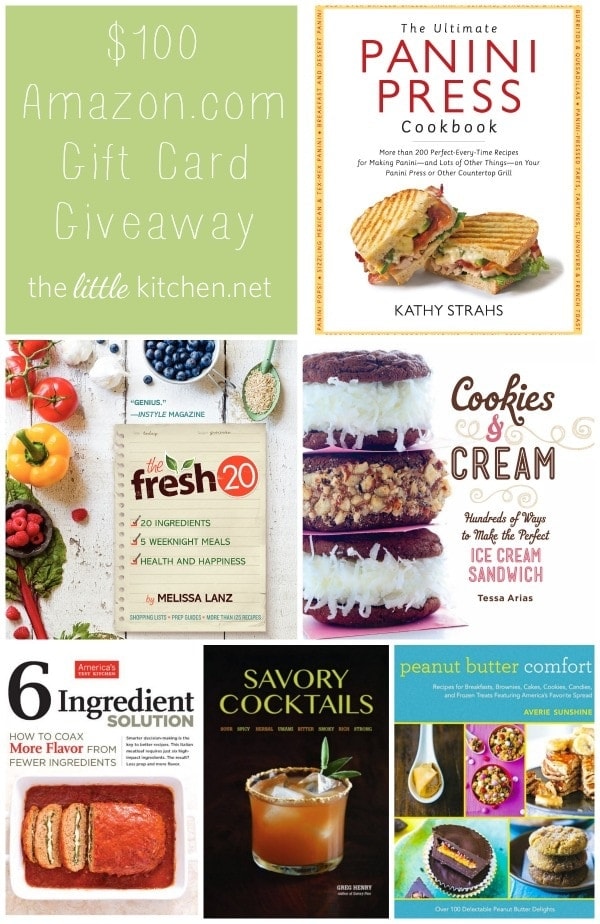 Over the last few months, I have received some pretty awesome cookbooks in my mailbox and I thought I would share a few of them with you along with a nice giveaway for $100 to Amazon.com!
The Ultimate Panini Press Cookbook: More Than 200 Perfect-Every-Time Recipes for Making Panini by Kath Strahs – this book is pretty amazing. With over 200 recipes and wonderfully inventive pan inis…my mouth is watering! On my list to make are: Greek Shrimp Panini with Pesto, Feta, and Sun-Dried Tomatoes, Burrata Caprese Tartines and the Cheeseburger Patty Melt Paninis.
The Fresh 20: 20-Ingredient Meal Plans for Health and Happiness 5 Nights a Week by Melissa Lanz – I have had this book for a few months and love opening it. It's gorgeous and I love the concept. Each week there's a 5 recipe menu that is made from 20 ingredients. LOVE IT! On my list to make are Salmon Salad Pitas, Chimichurri Fish and Pumpkin Hash.
Cookies & Cream: Hundreds of Ways to Make the Perfect Ice Cream Sandwich by Tessa Arias – I want it all. I love ice cream cookie sandwiches!! I know it's getting cooler but I don't care. I could have one all the time no matter the weather. The recipe I have been bookmarking and will try soon is the tiramisu ice cream sandwich.
Six-Ingredient Solution from America's Test Kitchen – I love all of their cookbooks. They are amazing!! Recipes that only require 6 ingredients? Sign me up! I'm for more simple recipes and this cookbook is a must have on your bookshelf. On my must make are the Ginger and Soy-Braised Short Ribs and the Spicy Spaghetti Pie.
Savory Cocktails by Greg Henry – this compact book will fit nicely on your bar or near your liquor cabinet (if you have one). I love how the book is organized by sour, spicy, herbal, umami, bitter, smoky, rich and strong cocktails. Must try for me are the Salad Bowl Gin & Tonic and the classic martini.
Peanut Butter Comfort: Recipes for Breakfasts, Brownies, Cakes, Cookies, Candies, and Frozen Treats Featuring America's Favorite Spread by Averie Sunshine – Ahhhh peanut butter and an ENITRE cookbook dedicated to this amazing ingredient. You won't be able to put this cookbook down. I love it! On my list to make are Averie's Chocolate Chip Banana Bread with Peanut Butter Swirls and her Nutella and Peanut Butter Marbled Brownies.
The prize is:
– a $100 gift card to Amazon.com*
*If winner drawn is a Canadian resident, winner will receive equivalent to $100 US value in the form of a gift card to Amazon.ca.
Please use the form below to enter in the giveaway. Good luck!
This giveaway has ended.
Congrats to Theresa J!!
Disclosure: I received these cookbooks from the publishers for the purpose of review. This giveaway is sponsored by meee and not by any company! There are affiliate links in this post.
Check out our other giveaways!