How to Make the Perfect Mashed Potatoes

A little presumptuous right? To call these the perfect mashed potatoes? Well, these are the Perfect Mashed Potatoes for me. After trying many recipes and trial and error over the years, I have found the technique that works for me.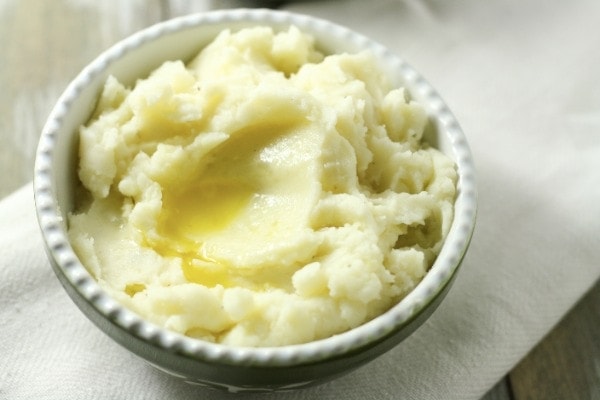 Perfectly creamy with some potato chunks is the way I like to make mine. Picking the right potatoes for your perfect mashed potatoes is very important.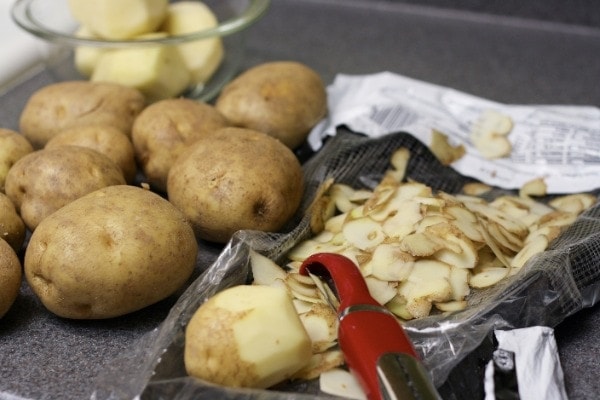 White potatoes, Yukon Gold potatoes and even red potatoes will work depending on the texture you're looking for. For Thanksgiving, I use white potatoes.
Very important tool for peeling potatoes, having the right vegetable peeler. I know you what it's like to work with a dull peeler or a non-efficient one…it takes forever to peel potatoes! With a good peeler, it should only take 10-15 minutes to peel a 5-pound bag of potatoes.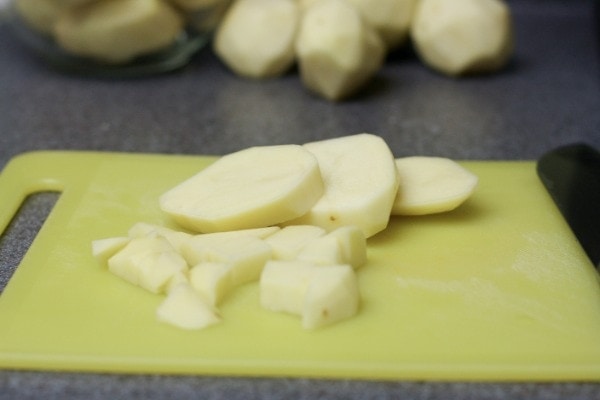 Rinse and then dice your potatoes, trying to get most of them cut in a uniform size. Use a good knife and make sure it's sharp.

Cover the potatoes with water in a heavy-bottomed pot along with two teaspoons of table salt. Bring to a boil and allow the potatoes to boil for at least 8-10 minutes or until potatoes soft enough to stab a fork through.

This is an important step, drain the potatoes and return to the same burner (turned down to warm), cover the potatoes for at least 15 minutes before mashing. This will remove the liquid, getting rid of watery mashed potatoes.

Now we're ready to go. This is very simple recipe, just potatoes, salt, (very good) butter, 2% milk and nutmeg (optional).

Mashed potatoes is my absolute favorite Thanksgiving side. I don't want to play favorites because I love stuffing and vegetables too but if I had to, you know what I mean.
I only add the nutmeg for Thanksgiving mashed potatoes. It adds a really nice, unexpected flavor and makes it that more special. This Thanksgiving, I'm looking forward to spending time with my family. I hope you enjoy yours this holiday season.
Recipe
Perfect Mashed Potatoes
Yield: 6-8
Prep Time: 25 min
Cook Time: 15 min
Total Time: 40 min
An easy recipe with some great tips to make the most perfect mashed potatoes. This recipe goes well with either white potatoes, Yukon golds or red potatoes.
Ingredients:
5 lbs of white potatoes (or Yukon Gold or red), peeled and diced
2 tsp salt
4 Tbsp unsalted butter
3/4 – 1 cup 2% milk
coarse sea salt & freshly ground pepper
pinch of ground nutmeg (optional)
Directions:
In a heavy-bottomed pot, add peeled potatoes, enough water to cover the potatoes (about 1 to 2 inches above the potatoes) and salt. Bring to a boil on high heat. Allow potatoes to boil for 8-10 minutes or soft enough to stab with a fork.
Drain potatoes and return to the burner, turn heat down to warm, and cover potatoes. Allow to sit on the burner for at least 15-20 minutes, to allow the moisture to dry off.
Add butter and mix with a wooden spoon. Using a potato masher, mash the potatoes.
Add milk and mix well, for creamier potatoes, add more milk. Season with salt and pepper to taste. Add a pinch of nutmeg to taste.
Cook's Notes:
Potatoes can be peeled and added to your pot along with the water the day before. Often, I will boil my potatoes and allow them to sit on the burner with it turned off for a couple of hours. When you're ready, turn the burner back on warm for 15-20 minutes and start mashing.
I use a potato masher because I like mine a combination of creamy and chunky. If you like them completely creamy, use a potato ricer or even a blender.
When adding milk, add a little bit at a time, you can always add more but you can't take away.
I'm joining in on
Food Network's (Virtual) Communal Table for Thanksgiving
. Follow along on twitter using the hashtag #pullupachair and visit the links to below to see what other fellow food bloggers are bringing:
Cocktails, Appetizers, Soups and Salads:
Eat Be Mary: She's Mulling It Over Wine
Cookistry: Bread With Ancient Grains
Celebrity Chefs and Their Gardens: The American Hotel Peconic Clam Chowder
Picky Eater Blog: Butternut Squash Soup With Thyme and Parmesan
Good Food Good Friends: Mushroom Soup
Mains:
Examiner.com: Grilled Quail with a Warm Beet, Frisée, and Pistachio Salad
She Wears Many Hats: Mayonnaise Roasted Turkey
Sides:
Living Mostly Meatless: Vegan-Friendly Corn Casserole
Healthy Green Kitchen: Red Kuri Squash Pie
The Naptime Chef: Crispy Rosemary Fingerling Potatoes
Gluten-Free Blondie: Apple and Cranberry Studded Stuffing
Eat Drink Man Woman Dogs Cat: Blue Cheese and Rosemary Celebration Potatoes
Burnt Lumpia: Turkey, Sweet Potato and Cranberry Empanadas
Panfusine: Pan Fried Polenta Seasoned With Cumin, Ginger & Black Pepper
Homemade Cravings: Warm Brussels Sprouts and Cranberry Slaw
Bakeaholic Mama: Maple Roasted Brussels Sprouts With Crispy Prosciutto
Show Food Chef: Beer-Braised Brussels Sprouts
T's Tasty Bits: Sweet Empanadas with Pumpkin and Lupini Beans Filling
The Amused Bouche Blog: Braised Kale
The Little Kitchen: How to Make the Perfect Mashed Potatoes
Desserts:
The Macaron Queen: Macaron Tower
Poet In The Pantry: Amaretto Apple Crisp
Farm Girl Gourmet: Pumpkin Coconut Panna Cotta
That's Forking Good: Cinnamon Chip Pumpkin Blondies
Out of the Box Food: Out of the Box Food Maple Pumpkin Pie
Cake Baker 35: Orange Spiced Pumpkin Pie
Lisa Michele: Pumpkin, Pecan, Cheesecake Pie
Food For My Family: Buttermilk Custard Pear Pie
Simple Bites: Black-Bottom Maple Pumpkin Pie
A Cooks Nook: Swedish Apple Pie
Yakima Herald: Pretzel Jell-O Salad
How Does She: Three of Our Favorite Desserts
Dollhouse Bake Shoppe: Thanksgiving Candy Bar Name Plates
Sweet Fry: Pumpkin Latte
Tasty Trials: Spiced Apple Panna Cotta With Caramelized Apples and Caramel Sauce
An Uneducated Palate: Puff Pastry Apple Tart
Frugal Front Porch: Mini Cheaty Cheesecakes
Even more:
Kitchen Courses: Thanksgiving for Six People Under $60
A Curious Palate: The Communal Table
Disclosure: This post contains an affiliate link.