Note: Be sure to enter in the other giveaways going on for the one year blogiversary celebration going on throughout the month of December! Also, please vote for my comfort foods recipe at Good Life Eats, I'm #5. I won! Thanks!
And the winner is Kelly! Please email me within 24 hours or another winner will be chosen. Congrats to Kelly and thanks to everyone for entering!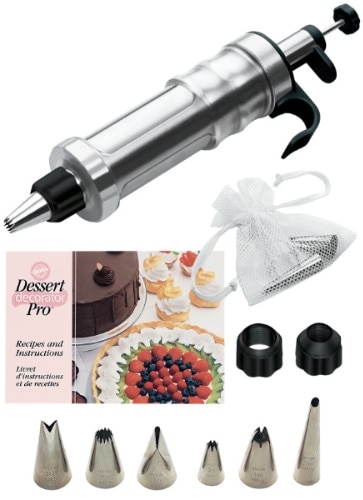 Do you like to decorate cakes or have you always wanted to try to? The Dessert Decorator Pro is perfect for you! It comes with stainless steel plunger that is easy to clean as well as a few of Wilton's popular tips. You can create shells, rosettes, leaves and stars. Even better? You can use any Wilton tips with the Dessert Decorator Pro.
I am a hobby cake decorator and I like to make cakes for my family and friends. I started out by taking Wilton courses. They were really fun because I took them with a friend and the teacher was great. I think it helped that she was really funny too! The classes were held at my local craft store and they were at a convenient location. My teacher encouraged me to challenge myself with every cake I do. It was the best thing she could have ever said to me, because with each cake I make I definitely try to do something I have never done before and learn a new technique. You can't learn something without trying. So I highly recommend taking the Wilton courses and taking them with a friend. They lay the groundwork or foundation in cake decorating and I don't know where I would be without them!
And now for the details about the giveaway…
Mandatory Entry: Visit wilton.com and tell me what item you would like OR tell me what your favorite Wilton product is. (1 entry)
The mandatory entry must be done otherwise the bonus entries will not count.
Bonus Entries (leave a separate comment for each entry, if the entry is worth 2, leave two comments such as follow TLK on fb #1, follow TLK on fb #2, etc):
'Like' Wilton Cakes on facebook and leave your name in your entry. You can leave first name & last initial. (2 entries)
'Like' the little kitchen on facebook and leave your name in your entry. You can leave first name and last initial if you don't want to leave your full name. (4 entries)
Subscribe to this blog via email. If email, be sure to fill in the email address you're subscribing with and to confirm the subscription. (3 entries)
Follow me on twitter. Leave your twitter handle in the entry. (1 entry)
Tweet this giveaway, using the retweet link at the top of this post or tweet the phrase below. Be sure to come back here and leave a link to your tweet. (2 entries)
'I just entered in a Wilton Dessert Decorator Pro Giveaway from @thelittlekitchn and @WiltonCakes http://bit.ly/eSa9bj'
Stumble this post, using the stumble icon at the bottom of this post. Come back and comment saying you stumbled and leave your username. (2 entries)
All entries will be checked and verified. You must enter a valid email address (so I have a way of contacting you), otherwise you forfeit the prize and another winner will be chosen. You have until 11:59pm EST on Wednesday, December 22, 2010 to enter. A random winner will be chosen via 'And the winner is' plugin.
Disclosure: Wilton is providing the item for this giveaway. I received no monetary compensation and the views and opinions expressed in this post are my own. Links in this post may be affiliate links.