White Chocolate Peanut Butter Truffles
Do you like peanut butter? White chocolate? Then, I have the dessert for you! It's another post from me for the BHG Delish Dish Food Blog and I'm sharing white chocolate peanut butter truffles!! The original recipe called for dark or bittersweet chocolate and I changed them up…and seriously I'm completely and utterly obsessed with gold sugar. It's going on EVERYTHING this holiday season. Watch out.
PS I posted a video of Charley in the underwater treadmill yesterday! Over the last couple of days, he's showing huge improvement which makes us so glad. With rehab, exercises and lots of work, it's been a little bit stressful but of course worth it!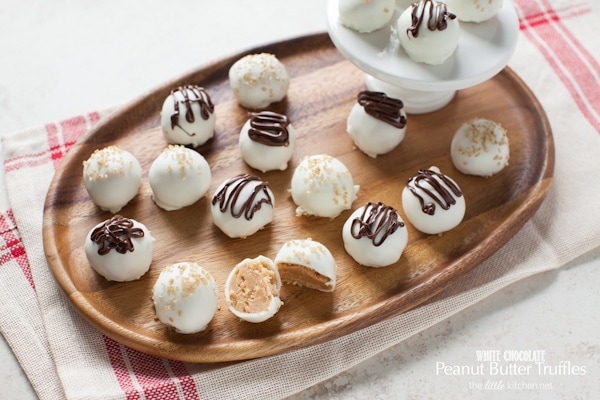 Excuse me while I go nosh on some more truffles!!
Recipe
Yield: 50 truffles
Prep Time: 2 hours (includes inactive time)
Cook Time: 12 minutes
White Chocolate Peanut Butter Truffles Recipe
Ingredients:
2 cups sugar
1 5-ounce can evaporated milk
1/2 cup butter
2 cups tiny marshmallows
3/4 cup creamy peanut butter
1/2 teaspoon vanilla
12 ounces dark or bittersweet or white chocolate, chopped
2 teaspoons shortening
1/3 cup semisweet chocolate chips (if you want to drizzle some on top of the truffles)
decorating sugars or sprinkles
Directions:
We love that you love to share our recipes with others. If you have a blog or website and want to repost the recipe, we just ask that you reword the instructions (easy peasy) and link back to give us credit and to use your own images at the same time. Please ask us permission before republishing our recipes and images. And here's a great article on how to properly attribute a recipe.
Disclosure: I'm a paid contributor to the Better Homes & Garden food blog! All opinions are my own.