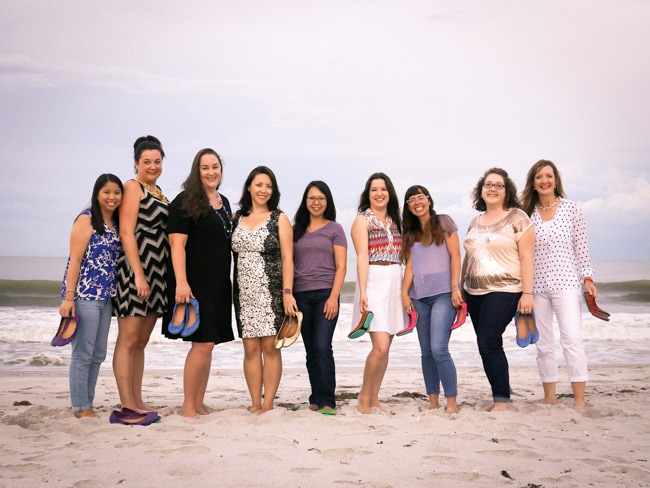 A couple of months ago, I had the honor of hosting a few friends in my own backyard. The Space Coast is a 72 mile stretch of coastline and beaches, a wonderful place to visit in Central Florida. A place I'm proud to call home. Thanks to the Space Coast Office of Tourism to help make the event possible!
To say that I love my friends is a huge understatement. You have heard the saying that friends are the family we choose. My friends are there for me through thick and thin, they get me and they hold me accountable. They support me in all that I do and tell me when I need to hear how crazy I am and they just plain love me for me. They are there to pick me up when I need it and hopefully, they know how grateful I am for them and I try every day to be the best friend that I can be.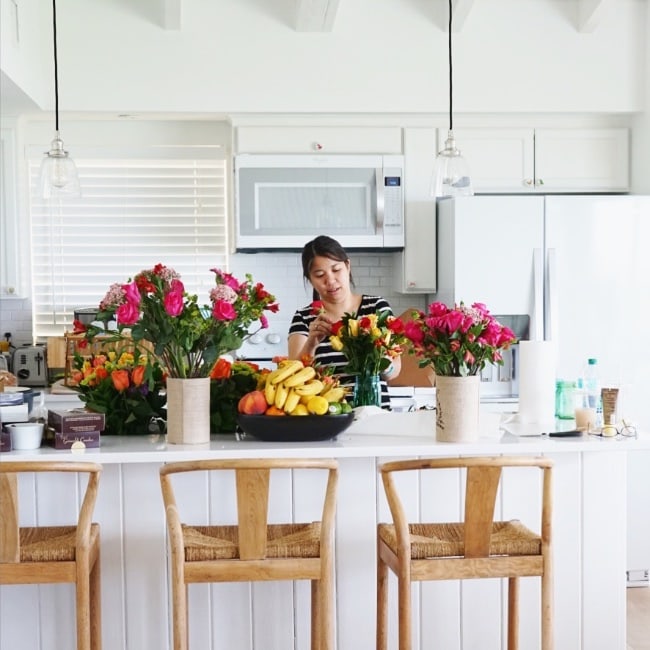 Photo by Lindsay
So being able to organize a little retreat for my friends AND having the added bonus to share the beautiful area I call home was such a gift.
We stayed at a beautiful property called Azure Estate in Melbourne Beach, Florida. Look at that kitchen! This was most everyone's view when they arrived, me putting together the flowers that Proflowers sent us to decorate the beach houses for the weekend.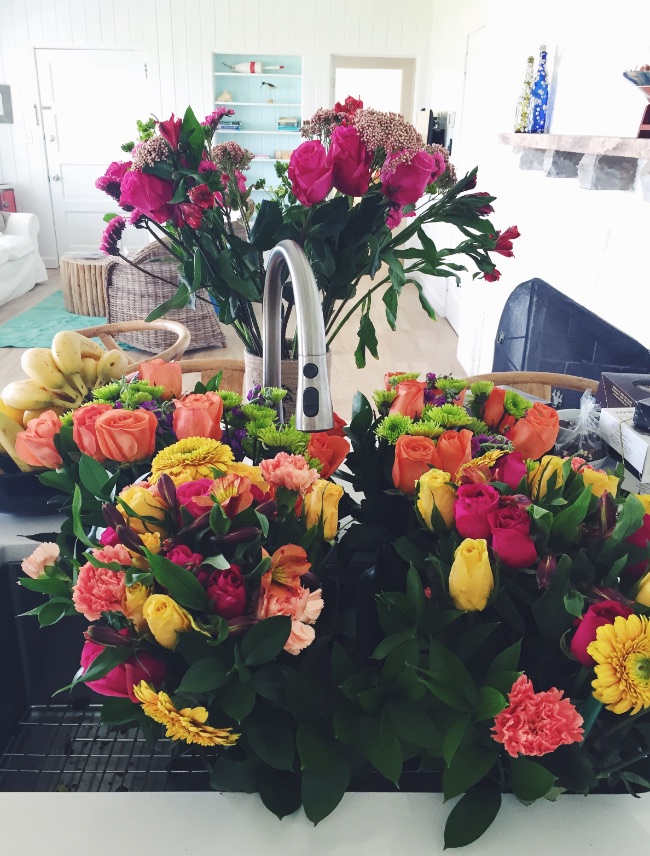 And more flowers!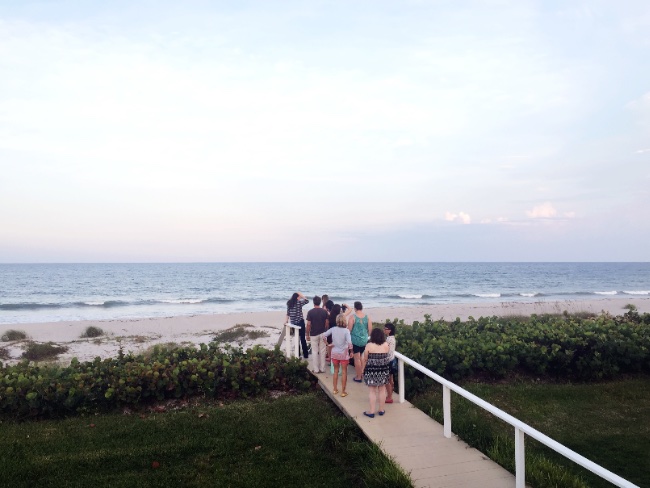 The sweeping views of the estate…just gorgeous.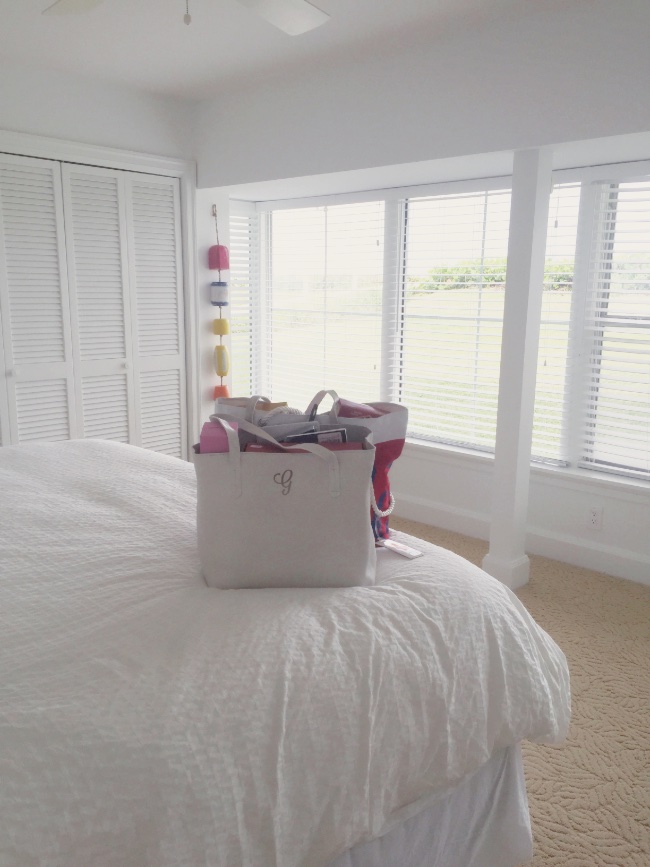 When everyone arrived to their rooms, they had two goody bags filled with goodies that I had fun gathering.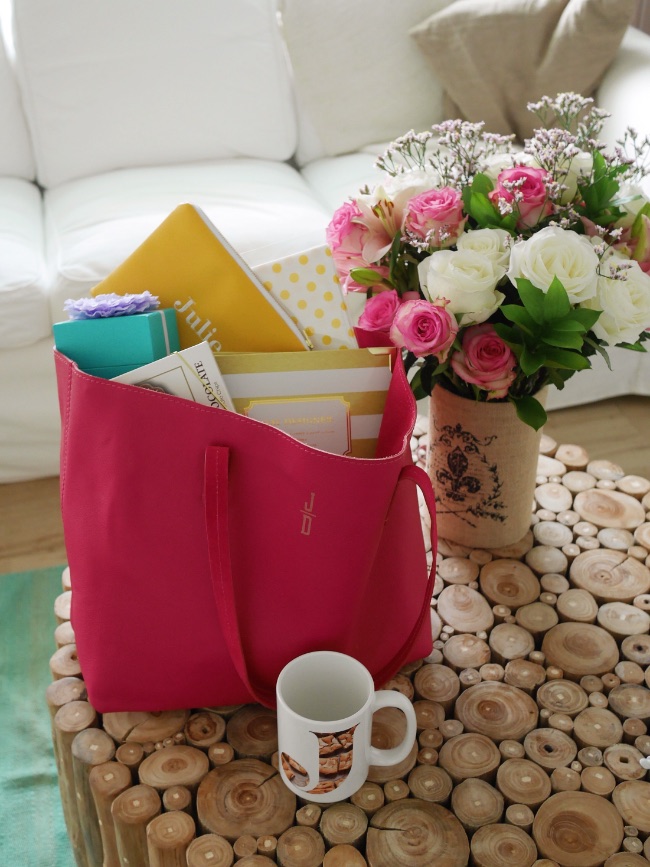 I wanted to put together a special bag filled with goodies that my friends would hopefully love…so I filled it with stuff that I LOVE.
Thanks to companies like Tieks for sending the most comfy shoes, Mark and Graham sent the monogrammed leather bag, wonderful planners from Day Designer, amazing chocolates from Grimaldi Candy Company (a Space Coast local company!), monogrammed cases from Lucy Jane Totes (do you see the yellow bag peeking above?), custom mugs from Shutterfly, wonderful baking supplies from Sweet Estelle's Bake Shop, awesome goodies from the Hatchery, my favorite hand cream & other samples from L'Occitane, wonderful snacking almonds from Blue Diamond Almonds, sunscreen from Sun Bum and jewelry from Noonday Collection.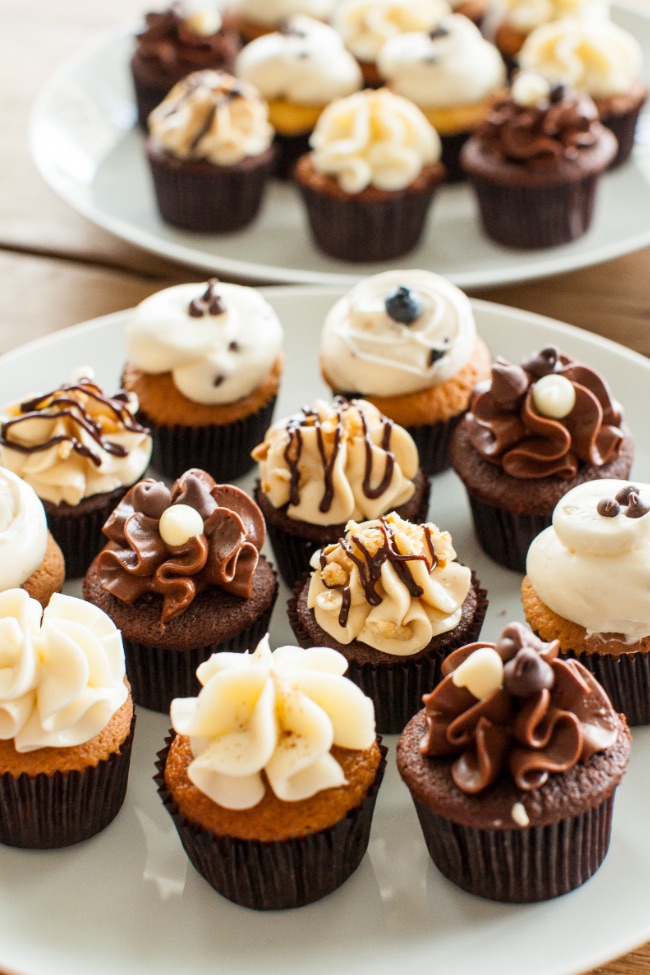 We enjoyed cupcakes from Take a Bite Cupcakes as everyone arrived.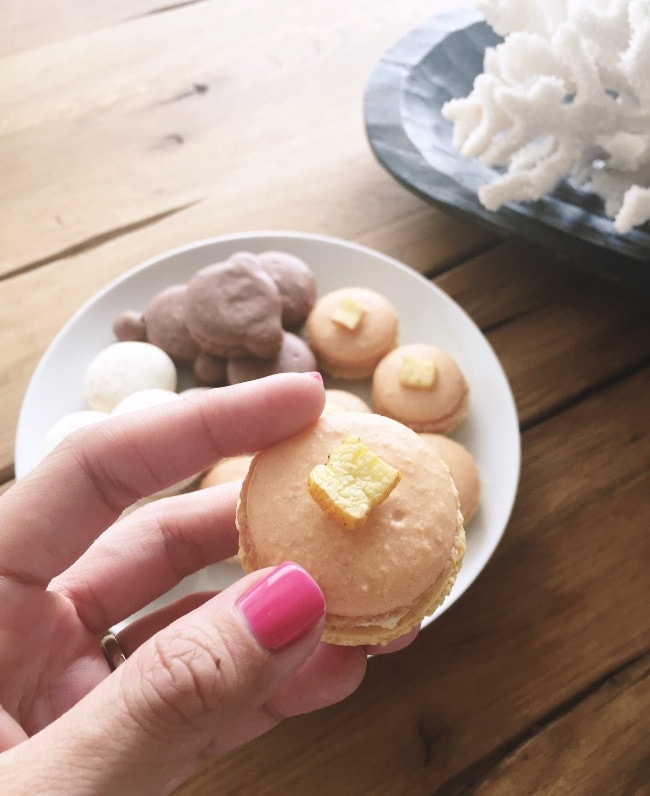 And Suzanne brought these amazing macarons (that she made herself)!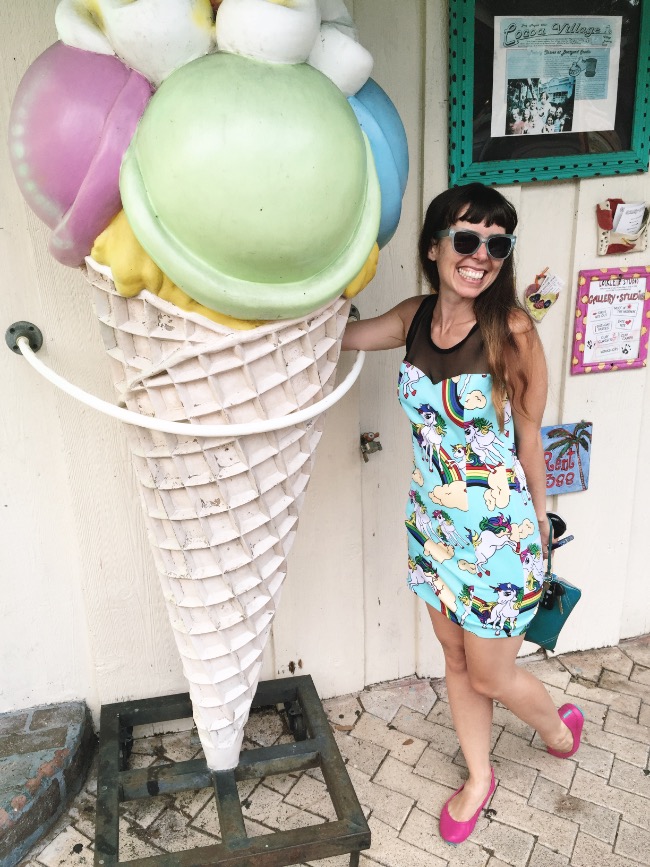 We then took a tour of Cocoa Village, which has a ton of great shops and restaurants.
I love this photo I took of Jessie in front of the ice cream shop there!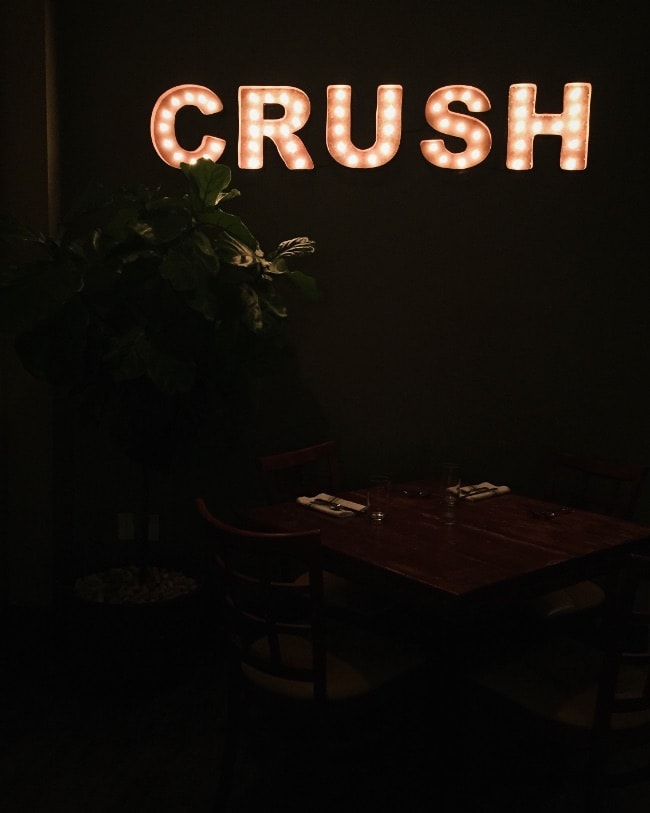 Then, we went to one of my favorite restaurants in the area, Crush Eleven.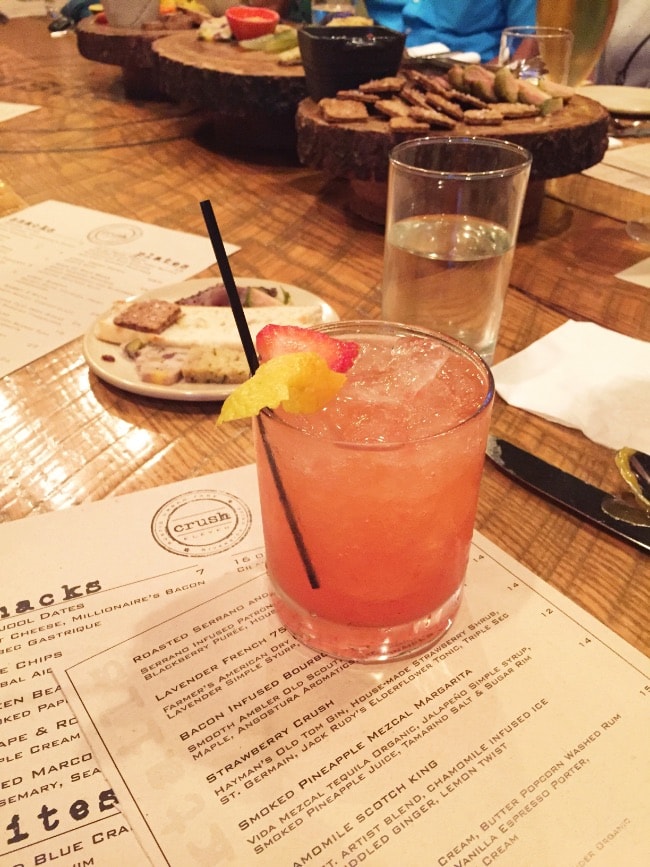 They never disappoint! Their menu changes seasonally but they have some staples on their menu…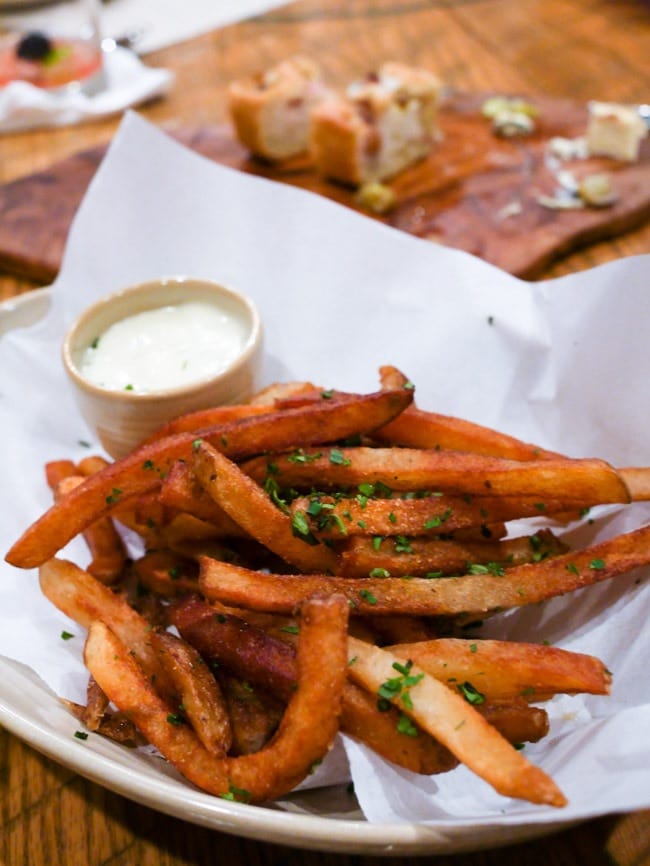 duck fat fries.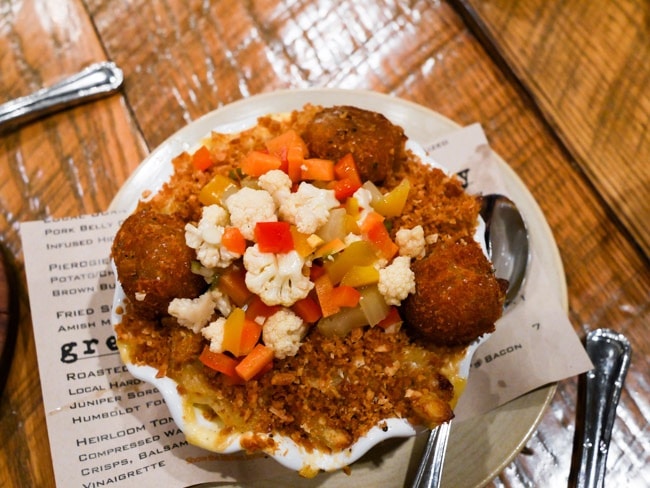 and a mac & cheese that's topped with pickled vegetables and housemade tater tots. Seriously, they are not allowed to take these items off of their menu!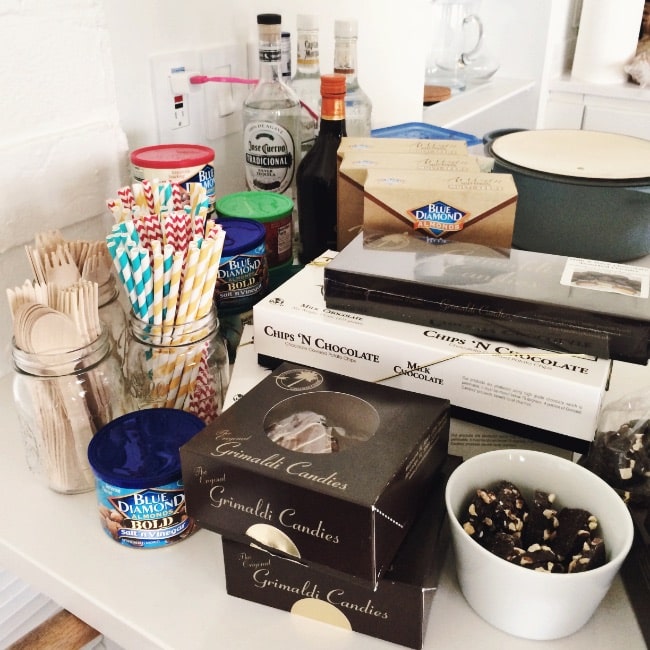 Photo by Joanne
And no girls' retreat is complete without a snack center! (I'm obsessed with the chocolate covered potato chips from Grimaldi and the Almond Nut-Thins from Blue Diamond!)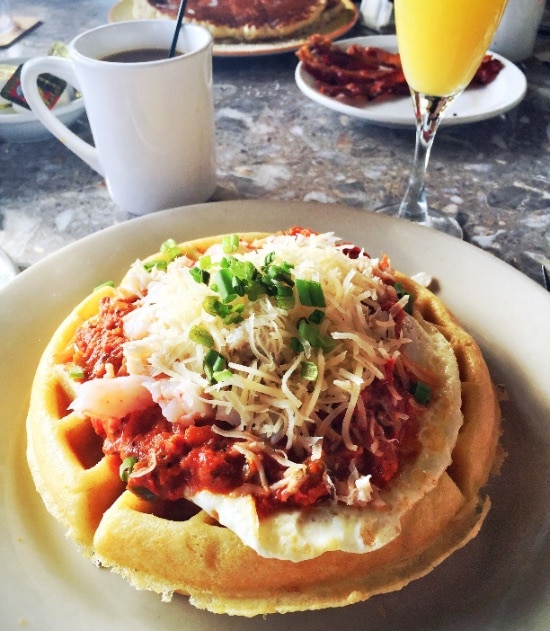 The next day, we went to Sand on the Beach. This spicy shrimp and crab waffle…I still dream about it!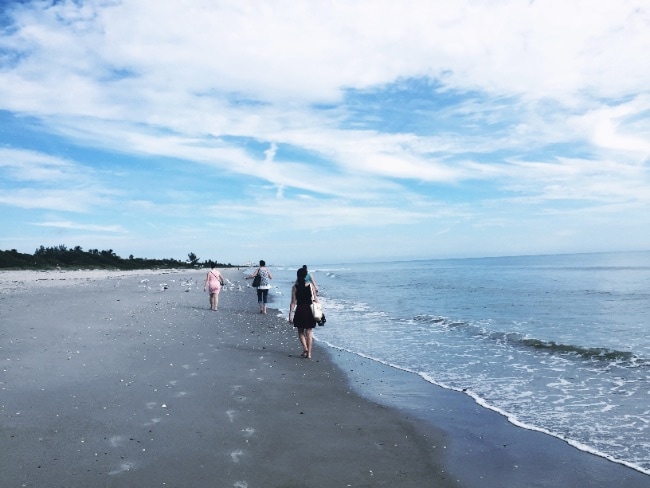 The walk back to the house was dreamy.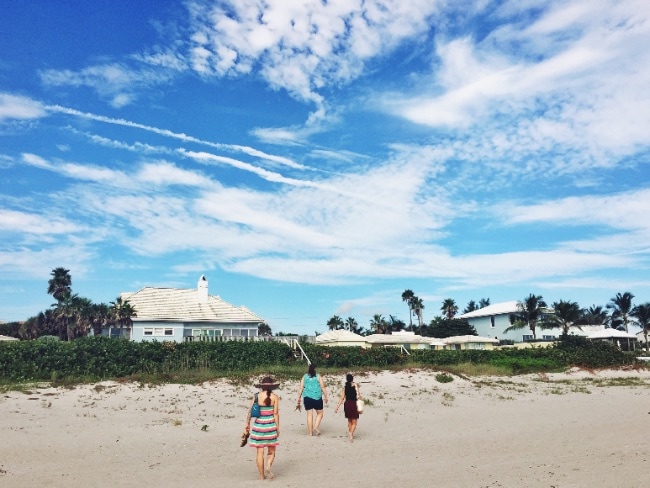 Please take me back to that weekend!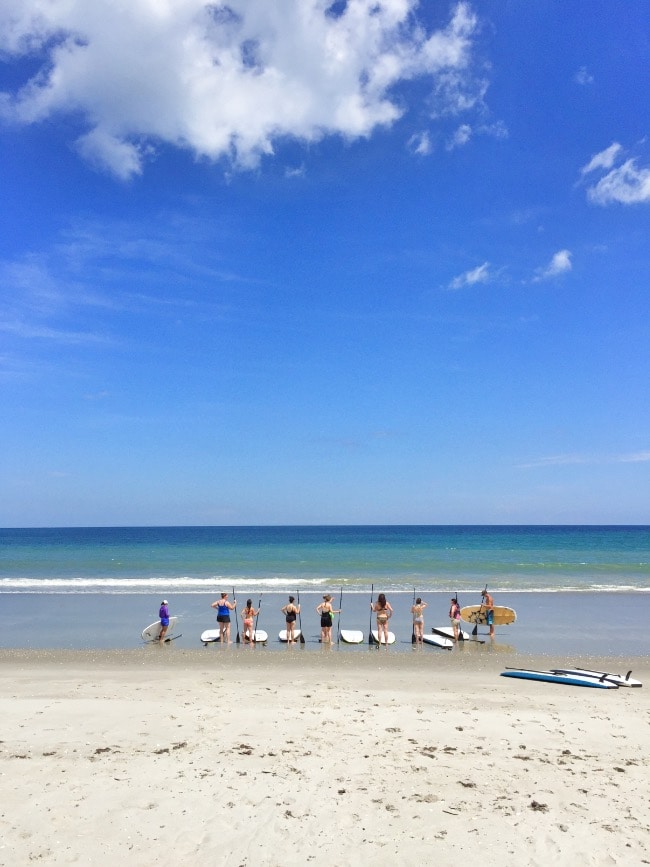 Photo by Susannah
Next up, we went paddleboarding, the wonderful folks at Ron Jon Surf School came out to teach us how to paddleboard! It was my first time and it was such an amazing experience!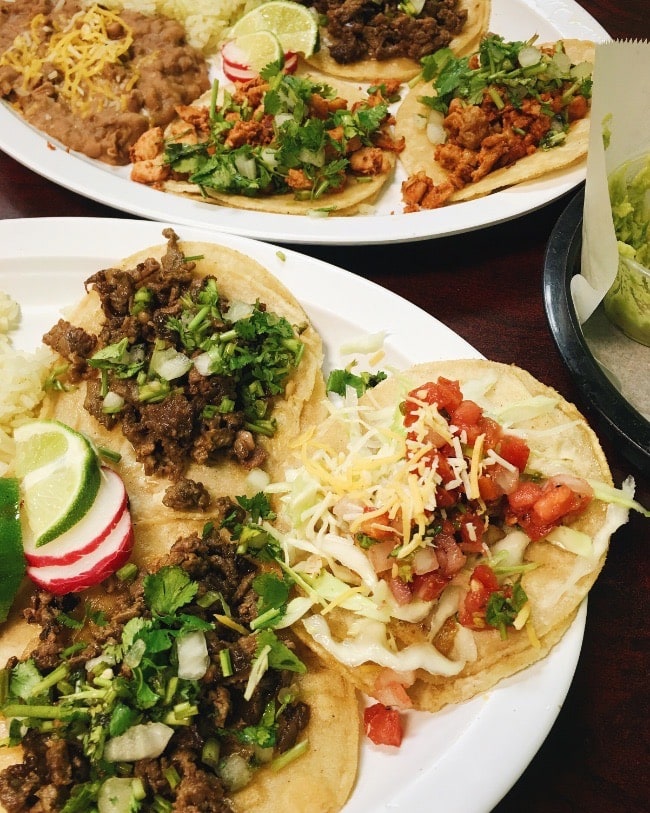 After we worked up an appetite…we had lunch at the house catered by Mexico's Grill. (I have to admit, this is a photo from a later visit to the actual restaurant.) They are located in Cape Canaveral and have the most amazing Mexican food, it's owned by a small family and we love going there for dinner!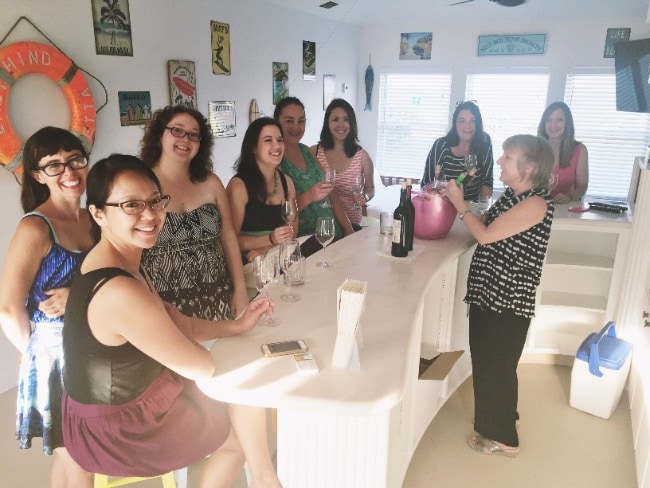 East Coast Winery (a cute little store in downtown Melbourne), came and gave us a wine tasting!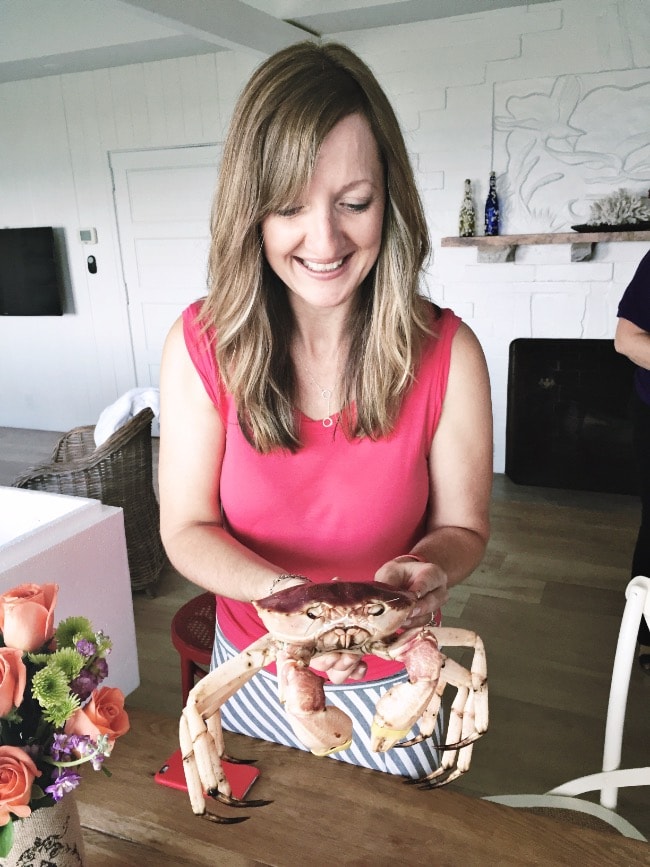 And the folks from Wild Ocean Seafood Market shared with us some local seafood for dinner!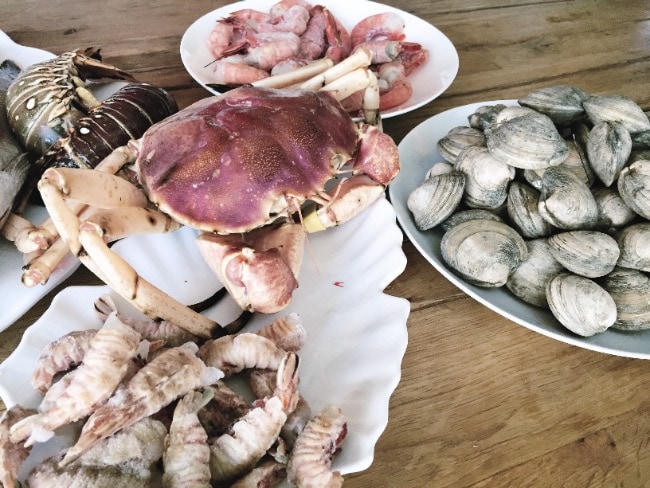 Amazing, right? We had rock shrimp and clams…all local!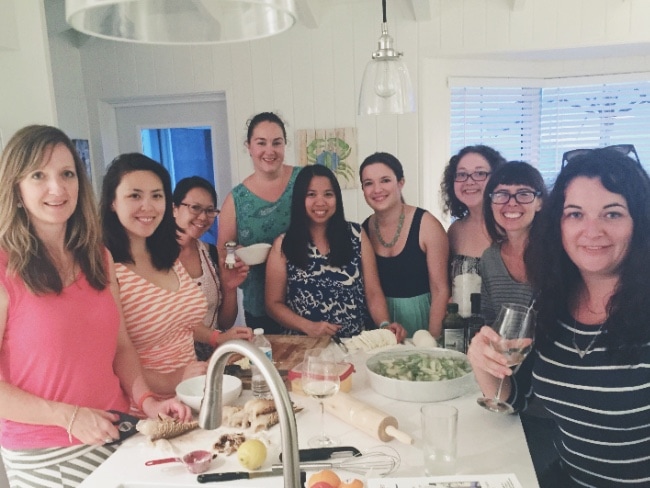 This was a very special night because we all cooked dinner together from our own blogs.
I picked the recipes and got the groceries before everyone arrived and we had a special night called a taste of nine blogs!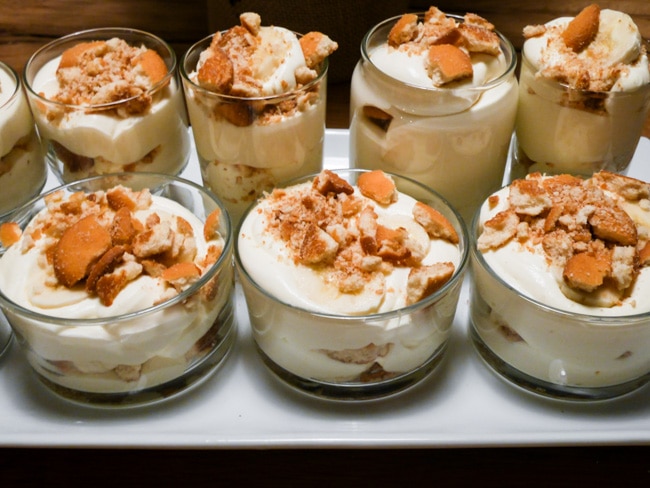 We had Coconut Green Curry Clams (subbed in Florida clams for the mussels), Olive Oil Mashed Potatoes, Crispy Brussels Sprouts, Light & Fluffy Buttermilk Biscuits, Red Wine-Braised Short Ribs, Grilled Lobster Tails with Sriracha Butter, Magnolia Bakery Banana Pudding, Nanaimo Bars AND all of the seafood that Wild Ocean brought for us.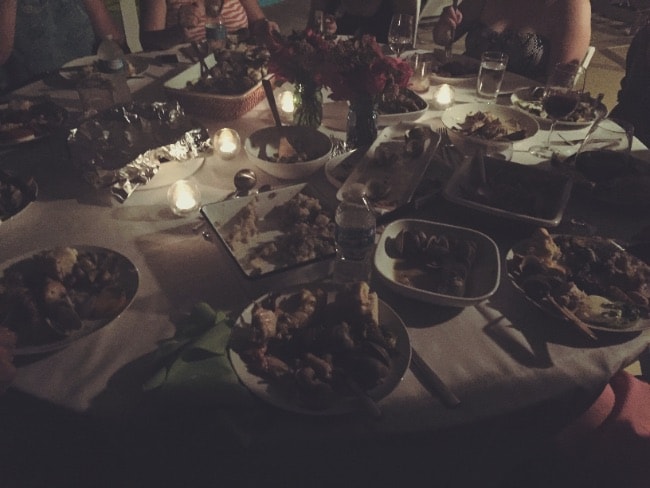 This dinner was so special because we all cooked the meal together but made that more special because they all conspired to surprise me.
I had made a little booklet with the schedule and a quick bio on every attendee…except I wrote the bio and I wrote something about each person…something that I loved about them.
So at dinner that night, everyone took turns telling me what they loved about me. What a huge huge gift. I was crying and I'm so glad I had the sense to record it on my phone. I don't know if they know how much it meant to me…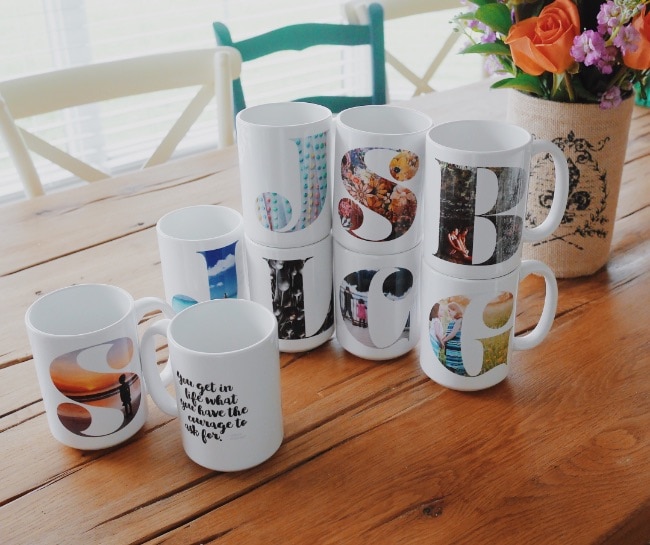 Here's everyone's mugs…I wanted to share with you because each mug was customized with each person's monogram and a photo of something meaningful to each person. Thanks to Lindsay for designing them!
The quote on each mug is the same: "you get in life what you have the courage to ask for."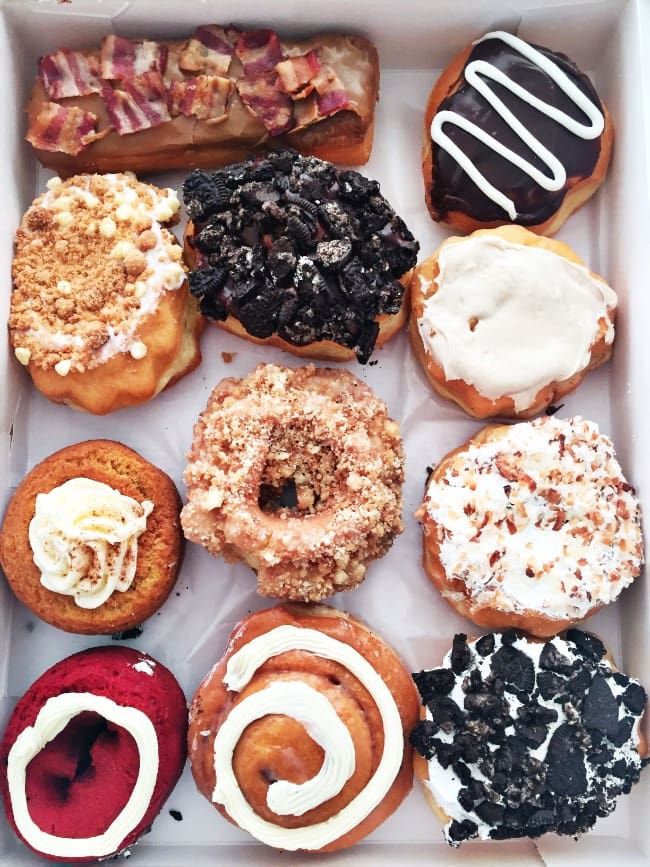 And seriously we had to have donuts from Love Bug's Bakery.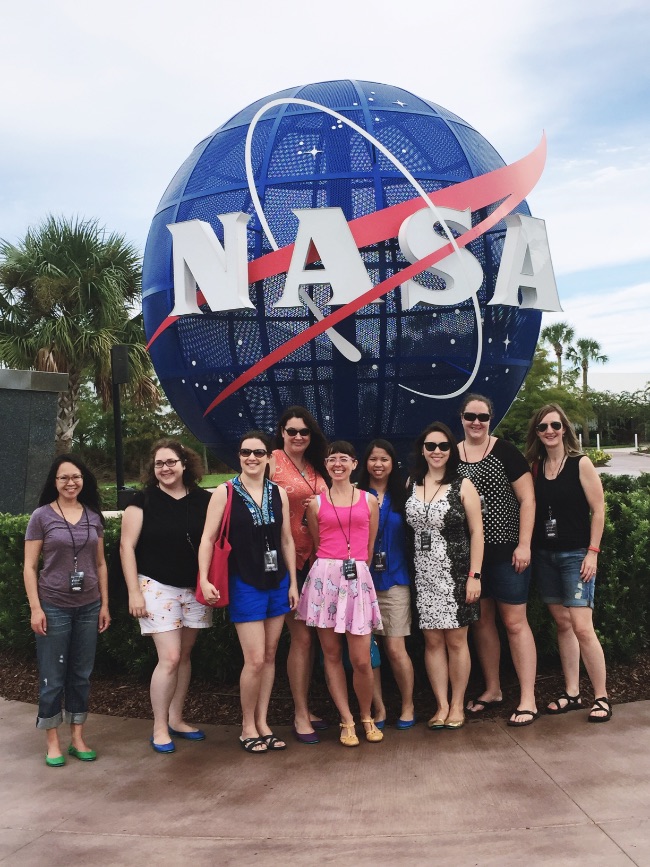 Our next adventure was to Kennedy Space Center Visitor Complex. One of my favorite places to visit and to bring out of town guests…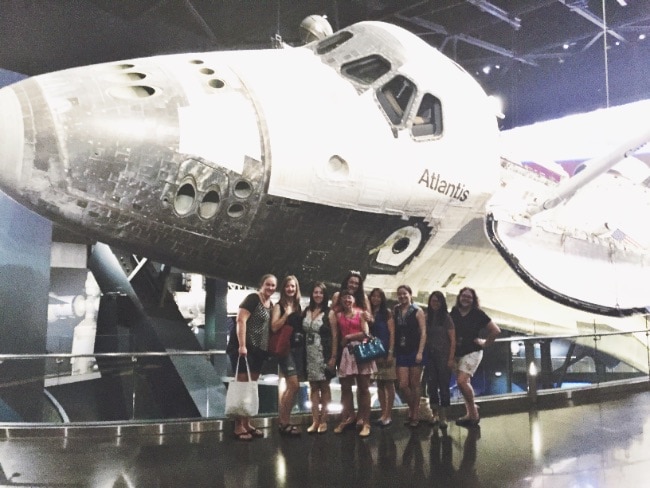 The Shuttle Atlantis exhibit is amazing. And there is a fairly new exhibit that has been added, it has personal effects from the Shuttles Challenger and Columbia astronauts as well as debris from both shuttles. It's an inspiring and powerful exhibit.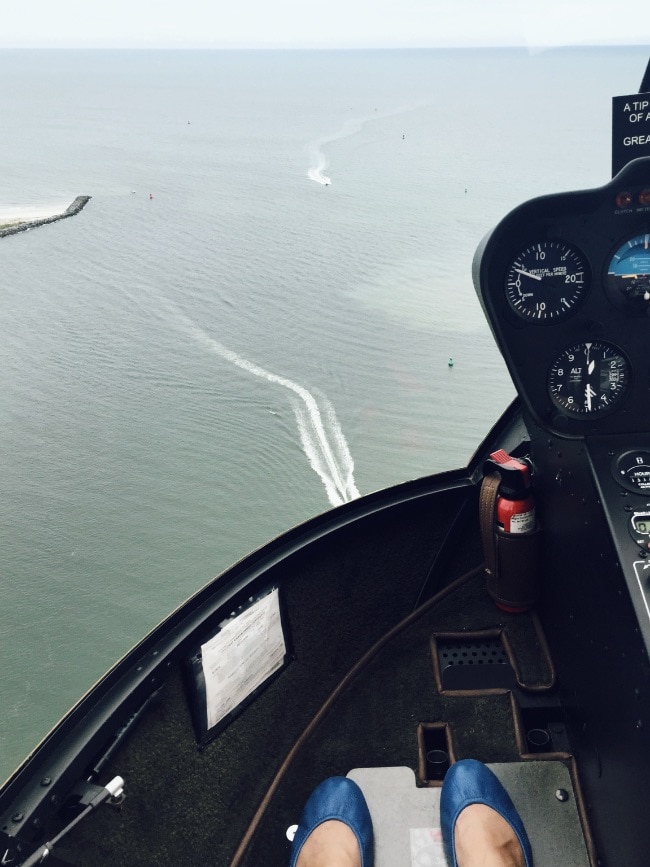 This literally was an amazing weekend.
We then took off with Florida Air Tours and did a quick helicopter tour of the Port.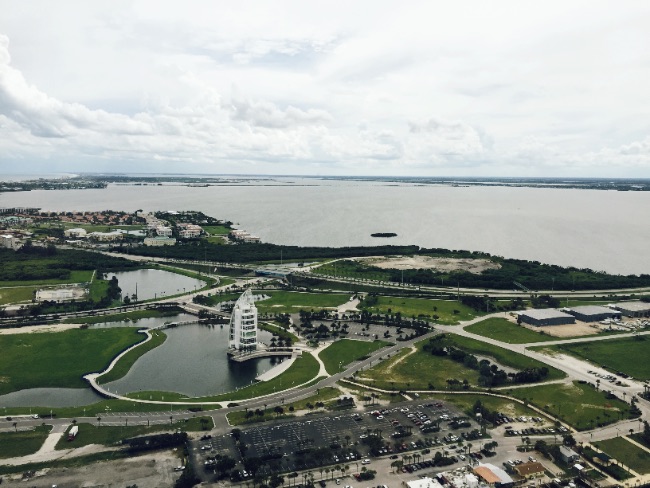 Amazing…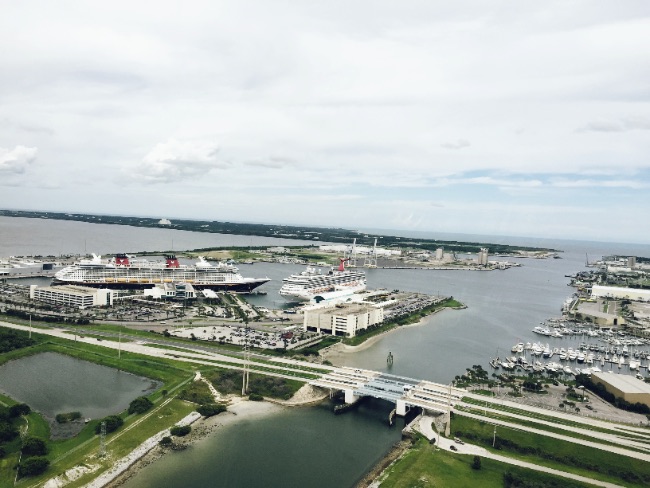 Can you spot the cruise ships?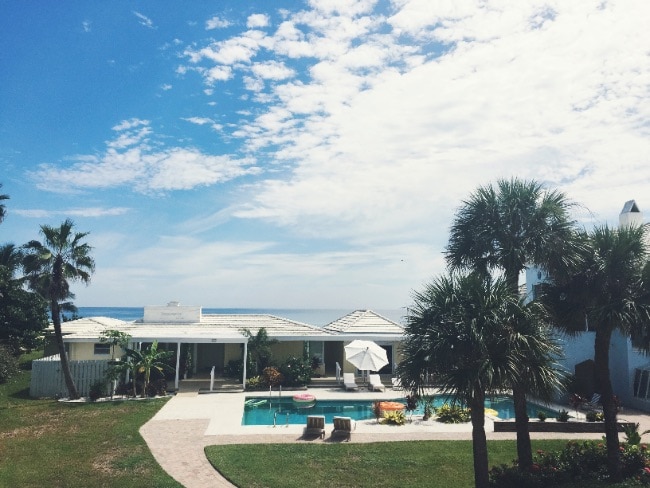 I just had to share some more photos from Azure Estate because it's so beautiful.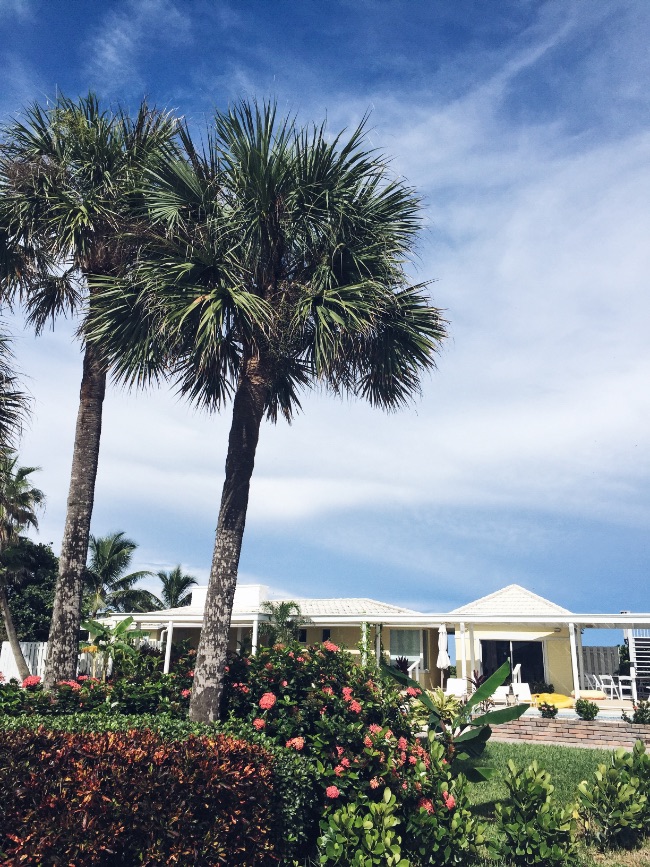 One more.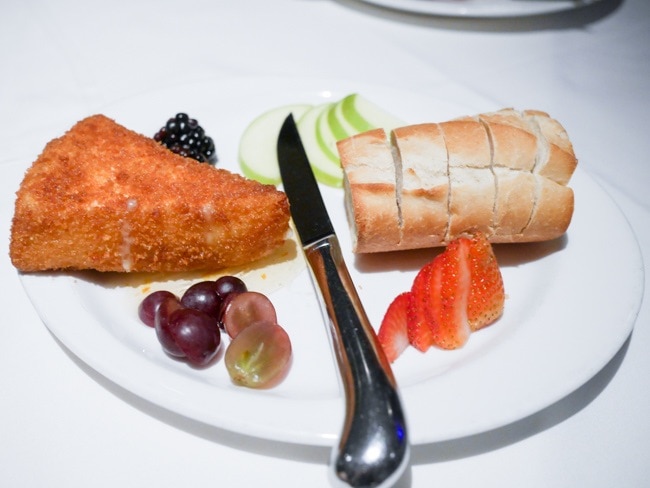 We had our final dinner together at Djon's Steak and Lobster House. I had to share a photo of the "baked" brie…it was deep fried and it was heavenly!
The next day, we had brunch at Backwater in downtown Melbourne. The citrus waffles and fried chicken is what I get every time I go here. Epic doesn't even begin to describe it.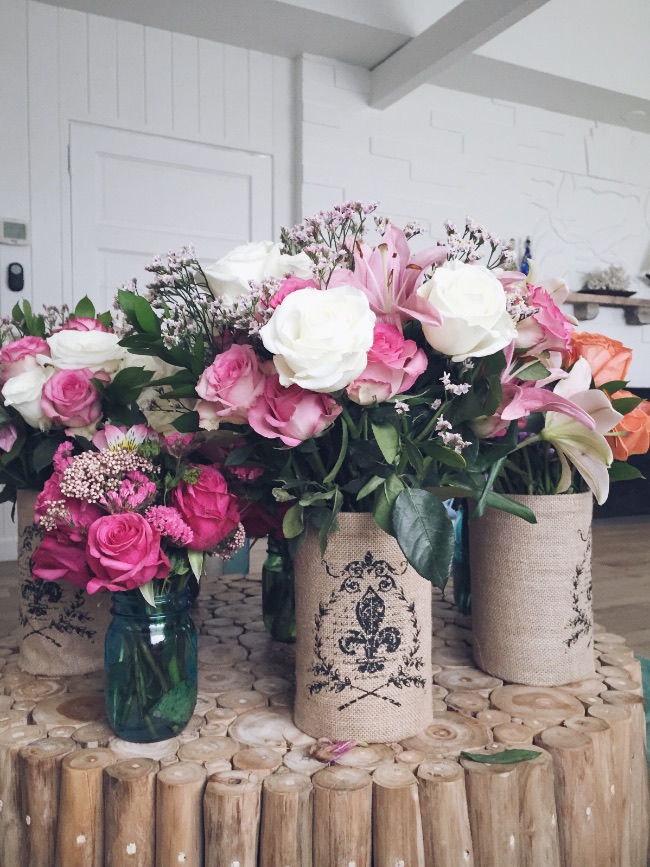 All of the flowers…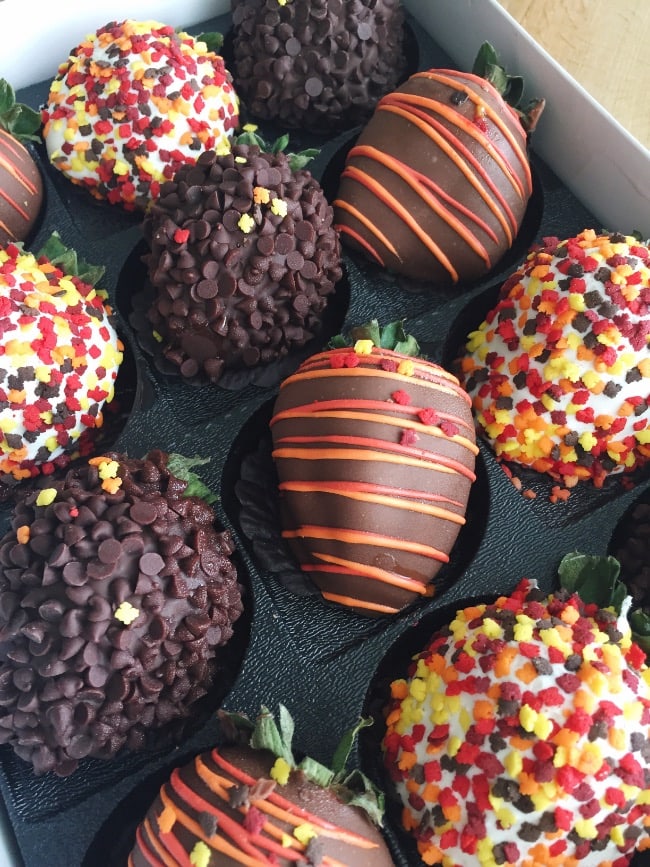 And berries, thanks to Shari's Berries!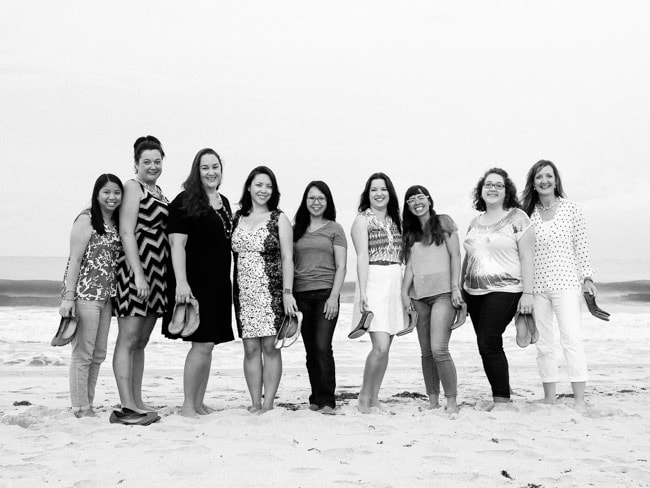 A wonderful weekend…again, I loved that I got to share the Florida's Space Coast (also known as Brevard County) with my friends and with you!
To wonderful memories and wonderful friends like Christine, Glory, Joanne, Suzanne, Lindsay, Jessie, Susannah and Brenda. I'm really lucky to call each and every one of you my friend.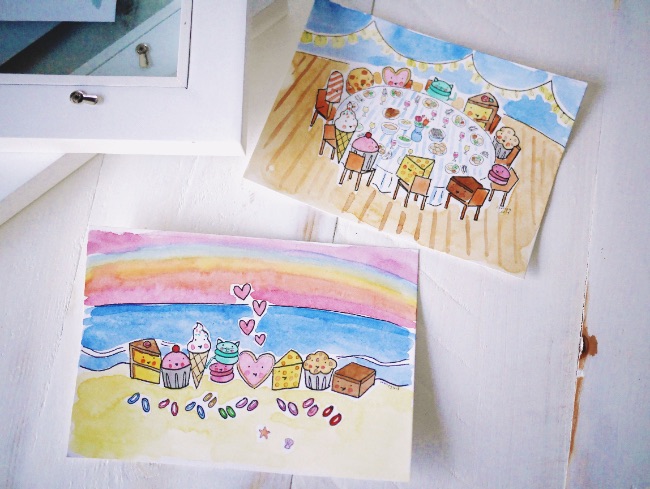 And to commemorate the weekend, the talented Jessie painted these beautiful paintings…all of us as desserts and food…and sent me two of them!
Check out these other recaps of our weekend!
Thank you again to the Space Coast Office of Tourism for all of their hard work and making this event possible…their partners and the companies who sent items for our wonderful goody bags. I organized this event and did not receive any compensation for doing so.