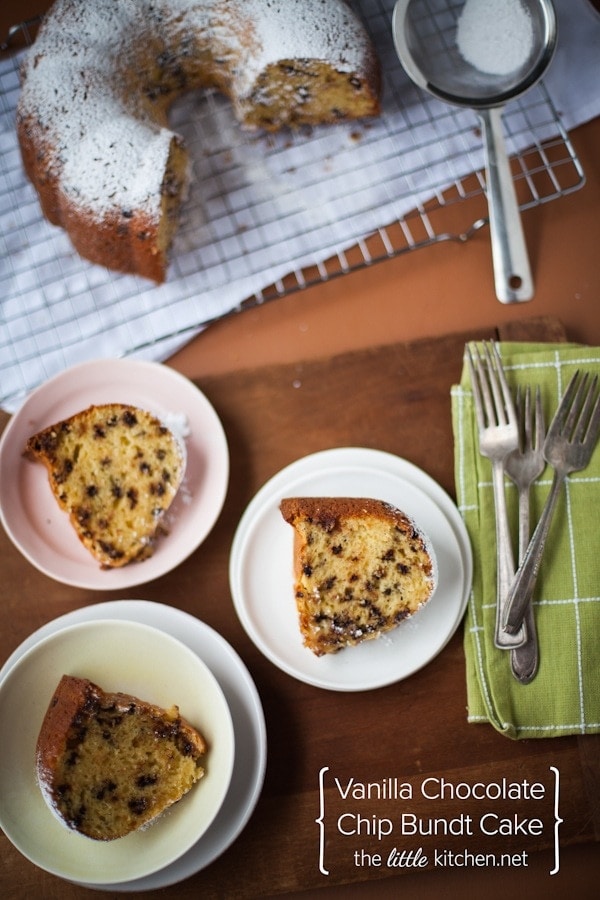 Making a cake for someone you care can be a simple gesture to show them how much you care and love them. I know for some (maybe I'm talking to you), baking a cake seems really overwhelming but this recipe is very simple, part of it is opening up a box of yellow cake mix. And adding some extra eggs, vanilla pudding and sour cream to it. It's so simple to make and it's so moist and delicious. I have made it several times and realized that I hadn't shared it with you yet!
The first time I made this cake, I made it with my large bundt cake pan. I had three slices (okay, don't laugh at me, okay?) and wrapped up the cake and put it in the microwave. I didn't want to refrigerate it and counter space is low, especially when I'm cooking dinner. After dinner, I went to cut another piece and I felt the cake was warm. After a moment, I realized what had happened. Curtis thought he had turned on the timer on the microwave when in fact, he had turned on the microwave. The cake was a little warm but it tasted just fine. For the next 3 or 4 days, I proceeded to give him a hard time for MICROWAVING my cake. haha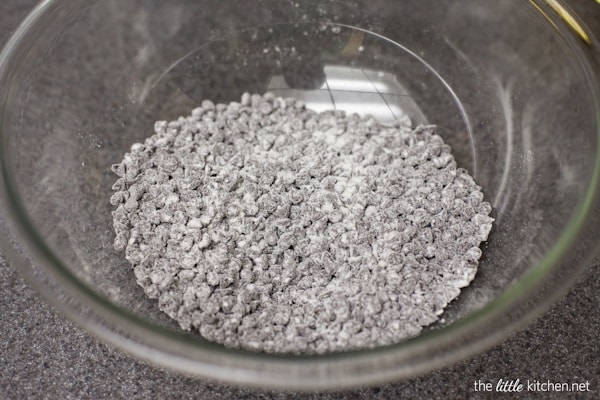 Thanks to McCormick®, I learned this simple trick for this recipe, to make sure your chocolate chips don't sink, mix them up with some of the cake mix and set aside.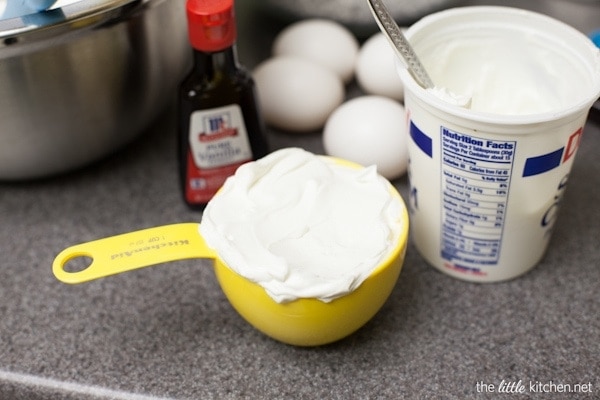 A little tip on how to measure sour cream (and peanut butter): I scoop it into a dry measuring cup (I know that's ironic right?) and level it off and then scoop or dump the sour cream into the mixing bowl. I find this the easiest way to measure wet ingredients like this!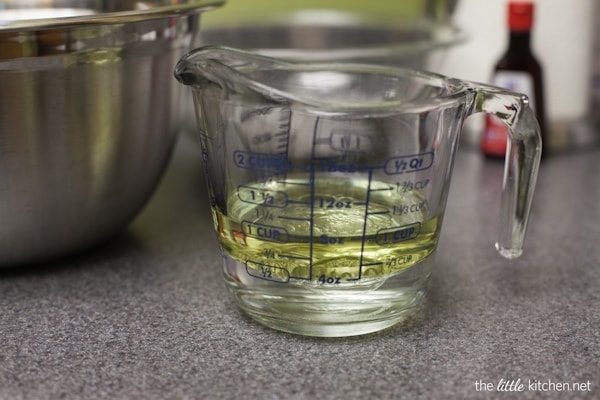 Another little tip, if a recipe calls for both water and oil, I measure the water first in the measuring cup. And then the oil. So when I pour the liquids into the bowl, most of the oil gets into there instead of sticking to the inside of the measuring cup.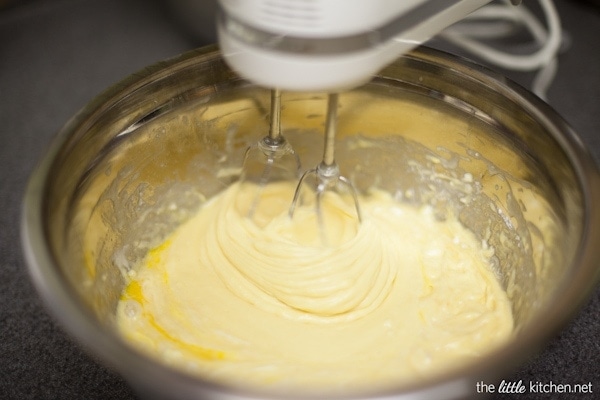 Mix all of the ingredients together, I used my favorite electric hand mixer.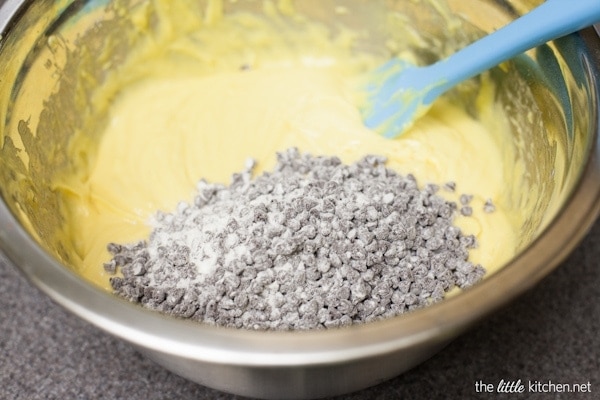 When the ingredients are all incorporated, add the chocolate chips and stir them in with a spatula.
Who wants to lick that spoon?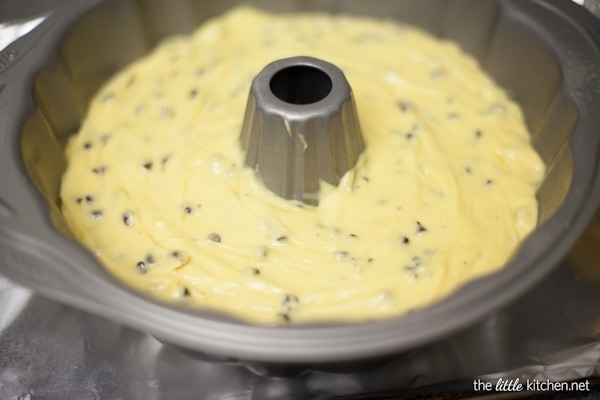 Pour it into your bundt cake pan and level it off with a spoon or knife.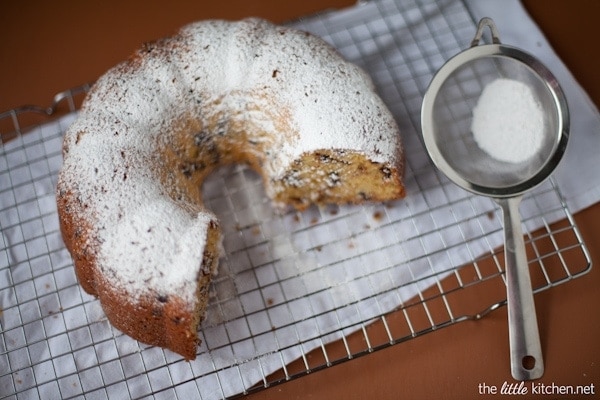 After you let it cool, add powdered sugar and it's just perfect that way.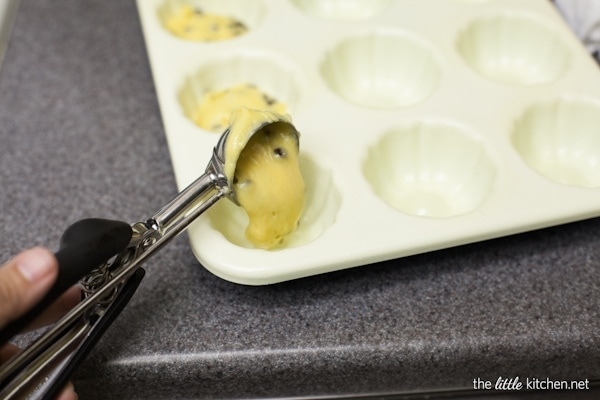 If you want to make mini bundt cakes, use a medium cookie scoop or whatever size that will fill the cake pan cavities by 2/3 or 3/4 of the way.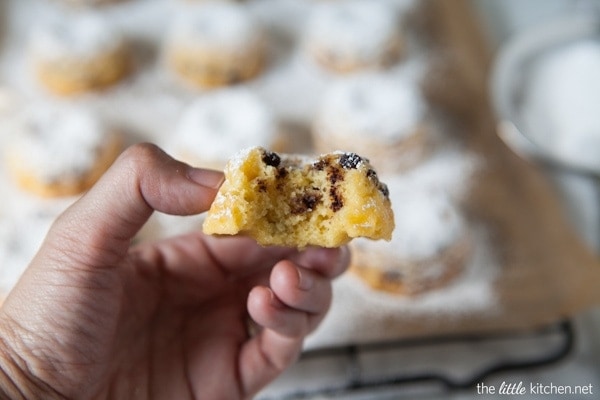 I shared the mini bundt cakes with some friends. I show my love often through food and I hope when they felt the love when they enjoyed the mini cakes!
So quick and easy and rich in vanilla flavor and the chocolate chips. This is a cake I will be making over and over again for sure!
Recipe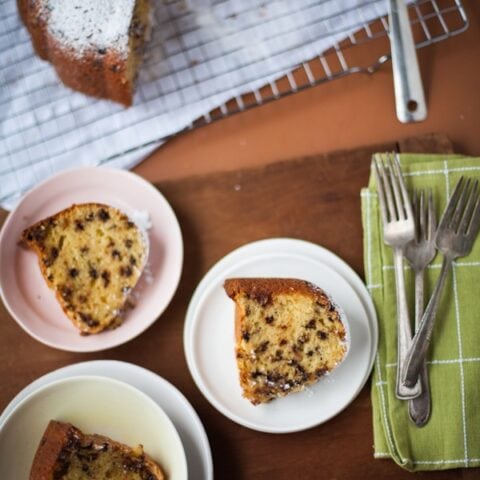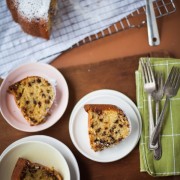 Print
Pin
Vanilla Chocolate Chip Bundt Cake Recipe
Servings
16
servings or 28-30 mini bundt cakes
Ingredients
1

package

,

15.25 ounces yellow cake mix

1

cup

miniature chocolate

,

chips

1

package

,

4-serving size vanilla instant pudding mix (I used a 3.4 ounce package)

1

cup

sour cream

1/2

cup

vegetable oil

1/2

cup

water

4

large eggs

2

Tablespoons

McCormick® Pure Vanilla Extract

Powdered sugar for serving
Instructions
Heat oven to 350 degrees F. Spray a 12 cup bundt pan thoroughly with non-stick baking spray or if using a mini bundt pan, spray the individual cavities.

In a medium sized mixing bowl, add chocolate chips and 3 Tablespoons of the dry cake mix. Mix thoroughly and set aside.

Add remaining cake mix, pudding mix, sour cream, oil, water, eggs and vanilla extract to a large mixing bowl. Using an electric mixer on low speed, mix all ingredients together until combined. Increase speed to medium and mix for one more minute.

Pour in chocolate chips and stir in using a wooden spoon or rubber spatula. Pour into greased and floured 12-cup Bundt pan. Or if using mini bundt pan, using a medium cookie scoop (1 1/2 Tablespoons), scoop into individual cavities.
For large bundt pan
Bake 50 minutes or until toothpick inserted in center comes out clean. Cool in pan 10 minutes.
For mini bundt cakes
Bake for 12 to 15 minutes or until toothpick inserted in center comes out clean. Cool in pan for 2 to 5 minutes.

Flip onto wire cooling rack and allow to cool completely. Sprinkle powdered sugar on top before serving.
Disclosure: This post is sponsored by McCormick®. I share my own opinions and I only work with brands I love. This post contains affiliate links.