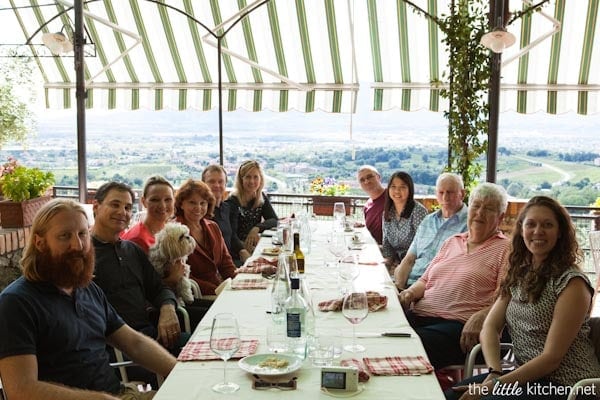 Last month, I had the extreme honor of being invited on a trip to Italy with Michael Angelo's and their Win a Trip to Italy sweepstakes winners from last year, Mike and Martha. We had a blast. Okay, that was an understatement. But how do I explain it? First, I just want to say about the people we met on this trip and who we got to spend time with. The most fun, kindhearted and most welcoming bunch, the kind of people you would want to travel to Italy for the first time with! (And seriously, you guys, it felt like a dream, never in a million years did I think when I hit publish on this little ol' blog in December 2009 that I would be going to Italy!!!)
In the front are Jason and Pixie…two very cool and special people who got married last year. I hope to get to see them in Austin in the future! On the right next to Pixie is Mike and Martha. Two very special and HILARIOUS people, so glad I got to spend time with them! On the left next to Jason are Michael, Cheryl and Sara…I'm so thankful to them for this trip and so glad I got to know them better. Next to them are Dirk and Melanie, Cheryl's friends…so sweet and I had fun with them too! And in the back, I can't forget Curtis. So glad I go to share this experience with you!
When we arrived, we had flown into Florence. We had left on a Friday and arrived on Saturday. We stayed for five nights at Villa Daniella, a property that was built in the 1500s and was a wealthy family's summer home and then a sanctuary for monks. Daniella and her family own it now and rent it out. They were so kind and hospitable. We loved staying there.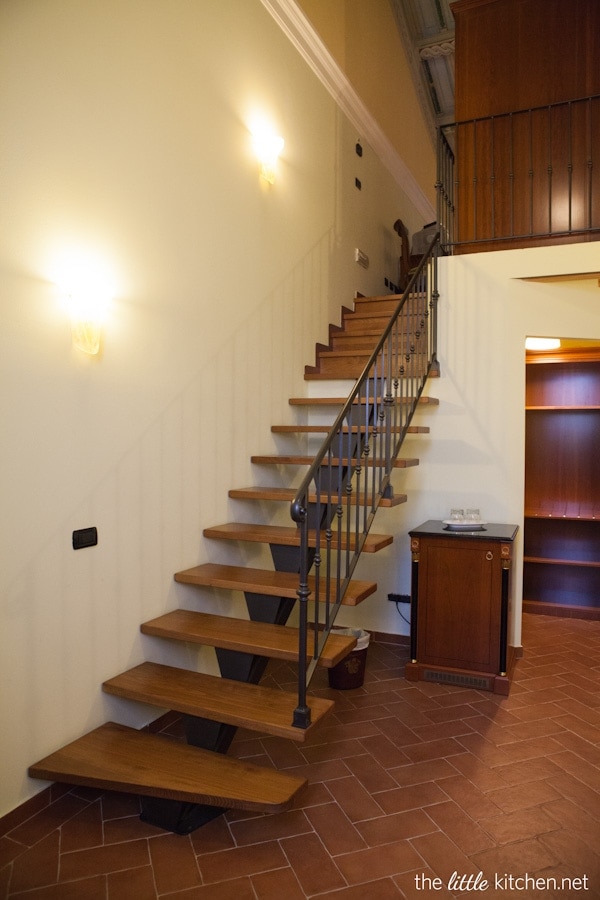 The other side of that downstairs room. Our bed was upstairs. We felt like we were staying in a flat. The room even had two bathrooms!
The amazing meal we were served when we arrived. Those seafood stuffed squash blossoms…omgeee. And those truffled salamis. Seriously amazing. The first pork I ate when I arrived. It was pretty much over from there.
I'm so fortunate to be married to a great guy named Curtis. He's very patient and he loves our furbabies just as much as I do. But I have something to share, he's pretty picky when it comes to food. People who know us well…know all about this. But then again so am I. It's funny, we might have discussed this a little bit before our trip but we never came to an agreement. But it seems Curtis and I decided without letting the other one know, that we would be open to trying new things and that we would at least try most things on this trip. For me, it was pork. I hadn't eaten pork in fifteen years by choice. And for Curtis, I can't believe he ate squid and octopus on this trip! I'm so thankful for this trip in so many ways, we got to experience so many things, meet amazing people and eat the most wonderful food!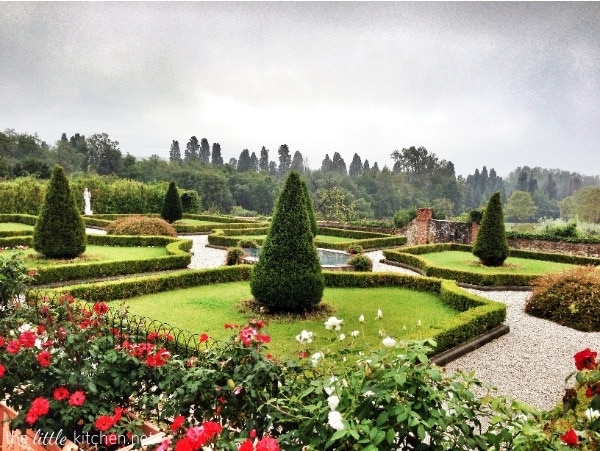 The gardens at Villa Daniella…simply gorgeous. Daniella and her family worked really hard to restore the gardens what they were originally designed to be in the 1500s.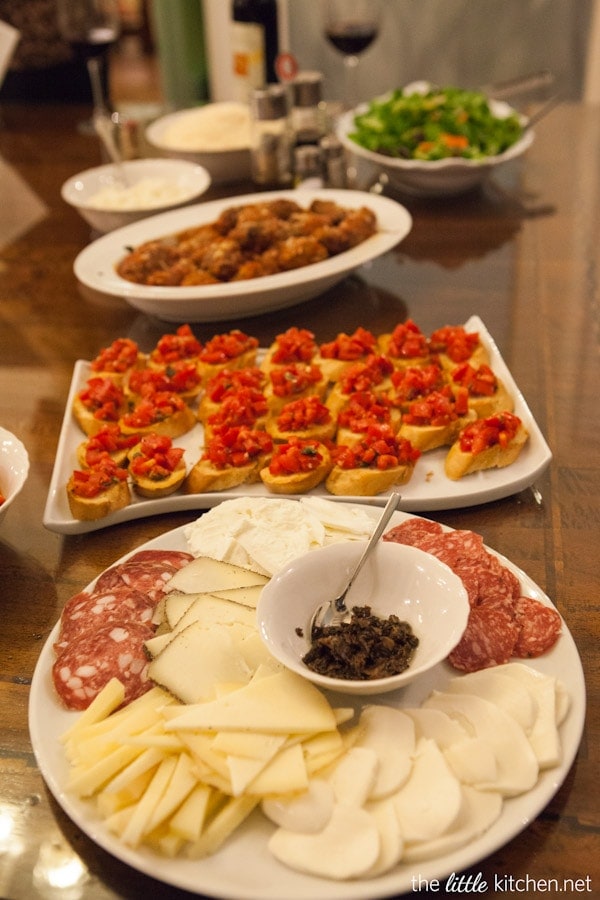 Gorgeous meat and cheese plate that Pixie put together for us as part of our first dinner in Italy.
Dinner was made by Sara…her wonderful gravy and her meatballs, I can't believe I didn't get a shot of my plate with them on there. Her tomato sauce was amazing. She told us she got up at 5am and it slow cooked all day. She suggested we top our spaghetti with some ricotta cheese. Mix it in and oh my, it was amazing!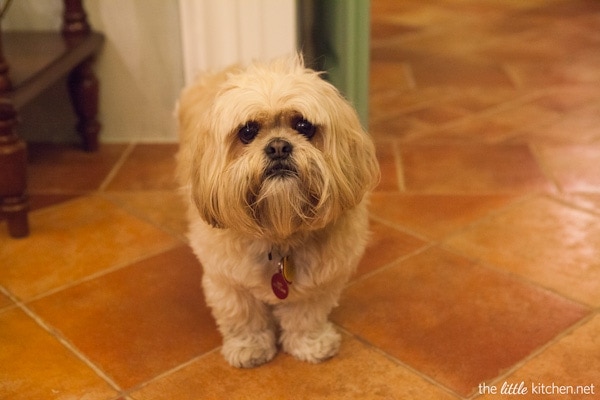 This little guy, Indy, belongs to Cheryl and Michael Angelo. He stayed with us at the villa and hung out with us a lot! It was really nice to have a dog on the trip, we missed our dogs and cats so much but it was nice to have another four-legged cutie to pet while in Italy!
One of our day trips was to the village of Montecarlo. What beautiful streets. Streets are not very wide in towns and sometimes it was a little scary but Italians are used to driving on these kinds of roads.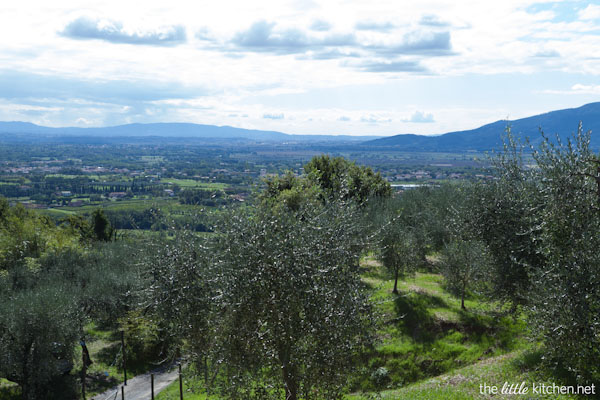 Those are olive trees!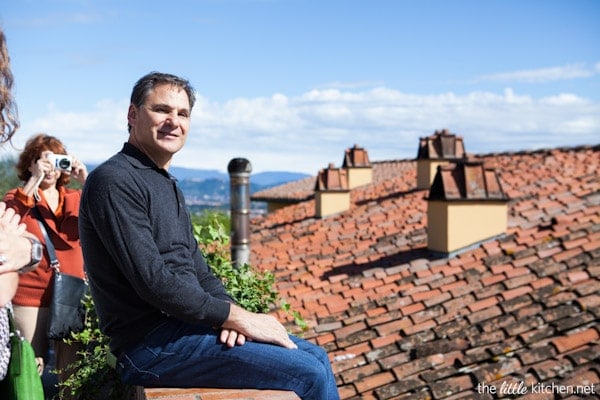 There's Michael sitting on a wall overlooking this…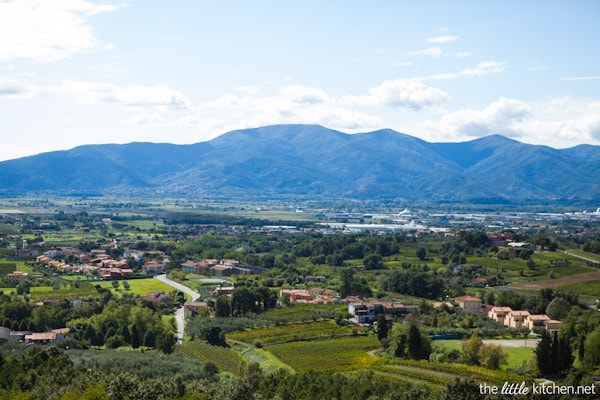 Seriously, the scenery was amazing and beautiful. Every day in the car, we would look out the window and sigh. It was amazing to me that everyone acted like everything was normal. To us, the countryside, the mountains, the scenery was beyond gorgeous and my pictures can't even capture 1/10th of the beauty.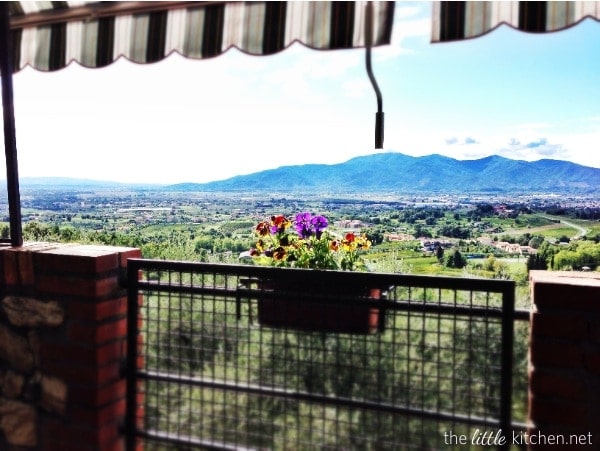 We had lunch at La Terrazza Pizzeria Ristoro in Montecarlo and that was our view.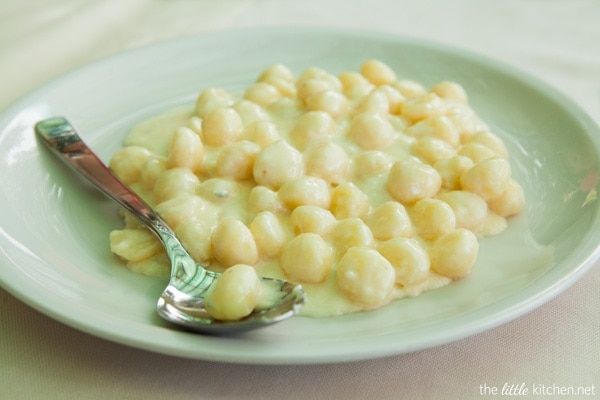 We had this amazing four cheese gnocchi…I have to recreate this.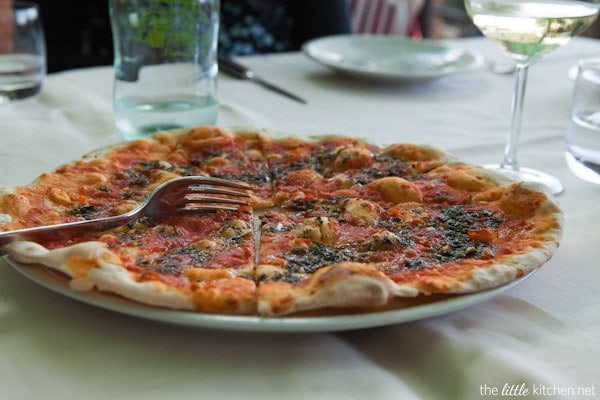 And some amazing pizza. It's interesting how the pizza we ordered at several different places came unsliced. We had to cut it overselves. That super thin crust…to die for.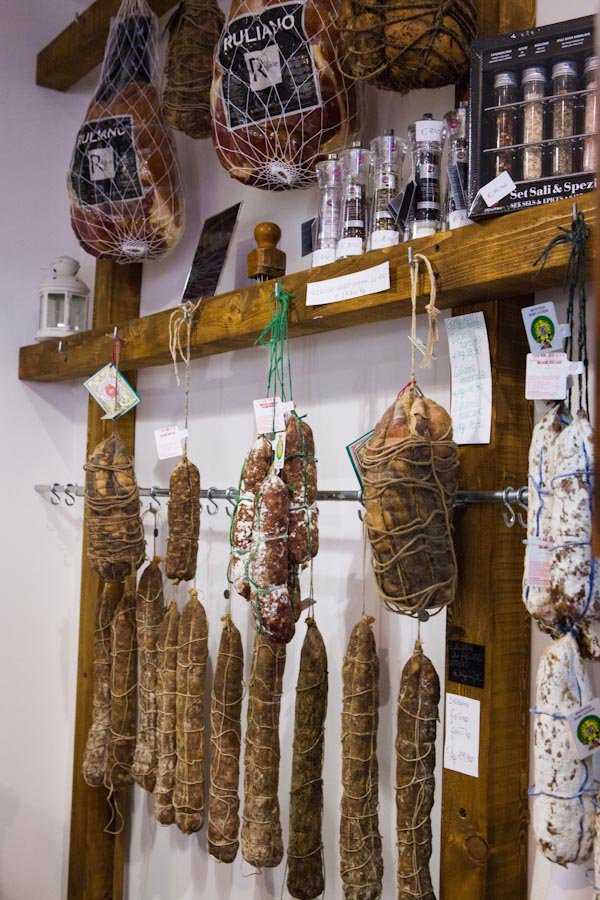 We visited some cool shops in Montecarlo and I wished we could bring cured meats home with us.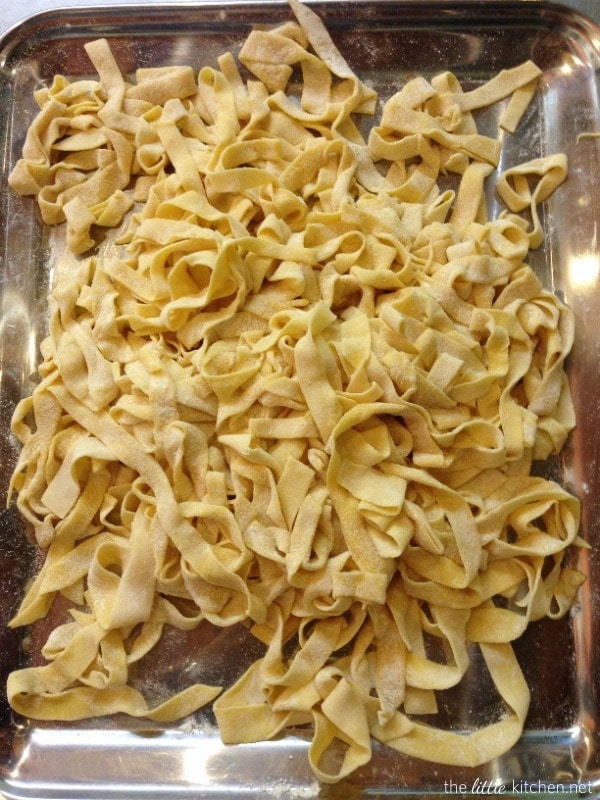 We made homemade pasta with Sara. Made with 00 flour. I brought a few bags home with me so I could try making pasta with it. I have only used semolina and all-purpose flour for pasta. 00 flour is much finer.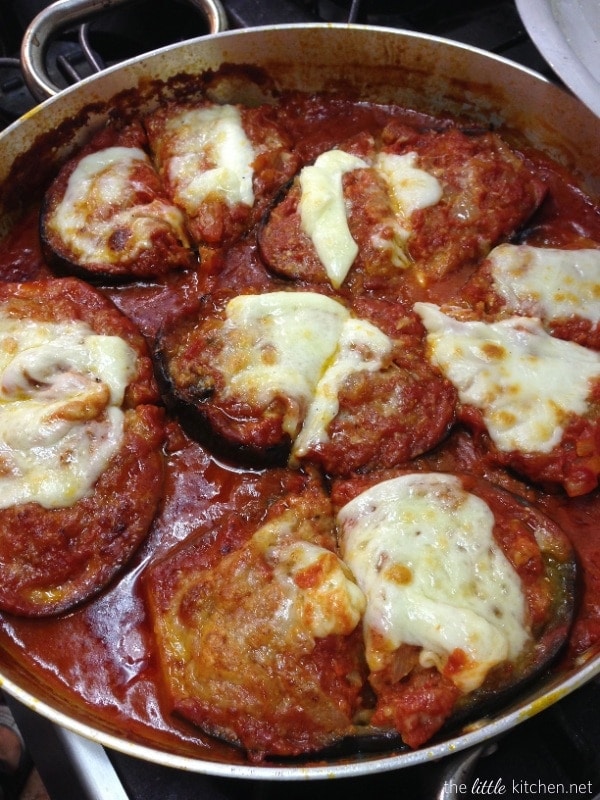 And Sara made her famous Stuffed Eggplant…words cannot describe how good this dish was. If you're an eggplant fan, you would love this dish. Don't worry Sara shared her recipe with me!!!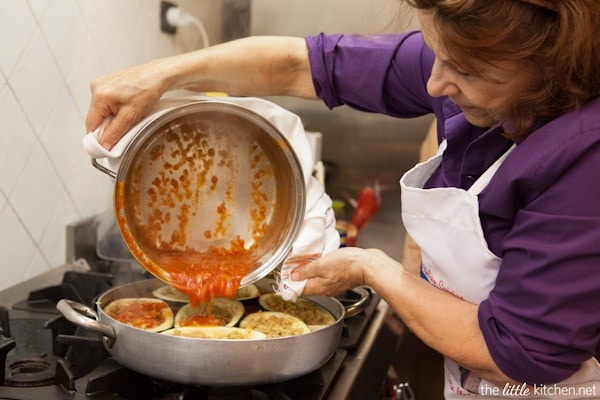 I will be making it soon and sharing the recipe with you!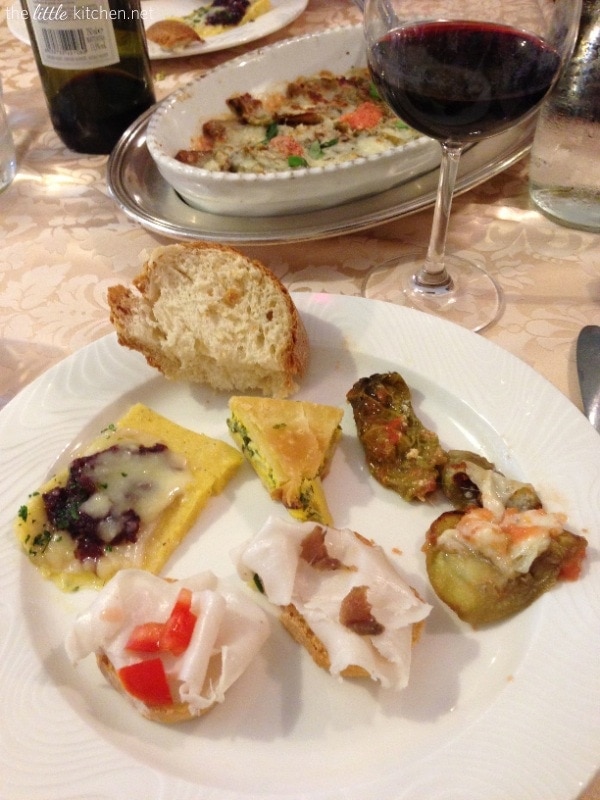 Next up, we visited Colonnata, world-famous for lardo!
We drove up this windy windy windy road up a mountain (Curtis took a lot of Dramamine on this trip!) and arrived at Ristorante Venanzio. What an amazing experience. The staff and the food…amazing. Roberto who has owned the restaurant with his wife for 10 years has actually worked at the tiny restaurant for 30 years. You can taste the love in the food.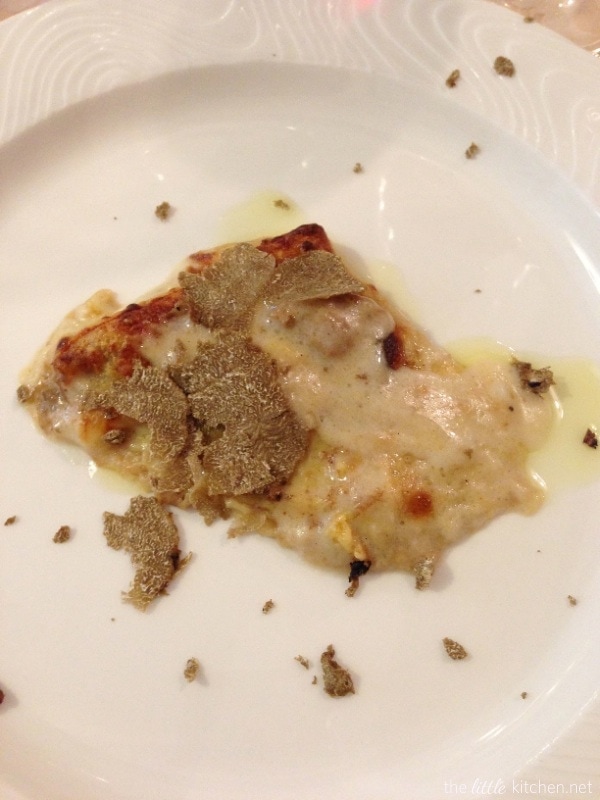 A few people have asked me what the best thing I had in Italy was…it was extremely hard to answer but if I had to say the best of the best was this unphotogenic dish of mushroom and taleggio cheese stuffed crepes topped with shaved black truffles. Sigh [You mushroom haters shudder I know but I don't understand…]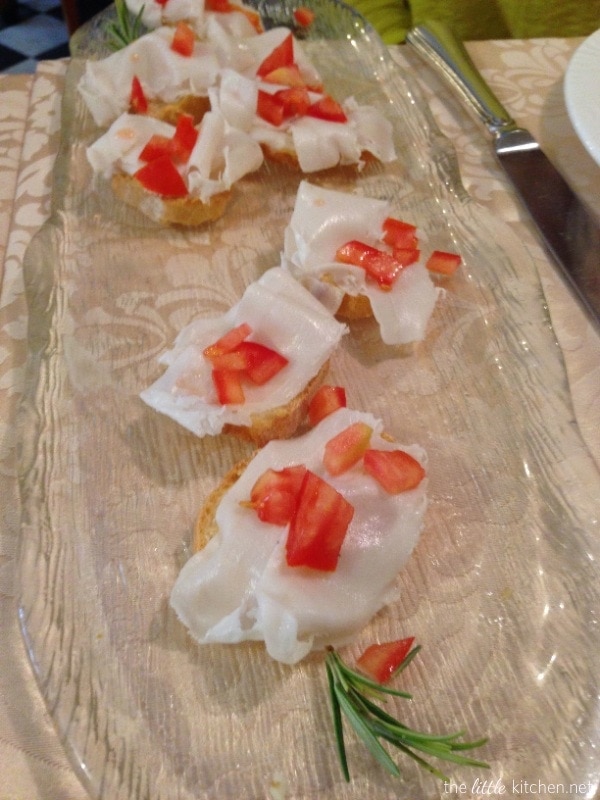 Lardo is Italian charcuterie…made of pork fatback that's been cured. And as Cheryl described it, it's like butter. They served it on a crostini with tomatoes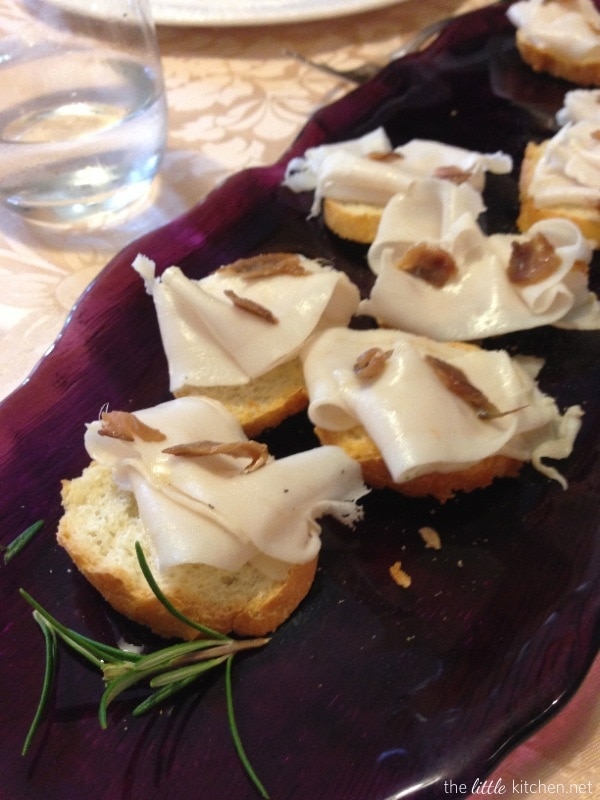 and anchovies.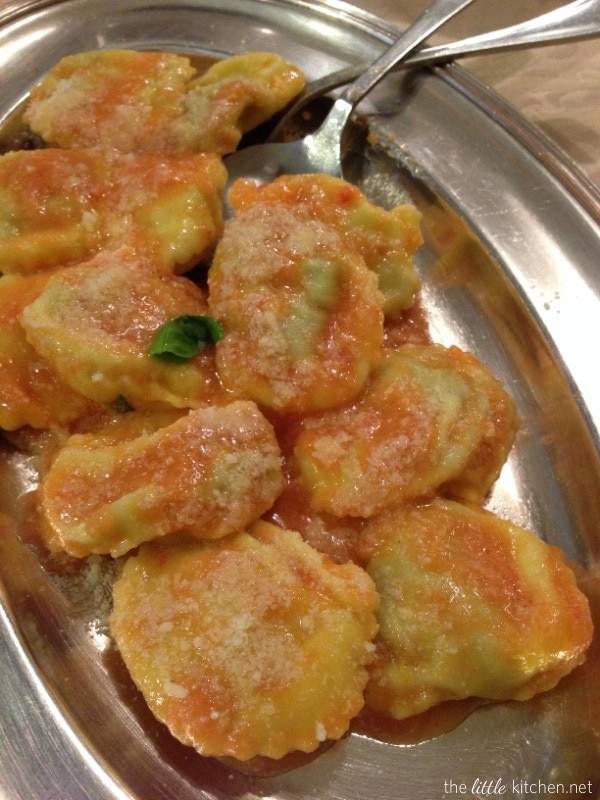 These raviolis…look so unassuming but the ingredients were so simple which made it that more amazing.
One of Curtis' favorite dishes, spinach pappardelle. Must make soon. If you haven't already guessed, I have a list of recipes that I want to try to make since we have come back. Someone come over and help me test them? 🙂
There's our group minus Sara. Look at those mountains!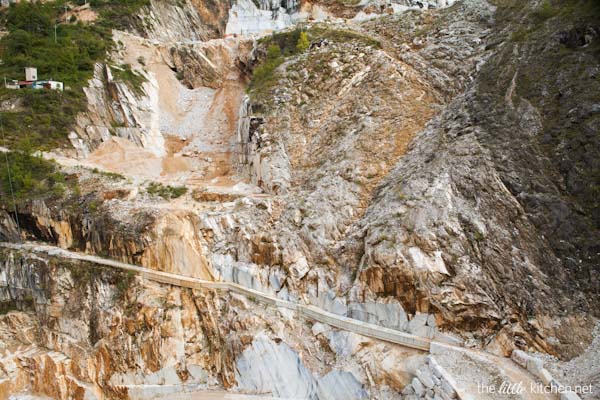 And these…can you see the marble?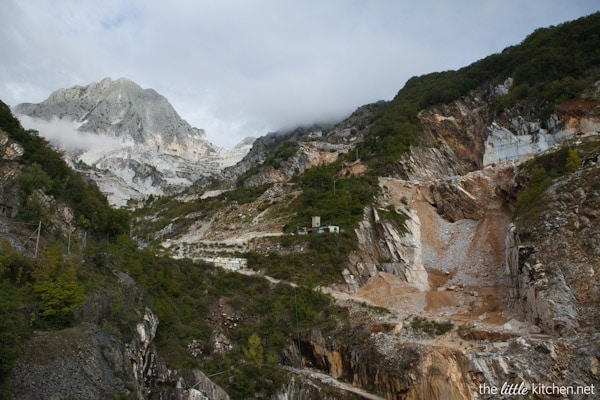 We visited the mountains where Michelangelo went to find marble to carve the statue of David.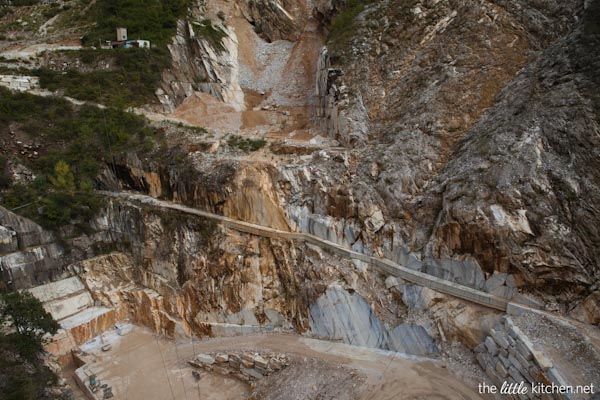 So full of history, people have been mining marble from these mountains and caves for many many years. It was breathtaking to see all of the marble.
Stay tuned for Part II of my recap and that recipe I'll share with you!
PS Michael Angelo's is sponsoring another sweepstakes right now! The sweepstakes ends November 25, 2013.
Disclosure: Thanks to Michael Angelo's who hosted me on my trip to Italy. I only work with brands that I love and always share with you my honest opinions.