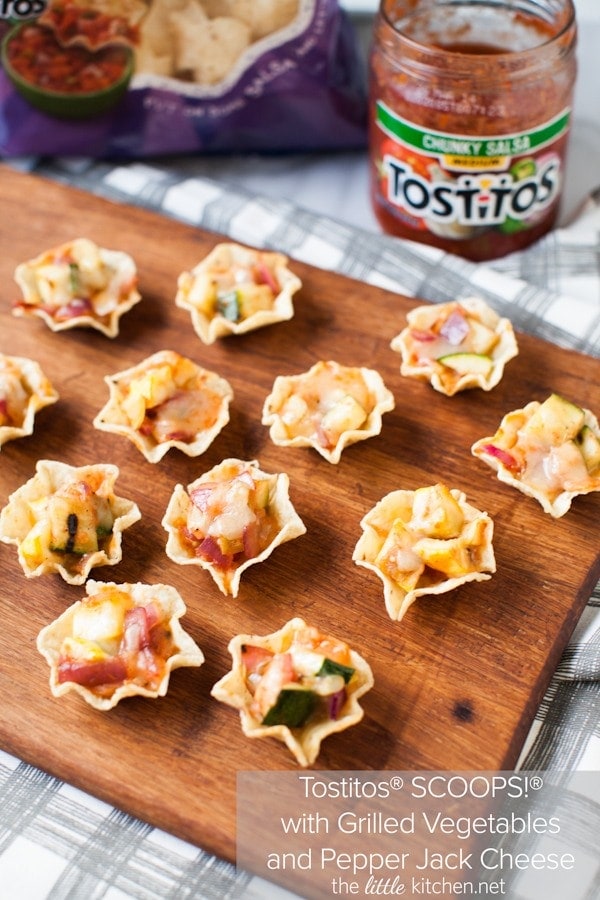 Hey there, just a reminder that tomorrow I will be co-hosting a Facebook Chat with Frito-Lay Flavor Kitchen Chef Jody at 8-9PM EDT. Chef Jody and I will be offering summer party tips, along with tasty recipe ideas throughout the one-hour chat. The chat will take place on the Frito-Lay Facebook Page. We will be giving away some great prizes the entire hour, so don't miss your chance to win!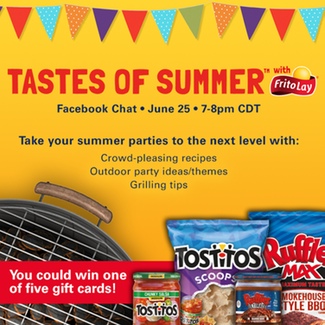 And pssstttt, don't miss out on the giveaway made possible by Frito-Lay too! I'm loving all of the party tips you all are sharing with me when you enter in the giveaway. Here are some of my favorites so far:
Laura A. says to "Serve low fuss food that are easy to prepare."
Patricia Z. says to "Have lots of Tostitos chips and salsa."
Jana J. says "Having a signature cocktail!"
Jane T. says to "pot luck it, everybody brings their favorite thing and gets to show it off."
Kathleen L. says "always buy extra food lots of Tostitos Scoops and Ruffles-so you never run out for all your guests!"
Such great tips!
Of course, I'm excited to be working with Frito-Lay…I had to share with you one of Chef Jody's recipes…when I saw this one, I had to try it. I LOVE grilled vegetables. This recipe is super simple to prep and it's a great appetizer for your next get together.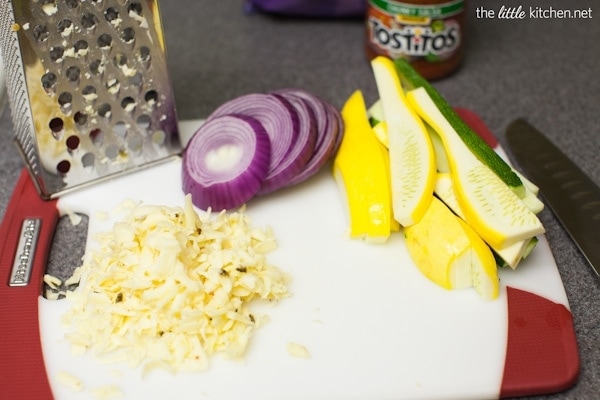 I cut up the veggies and shredded the pepper jack cheese. If pepper jack cheese is too hot for you, feel free to use Monterey jack cheese.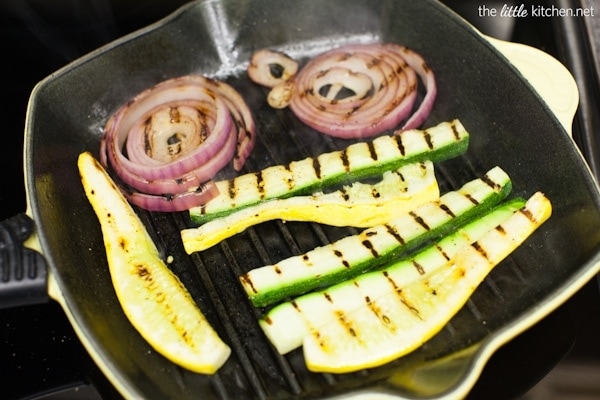 The recipe calls for grilling the veggies on a grill but we don't have a veggie grilling basket (I totally want one though) so I did it inside on my grill pan. It's super easy and quick too!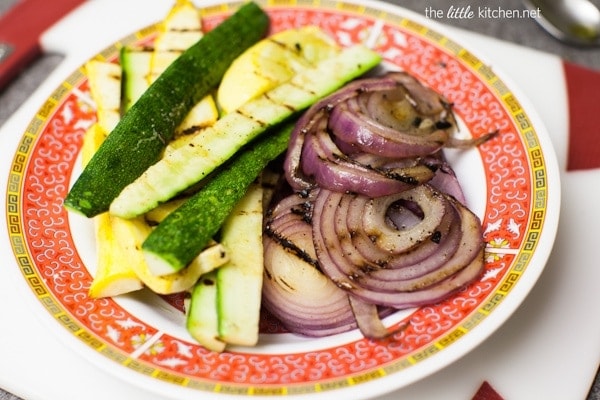 Aren't they gorgeous? The smell of grilling red onions is amazing!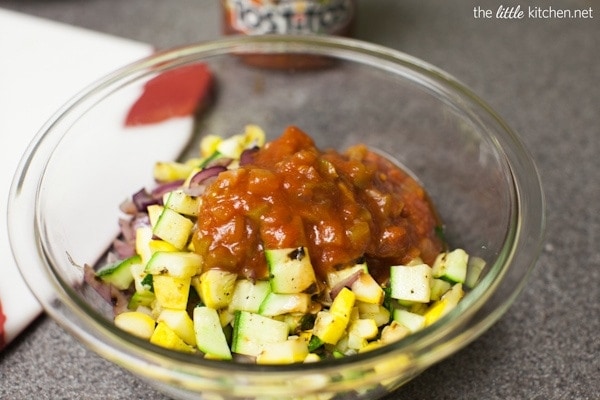 Chop up the veggies and combine with the cheese and Tostitos® Chunky Salsa and that's it. Add to Tostitos® SCOOPS!® Tortilla Chips and then bake in the oven at 200 degrees F for about 10 minutes and you get…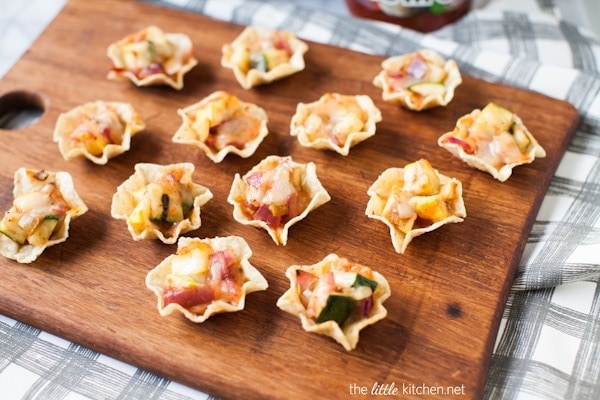 these! They are amazing little scoops/bites bursting with flavor from the salsa, the grilled vegetables and the pepper jack cheese. Curtis loved them too. He said next time you make them (that's a good sign), can you add bacon to them? 🙂
Recipe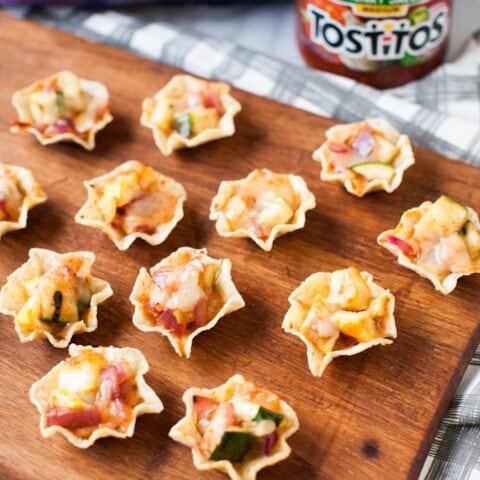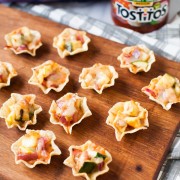 Print
Pin
Tostitos SCOOPS! with Grilled Vegetables and Pepper Jack Cheese Recipe
Servings
6
to 8 Servings (as an appetizer)
Ingredients
1

small zucchini

,

sliced lengthwise 1/4 inch thick

1

small yellow squash

,

sliced lengthwise 1/4 inch thick

1

red onion

,

sliced in rings 1/4 inch thick

1

red bell pepper

,

stem and seeds removed

2

Tablespoons

olive oil

salt and pepper to taste

1/2

pound

pepper jack or monterey jack cheese

,

grated

1/2

cup

Tostitos® Chunky Salsa

1

bag 14 ounce Tostitos® SCOOPS!® Tortilla Chips
Instructions
Heat a gas or charcoal grill to medium high heat or heat a grill pan on medium high heat.

Drizzle the vegetables with olive oil and lightly season with salt and pepper.

Arrange the vegetables on the grill or on a grill pan. After 1 to 2 minutes, turn the vegetables 90 degrees to get grill marks.

After another minute, flip to the other side and repeat, remove and allow to cool.

Dice the vegetables 1/4 inch and mi in a bowl with the grated cheese and chunky salsa.

Place a tablespoon of the mixture into each Tostitos® SCOOPS!® chip and bake on a baking sheet in the oven at 200 degrees F for about 10 minutes or until the cheese melts. Serve immediately.
Notes
Recipe by Frito-Lay Chef Jody Denton
Check out some of Chef Jody's other great recipes: Tostitos® SCOOPS!® with Jamaican Jerk Chicken and Mango Salsa and Ruffles® MAX® Smokehouse Style BBQ Quesadilla with BBQ Beef Dip and don't miss our Facebook chat tomorrow night for more summer entertaining tips!
Disclosure: This post is sponsored by Frito-Lay. I'm happily partnering with Frito-Lay this summer for the Facebook chat. As always, I only share my own opinions and I only work with brands that I love.