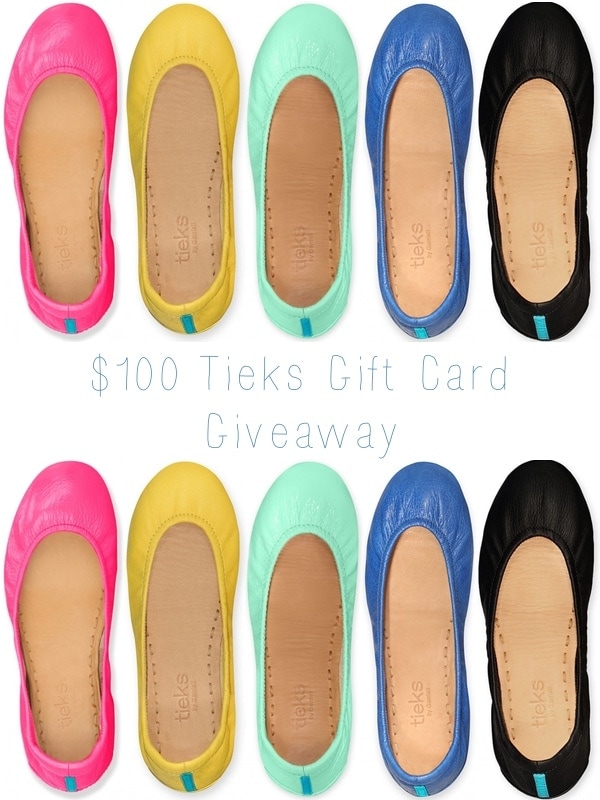 I'm so excited, I'm so excited to share this wonderful giveaway with you! See below on how to enter.

I recently shared a little bit why I love Tieks ballet flats on my Valentine's Day Gift Guide.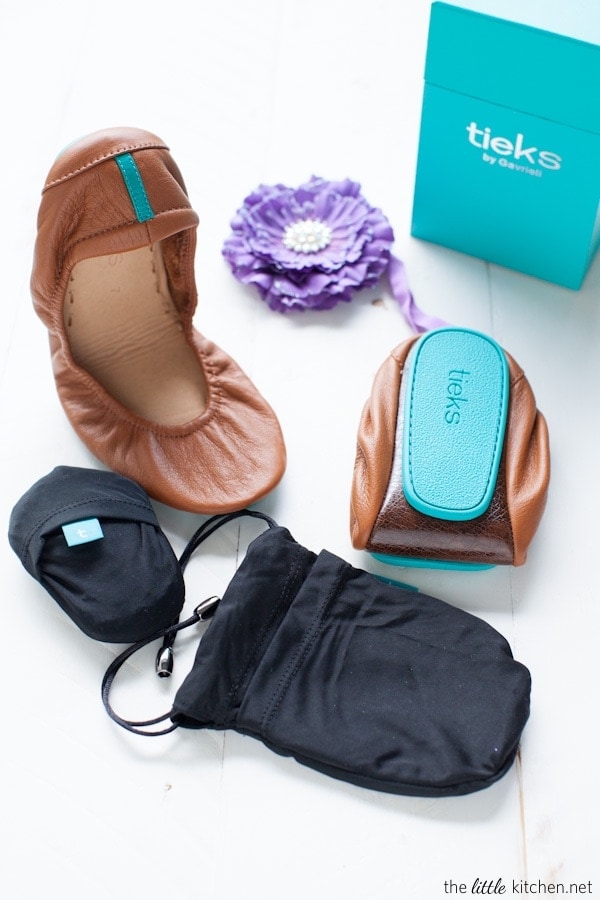 Here are five reasons I love them:
1. They fold up nicely. They fold up nice and tight and come with a little bag so you can put them in your purse…nice when you want to change from boots or heels to flats.
2. They come in a huge array of amazing colors. I own two pairs, a pink one and a brown one. The collage up top is some of the colors that I want. I want all the colors.
3. They are comfy. Yes, they are extremely comfy once you break them in. Don't let anyone tell you that you don't need to break them in. You do, once you do…you'll love them.
4. They are easy to clean. I walk my dogs, run through the dirt after them and even get pawprints on them. They are easy to clean with a wet paper towel.
5. I can't think of another reason…haha. I just love them.
Let's discuss the elephant in the room. Yes, they are expensive. Yes, they seem really trendy right now. And I love me a good trend but I don't usually talk about things unless I really love them. So the answer is yes, I love these shoes and yes, they are worth it. I wear them pretty much every day and love wearing them to Walt Disney World. We became annual passholders last year and this is pretty much the ultimate test for comfy shoes. Wear them to Disney. Walk anywhere from 4 to 8 miles in them. They are perfect for this. And I really like them for rainy days when I'm at Disney too. I have these suede flats that when they get wet, they dye my feet…the Tieks don't do that.
And now for the giveaway, thanks to Tieks for sponsoring it!
The prize is:
There will be TWO winners!
Please use the form below to enter in the giveaway. Good luck!
This giveaway has ended.
Congrats to Geraldine R & Kim H! Enjoy!
Disclosure: This giveaway is sponsored by Tieks.
Check out our other giveaways!