I'm just going to come out and say it…breast cancer sucks. Enough said. We have lost too many mothers, sisters, daughters and grandmothers and even fathers and sons to this disease.
My grandmother was diagnosed with breast cancer in 2006. There was one point during her chemo treatment that we thought we were going to lose her. It was so hard on my Mom and her sisters. 2006 is also the year I started volunteering with the Central Florida Affiliate of Susan G. Komen for the Cure. It's a wonderful organization that I'm proud to volunteer for. Not only do funds go towards a national effort to find a cure, the majority of the proceeds of funds raised locally goes to help women and men in Central Florida with screening, diagnostics and treatment.
Even though times are as they are, this just means that patients suffering through cancer are squeezed even tighter. Many of these patients have no insurance or not enough.
October is a constant reminder and a month of awareness (even though Komen Central Florida's work happens year-round). Please get that needed mammogram and check yourself. I actually had my first mammogram last year and am very thankful to the technician put me at ease and was so nice to me.
I have been volunteering my time since high school and will continue to volunteer my time to causes I believe in. I am a firm believer in giving back because of the generosity and kindness my family was shown while I was growing up. I have huge respect for corporations who do the same. To me this speaks volumes, if I like your product and you do good, that's a winning package.
Here are a few companies (food/cooking-related of course) who are helping to support Susan G. Komen for the Cure: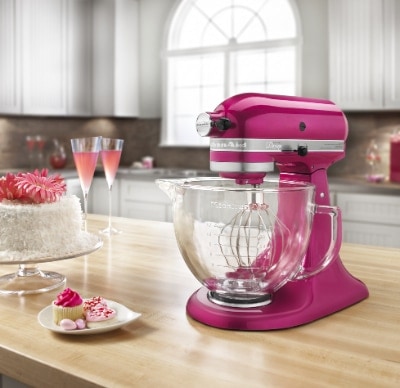 This is the brand new KitchenAid Cook for the Cure Raspberry Ice Stand Mixer.
KitchenAid – They run the 1,000 Cooks for the Cure event and donate a portion of each Pink appliance/gadget purchase to Komen for the Cure. I totally gush over this company. I love my light pink stand mixer and it's my essential tool for making buttercream.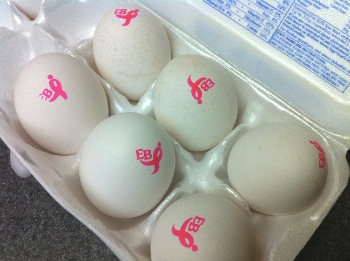 Eggland's Best – My favorite brand of eggs has the Komen for the Cure logo on them for the month of October. I love that my favorite egg brand are helping out a great cause.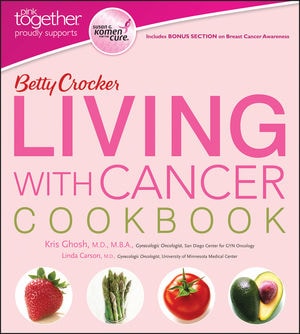 This new book called the Betty Crocker Living with Cancer Cookbook contains tons of recipes and a bonus section on breast cancer as well as a note from the founder of Susan G. Komen for the Cure, Ambassasdor Nancy G. Brinker.  I actually reviewed this book on Cooks & Books & Recipes.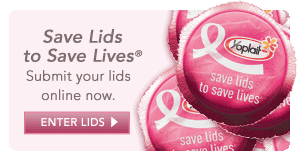 Yoplait lids: new this year, you can submit lids online. Did you know that that for every lid, Yoplait donates $0.10 to Komen for the Cure. That may not seem like a lot but the Affiliates around the country see that money and it makes a huge difference, believe me.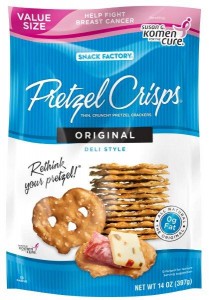 Pretzel Crips: my new obsession, thanks to my co-worker. I went to their website and found these. Love that these have 0g of fat, they taste good and they are working hard and supporting Komen for the Cure!
Today, my grandmother and a friend who was diagnosed last year are both survivors. We're so thankful for the advances over the past few decades and that more and more are surviving breast cancer. The key is early detection.
I'm thankful for Ambassador Nancy G. Brinker's continued commitment to her sister Susan G. Komen and am at the same time cognizant of her loss of her sister and the women and men we still lose today and have lost.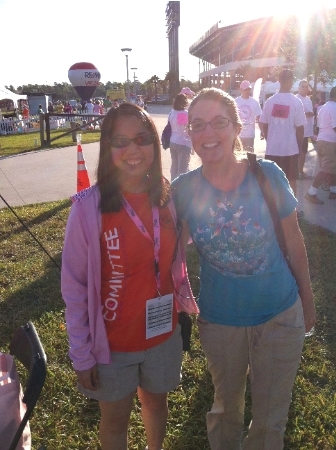 There are so many ways you can help in addition to buying products that support Komen for the Cure and other breast cancer foundations. I'm volunteering at the Susan G. Komen Central Florida Race for the Cure this month on October 16th and have taken the Power of 15 challenge. I want to raise $150 by asking 15 people to donate $10 each. You're welcome to join me by registering for the Central Florida Race for the Cure or by donating towards my participation.
To find a Race for the Cure event in your area, please visit komen.org.
Have you or your family been affected by breast cancer? Do you do anything to help bring awareness during October? Do you have any favorite products that go pink for October? I want to hear all about it.
Disclosure:  These are my own opinions and are not the opinions of Susan G. Komen for the Cure or the Central Florida Affiliate or their respective Board of Directors. This is NOT a sponsored post and I only mention brands on my blog that I love. I did receive a review copy of the Betty Crocker cookbook and again, my opinions are always my own. This post does contain affiliate links. For any products listed in this post that are purchased via my affiliate link, the proceeds will be donated to Komen Central Florida.