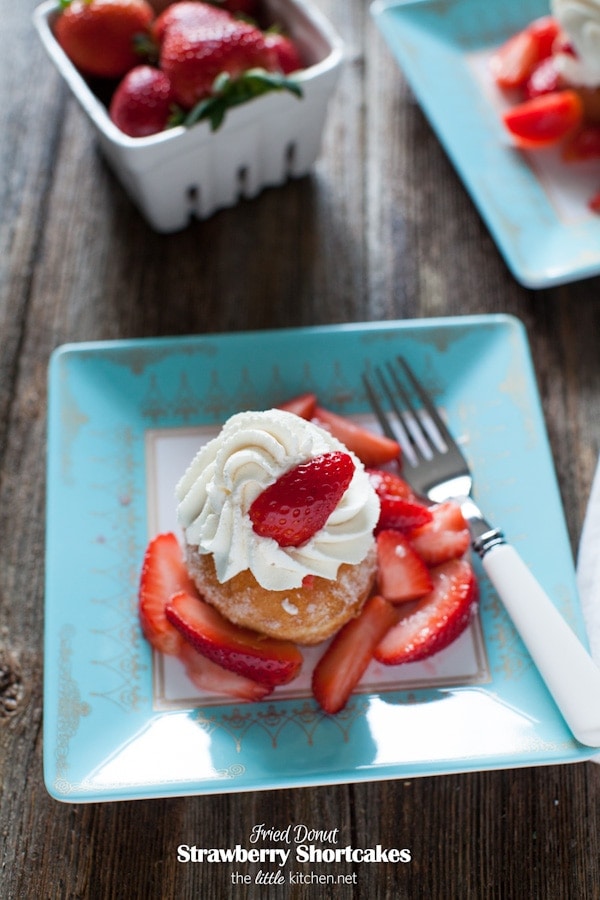 Recently, I had the opportunity to visit the Florida Strawberry Growers Association and learn all about Florida strawberries. When I arrived, we were all talking about strawberry shortcakes and someone mentioned having one on a fried donut. I was like WHAT? I need to make that. And I did. It was amazing and I will be doing this again and again!
Photographed here, the shortcakes are on Pembroke Collection plates by Q Squared. I found out about Q Squared in Utah last year and love love their products. Totally durable and reasonably priced…it's great for every day and for entertaining. 🙂 That's their flatware too!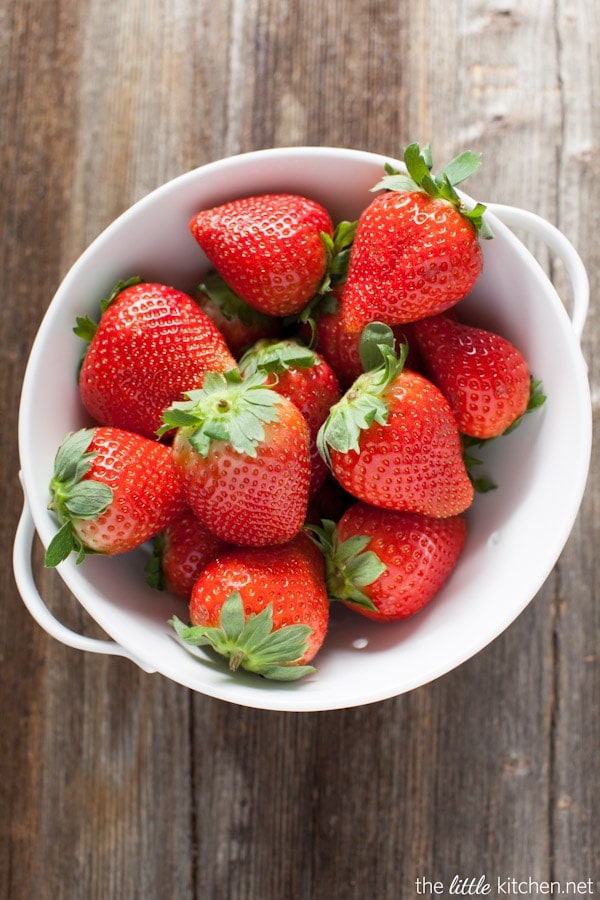 These strawberries are so perfect. I had fun playing around with them with my camera. I ate a lot of strawberries…well, because I came home with 10 POUNDS!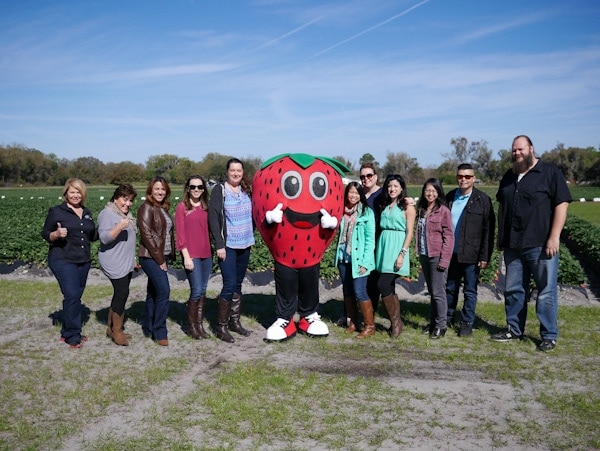 This was our group. I help plan get togethers with local food bloggers from the Central Florida area. That's Sue on the left, she organized this event for us!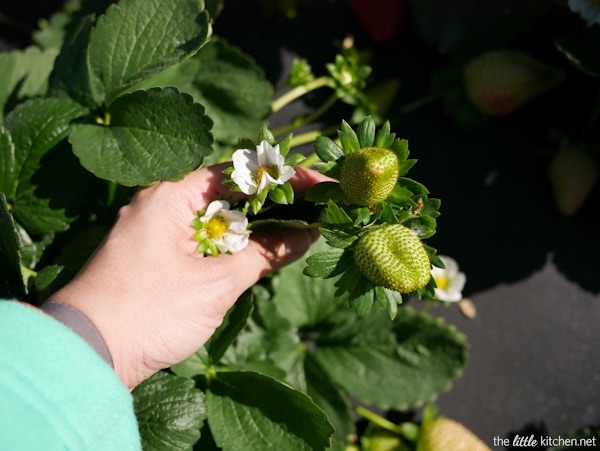 Strawberry flowers. Once they bloom, it takes 35 days for a strawberry to grow. I love this photo because you can see the green unripe strawberry growing out of the the flower and how the calyx starts!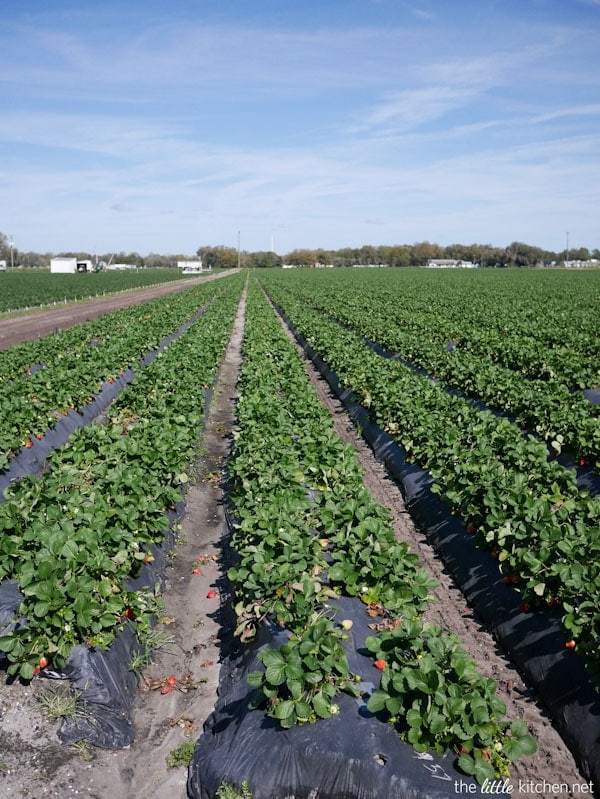 Strawberry fields. We were lucky enough to be able to pick strawberries and taste them straight from the field. It was amazing.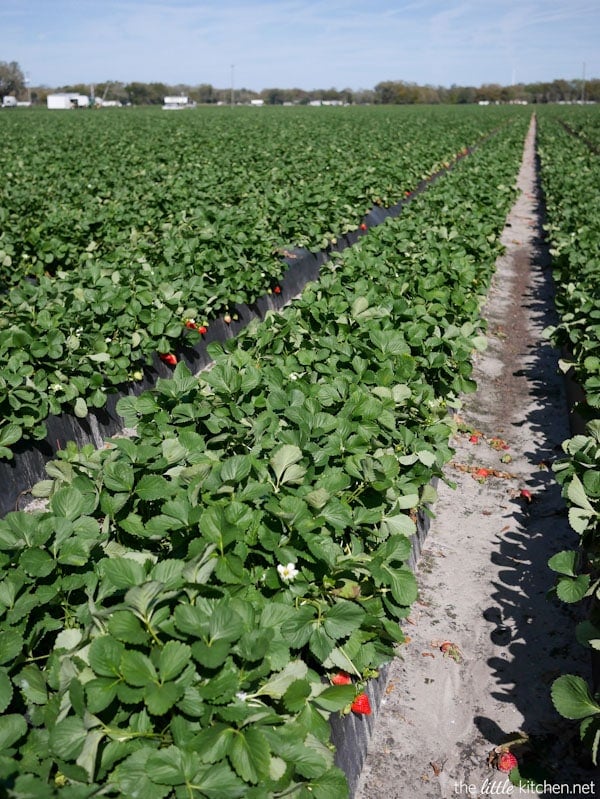 The best way to store strawberries? Completely dry and in the refrigerator at 33 degrees F. Strawberries don't actually freeze until at least 28 degrees F.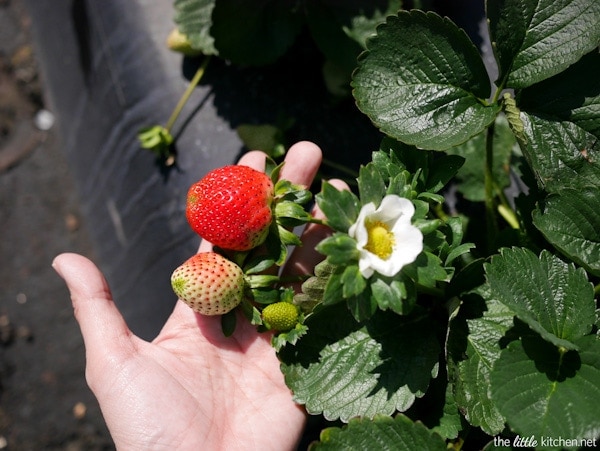 We visited the FSGA's strawberry fields and BBI Produce. It was so neat to hear all about the research and the strawberry varieties grown in Florida. Strawberries are planted in October and harvest from November and usually until March.
And then we went to lunch at Ole Town Pizza in Plant City. Amazing amazing pizzas and these rolls, were divine. I had two. We also had the best ever strawberry salad. I'm going to recreate that salad soon!
We then made our way to Parkesdale Farm Market and enjoyed strawberry shortcakes and the most amazing strawberry milkshakes. Shortcakes are only available during strawberry season…I recommend you head down there if you're ever in the Plant City area!
Back to the recipe…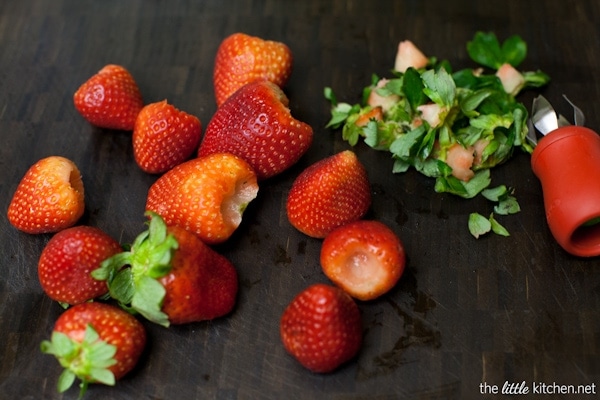 I hulled and sliced the strawberries and put them into a bowl with sugar and a few drops of water. Mix.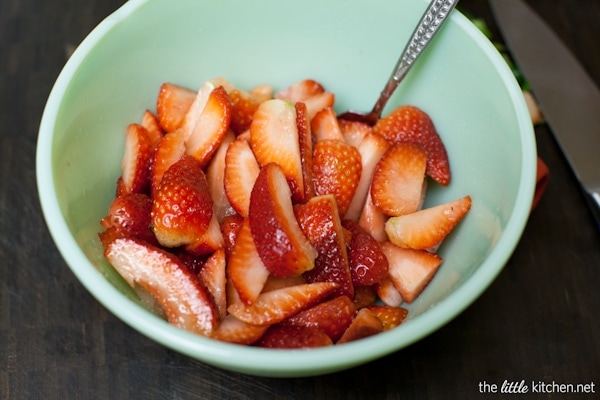 The amount of sugar you'll need depends on how sweet your strawberries are. These were really sweet so I didn't need much.
This is a total cheater recipe. I used canned biscuits. These make great easy fried donuts. We make them all the time. Don't judge. I'm serious, I don't want to hear it. 🙂 If you want to make your doughnuts from scratch, here's a great recipe for homemade doughnuts!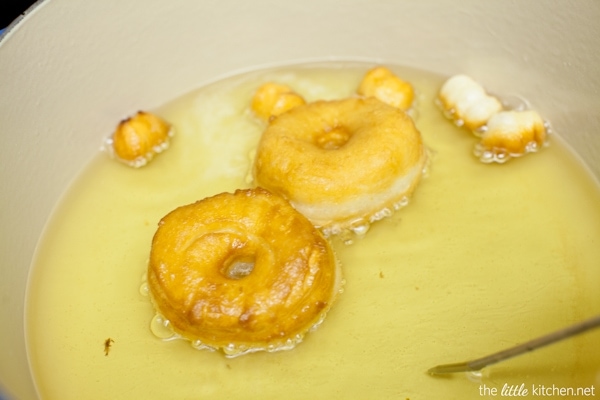 Fry them in some oil.
Let them sit for one minute and then dip them in sugar.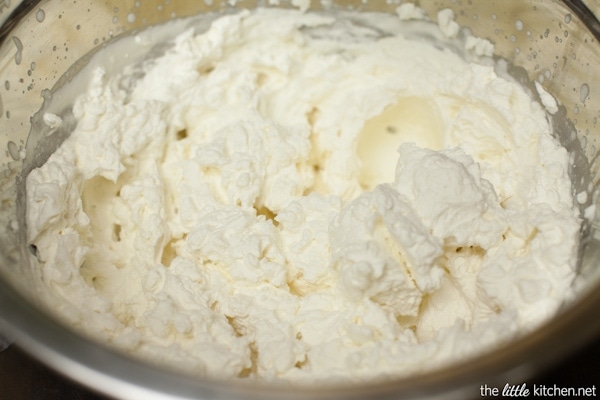 I made homemade whipped cream with vanilla extract and sugar. You can use canned whipped cream if you want.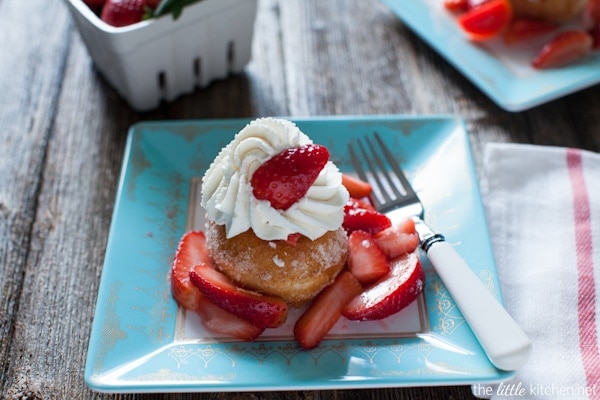 Photographed on Pembroke Collection plates with flatware by Q Squared.
For reals, this is amazing. I think I like this even better than actual shortcakes. Fried donuts. Enough said.
Recipe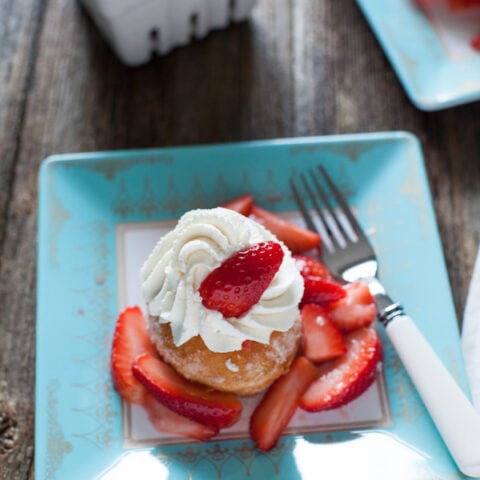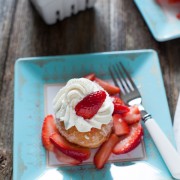 Print
Pin
Save
Fried Donut Strawberry Shortcakes Recipe
Ingredients
2 1/2

cups

strawberries

,

washed, hulled and chopped

2

teaspoons

granulated sugar

canned refrigerated buttermilk biscuits

,

5 count

1

cup

granulated sugar

2

cups

heavy cream

2

teaspoons

pure vanilla extract

2

teaspoons

powdered sugar
Instructions
First add oil to a large pot and turn heat to medium low.

Prep strawberries. Place in a bowl and add sugar and 2 to 3 dashes of water. Mix thoroughly and set aside.

Turn oil to medium and while waiting for the oil to get to 325 degrees F.

Add 1 cup sugar to a bowl and set aside. Prep a small baking sheet and cover it with foil and paper towels and set aside. Open can of biscuits and separate biscuits. Using a small circle cookie cutter or the tip of a round pastry tip, punch a hole in the middle of each biscuit.

Fry 2 to 3 donuts at a time for 1 to 2 minutes on each side, until golden brown. Use a slotted spoon to remove the finished donuts and place on covered baking sheet. Allow donuts to cool for only 1 minute.

Carefully and one at a time, place donuts in the bowl with sugar and use a spoon to cover.

Add heavy cream, vanilla extract and powdered sugar to a large mixing bowl. Using an electric hand mixer, whip until there are stiff peaks.

Place each donut on a small plate, top with strawberries and whipped cream. Serve immediately.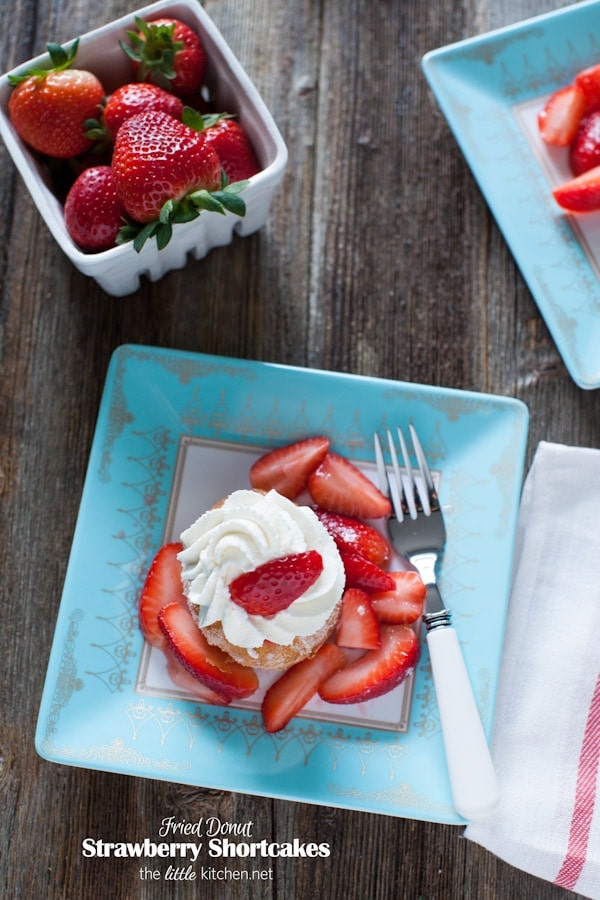 Other strawberry recipes:
Strawberry Mojito Slushies
Strawberry, Grapefruit and Ginger Smoothie
Sautéed Strawberry & Sugarsnap Salad with Almonds
Strawberry Bruschetta Grilled Cheese
Strawberries and Cream Bars
Basic Peach & Strawberry Jam
Disclosure: Thank you to FSGA for hosting our blogger group for the farm tour. This post is sponsored by Q Squared. I only share with you my honest opinions and brands that I love.