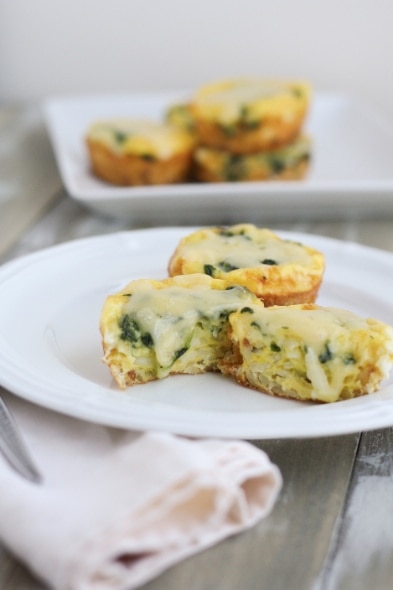 I love cheese. I love, love cheese. I love a good cheese and in our house, we usually buy blocks of cheese and freshly grate it for our meals. When I first tried Kerrygold cheese last year (after winning a year's supply of their cheese – yes I did!), their Dubliner cheese was a clear favorite for me. It's a little tart and very creamy, melts nicely and goes well in many dishes. I have made a cheese sauce for steak with it and I love having eggs scrambled with Dubliner on an everything bagel! For our little appetizer dinner for Super Bowl Sunday this year, I made this Dubliner artichoke dip and loved it (mental note: must make that again soon).
For this recipe, I was inspired by a recipe that Mary's Bites posted. I love making my version and having them with waffles for breakfast (and dinner) and have even brought leftovers to work to have a nice little late morning snack. They are so simple to make and the flavor combinations are endless. I have even thought of using swiss cheese or even adding artichokes. You can even add bacon if you wanted too, just be careful not to over fill them!


Fill the cups halfway with hash browns, I like the refrigerated ones. Bake for 20-23 minutes at 375 degrees.


I alternate by adding a little bit of spinach then cheese and then repeat so I can layer the flavors.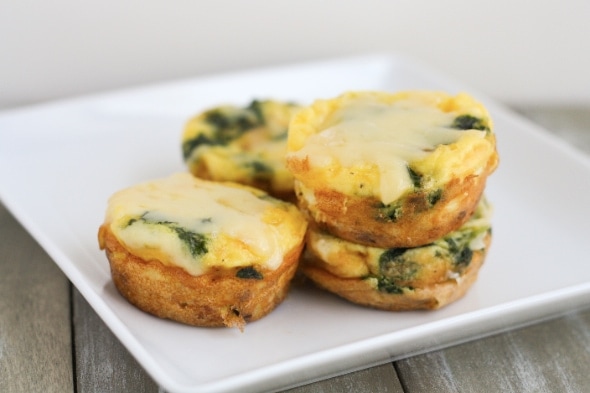 You can call them egg cups, mini crustless quiches or even mini omelet, I'll just call them darn good! I love the spinach flavor together with the Dubliner cheese. I won't tell you how many of these I can eat in one sitting!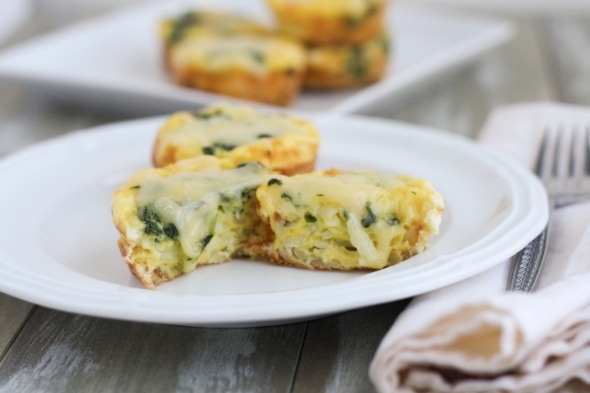 Can you see the hash browns? Next time, I may try these in a mini muffin pan, they would be perfect as an appetizer for a small party.
Recipe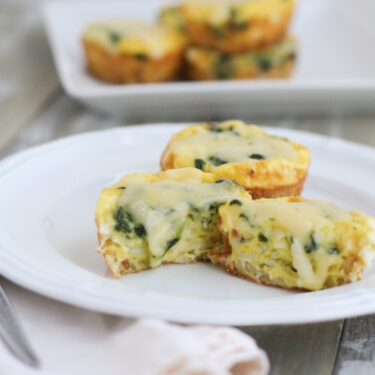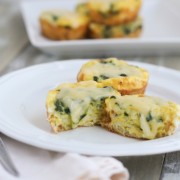 Print
Pin
Save
Spinach & Dubliner Cheese Egg Cups
Ingredients
olive oil cooking spray

about 1/3 of a 20 oz. bag of refrigerated hash browns

about 1/2 of a 10 oz. box of frozen spinach

,

thawed

4-5

oz

of shredded Kerrygold Dubliner cheese

8

eggs

,

beaten

2 1/2

Tbsp

heavy cream

salt & pepper
Instructions
Preheat oven to 375 degrees and spray a regular-sized 12 cup muffin tin with olive oil cooking spray (wipe the excess spray off).

Add hash browns to each muffin cup, only to about a little less than half the height of the cup. Bake for about 20-23 minutes, until some of the hash browns have browned.

Beat eggs with heavy cream and add salt and pepper. Layer a little bunches of spinach and cheese into each cup. Add egg-cream mixture to each muffin cup filling to about 2/3 of the height of each cup (I used a measuring cup with spout for easy pouring). Top with a pinch of spinach and another pinch or two of Dubliner cheese.

Bake for 12-15 minutes until eggs are firm. Allow egg cups to sit in the tin for a few minutes before running a butter knife around the sides to loosen. Serve with Dubliner cheese sprinkled on top.
Disclosure: Huge thanks to Kerrygold, a sponsor of mine. I only share my favorite brands and products and ALL opinions are always my own.