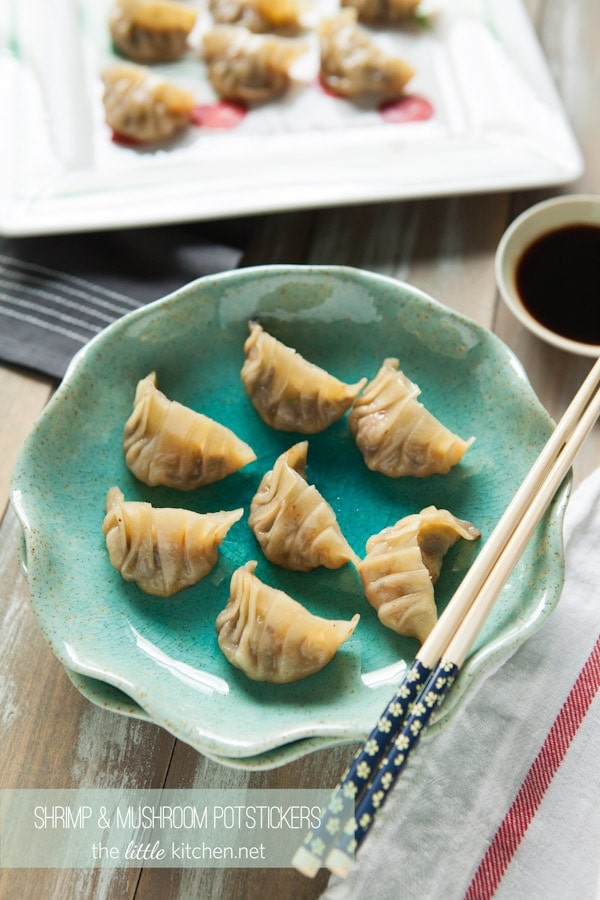 I have made chicken/turkey potstickers and we love them but I have been wanting to do a seafood version because my sister is a pescatarian (which means she the only "meat" she eats is seafood) and I want her to enjoy my homemade potstickers too! It took a couple of tries but I think I have this recipe just right. I brought some of these potstickers over to my friend, Aggie, who just had a beautiful baby boy last month when I visited her the other day. I had a great time chatting with Aggie. It was so great to see her and meet her baby…he's so cute! And no, if you're going to ask, I don't have baby fever right now. LOL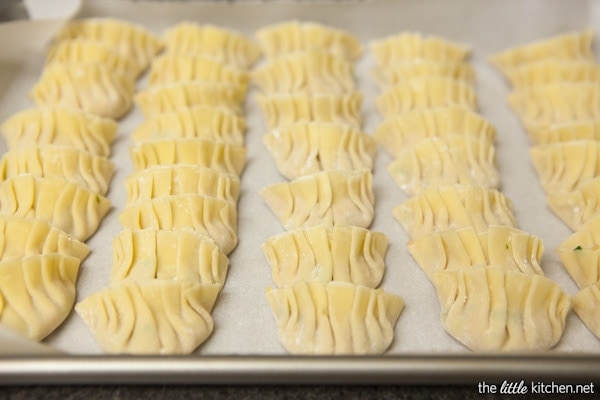 You may or may not know about my obsession with dumplings or potstickers. It's kind of embarrassing that I have so many instagrams of these little pockets of goodness. I love making them but even more I love eating them! I love making a bunch and having them in the freezer for a quick lunch or snack. And I love even more that Curtis loves them too even though he doesn't like mushrooms.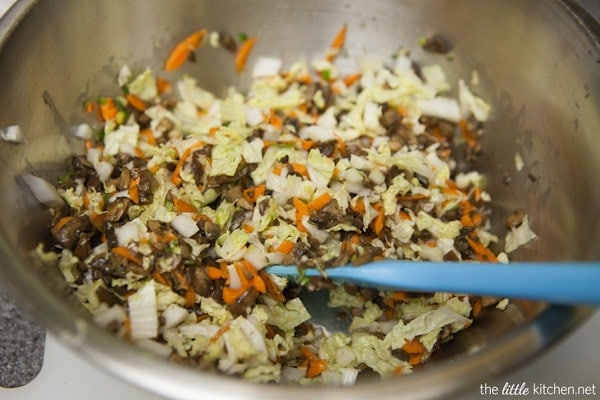 I cook the mushrooms in butter and soy sauce after chopping them up small. Then, allow them to cool and mix in with the cabbage mixture.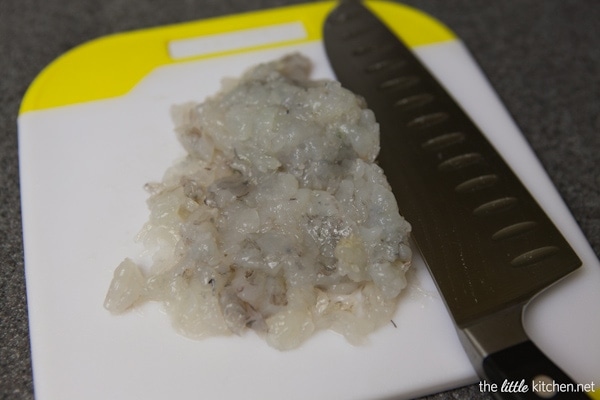 Take the side of your knife and smash the shrimp and then roughly chop it. You can also food process it but it's such a small amount of shrimp so I smash it with my knife.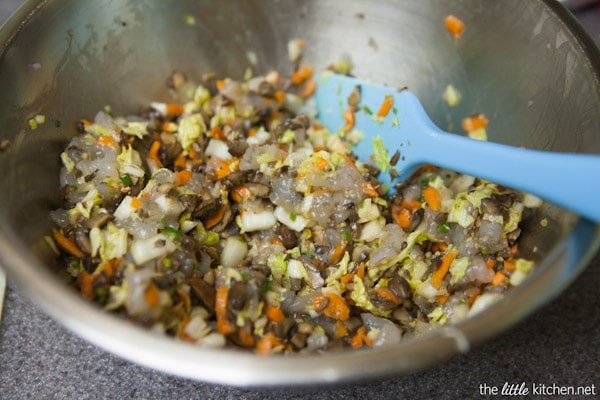 Mix it all together and you have your filling!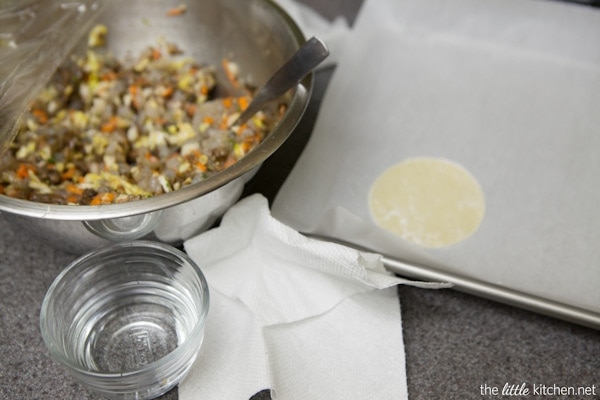 Set up your station. Your parchment paper lined pan. A small bowl of water and the filling so you can start wrapping…
I also have a quick video (which was couldn't have been possible without Aggie's help with the camerawork) that shows you how to do fold the dumplings and do those cute little pleats!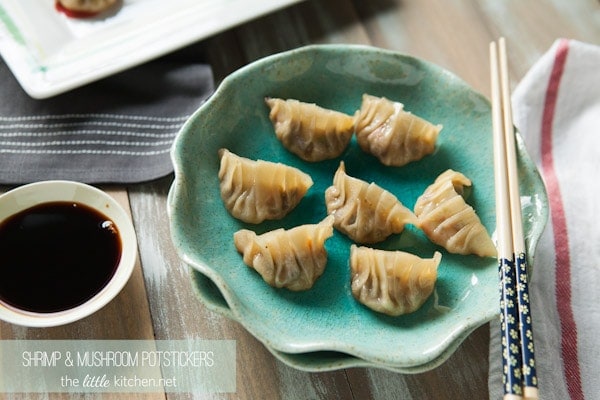 Now I'm going to have to make another batch for my sister since they are all gone now! She's coming over for Christmas dinner and I hope she enjoys these!
Recipe
Print
Pin
Save
Shrimp and Mushroom Potstickers Recipe
Servings
48
to 50 potstickers
Ingredients
8

ounces

mushrooms

,

chopped small

2

Tablespoons

salted butter

2

Tablespoons

soy sauce

2

garlic cloves

,

minced

1 1/4

cups

cabbage

,

chopped small

3/4

cup

carrots

,

about 2, washed, peeled and grated/shredded

2

Tablespoons

green onions

,

sliced lengthwise and then sliced thinly (about 1)

1

teaspoon

sesame oil

2

teaspoons

rice vinegar

1/2

teaspoon

salt

1/4

teaspoon

black pepper

1

pound

shrimp

,

peeled & deveined, smashed and chopped

1

package dumpling or wonton wrappers

,

if square, cut into round circles with a cookie cutter, about 48-50
Instructions
In a non-stick skillet heat soy sauce and butter until the butter is melted. Add chopped mushrooms and cook for about 5 to 7 minutes stirring frequently. Remove from pan and allow to cool on a paper towel-lined plate.

Prep vegetables and garlic and add to a large mixing bowl. Add sesame oil, vinegar and salt and pepper. Mix thoroughly with a large spoon. Smash the shrimp with the side your knife and chop. Add to the cabbage mixture and combine.

Set up a small bowl of water and wnwrap dumpling wrappers (leaving them in the wrapper but also covering with a wet paper towel to insure they don't dry up) and one at a time, scoop about a teaspoon of filing into the middle of your wrapper. Dab a small spot of water onto the middle top of your dumpling, fold in half and press to seal. Using your thumb and finger, fold pleats into the dumpling on one side and then do the same for the other side. For reference, check out my

video on how to wrap potstickers

.

Repeat until you have no more dumpling wrappers or no more filling.
How to Cook the Potstickers
I usually make about 8 to 10 at a time to not crowd the pan. Add 1/2 Tablespoon oil to a non-stick skillet and turn heat to medium. Add dumplings to the skillet and cover. Cook for about 2 to 3 minutes. If frozen, add an extra minute. Uncover and add 1/4 cup of water (1/3 cup if frozen) and recover and allow potstickers to steam for about 3 to 4 minutes (4 to 6 minutes if frozen).

Serve with soy sauce.
Notes:
These potstickers definitely freezer friendly. Place uncooked dumplings onto a plate or a cookie sheet lined with parchment paper and freeze for at least 2 hours. Once frozen, they can go into a freezer friendly container or zippered plastic bag.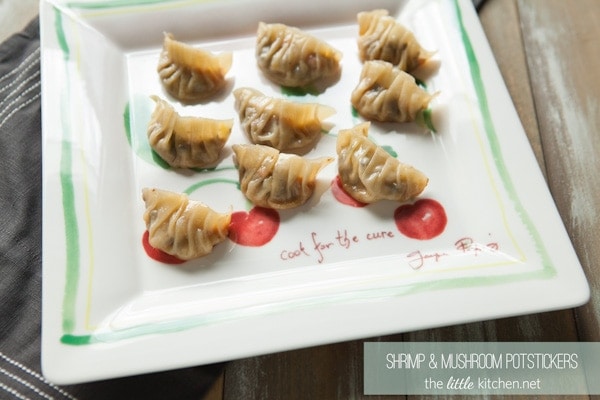 This isn't a sponsored post but I did want to mention something that's near and dear to my heart. KitchenAid is a huge supporter of Susan G. Komen for the Cure® and as the granddaughter of a breast cancer survivor, I know how important it is to have local support for treatment and national support for research. That's why I love what KitchenAid is doing. They have a program called "Pass the Plate" and Jacques Pepin created a unique design on a Villeroy and Boch plate. KitchenAid will donate $5 Susan G. Komen for the Cure every time the plate is passed between family and friends. You need to register the plate at this special website. Every plate is uniquely numbered. Be sure to check out Cook for the Cure for more information.