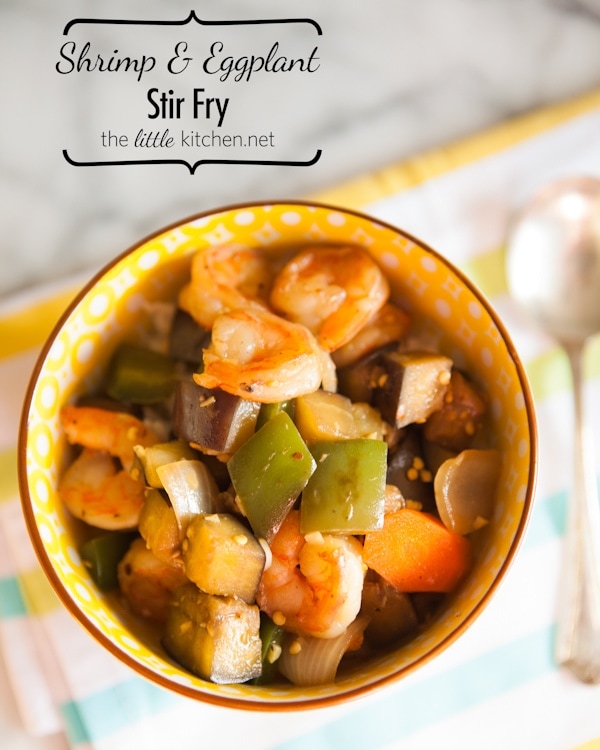 March is healthy cooking month! When Google approached me to do a healthy cooking demo on Google+, I had to think about it for a little bit. First of all, I don't always cook so healthy but after talking to a friend about it, I wanted to take the challenge to develop a healthy recipe that I would feel great about sharing because it tastes so good. Second, I was dying inside. I have an overwhelming fear of public speaking.
In college, I had to do a presentation for a course that was 50% of my grade. I didn't prepare very well, I mixed up my cue cards and there was probably about 7 seconds of silence while I freaked out and moved my cards around. I looked around the room and could see the look on my classmates' faces as they felt so bad for me, knowing how they would feel if they were in my place. I totally bombed it. Luckily, I didn't fail the class. But still, that has stuck with me and I know that my nervousness is a self-fulfilling prophecy because the more nervous I get, the more I block things out and the less I prepare for whatever speech or talk I'm doing.
A dear friend told me a couple of years ago that I needed "to stop being a dork" and start pushing myself to get used to speaking in public situations. Her words stick in my head and I have been pushing myself to stand on stage, hold the microphone and speak into the mic but still, it's really really hard. I sweat, I shake, my voice shakes but I'll keep trying. So this hard decision to do this cooking demo on Google+ was hard and easy at the same time. I was going to have to push myself out of my comfort zone and this would be a great way to do it.
I'm sharing the video from the demo I did last week along with the recipe for shrimp and eggplant stir fry. Thanks to Dennis, Joanne, Katie, Sandy, Cassie and Julius for joining me on the demo!
I feel so fortunate to have these friends join me during the demo, they helped me out a lot and Curtis, my husband, was behind the camera to click on buttons when it was needed. I hope to do more of these later on this year.
A note about the video, I was so nervous, I forgot to put in the ginger and garlic! Before you add the sauce, you want to create a empty circle in the middle of your wok, move the veggies to the sides of the wok. Add the garlic and ginger and smash it with the back of a wooden spoon or wok spatula and allow the aromatics to develop for 60 to 90 seconds. Then, mix with the rest of the veggies and then continue on with the rest of the steps.
Some tips I shared during the demo:
Peel your ginger with the edge of a spoon. Only peel what you need so you don't waste any! I used to waste so much by peeling with a knife.
Hard vegetables like carrots and broccoli can be steamed in your wok for a couple of minutes. This ensures your non-hard vegetables don't get overcooked while you're trying to get your carrots or broccoli to cook.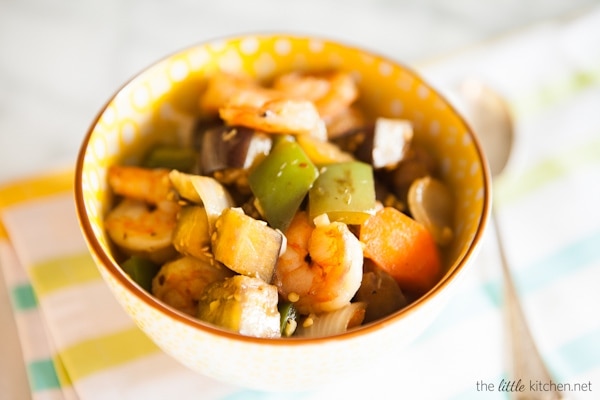 If you love eggplant and have never tried eggplant in a stir fry before, you need to try this!
What makes this stir fry a little healthier than my other stir fries? I use grape seed oil, which has a high smoke point but is healthier than other cooking oils. I used low sodium soy sauce and tons of vegetables, the eggplant including onions, green peppers and carrots.
To make this dish vegetarian: feel free to use even more vegetables or pan fry tofu or bake tofu in grape seed oil and spices and add it at the end instead of shrimp.
PS Yes, I'm Asian and yes I eat stir fry and rice with a spoon and not chopsticks.
Recipe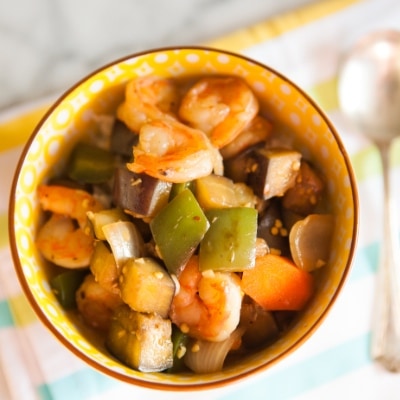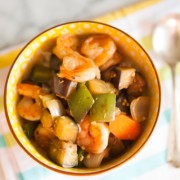 Print
Pin
Shrimp and Eggplant Stir Fry Recipe
Ingredients
small section of ginger

,

peeled and minced, about 2 Tablespoons

2

garlic cloves

,

chopped finely

1/2

Tablespoon

grape seed oil
Stir Fry Sauce
1/4

cup

vegetable broth

1/2

teaspoon

sesame oil

1

Tablespoon

mirin

3

Tablespoons

low sodium soy sauce

salt & pepper

dash of crushed red pepper

,

optional

1

teaspoon

cornstarch

3/4

pound

frozen shrimp

,

medium or large, defrosted, peeled & deveined

1 1/2

Tablespoon

grape seed oil

2

carrots

,

peeled and sliced diagonally

1

medium onion

,

chopped

1

green pepper

,

chopped

1

pound

eggplant

,

chopped

2

green onions

,

sliced diagonally
Instructions
Add ginger and garlic to a small bowl and add grape seed oil and mix together. Set aside.

Take all of the sauce ingredients except the cornstarch and whisk together. Add cornstarch and whisk until it dissolves. Then, set aside.

Lay shrimp out on a plate or cutting board, dry with a paper towel and add salt & pepper.

Add 1/2 Tablespoon grape seed oil to a wok and turn heat to medium. Heat for 2 to 3 minutes. Turn heat to medium high and add shrimp. Don't toss or mix shrimp for 1 to 2 minutes. Cook for 3 to 5 minutes. Remove shrimp and place into a bowl or plate and set aside.

Add 1/4 cup of water to the wok and add carrots. Cover and cook for 2 minutes. Remove carrots and add to the plate with the shrimp. Dump any excess water and wipe the wok clean with a paper towel.

Turn heat down to medium and add another 1 Tablespoon grape seed oil to the wok. Add onions, peppers and eggplant and cook for 4 to 6 minutes. Move vegetables to the edges of the wok, making a circle in the middle. Add ginger and garlic to the middle of the wok and smash with the back of a wok spatula or a wooden spoon. Cook for about 90 seconds. Mix garlic and ginger with the vegetables.

Add sauce and mix into vegetables thoroughly. Cook for about 1 to 2 minutes until the sauce is reduced. Add shrimp and carrots back to the wok, toss and heat for another 1 to minutes. Garnish with green onions and serve over Jasmine rice.