Salmon with Roasted Vegetable Couscous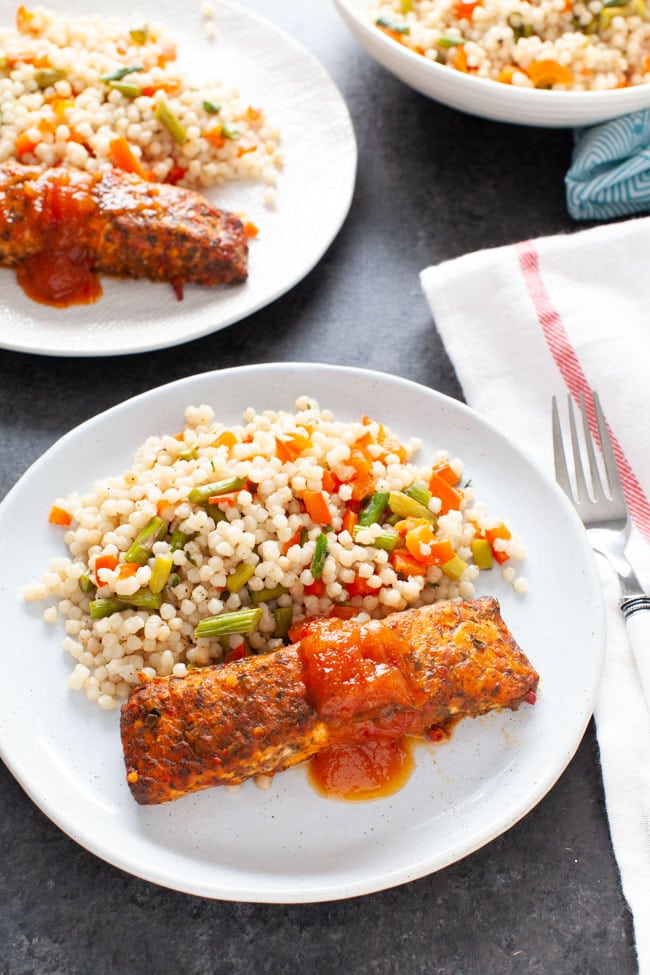 This post is sponsored by The Saucy Fish Co.
You know me, I love easy peasy recipes. It's the holiday season right now and I don't know about you but we're so focused on holiday cooking that sometimes we are scrambling for weeknight meals…is that you too?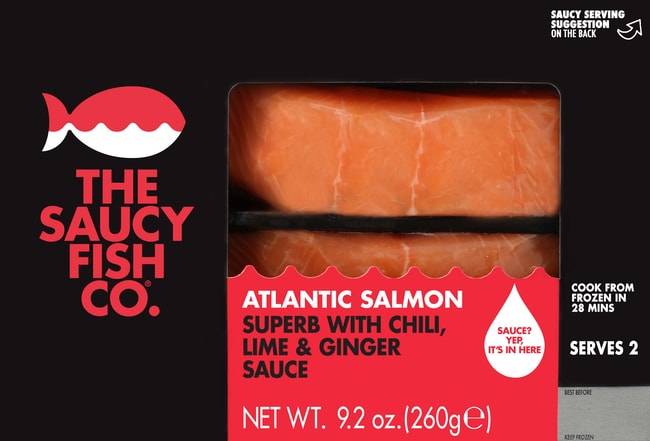 This recipe is so easy from start to finish and using The Saucy Fish Co.'s salmon. It makes dinner so easy. I love love the flavor in sauce too!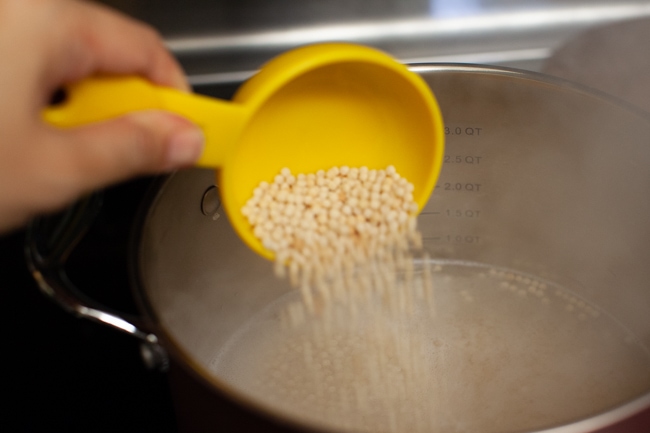 First, start a pot of boiling water and then add the Israeli couscous. Follow the instructions on the package.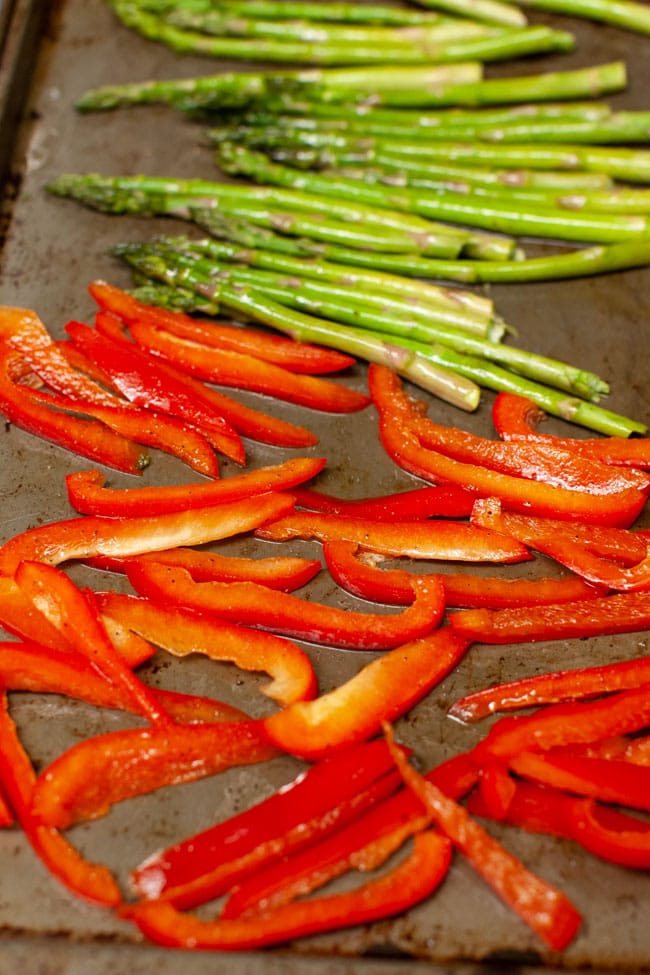 Then, cut the ends off of the asparagus and slice up the red pepper. Add to a baking sheet with olive oil, salt and pepper.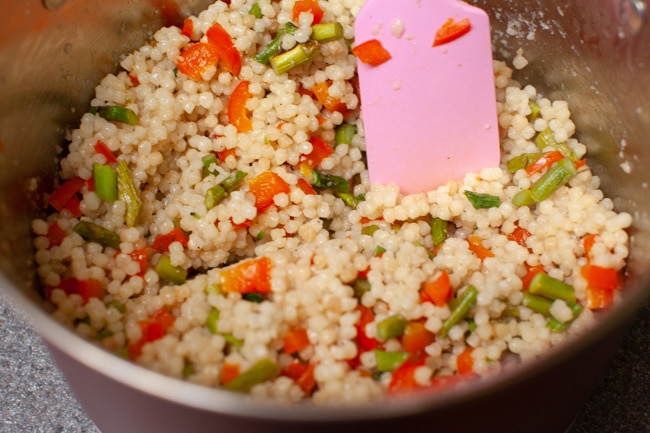 Once it's done, let the vegetables cool and then chop them up carefully. Add to the cooked and drained couscous.
Bake the salmon for 28 minutes.
You seriously can't get more easy and delicious than this! I can't wait to try the other Saucy Fish Co flavors!
And I can't wait for you to make this recipe!
You can find The Saucy Fish Co. products at Whole Foods or Jet.com!
Recipe
Salmon with Roasted Vegetable Couscous Recipe
Ingredients:
1 package of The Saucy Fish Co. Salmon
1 cup Israeli couscous, cooked according to package instructions
1 red pepper cut into strips
1/2 pound asparagus, ends removed
1 Tablespoon extra virgin olive oil
salt & pepper
Directions:
Heat oven to 400 degrees F. Bring a pot of water to a boil.
Prep the red pepper and asparagus. Place on a baking sheet. Add olive oil and salt and pepper and mix with a spatula or your hands.
Roast the vegetables in the oven at 400 degrees F for 8 to 10 minutes.
Cook couscous according to package instructions. When it's finished, drain and set aside in a clean serving bowl.
Remove vegetables from the oven and allow them to cool for a few minutes. Carefully place them on a cutting board and cut into bite sized pieces.
Add The Saucy Fish Co. Salmon to the baking sheet you used before and place in the oven for about 28 minutes or until cooked through.
Mix the vegetables with the couscous and serve with the salmon.
We love that you love to share our recipes with others. If you have a blog or website and want to repost the recipe, we just ask that you reword the instructions (easy peasy) and link back to give us credit and to use your own images at the same time. Please ask us permission before republishing our recipes and images. And here's a great article on how to properly attribute a recipe.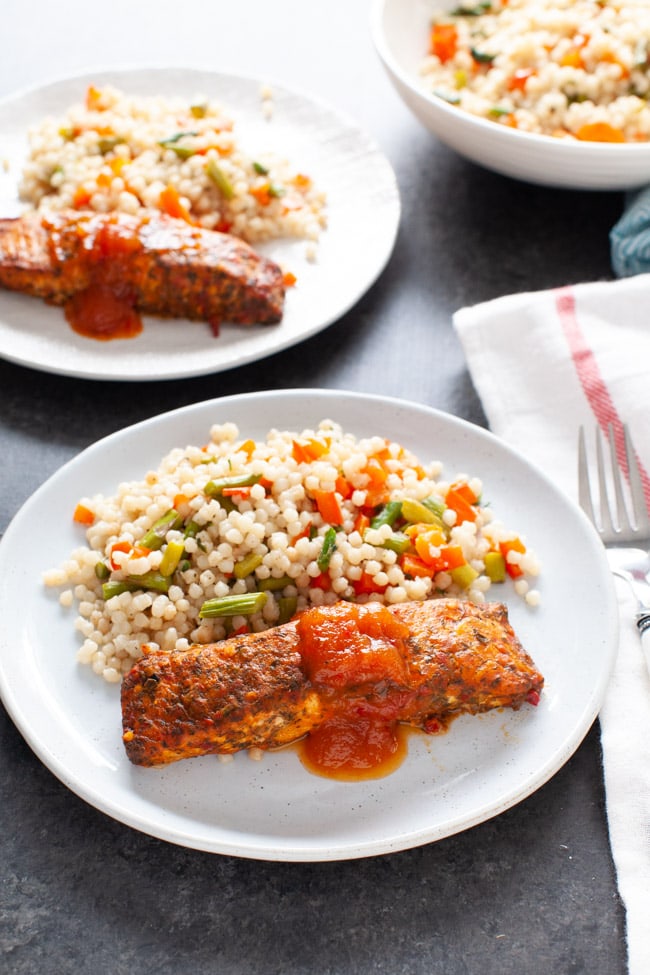 Disclosure: This post is sponsored by The Saucy Fish Co and I always share with you my own opinions.