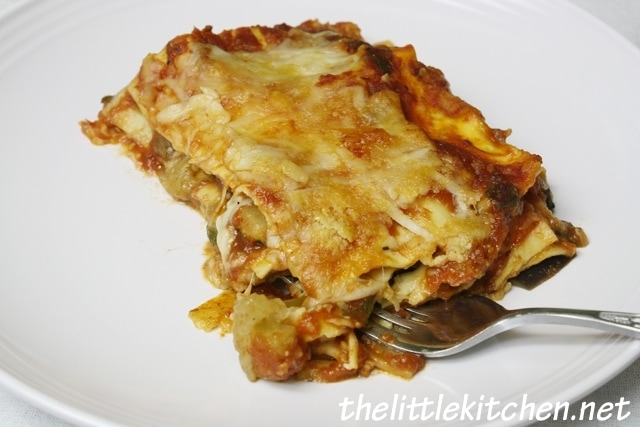 Let's just say I love lasagna. I have been disappointed that we can't have lasagna lately because of my husband's lactose intolerance (of course I asked his permission before I posted this). His intolerance is more towards ricotta cheese and heavy cream. Thank goodness we can still have other cheeses, milks and butters! He came home with a Cook's Illustrated Make Ahead Meals magazine issue and one of the recipes we had to try was the roasted zucchini and eggplant lasagna.
We have made this recipe twice and it has become our favorite lasagna recipe. This recipe is going into the favorites pile and will probably become a part of our regular rotation. The problem is it makes tons, too much for two people to eat. I have brought it into work and my co-workers love it!
Cook's Illustrated recommends that we use Barilla's no boil pasta and it definitely works. Also, for the roasted vegetables, I upped the amount of eggplant from one pound to one and a half pounds and that worked as well. I don't know about you but it's hard to get a full dinner from scratch made after a full day of work. Every time I have made this recipe, I roasted the vegetables the night before according to the instructions. Then allow them to cool on the baking sheet for 10-15 minutes and then place into a plastic container where I let it cool for another 20-30 minutes before putting it in the refrigerator. The next night, I assemble the lasagna and there is no need to heat up the roasted vegetables.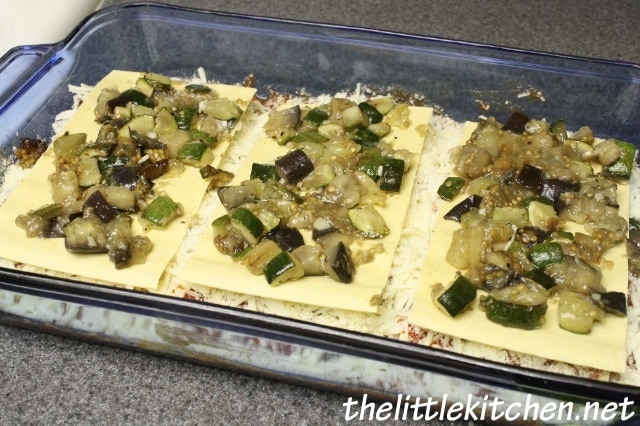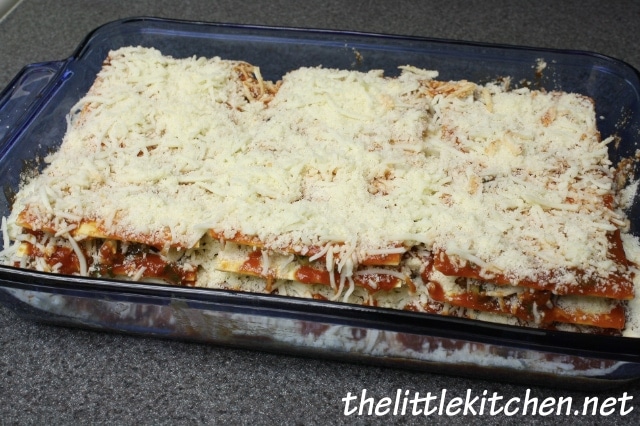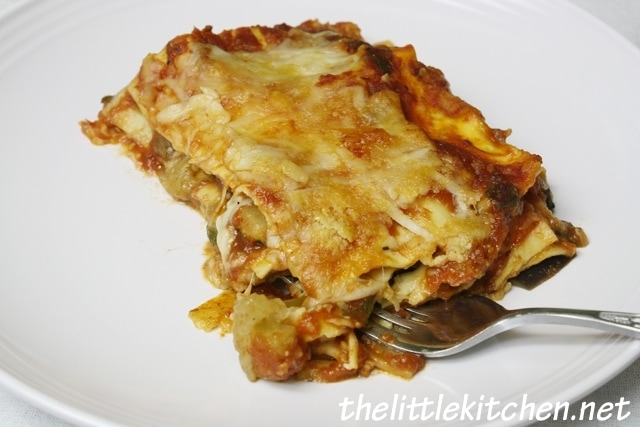 Recipe
Print
Pin
Save
Roasted Zucchini and Eggplant Lasagna
Ingredients
Vegetables
1

pound

of zucchini

,

cut into 1/2 inch dice

1 1/2

pounds

of eggplant

,

cut into 1/2 inch dice

3

Tbsp

olive oil

4

minced garlic cloves

salt and pepper
Sauce
2

Tbsp

olive oil

2

medium garlic cloves

,

minced

1 28-

oz

can of crushed tomatoes

2

Tbsp

chopped fresh basil
Lasagna
12

no boil lasagna noodles from an 8-oz or 9-oz box

1

pound

shredded mozzarella cheese

,

about 4 cups

3

oz

Parmesan cheese

,

about 1 1/2 cups
Instructions
Move oven racks to the upper and lower positions and preheat oven to 400 degrees.

Toss the diced zucchini and eggplant with garlic, salt, pepper and 3 Tbsp of olive oil.

On two cookie sheets covered in foil that is greased with olive oil, divide the diced vegetables and spread evenly over the cookie sheets.

Bake for 35 minutes or until golden brown. Be sure to turn the vegetables occasionally and I even switch the cookie sheets' position. (As stated above, the roasting of the vegetables can be done a day ahead of time.)

Add 2 Tbsp of olive oil and 2 cloves of minced garlic to a pot at medium heat. Allow the garlic to cook for 30 seconds, don't burn the garlic.

Add the crushed tomatoes to the pot with olive oil and garlic. Add a little bit of salt to taste. Cook at medium heat for about 2 minutes. Bring down to simmer and cook until thickened for another 5 minutes. Mix in basil and salt and pepper to taste. Pour sauce into a large measuring cup and add enough water to make about 4 cups.

In a 9x13 baking dish (I use a glass one), add about 1/2 to 1/3 cup of sauce and spread the sauce out.

Lay three noodles over the sauce and make sure they don't touch each other or the sides of the baking dish.

Spread evenly 1/3 cup of the roasted vegetables on top of each of the lasagna noodles you just laid down.

Take 2/3 cup of sauce and pour evenly over the vegetables.

Pour 1 cup of mozzarella cheese and 1/3 cup of Parmesan cheese over the sauce.

Repeat steps 8-11 twice.

For the final layer, lay three noodles on the top and spread evenly the remaining (approximately) 1 cup of sauce over the noodles. Be sure to cover the noodles entirely. Then pour 1 cup of mozzarella cheese and 1/2 cup of Parmesan cheese.

Preheat the oven to 375 degrees and move your oven rack to the middle position.

Cover the 9x13 baking dish with foil that has been sprayed with non-stick cooking spray.

Bake for 25 minutes. Then, remove foil and bake for another 15-20 minutes until the cheese is "spotty" brown.

Allow the lasagna to cool for at least 15 minutes.
I hope you try this dish because it's completely worth it! Do you have a favorite lasagna recipe? Which one's your favorite? I would love for you to share with me links. Thanks!