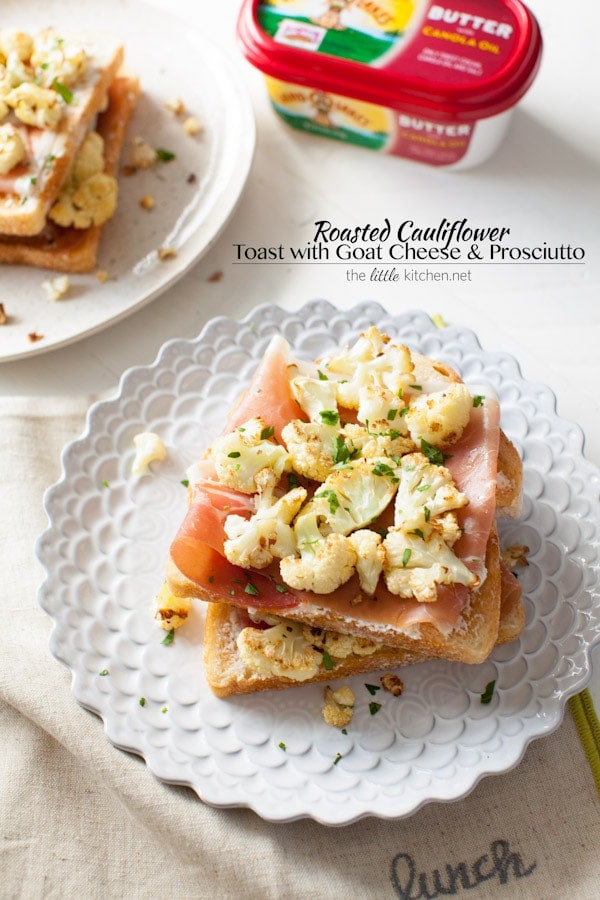 Brace yourselves, this is going to be a long post. I have so many photos to share…and this toast…
I recently traveled to Oklahoma and stayed at Ree's Ranch — the Drummond Family Ranch for food, fun and butter learning thanks to Land O'Lakes. I had an amazing time just like I did last year and I wanted to share with you this recipe for this toast…because it's amazing and all about my trip!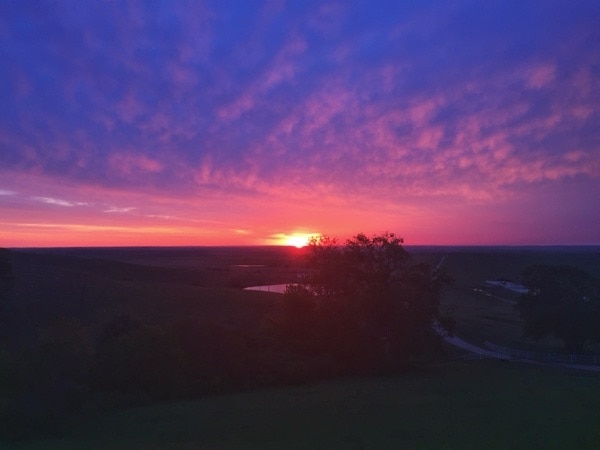 We stayed at Ree's Lodge, where she films her food network shows and the first morning, I ran outside in my pajamas to enjoy the sunrise. This photo is barely barely edited…it's so beautiful out there. I heart Oklahoma.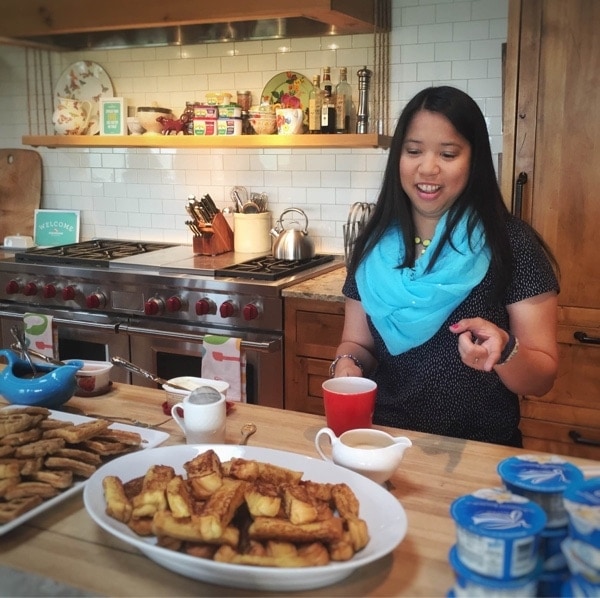 I shared my recipe for French Toast Sticks…lots of talking with my hands of course.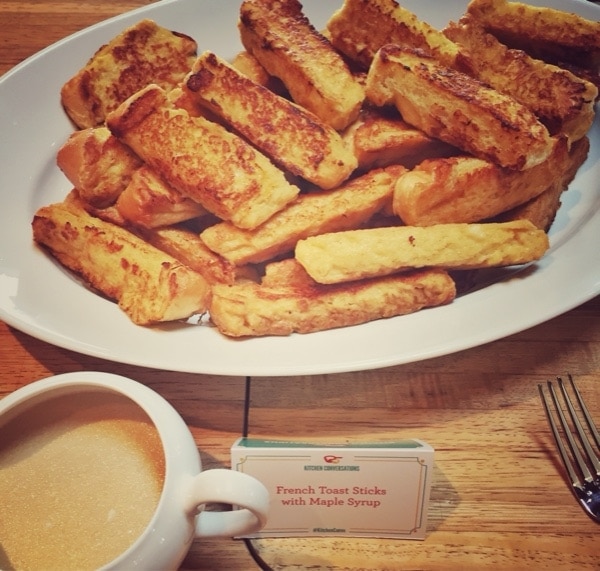 There's a close up and that's actually a maple butter dipping sauce that's made with Land O Lakes® Butter with Canola Oil.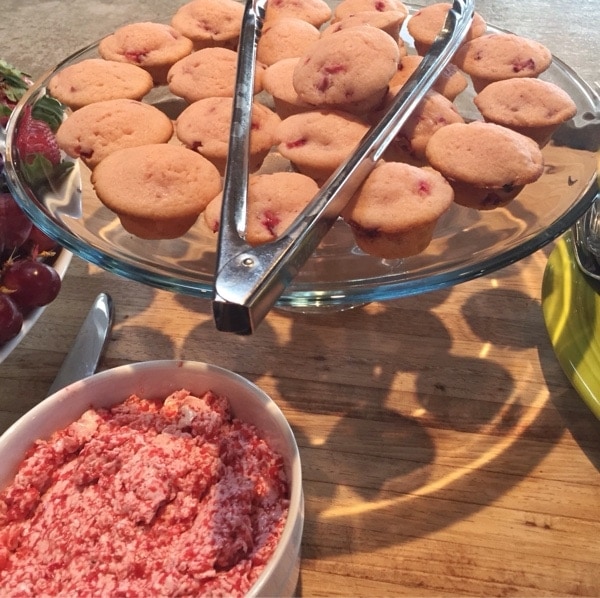 What I love love about getting together with the other Kitchen Conversations ladies and Land O'Lakes is we always get to try each other recipes. And they are amazing.
Ree's strawberry muffins with strawberry butter…I must make these ASAP!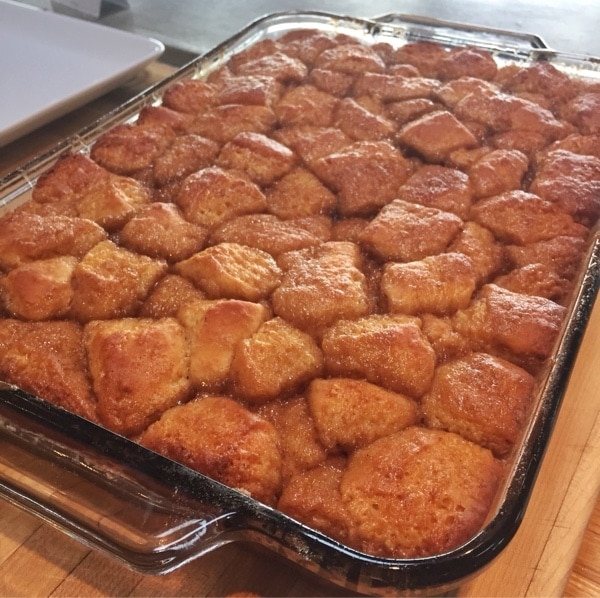 And Sadie's genius monkey bread…made in a 9×13 dish…you don't have to make monkey bread in a bundt pan!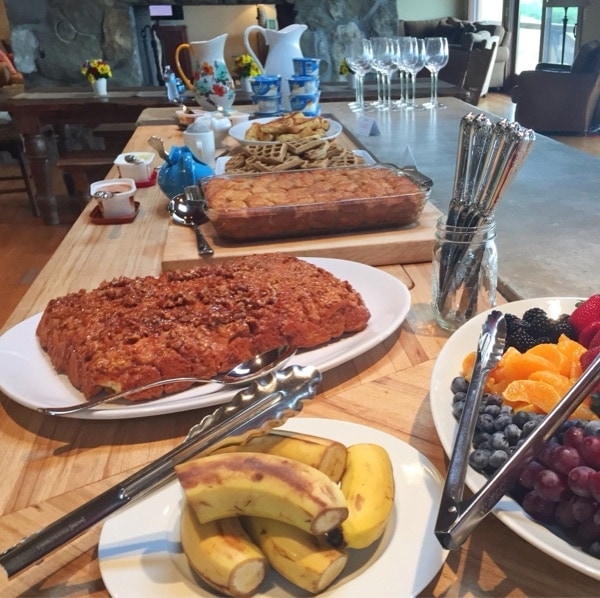 We ate so much…it was amazing!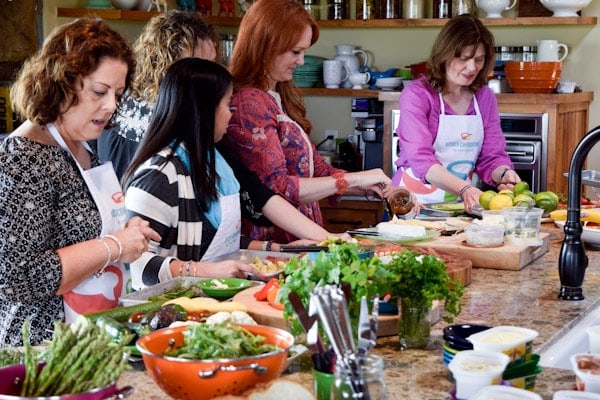 Photo Courtesy of Land O'Lakes
And then, came the challenge…a toast challenge! Toast is a thing…did you know that there are restaurants that just serve toast?
We had a huge array of ingredients…
Photo Courtesy of Land O'Lakes
and Land O'Lakes spreadable butter. It took me a long time to think about what to make…
And I was ready once I saw the roasted cauliflower.
It's a beautiful thing, don't you agree?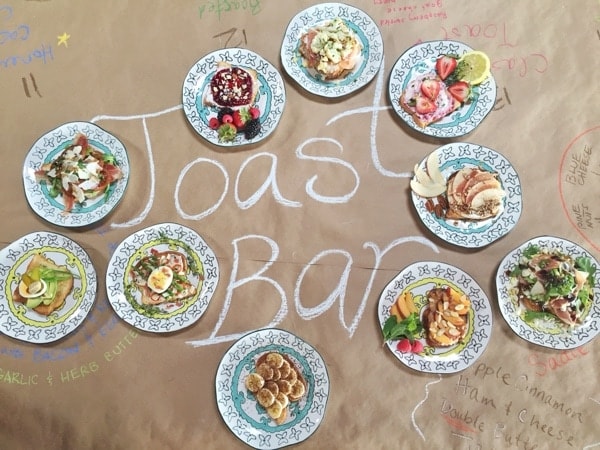 It was literally amazing, the amount of creativity everyone had and I had to try my toast (top) after I found out I had won for most creative toast (yay!)…my prize was a butter t-shirt. 😀
By the way Joanne shared her recipe for Classy Toast (to the right of mine), which had goat cheese, strawberry preserves, strawberries and more! And Brenda shared hers too: Grilled Asparagus and Red Pepper Toast…loved their toasts!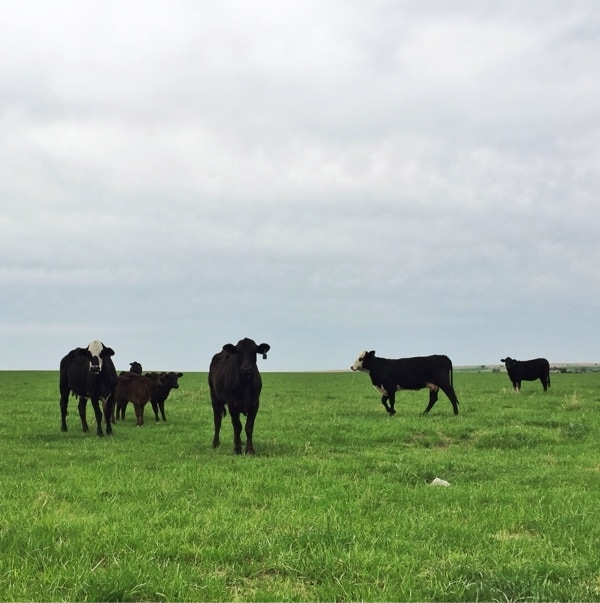 And then we went on a little tour of the ranch and met some cows. This kinda looks fake doesn't? Her ranch is so beautiful!
Car selfie LOL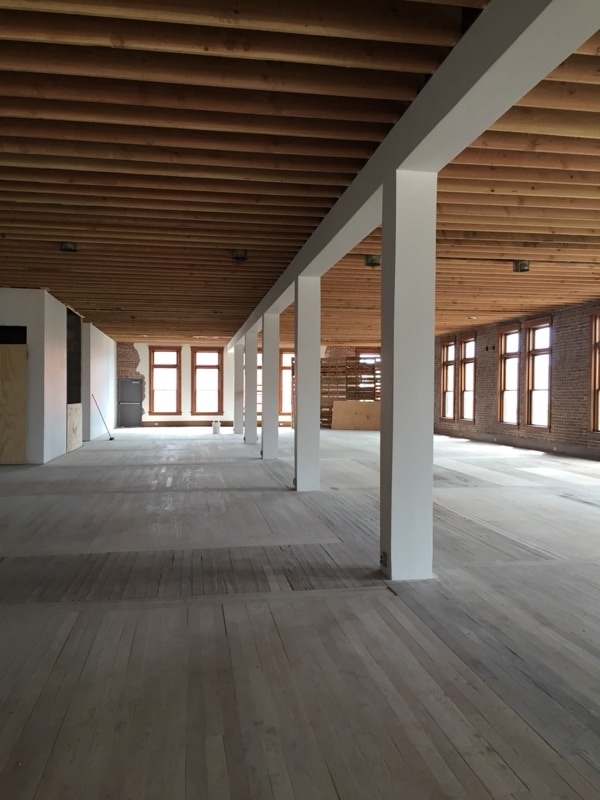 And then, we got to check out the Building that Ree and her husband have been working on forever. It was really neat to see the difference from last year!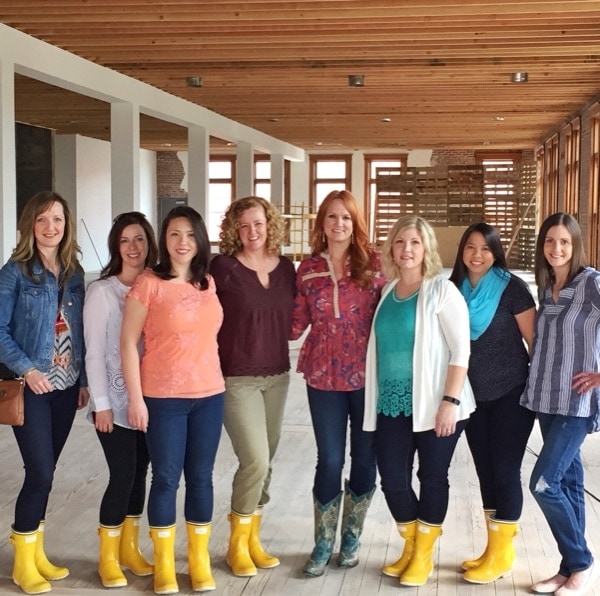 Our lovely group! <3 these ladies!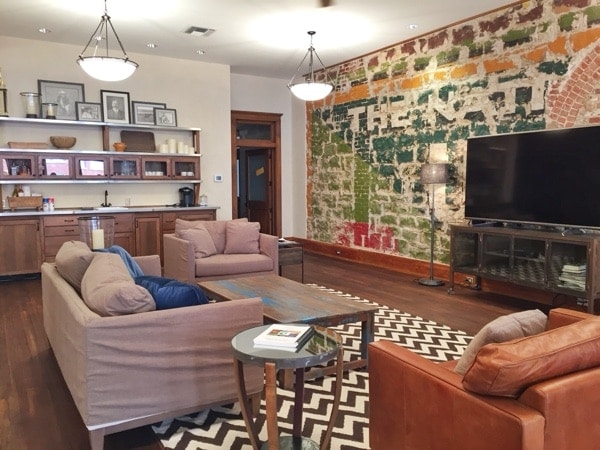 Can you see the paint on the wall? It's a painted logo for the national biscuit company that they discovered when they removed a lot of of the plaster from the walls. They restored it…love that touch!
And Ree's desk with her chandelier.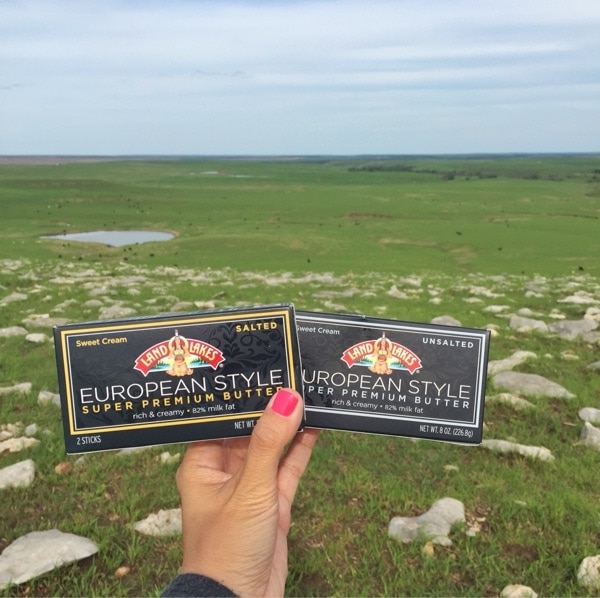 And then, we went to a ridge on Ree's ranch and sat around on picnic blankets and snacked on Land O'Lakes new European Style butter (I'm obsessed btw) and hung out and caught up and just had so much fun. It was a great time.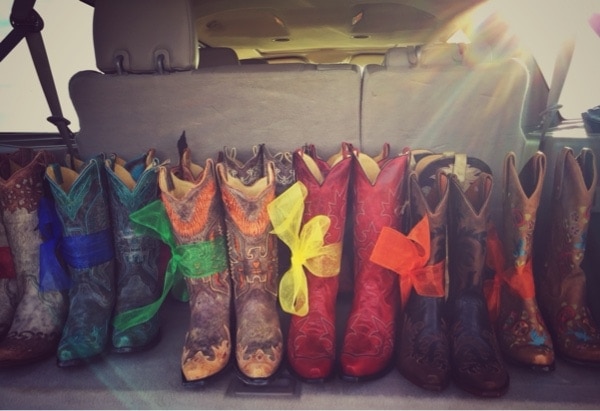 As we were getting ready to leave, Ree said she had a little something for us and wanted to show us something. She opened her trunk and presented us all with boots she picked out for each and every one of us.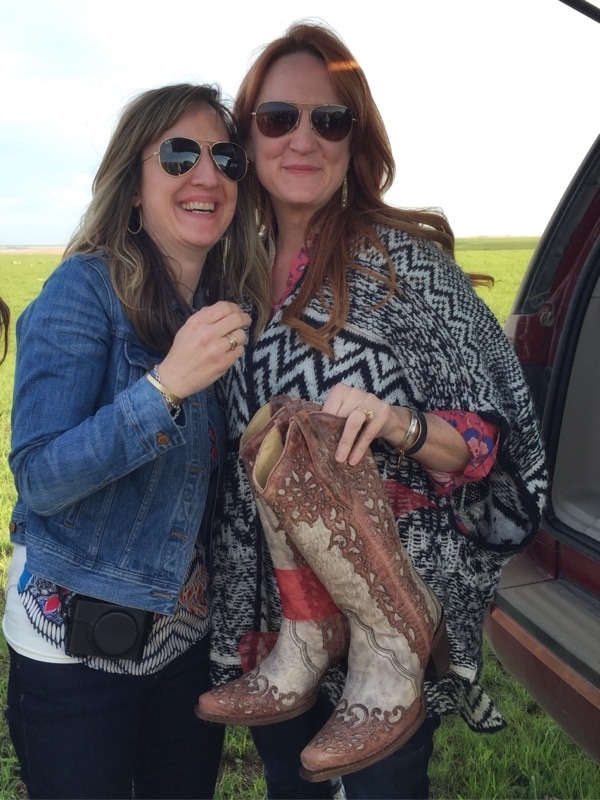 We were all so touched…seriously, the sweetest gift ever. Ree is the best!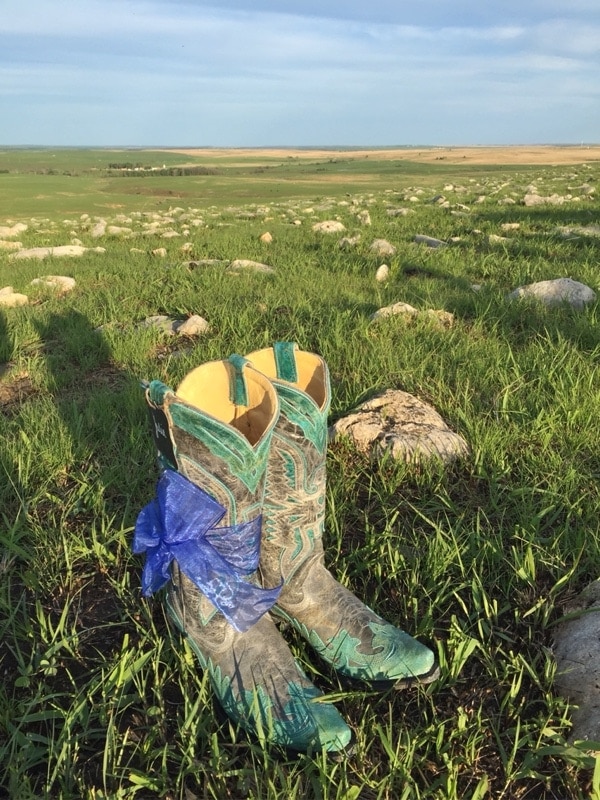 I love my turquoise boots! I shouted I didn't know I was a cowgirl when I put them on. I seriously LOVE them. And it's one of my favorite colors!
We of course had to do several group photos in our new boots!
A perfect end to an awesome trip. I love love working with these ladies, Ree, Bridget, Sommer, Joanne, Brenda, Maria and the rest of the Land O'Lakes team. It's really a dream working with all of them. I say it over and over again, I only work brands that I love…because that's what feels right. I love butter…in a crazy obsessive way and getting to work with great ingredients like Land O'Lakes butter makes me feel good! Working with the LOL team feels right and I often pinch myself wondering if it's actually true.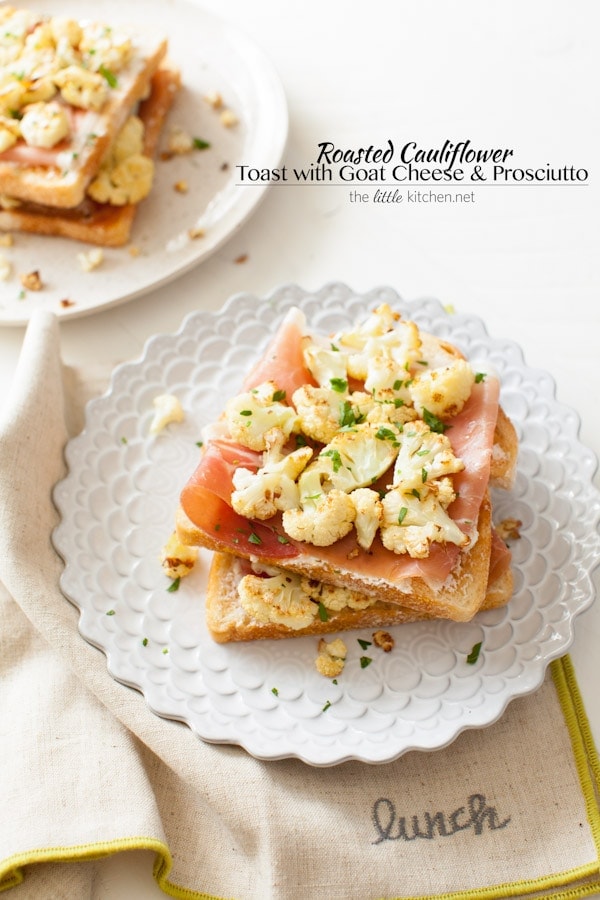 Oh this toast…seriously…you need this in your life. I tell everyone who will listen that I have this obsession with cauliflower. But I haven't shared many cauliflower recipes on TLK, not sure why…I need to change this.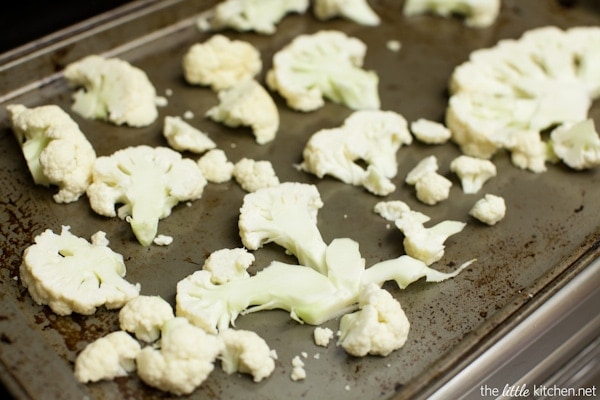 Roast the cauliflower.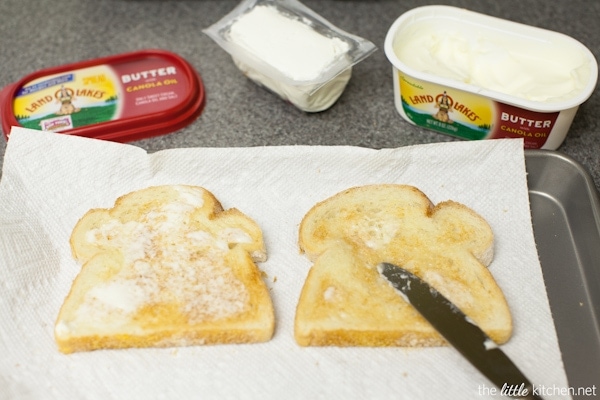 Toast the bread and spread on Land O Lakes® Butter with Canola Oil on each piece of toast.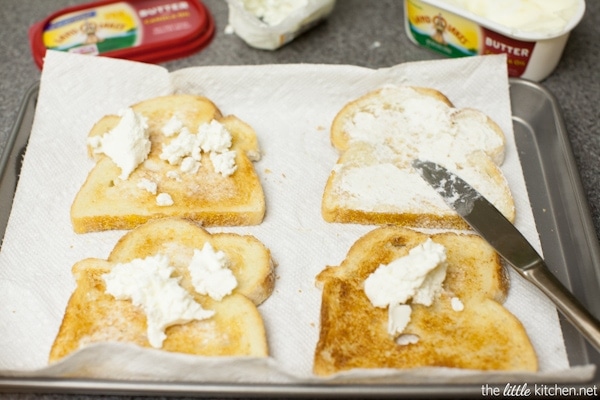 Then, spread the goat cheese.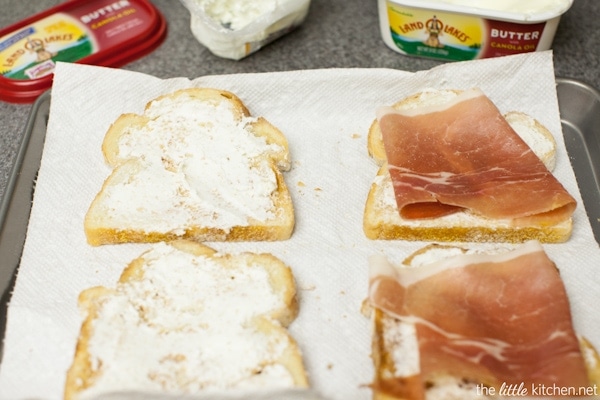 Fold the prosciutto and lay it on top of each piece of toast.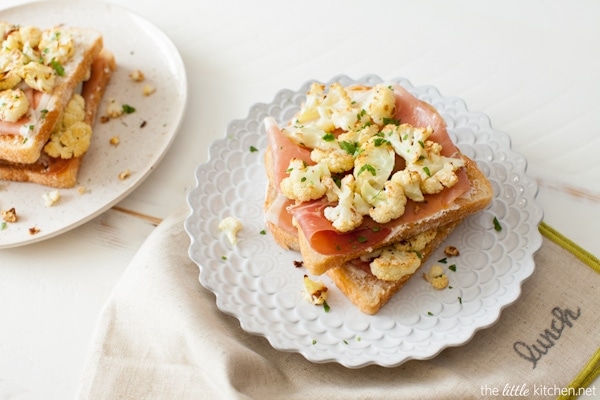 Add the cauliflower and stack the pieces of bread. I insisted in Oklahoma that this is not a sandwich…that it's a double decker toast. Hehe
Make this…I know you'll love it!!! I can't wait to make this again and again. Call me hashtag obsessed!
Recipe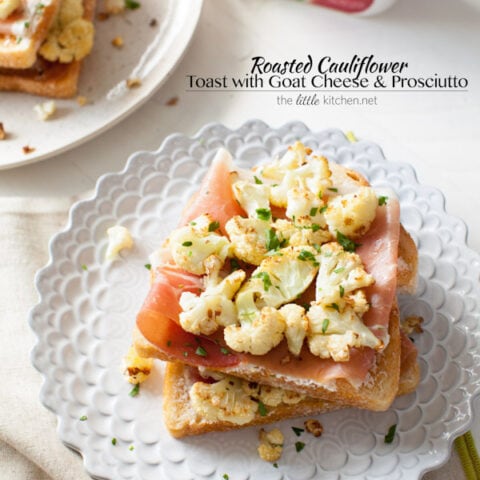 Print
Pin
Save
Roasted Cauliflower Toast with Goat Cheese & Prosciutto Recipe
Ingredients
olive oil

1/2

head of cauliflower

,

sliced

4

slices

of bread

,

toasted

2

ounces

goat cheese

4

slices

prosciutto

chopped fresh Italian parsley

,

optional
Instructions
Heat oven to 425 degrees F. Place cauliflower on a baking sheet. Drizzle a little bit of olive over the cauliflower. Place baking sheet in the oven and roast for 17 to 20 minutes.

When the cauliflower is finished, toast bread and spread Land O Lakes® Butter with Canola Oil with a butter knife onto each slice of bread. Next, spread goat cheese on each slice of bread. Fold prosciutto in half and place on top of each slice of bread. Top with cauliflower.

Stack one slice of bread on top of another and do the same one with other toasts to create to two double decker toasts. Top each with parsley and serve immediately.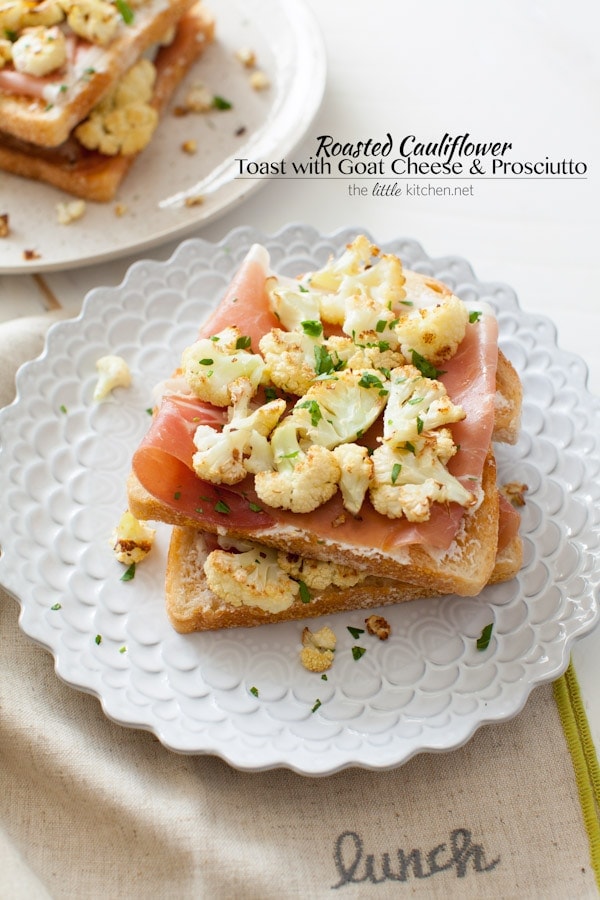 Disclosure: This trip to Ree's Ranch in Oklahoma was covered by and sponsored by Land O'Lakes. Although, I have a working relationship with them, I was not required to do this post or share this recipe. I only work with brands that I love and share with you my own honest opinions. Thanks for supporting the companies I work with!