Note: Be sure to enter in the other giveaways going on for the one year blogiversary celebration going on throughout the month of December! Also, please vote for my comfort foods recipe at Good Life Eats, I'm #5. I won! Thanks!
Congrats to the winner of the Tassimo T20! Erin, you're the winner. Thanks for emailing me your shipping address so quickly. Thanks to everyone who entered. Don't forget there is one more giveaway left for the blogiversary celebration!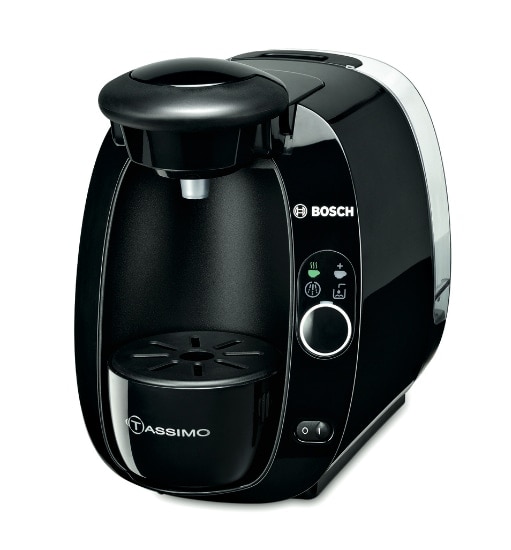 I was so excited when I found out I was going to review a Tassimo T20 Brewbot. Have you seen those really cool Tassimo commercials where it turns from a robot into a Tassimo machine? I love those commercials. I'm going to have to admit that I'm not a huge coffee drinker BUT I am a huge tea drinker. I'm a Twinnings fan and am glad to know that there are Twinnings T-Discs for green tea, one of my favorites. They also make a chai tea one too! I really like it. I also really like Tazo chais so I'm hoping they will come out with T-Discs as well. I'm definitely putting out the Brewbot for when my family visits for Christmas Eve. The convenience and variety of flavors will definitely be a plus.
First thing when you get the T20 is to clean it, this is very easy. In the back of the unit is a clever little slot that houses the disc for cleaning your T20 unit. Tassimo uses a barcode system to brew everything. The cleaning disc as well as all of the T-Discs have a barcode to tell the Brewer what to do. So you have to be sure you place your T-Disc into the machine correctly. It's very easy, fill your machine with water, turn it on, slip in the appropriate T-Disc and press the big button (which is the start button).
You can win one from the little kitchen and Bosch! This is another one of the prizes being featured during the one year blogiversary celebration. Details on how to enter are below.
The Prize: Tassimo T20 Brewer
Mandatory Entry: Leave a comment and tell me about your favorite coffee or tea drink OR tell me why you want a Tassimo T20 Brewer. (1 entry)
The mandatory entry must be done otherwise the bonus entries will not count.
Bonus Entries (leave a separate comment for each entry, if the entry is worth 2, leave two comments such as follow TLK on fb #1, follow TLK on fb #2, etc. If you're already a fan or follower, just say so in your comment):
'Like' Tassimo on facebook and leave your name in your comment. You can leave first name & last initial. (2 entries)
'Like' the little kitchen on facebook and leave your name in your comment. You can leave first name and last initial if you don't want to leave your full name. (4 entries)
Subscribe to this blog via email. If email, be sure to fill in the email address you're subscribing with and to confirm the subscription. (3 entries)
Follow me on twitter. Leave your twitter handle in the entry. (1 entry)
Tweet this giveaway, using the retweet link at the top of this post or tweet the phrase below. Be sure to come back here and leave a link to your tweet. (2 entries)
'I just entered in a Tassimo T20 #Giveaway from @thelittlekitchn and @tassimotaster http://bit.ly/hduiBQ'
Vote for my recipe in the Good Life Eats and My Baking Addiction Recipe Exchange here. I'm #5 and voting starts Dec. 17th at 12:00AM and ends on Dec. 19. Voting is only allowed once per IP address. This entry type will only be valid between Dec. 17-19. Thank you for your votes! (2 entries)
All entries will be checked and verified. You must enter a valid email address (so I have a way of contacting you), otherwise you forfeit the prize and another winner will be chosen. You have until 11:59pm EST on Thursday, December 23, 2010 to enter. A random winner will be chosen via 'And the winner is' plugin.
Disclosure: I was provided with a Tassimo T20 Brewer along with T-Discs in order to facilitate this review. Bosch is also providing the items for giveaway. I received no monetary compensation and the views and opinions expressed in this post are my own. Some links in this post may be affiliate links.