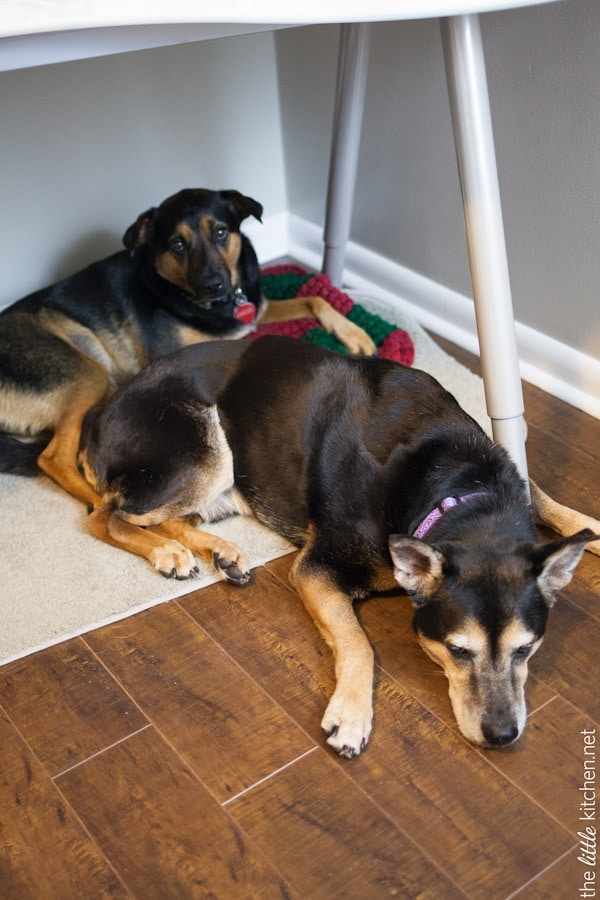 These two have my heart…if it's not obvious to anyone by now…I'm a little obsessed with my dogs. That's Angel in the background and Charley up front. I just can't get over how much they love each other too. This picture was taken underneath my desk. Angel likes to hang out there and Charley has a bed in the office where he lays while I work during the day. Charley decided to cram himself under the desk the other night when Curtis was taping up boxes. I don't know when it started but when you use tape or get out the wrapping paper, Charley FREAKS out. He usually runs to the other person who is not taping and scratches your leg with his front paw, which usually hurts. I have never heard of another dog freaking out about tape before…
He had back surgery two and a half weeks ago and I'm happy to say he's doing so much better! They removed his staples last week…can you see his shaved back? And he had his first rehab session on Thursday. It kicked his butt. I felt terrible for him, you could tell he was sore. Curtis is insistent that we don't do rehab or we just do it twice a month…they are recommending it twice a week. I might compromise and do just once a week. I know it's good for him but it's hard to see him sore and obviously in a little bit of pain. Is it similar for humans who have to go to physical therapy? It's hard work but worth it? Ideas?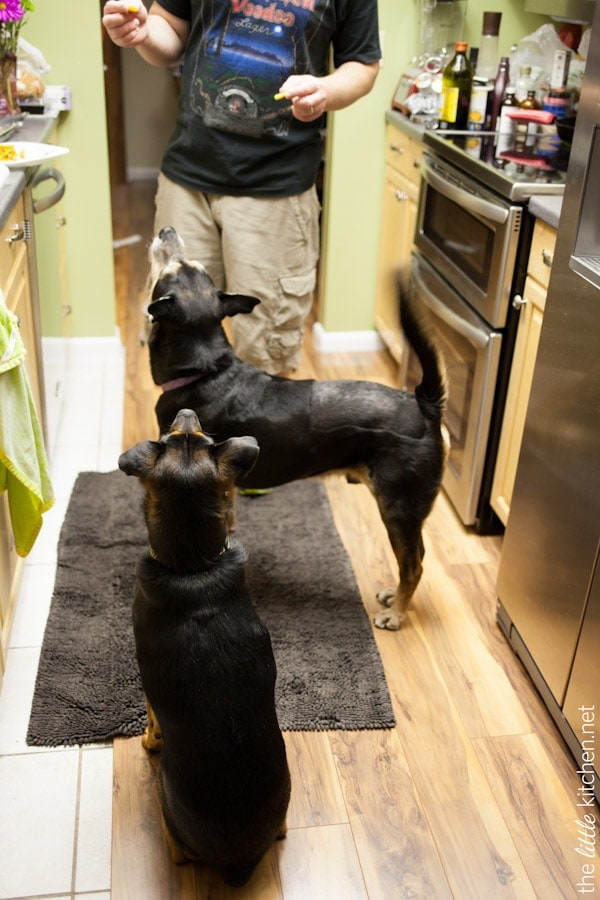 Curtis is giving the dogs French fries…yes we spoil them and yes we give them human food sometimes. Don't call the dog police, please. (Why don't you see all of Curtis? This is what I'm allowed to show. He hates when I take pictures of him/hates being in pictures…I give up.)
/ Ignore the messy kitchen…eeek!! Since around Christmas, Curtis has been working on the flooring in the majority of the house. The foyer and the living room is done…you can see part of the kitchen needs to be finished and so does the dining room. Next up will be the family room. I need to find a big rug for the kitchen because we get water splashing on the floor all the time. Would love your ideas for a kitchen rug!
/ Things I'm obsessed with lately…
flowers / this liquid soap / these shoes / this diy project
/ Things I want so badly…
mint jeans / this purse in that color (but oh man $$$)
/ Things I want to make ASAP…
potato chip macarons / strawberry glazed doughnuts / these gooey butter bars / black bean pizza
/ Pinterest things (boards) I'm loving lately…
spring makes me happy / strawberry love / inspiration

There are some affiliate links in this post.