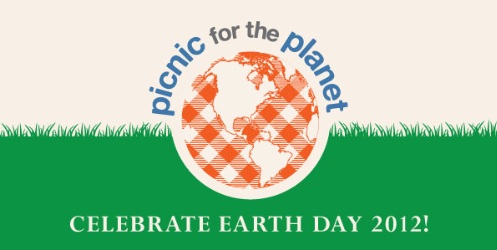 Earth Day is coming up this weekend and I think it's a great time to think about what kind of an impact we're making on our planet. Small changes or adjustments can make a huge difference. For example, those plastic bags we get when we go shopping. When I started buying those reusable bags for groceries, I couldn't believe how many less bags it took to bag my groceries and then I began to think how many bags I used per grocery trip, and I thought of all of the plastic bags I have used over the years. That's a lot of bags!
I don't think it's cliche or uncool or even a political gesture when talking about or thinking about who much of an impact you and your family is making on our environment. I also do know that not all solutions, tips, advice or small steps will work for everyone but I think if each of us makes a few changes, it can amount to a whole lot.
Here are some Earth Day tips that I try to use in my every day:
turn off the lights in rooms no one is in, that includes those ceiling fans
unplug electronics or chargers not in use
making my errand trips efficient by planning out routes
when buying new appliances or electronics, trying to get energy efficient ones
in the kitchen, I'm always trying to use kitchen towels more than I use paper towels
when possible and affordable, I try to buy locally or regionally grown produce
Like I said, these may not work for everyone but it's worth taking a few minutes to think about how you can make some small changes to exact real big change.
The Nature Conservancy is trying to get the word about Picnic for the Planet – they are trying to have the hold the title for the world's largest picnic celebration. To find out more, visit Nature.org. To host a picnic or find one near you to join, visit Picnic for the Planet.
And now for a giveaway…to get your picnic started off right. I love these collapsible baskets, don't you?
Picnic for the Planet Giveaway (Value $75)
Coleman Collapsible canvas basket lined with gingham fabric
Official Picnic for the Planet merchandise (water bottle, tee, blanket, temporary tattoo)
Peeled Snacks organic dried fruit
Green and Black chocolate bar
Back to Nature crackers and cookies
How to Enter
Answer either or both questions: What have you done in your life or in your home to lessen your impact on the planet?  OR visit Nature.org and tell me about a action or actions you have learned about that can help make a positive impact on the planet.
Extra Entries
For seven more extra chances to win, leave a separate comment for each type, saying you did the following:
'Like' The Little Kitchen on facebook
Subscribe to The Little Kitchen via email
Follow The Little Kitchen on twitter and tweet the following:
Enter the Picnic for the Planet #Giveaway from @nature_org & @TheLittleKitchn http://bit.ly/Jp2nnQ ends 4/23 #picnic12
Find a local picnic here and join the fun. Tell me where the picnic is located
Tweet an #EarthDay tip for your follows using both of the hashtags #EarthDay and #picnic12 and be sure to share the link to the tweet in a comment below
'Like' The Nature Conservancy on facebook
Follow The Nature Conservancy on twitter
Details
One winner will be chosen at random from all of the comments/entries posted here on this post. Be sure to do the mandatory entry and you're entered into the giveaway. The extra entries are optional. Giveaway ends on Monday, April 23, 2012 at 11:59 PM EST.
For more chances to win, visit the awesome blogs below:
Disclosure: This giveaway is sponsored by The Nature Conservancy. There are a couple of affiliate links in this post – if any of the items from the giveaway with affiliate links are purchased via my Amazon store, I'll donate the affiliate commissions to the Nature Conservancy.