I'm posting a vegetarian recipe for my sister, Cathy, who requested that I post more of them. I received a Williams-Sonoma Classic Pasta at Home cookbook from my mother-in-law as a gift at least 8 or 9 years ago (before she was my MIL) and I have been making a modified version of the penne with spicy tomato sauce recipe found in this book ever since. I have to be honest, I have only tried one recipe in this entire cookbook and it's this one. I don't really have a good reason as I have other recipes in this book marked. This recipe is very easy as it doesn't have tons of ingredients and isn't super complicated. And I don't bother peeling the tomatoes when making it. Also, if you can't find fresh plum tomatoes, the book recommends 2 cups (12 oz.) chopped canned plum tomatoes.
If you did want to add a protein to this dish, you could make the chicken I make for the fettuccine alfredo recipe.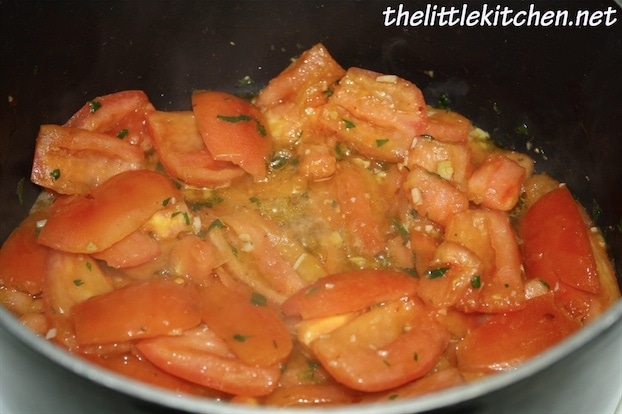 Just a picture to show how I chopped the tomatoes and how they look while they are sauteeing.
It's a very tasty dish and is usually ready in under 45 minutes.
Recipe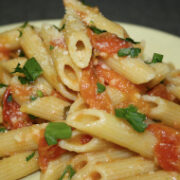 Print
Pin
Save
Penne with Spicy Tomato Sauce
Ingredients
1/4

cup

olive oil

4

garlic cloves

,

minced

1/4-1/2

tsp

red pepper flakes

,

depending on how spicy you prefer

2

Tbsp

minced fresh flat leaf parsley

1 1/2-2

pounds

ripe plum tomatoes

,

seeded and chopped

salt to taste

1

lb

dried penne pasta

1/4

cup

parmesan cheese

,

grated (plus additional to top)

2

Tbsp

romano cheese

,

grated
Instructions
Bring a pot of salted water to boil for the penne pasta. Cook al dente according to package directions. Drain pasta and reserve 1/4 cup of the pasta water.

In a large pot over medium heat, warm the olive oil. Add the garlic and red pepper flakes and saute for 1 minute to release the garlic's fragrance. Add 1 Tbsp parsley and cook for a few seconds then add tomatoes. Raise the heat to medium-high and simmer briskly, stirring often, until the tomatoes break down and form a sauce, about 15 minutes. Add water as necessary to thin the sauce and keep it from sticking. Season with salt. Remove from the heat.

Add pasta to pot with sauce and toss. Add cheeses and toss again. Add pasta water if needed to thin the sauce. Top with additional cheese if needed and top with remaining parsley.
Notes
Modified from Williams-Sonoma Classic Pasta at Home, 1998