Peanut Butter S'mores Cookie Bars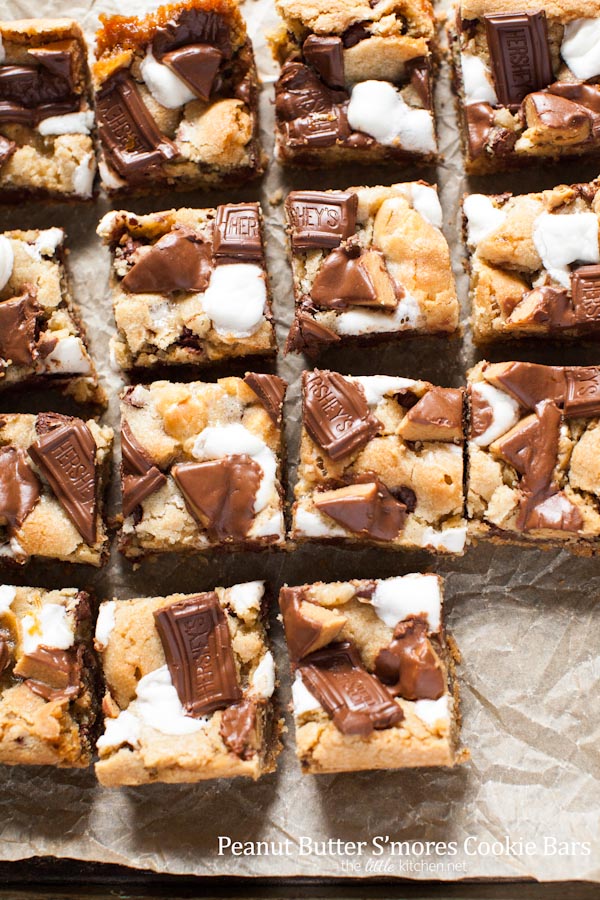 Today, I'm sharing with you a recipe from my friend, Joan's blog Chocolate, Chocolate and More, her s'mores cookie bars. Last week, Joan passed away in her sleep. I can't believe I'm even typing those words. It's so crazy to me because I just saw her a few weeks ago in Jamaica for a conference with other food blogger friends.
I didn't get to spend a lot of time with Joan but every time I saw her, she was fun, hilarious (always laughing) and so gracious. She always made a point to let me know she appreciated me, which means a lot to me.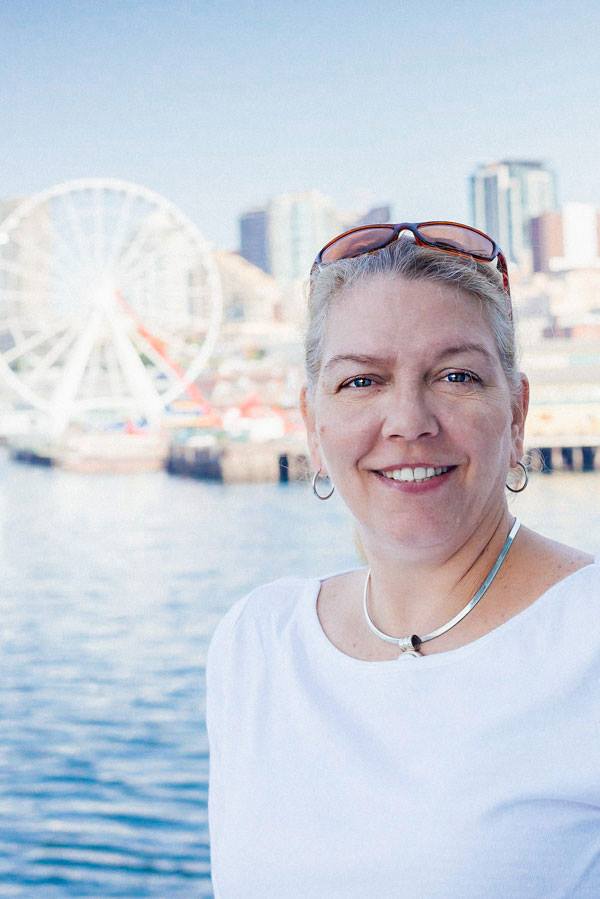 Photo by Shanna Schad
I had fun getting to know Joan in Jamaica and we even took a shoe selfie together because we both had pink Tieks on one night. She was a firecracker who said what she felt and shared what she knew with everyone. She will be missed.
I hope you'll join me in sharing Joan's recipes…with your family and friends and using her website as a resource for your dessert recipes…here are some that I have on my list to try!
Brownie Bottom Cheesecake Bars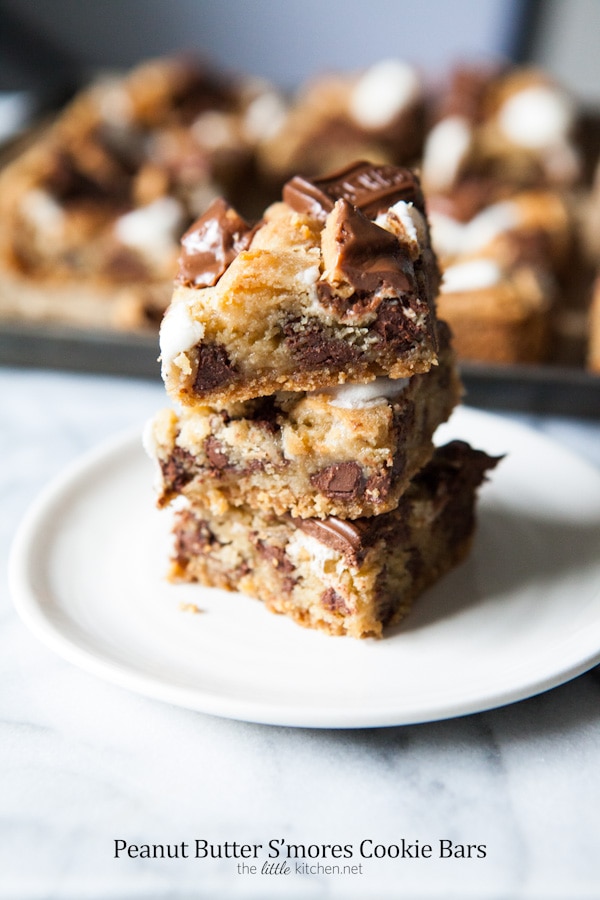 Honestly, every time I think of chocolate or see it, I think of Joan. And it's just so fitting because she loved chocolate so much.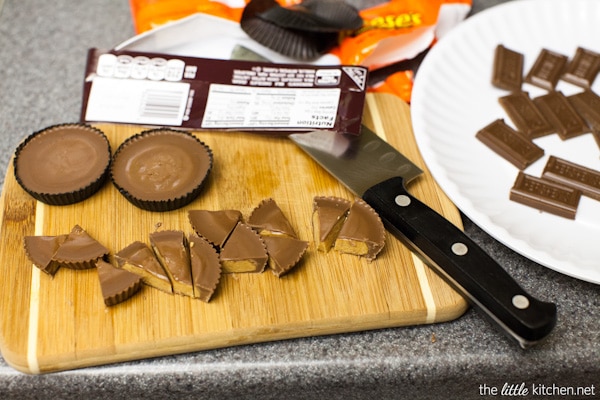 I only tweaked her recipe a teeny bit and added Reese's Peanut Butter Cups to the topping of these s'mores bars.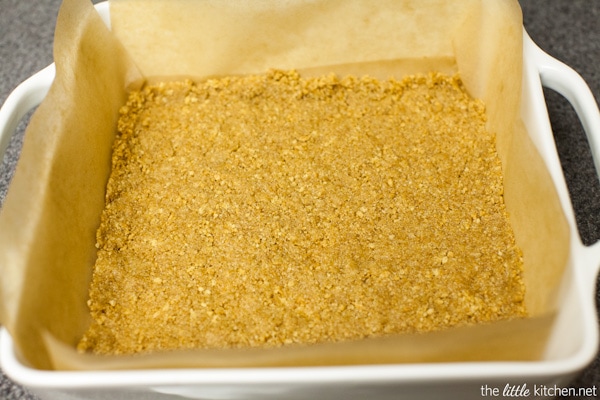 I crushed graham crackers in a zippered plastic bag with my rolling pin. Then, mixed them with melted butter. Lined an 8-inch baking dish with parchment paper and then used my fingers to flatten out the crumbs to form a crust.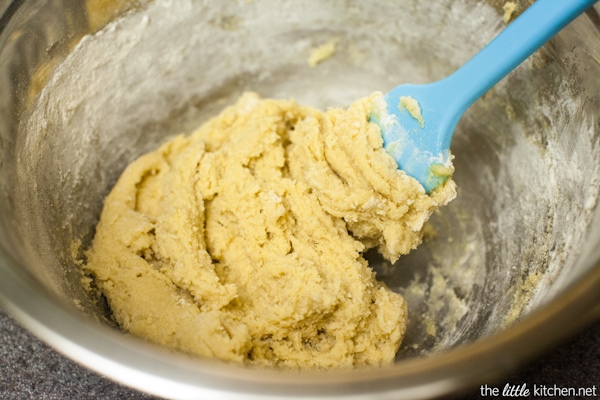 Then, make the cookie dough filling.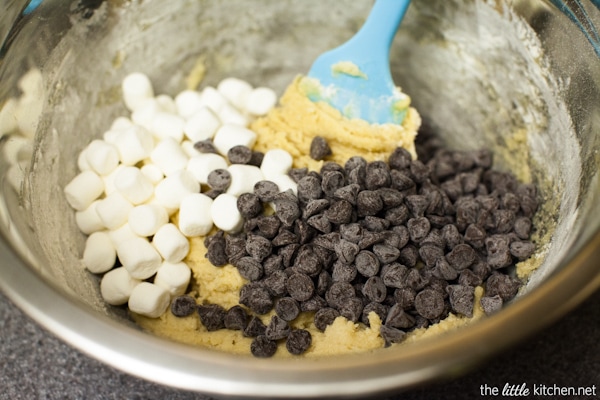 Chocolates and marshmallows for Joan. This makes me smile!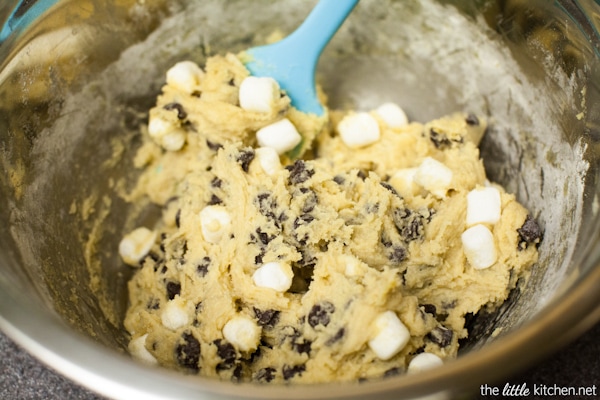 The cookie dough tastes so good! Don't ask me how I know.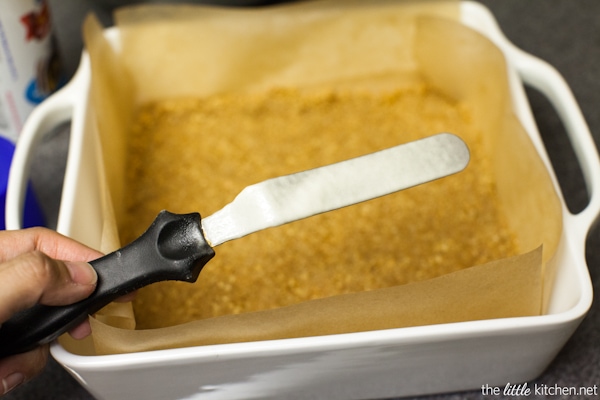 Here's a little tip, I spray my offset spatula with nonstick baking spray and then use it to help me smooth the cookie dough out.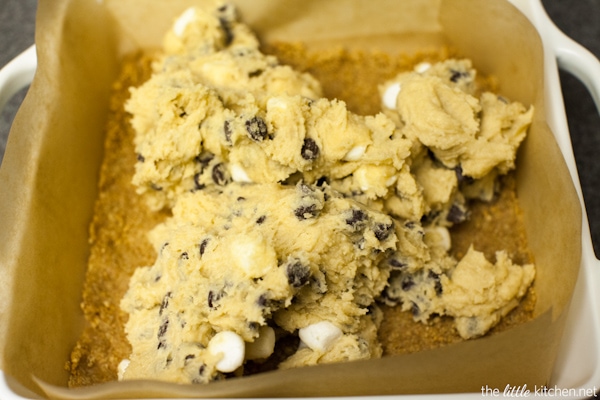 Spoon the cookie dough over the graham cracker crust. Use the spatula to smooth the dough out.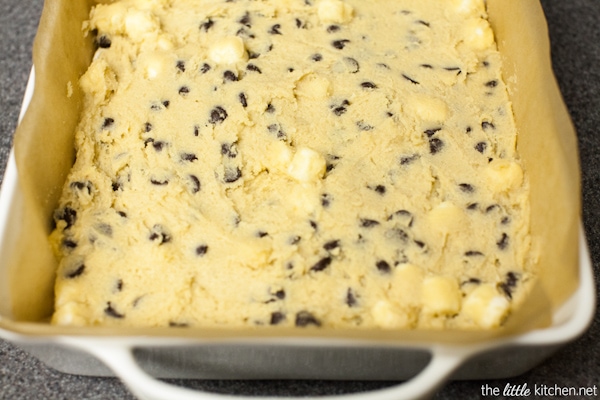 All ready to go into the oven.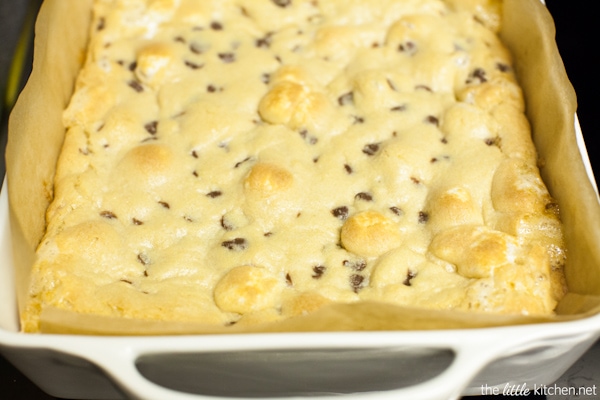 It's hard not to try to eat them when they first come out of the oven.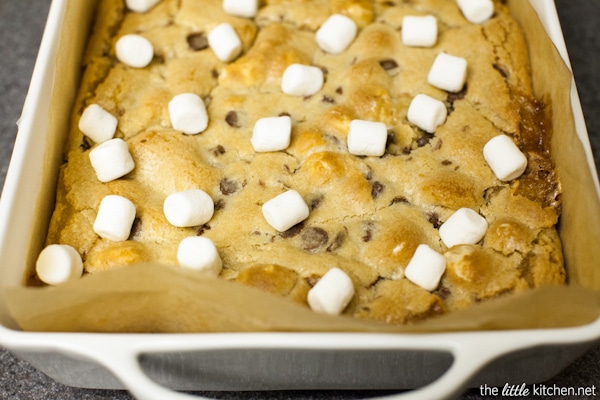 Add some marshmallows on top for decoration and place back into the oven for a few minutes.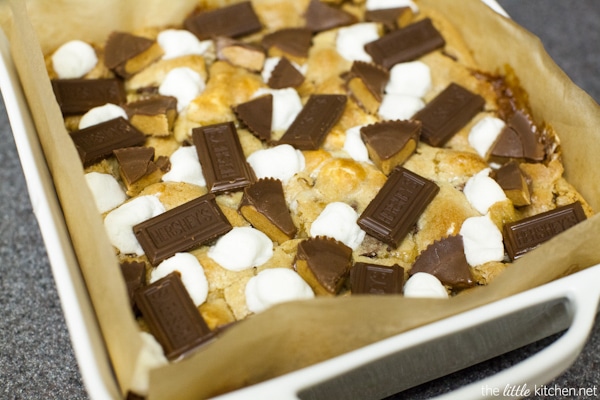 Then, once it comes out of the oven, again, add the frozen chocolate on top and allow the bars to cool at least 60 minutes before removing from the pan and completely before cutting them up.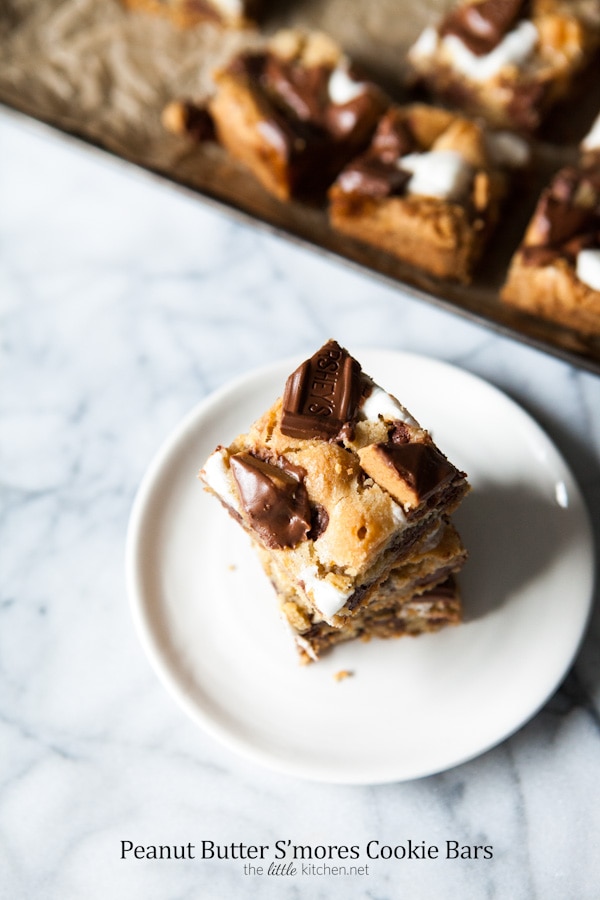 Did you know that today is National Chocolate Day? I don't think there will ever be a time when I don't see chocolate or eat chocolate and not think of Joan. It's really fitting, honestly.
To Joan's family and friends, my sincerest condolences. What I loved about her is that she was so funny…I was always cracking up even if that wasn't her intention. She helped so many people and I hope that those memories and her legacy will endure.
I'm sharing these s'mores bars with friends that I'm seeing later today…sharing her love of chocolate with them.
Recipe
Peanut Butter S'mores Cookie Bars Recipe
Yield: 16 bars
Prep Time: 15 minutes
Cook Time: 30 minutes
Total Time: 1 hour 45 minutes (includes inactive time)
Ingredients:
S'mores Topping
1 regular-sized milk chocolate bar, split
3 peanut butter cups, cut into 6 pieces each
1/4 cup mini marshmallows
Graham Cracker Crust
4 Tablespoons unsalted butter, melted
3/4 cup graham cracker crumbs (about 7 graham crackers)
Cookie Dough Filling
1 1/4 cup unbleached all purpose flour
1/2 teaspoon baking soda
1/2 teaspoon salt
1/2 cup unsalted butter, softened
3/4 cup granulated sugar
1/2 cup packed light brown sugar
1 large egg
1 teaspoon pure vanilla extract
1 cup semisweet chocolate chips
1/2 cup mini marshmallows
Directions:
Break apart the chocolate bar and cut up the peanut butter cups and place on a plate and stick in the freezer.
Heat oven to 350 degrees F. Line an 8-inch square baking pan with parchment paper.
Mix melted butter and graham cracker crust together in a small bowl. Add the graham cracker crust to the prepared baking dish. Using your fingers, flatten the crumbs so it's evenly distributed throughout the pan.
In a small bowl, mix together flour, baking soda and salt. Set aside. Add butter and sugars to a large mixing bowl. Cream together with an electric hand mixer or rubber spatula. Add egg and vanilla extract and mix together. Add flour mixture in two batches, mixing with a rubber spatula and being careful not to overtax. Add chocolate chips and marshmallows and fold in.
Spoon the cookie dough over the graham cracker crust. Spray an offset spatula with nonstick baking spray and use the spatula to smooth the cookie over the graham cracker crust.
Bake for 25 to 30 minutes in a 350 degree F oven, until the cookie dough is mostly set (it's okay if it's a little underdone). Remove the baking pan and add 1/4 cup of mini marshmallows on top and return to the oven to bake another 3 to 5 minutes, until marshmallows have melted a little, losing their shape.
Remove baking pan and place on a cooling rack and allow to cool for at least 60 minutes. Take chocolates from the freezer and carefully place them on top around the marshmallows.
Remove bars from baking pan by using the overhang from the parchment paper. Cut into bars when it's completely cooled. (I even wait to cut them the next day.)
Have you tried this recipe?