Peanut Butter Cup Cupcakes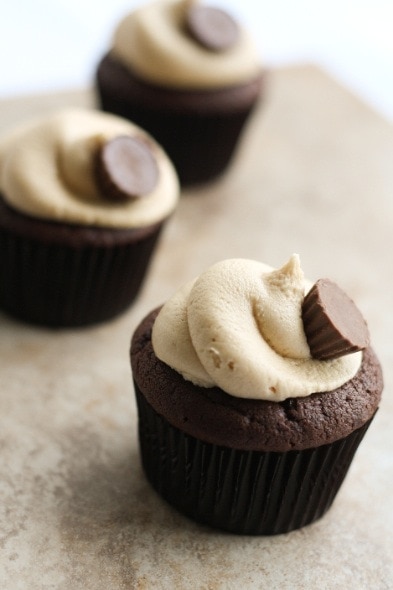 This past weekend, we had our Central Florida Food Blogger Bake Sale as part of the National Food Blogger Bake Sale to benefit Share Our Strength. I'm pleased to announced that we raised over $1300!!! Considering our goal was to surpass last year's fundraising here in Central Florida and make it to $500, I call it a resounding success! Thank you to everyone who came out and bought our baked goods and bought raffle tickets.
And a huge thank you to these food bloggers who baked and helped out so much! Aggie from Aggie's Kitchen, Pearleen from MegaYummo!, Katie from Katie's Cucina, Jaclyn from food + words, Jim from Comfort in Crumbs, Dawn from Wicked Good Dinner, Suzanne from My Adventures in Food, Robin from Simply Southern Baking, Wanda from My Sweet Zepol, and Holly from I Could Eat and Zeema from Sweet 'Scapes Catering. And thank you to Gaby from What's Gaby Cooking, the founder of the National Food Blogger Bake Sale, we raised over $24,500 nationally. If you came out to support the bake sales across the country, thank you so much! We are one step closer to getting rid of childhood hunger.


A little bit of the bake sale. That's Aggie's kids, aren't they cute? And there's a group picture we took as we were breaking down, I wish we got one with everyone!
I wanted to share with you the recipe for the cupcakes I made for the bake sale and then proceeded to make for the NASA Tweetup I attended for the launch of the space shuttle Endeavour. These cupcakes are to die for and when I first saw them on My Baking Addiction, I pinned it and knew I had to try them one day. When the bake sale came up, I knew this cupcake would be the perfect thing to make for it. Um, there are no words, first of all, Jamie is a genius and these cupcakes are officially my new favorite cupcake. I'm going be making them ALL the time!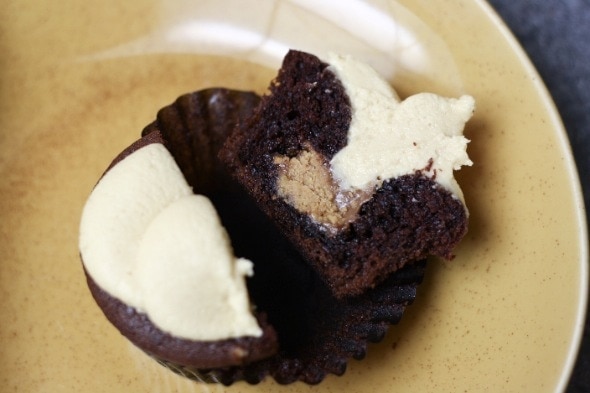 The cupcake has the perfect moistness and icing is amazing. And you can't go wrong with a peanut butter cup inside. The recipe is incredibly easy to make and I'm so happy that Jamie said it was okay for me to share the recipe on my blog! I only modified it slightly and that's because I didn't read her recipe close enough when I asked my husband to pick up some of the ingredients for me. I had him buy the smaller boxes of instant pudding and it worked out just fine.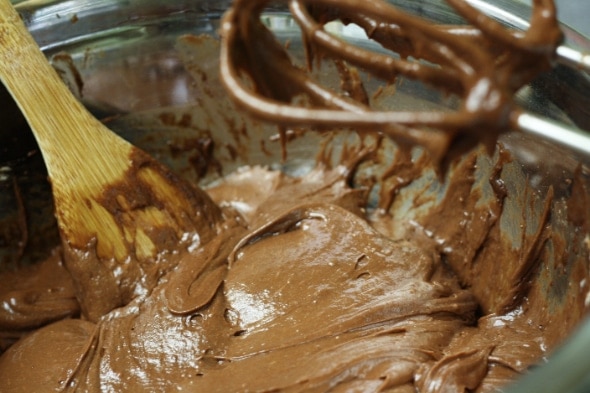 I knew I was going to love this recipe when I saw the batter was pudding-like. I really think the sour cream and pudding mix really make for a moist cupcake.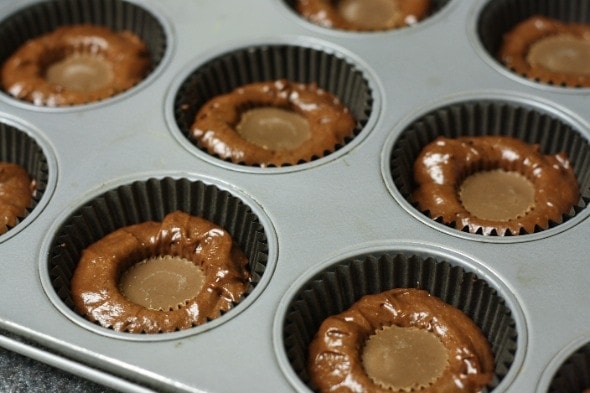 Once you fill the cupcake liners up with 3 Tbsp of batter, you place frozen miniature peanut butter cups on top and every so slightly push them down.
Recipe
Peanut Butter Cup Cupcakes
Ingredients:
Cupcakes
1 (18.25 oz) package devil's food cake mix (I used Duncan Hines)
1 (3.4 oz) package instant chocolate pudding mix
1 cup sour cream
1 cup vegetable oil
4 large eggs
2 teaspoons pure vanilla extract
1 Tablespoon instant espresso granules, dissolve it in 1/2 cup warm water
30 Reese's Miniatures peanut butter cups, unwrapped and frozen
Peanut Butter Buttercream Icing
3 sticks unsalted butter, softened
1 cup creamy peanut butter
2 Tablespoons pure vanilla extract
2 lbs powdered sugar
3 to 4 Tablespoons low-fat milk
Reese's peanut butter cups minis (in a bag & they come unwrapped)
Directions:
Cupcakes
Be sure to preheat your oven to 350 degrees F. Place cupcake liners in your cupcake or muffin pan.
In a large mixing bowl with a hand mixer or your stand mixer bowl using the paddle attachment, mix together all of your ingredients except the peanut butter cups for minute or two until well mixed.
Place 3 Tbsp of cake batter in each cupcake liner. Take one frozen peanut butter cup and place in the center of each cupcake on top of the batter, press down a little bit.
Bake for 18 to 22 minutes or until several cupcakes pricked with a toothpick come out clean. Do not prick the cupcake where the peanut butter cup is inserted. There will be a slight indentation or hole where the cupcake is sunken in from the peanut butter cup, you'll fill that with icing. Allow the cupcakes to cool in the pan for 5 to 10 minutes.
Remove cupcakes from the pans and place them on a cooling rack & let them cool all the way. While the cupcakes are baking you can make the buttercream icing.
Peanut Butter Buttercream
In your stand mixer bowl using the paddle attachment, mix thoroughly the softened butter and peanut butter on low to medium speed. Turn off your mixer and in two batches, add the powdered sugar and mixing until well blended. Be careful, the powered sugar can go everywhere!
Add vanilla and 3 to 4 tablespoons of milk a little bit at a time while blending on low speed. Blend until well combined. You'll start to see the icing pull from the sides of the bowl. Add a little bit more milk to get to the right thinness (to your preference). Keep blending, higher the speed, until nice and fluffy, about 5 to 7 minutes.
Using a big round tip and decorator bag, pipe icing onto cooled cupcakes and top with a mini on each cupcake.
Some notes: