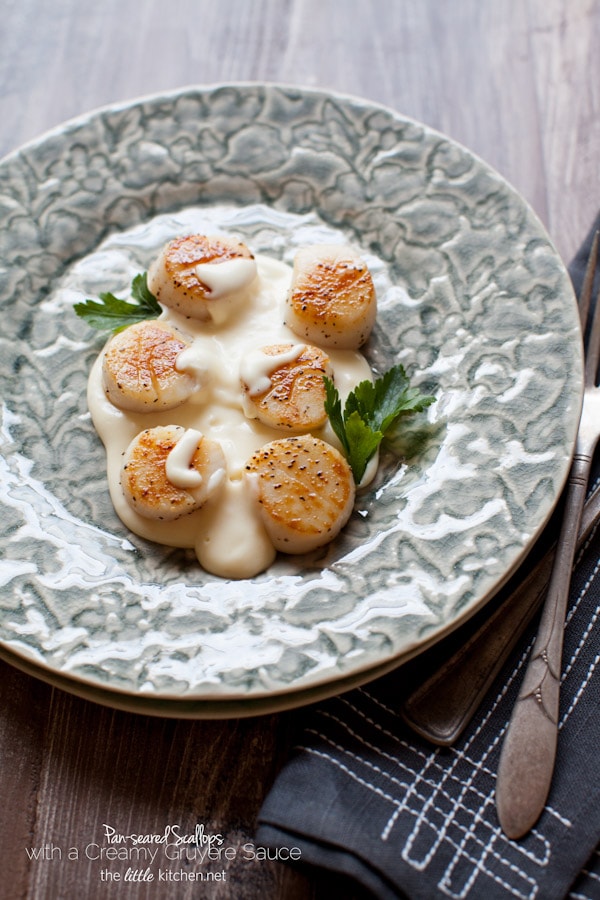 Can you believe this is the first time I have ever cooked scallops? I feel like this is the time I first made mussels at home…it's so easy…and not sure why it took me so long to try it!
Rewind to last month, I was invited to a culinary demo and lunch at Raglan Road (an authentic Irish pub) located at Downtown Disney in Lake Buena Vista, Florida. We love Raglan Road and to get to see Master Chef Kevin Dundon speak and cook for us at his restaurant, I jumped at the chance! Be sure to keep reading, as I have some information about an exciting contest for a trip to IRELAND!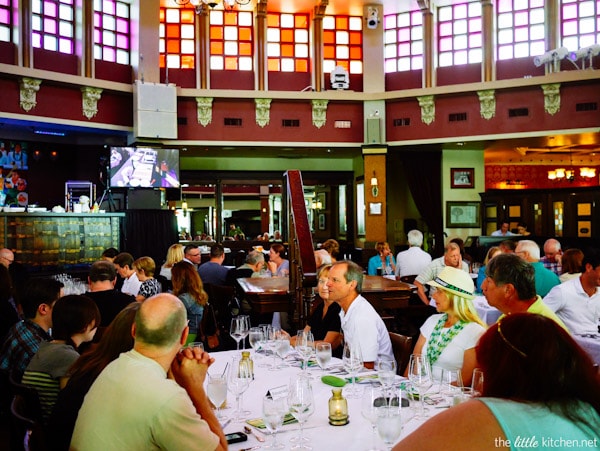 The event was pretty sweet, he does this event in March every year and everyone was excited to see him and taste the food.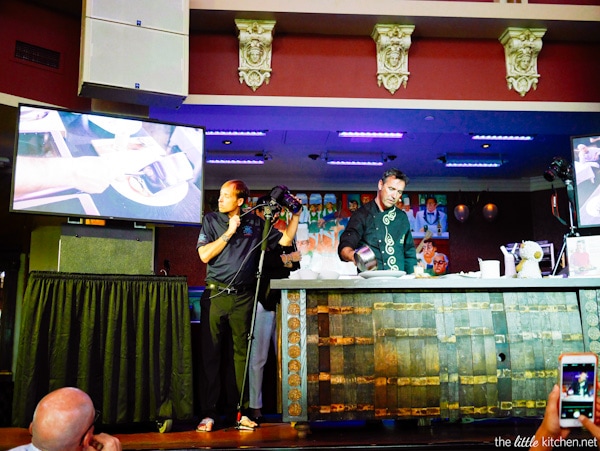 He's very charming, very likable and hilarious. It was great to hear him talk about food and give cooking advice…such as looking for dry packed scallops vs. wet packed. It's harder to cook scallops that are wet packed…there are too many juices and you may end up boiling or steaming the scallops.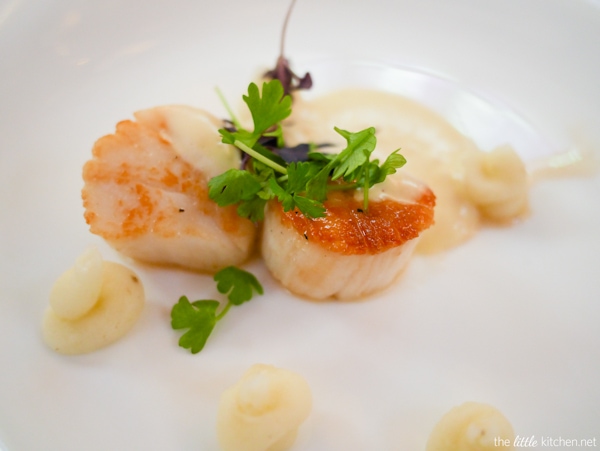 And this is the recipe I'm sharing with you today…his presentation looks way prettier than mine and Chef Kevin's were served with mashed potatoes!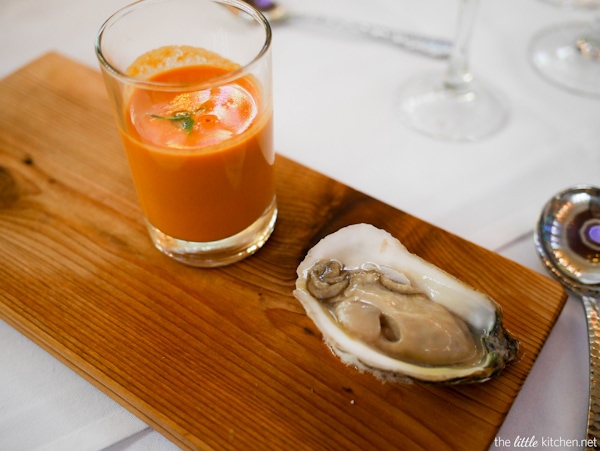 I feel very lucky that he shared his recipes with me! This tomato soup is so buttery and creamy…and the oysters! Do you love oysters?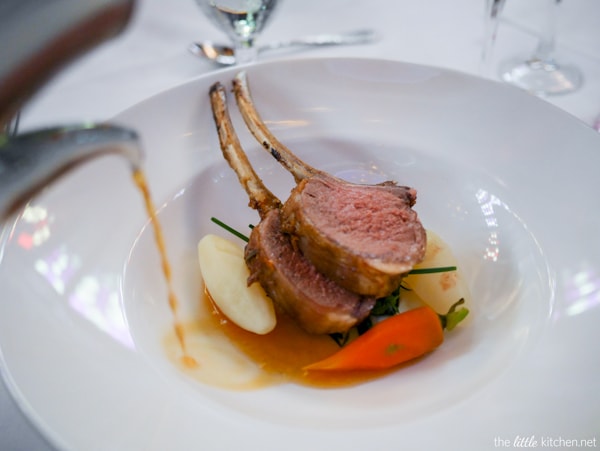 And a beautiful presentation for the lamb!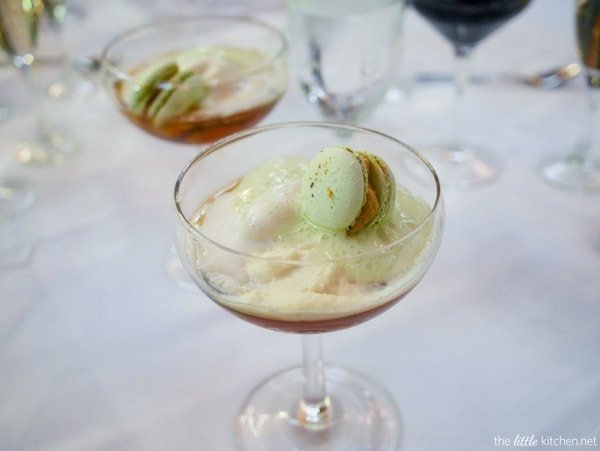 I'm slightly obsessed with the idea of this dessert…it was so good. Called Pimms Knickerbocker Glory, I have never had anything quite like it. Topped with a macaron and a vanilla mousse that was heavenly!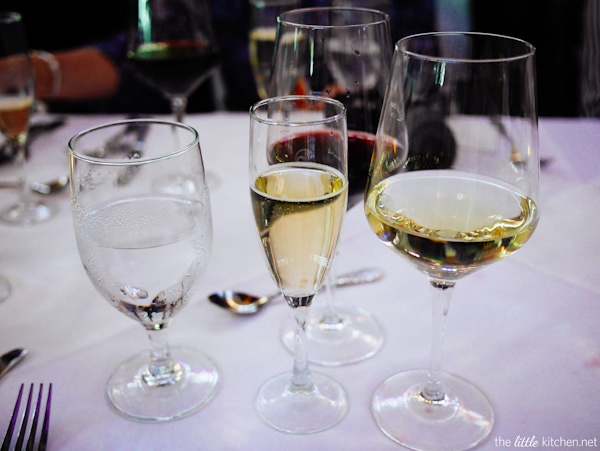 And there were wine pairings.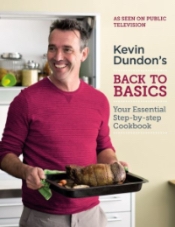 This event was so delightful and I had a blast! And a nice way to kick off St. Patrick's Day celebrations.
Like I said before, it was really nice to meet Chef Kevin and receive a copy of his latest cookbook, Back to Basics. It's a gorgeous cookbook with tons of step by step photos.
I can't wait to cook from it! Especially, the fish and chips, his recipe for Roast Beef with Yorkshire Pudding and many more!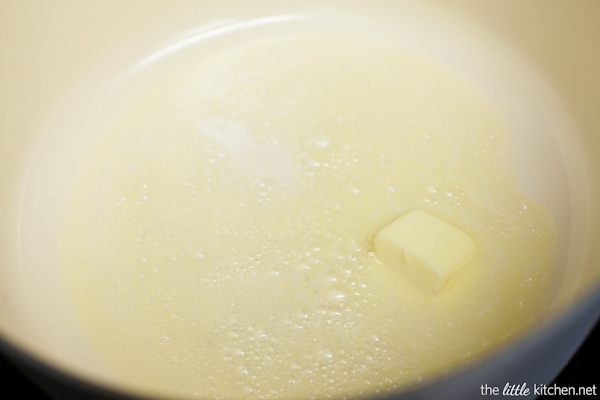 And now for the recipe. For the mornay sauce (cheese sauce). First melt butter.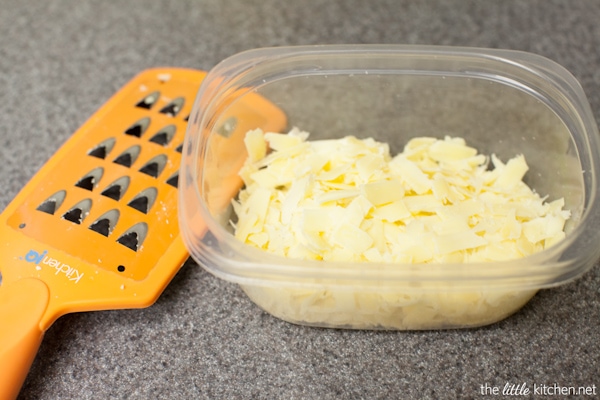 I bought a small block of Gruyère cheese and grated it.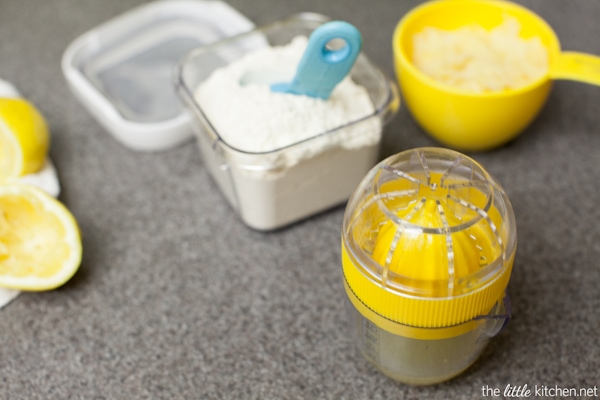 I have a big bin of flour in my pantry and find lately that I need a few teaspoons or tablespoons of flour here and there. So recently, I started keeping a small container of flour on my counter next to other ingredients that I use all the time. So convenient!
Juice the lemon while you're prepping the cheese sauce. I love this juicer that my friend, Christine, gave me as a gift. You can store the leftover juice in the fridge!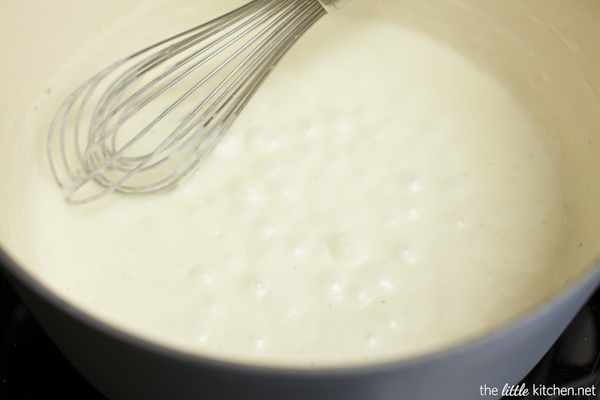 So good and bubbly. I have so many ideas for this mornay sauce…for other recipes. So stay tuned!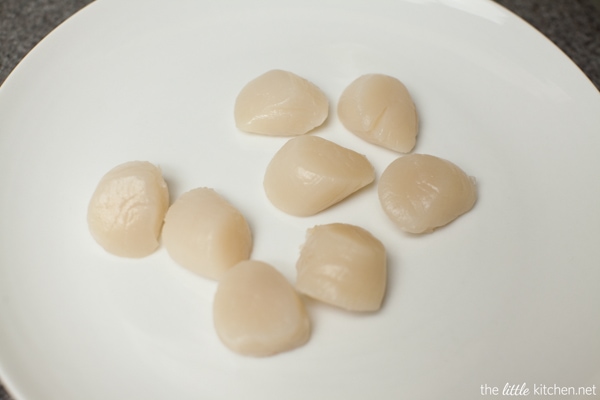 Wipe those scallops with paper towels and add salt and pepper.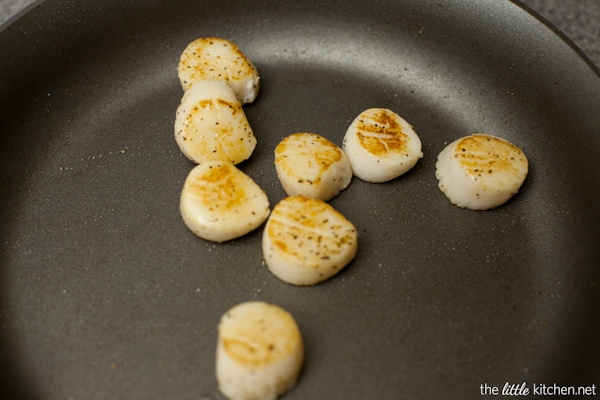 Sear the scallops on each side and then add a splash of lemon.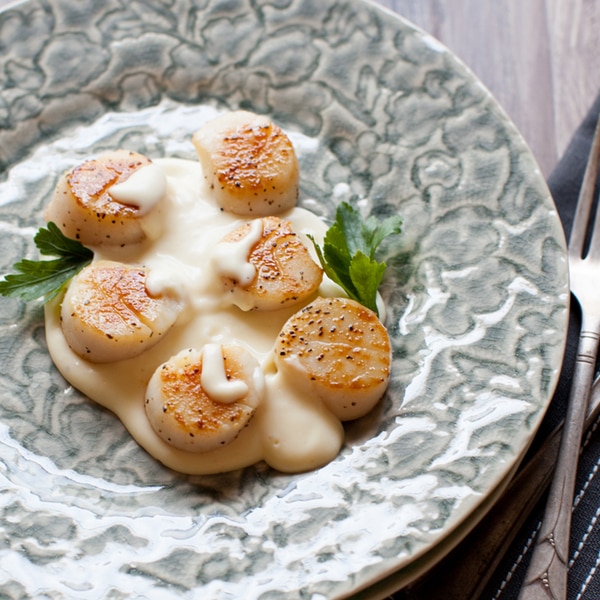 With the Gruyère cheese sauce, these scallops are out of this world…loved that I had it at Raglan Road and then was able to make it at home! Such simple ingredients make such an elegant dish. You can do it! I love and appreciate that Chef Kevin shared his recipes and gave me the inspiration to try cooking scallops at home!
And I can't wait until my next visit to the restaurant, by the way. 🙂
And so much fun, you have to enter in Chef Kevin's Master Chef Cooking Contest. Five finalists will be chosen and FLOWN to Ireland where you will get to cook with Chef Kevin and visit his popular resort and cooking school, Dunbrody Country House Hotel. You will need to develop a 3-course menu and submit a short video talking about your recipes. Find all of the information you need about the contest (you have until April 21st to enter!) on the Raglan Road website. This is a once in a lifetime opportunity…I would love to see you win this!
PS I wish I could go too. How fun would that be?
Recipe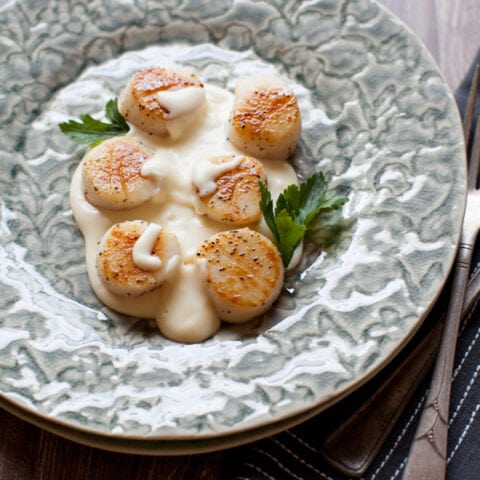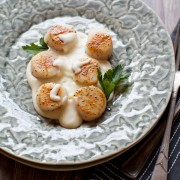 Print
Pin
Pan-Seared Scallops with a Gruyère Cheese Sauce Recipe
This dish is a type of French dish called Coquille St. Jacques and it's luxurious! You have to try it! (By the way, the sauce makes a lot for this dish, feel free to halve it or save it for dipping in vegetables!)
Ingredients
Mornay sauce
2

Tablepoons unsalted butter

3

Tablespoons

unbleached all purpose flour

2

cups

whole milk

pinch

of salt

pinch

of pepper

¾ to 1

cup

grated gruyere cheese

1

large egg

,

beaten
Scallops
8

large sea scallops

1

teaspoon

grape seed oil

one squeeze of a lemon

pinch

of salt

pinch

of pepper
Instructions
Mornay Sauce
Melt the butter in a heavy bottomed saucepan over low heat.

Sprinkle in the flour and stir with a balloon whisk.

Cook gently for 2 minutes, until the roux is off-white in color. Don't over cook it or the sauce will be discolored.

Slowly pour the milk into the saucepan nd increase the heat to medium, whisking constantly until it comes to a boil.

Season with salt and pepper and cook for a further, about  6 to 8 minutes to ensure the flour is cooked through.

Remove from heat and add in the gruyere cheese and egg.

Stir until fully incorporated.
Scallops
Pat the scallops dry with a paper towel. Lightly season the scallops with salt and pepper.

Heat a pan on medium heat for a few minutes (you want the pan really hot), then add oil. (If you're using a nonstick pan, you'll need to add the oil before turning the pan on.)

Gently place the scallops in the pan and sear about 1 to 2 minutes on each side for a medium rare-medium scallop.

Remove pan from heat and deglaze with a splash lemon juice.
Notes
From Chef Kevin Dundon, co-owner of Raglan Road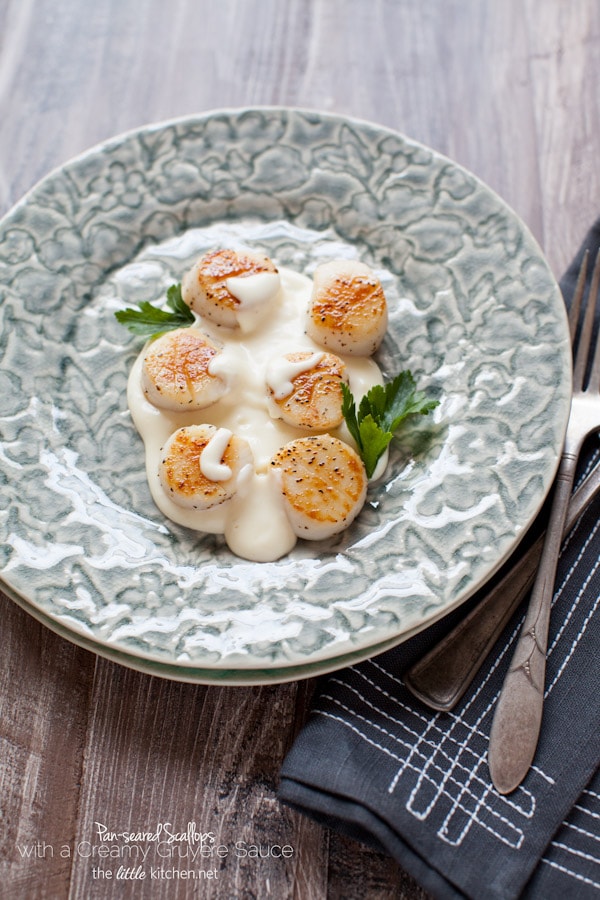 Disclosure: I was invited to attend the lunch and culinary demonstration at Raglan Road. All opinions are always my own and I only share with you what I love. There are affiliate links in this post.