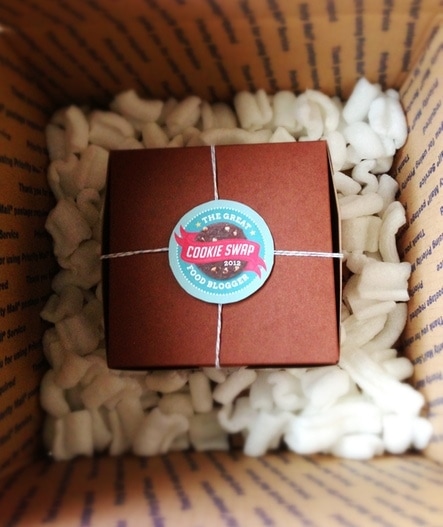 I thought I'd share how to package and ship your cookies and the best ways to ship them. I worked at a pack and ship shop called Mailboxes, Etc. in college (they have now since been bought out by the UPS Store) and am hoping I can give you advice to help you save the most money whether you're shipping cookies for the cookie swap or holiday gifts!
Cookie Packaging Tips
Be sure to use food safe packaging such as treat boxes or tins. Refrain from using zippered plastic bags as the only layer as this doesn't provide enough protection. Feel free to use them inside boxes or tins to make it airtight.
Ship in a box rather than a padded envelope, sometimes they get beat up pretty good in transit.
Check out Lindsay's posts on pretty packaging and labels and tags (they're so cute)!
Make sure you have enough boxes for the cookies and boxes for shipping before you start baking so when the cookies are ready to ship, you're ready to go.
Save peanuts and bubble wrap from boxes you receive from online ordering so you don't have to purchase it.
How to Pack a Box
Line the bottom of your box with a layer packing peanuts
If you're using bubble wrap, the bubbles go on the outside (trust me), the flat side of the bubble wrap on the inside. This way the packing peanuts tuck in between the bubbles and adds extra cushioning.
Overfill the box with packing peanuts by just a little bit.
Close the box and seal every seam of the box with packing tape, this helps keep moisture out of the box.
If you're reusing a box, be sure to cross out or remove any old addresses or barcodes.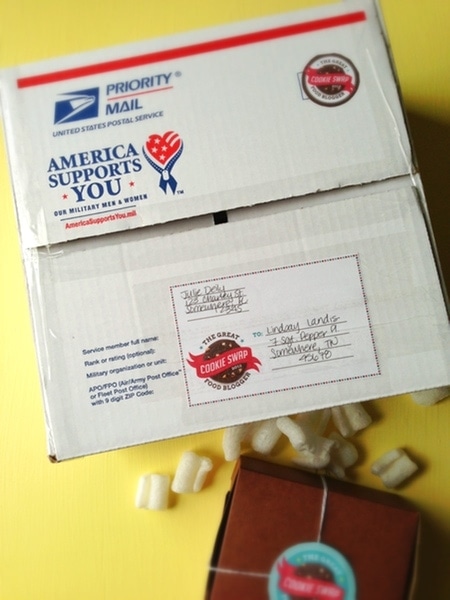 USPS Priority Mail Service
My hands down favorite service. Arrives in 2-3 days and is your best bet.
Order free priority boxes online (you get a bunch and don't make the same mistake I did and order flat rate boxes that you can only use to ship to APO/AFO addresses) or stop by your local post office branch to get free boxes.
Create an account online and print mailing labels & pay for postage online. You'll need a scale or a way to weigh your box but you get free delivery confirmation if you do it this way. Also, schedule a pick up from your house so you can avoid the post office all together!
Check out their flat rate boxes too. It doesn't matter how much it weighs, if it fits in the box, it will ship for the same price.
Scared of the lines at the post office? Use their online service to print the label or use that automated machine at your post office. We use it all the time, it's called the Automated Postal Center.
Costs anywhere from $5 to $15 depending on weight. (USPS cost calculations are based on ounces.)
Best bet for packaging material – use packing peanuts not paper.
I advise against using the Parcel Post service. It might save you $0.50 or more but in some cases, your cookies won't arrive to their destination for more than 7-10 days and during the holiday season, even longer.
UPS Ground
Visit any UPS Store or pack & ship place. Shipping can cost anywhere from $5 to $15 depending on how heavy the box is and how far it needs to travel.
In some cases, depending on how far it needs to go, UPS Ground can even be next day. For example, when I ship to most addresses in Florida (excluding the panhandle), it arrives the very next day. And if it's to a business address, it's not only guaranteed, it's a little cheaper than shipping to a residential. So check the UPS website to see how far your box has to go to see if UPS Ground is next day for you.
UPS cost calculations are based on pounds.
Best best for packaging material – use packing peanuts or paper since it's based on pounds.
FedEx Home Delivery/Ground
I don't know enough about the newest FedEx service.
I'm sure it's very much like UPS Ground.
I advise against using the SmartPost service- it's way toooooo slow.
Look at your options – try to find the best price with the fastest service since your cookies will be in transit for a few days. You want your cookies to arrive not stale and in good condition so your swapee can enjoy them!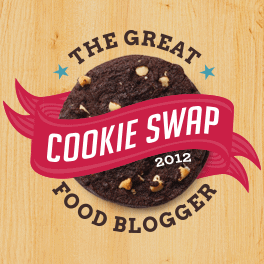 And one more thing, try your company's mail room, where I used to work, I was able to ship via my company's UPS account. I just had to pay out of pocket the shipping price. My company sent a lot of packages every month so the price was cheaper than going to a retail shipping location. Bring your mail room or company administrator some cookies as a thank you too!
As of 7pm on Thursday, we have over 470 food bloggers signed up. Sign up before November 5th!
If you have any shipping or packaging questions, ask them below in the comments!