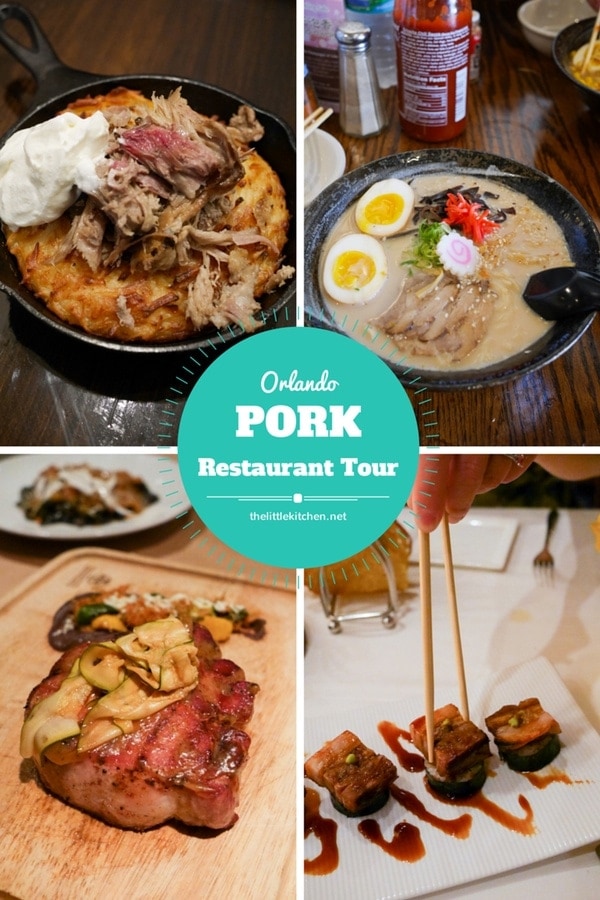 We love going out to eat and I love trying new restaurants and new things while I'm out. I find that restaurants are a huge source of inspiration for me when I come home and cook in my own kitchen. So it was exciting for me to do an Orlando Restaurant Pork Tour and cross off another item off of my #PorkBucketList!
Previously, I made pulled pork in a slow cooker! So that's two things crossed off my list! By the way, be sure to enter in the #PorkBucketList giveaway I'm holding…you can win $500 to cross items off of your list too!
A couple of weeks ago, a few friends and I met up at California Grill which is located inside the Contemporary Resort at Walt Disney World. Ever since, I saw Julius' (a good friend of mine) review of the restaurant last year, I knew I wanted to go. My only regret is that I took this long to go. It was an amazing experience.
The service was excellent and everything we had was out of this world. It was the four of us and we ordered four different entrees to share. This was the best.idea.ever. That way no one missed out and got to try a variety from the menu.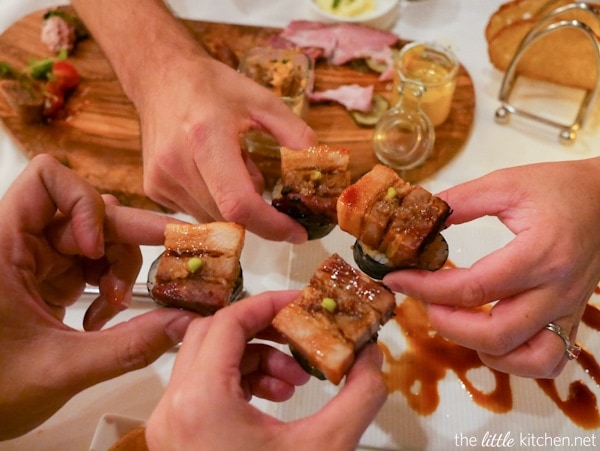 Pork Belly. Nigiri. Enough said, right? It was amazing, not only was the pork house-cured but there was bacon, yuzu rice and a spicy teriyaki. Can you see a little spot of wasabi on top too?
We had to order the house-made charcuterie board. The orange-honey picnic ham paired with their spicy beer mustard…was perfect. I think I'm a convert to ham served like this. I know for sure we will be having some kind of ham for the holidays this year (and Curtis will be happy for that).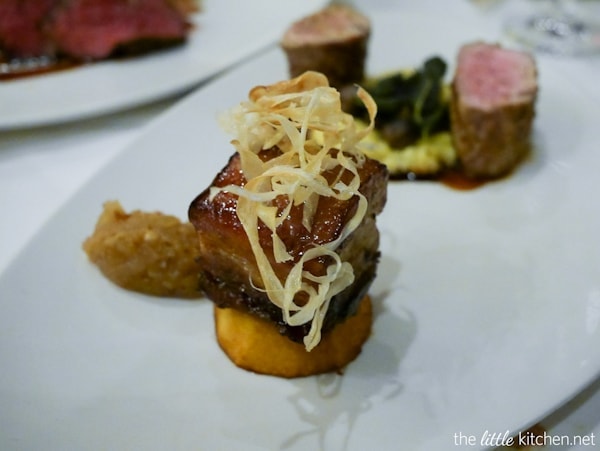 One of our entrees was the pork two ways. In the back, a grilled tenderloin (quite possibly the best pork tenderloin I have had in my life) with a goat cheese polenta that Joey was giddy over. In the front was a lacquered pork belly served with applesauce on top of a piece of apple. Quite perfect.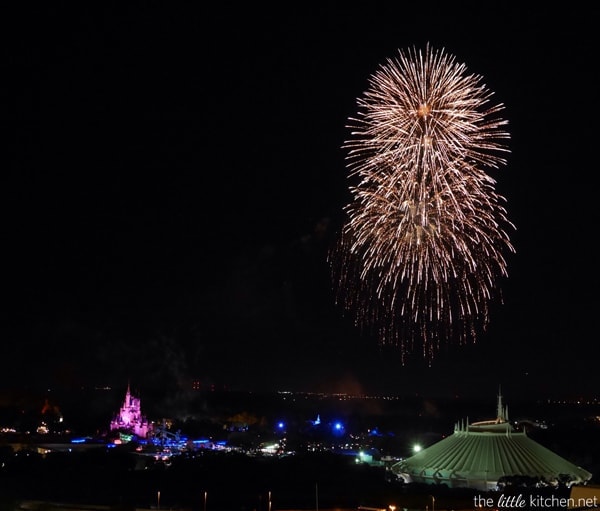 We topped off the night enjoyed the Magic Kingdom fireworks. Can you see Cinderella's castle there on the left and Space Mountain on the right?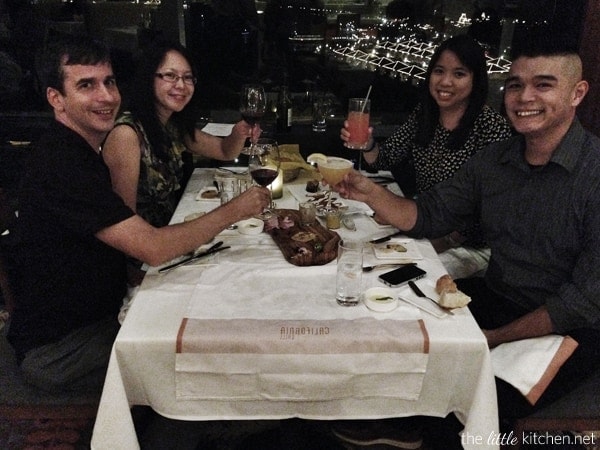 Joey, Suzanne, me and Julius. We had such a great time…I'm going back to the California Grill and I hope it's soon!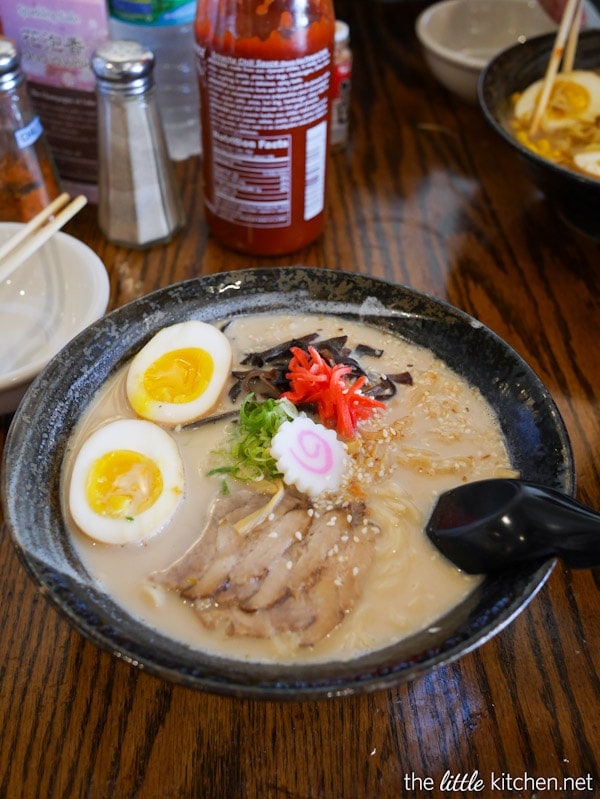 Next stop is Sapporo Ramen in West Orlando. It's a no frills place, you go up to a window to order and try to grab a seat at one of the open tables (there aren't many). I ordered the Tonkotsu which is a pork bone broth. It's amazingly served with sliced pork. So creamy, rich and comforting.
I went with my sister and her girlfriend who was resistant to going at first. But we converted her…she fell in the love with the Tonkotsu ramen!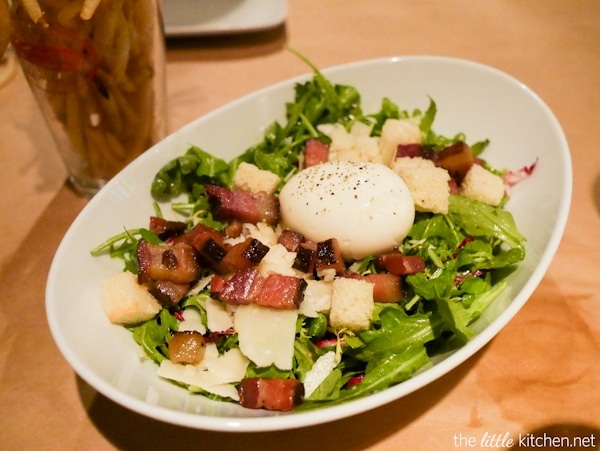 Later on, I made it back to my one of Orlando faves, you can't go wrong at the Ravenous Pig. This farmer salad with bitter greens and their AMAZING house smoked bacon and a Caesar vinaigrette was the perfect start to our meal.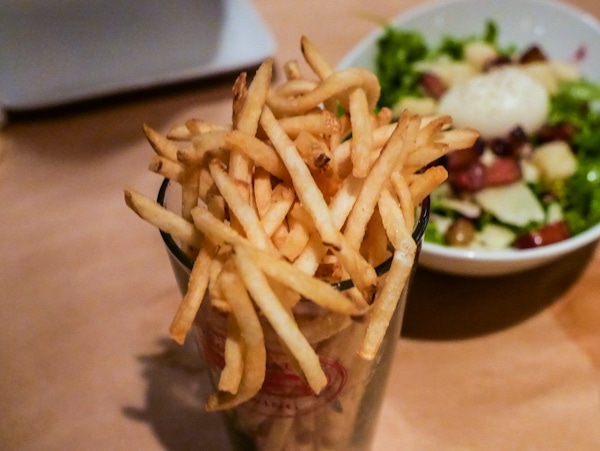 Kristina and Suzanne (again) joined me and both agree with me that their truffle fries are to die for. You have to order them every time you come here.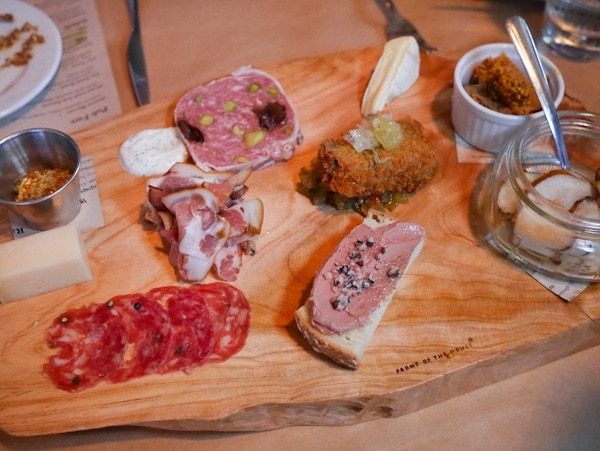 This is Rav Pig's charcuterie board from another visit. It's perfect. Seriously. You need this.
We shared the Pork Porterhouse which was HUGE. It came served on a meat carving board. So clever. On top was pickled zucchini (amazing) and on the side a mashed black beans which was the perfect accompaniment.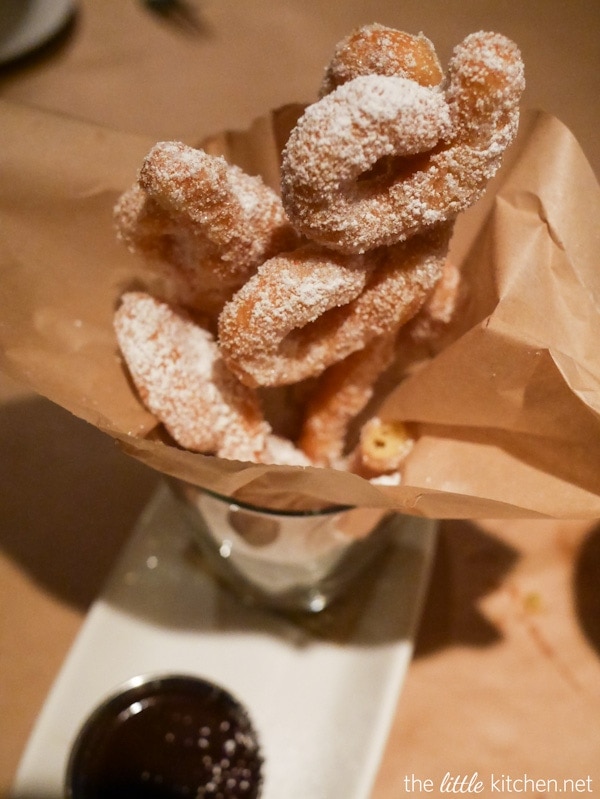 And dessert, nothing to do with pork but it's fried dough shaped into pig tails (and that's what it's called). Perfect end to an another amazing meal.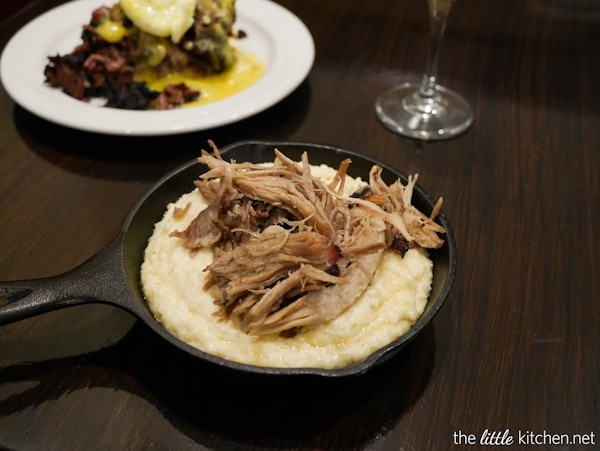 And last but not least, one of my newest favorite BBQ joints. Southern Moon Smokehouse located in the Conway area of Orlando. It's in an unassuming shopping plaza and you wouldn't believe it's a can't miss.
Bryce is the chef/owner and his southern hospitality is top-notch. The service is great, my favorite server, Tony is hilarious.
They just started serving brunch (on the weekends) and I got to preview some of the items including the BBQ pulled pork with grits. Seriously, the pulled pork was amazing. The grits so creamy.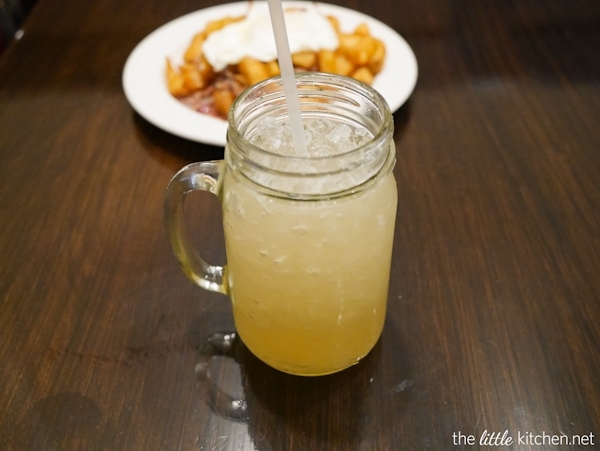 They have house-made sodas including root beer and ginger beer. Huge love for this!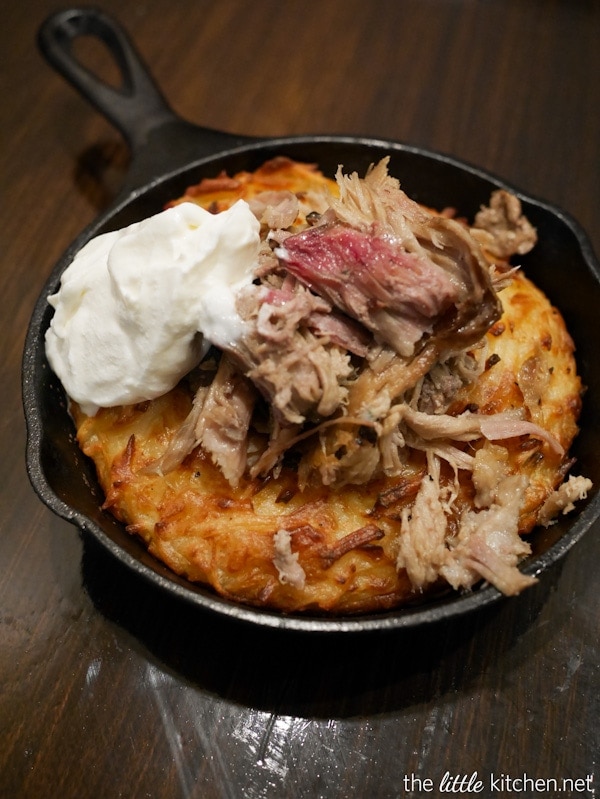 Hash brown casserole with their amazing pulled pork again and topped with creme fraiche.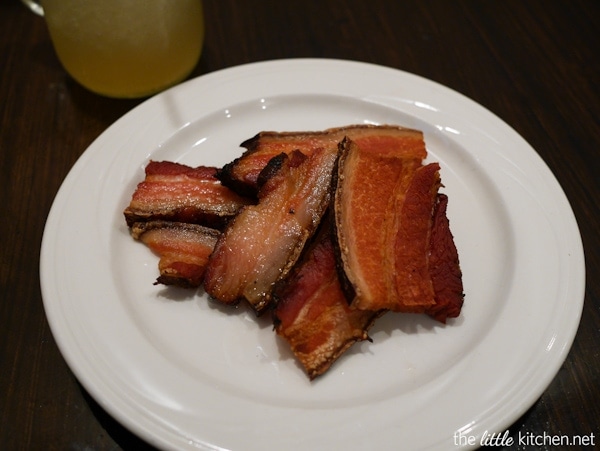 Their house pork belly…which is served in their greens, pork belly BLT and a few other menu items.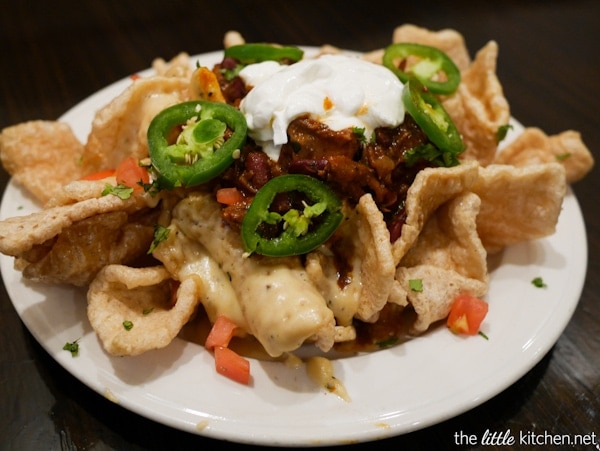 And these…no words…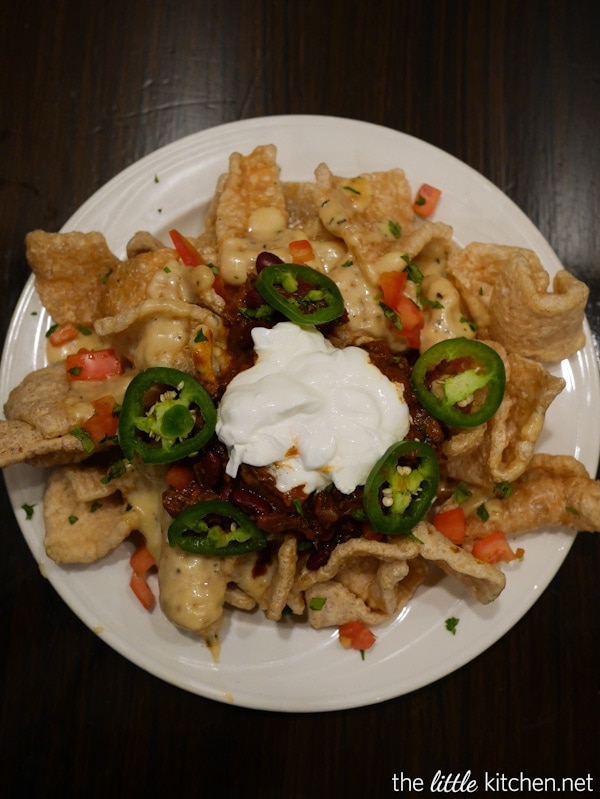 BBQ pulled pork chili on top of freshly fried pork rinds with cheese, jalapenos and sour cream. This is the stuff dreams are made of. I can't even…Chef Bryce is a genius.
I hope you enjoyed my quick Orlando Pork Restaurant Tour as much I enjoyed sharing them with you. These are can't miss restaurants if you live in Central Florida or if you are visiting the area.
Here's the list once again:
California Grill at Walt Disney World
Sapporo Ramen
Ravenous Pig
Southern Moon Smokehouse
Disclosure: This post is sponsored by the National Pork Board. All opinions are my own and I only work with brands that I love. Some of the brunch items at Southern Moon Smokehouse were served at a media preview event.