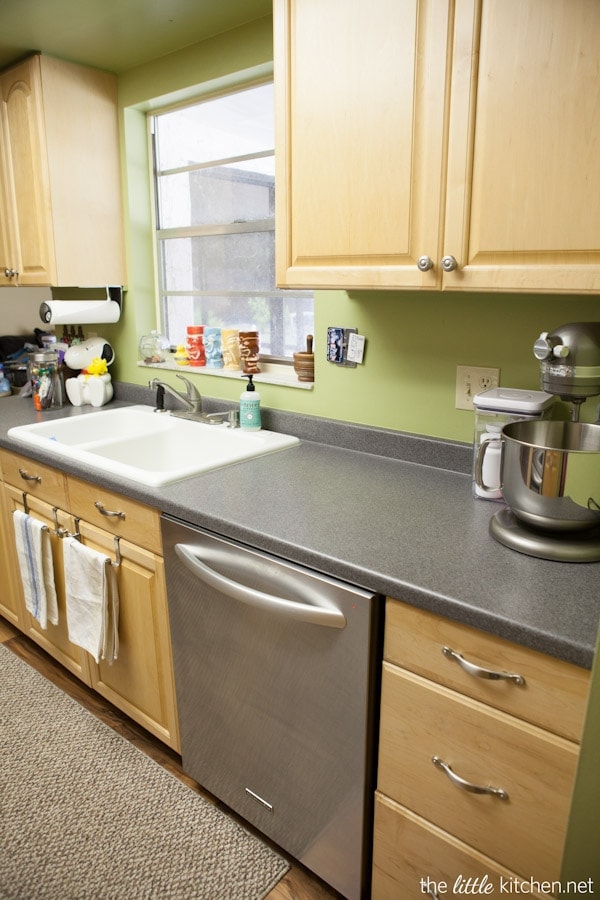 I have been feeling under the weather for a little while but I'm back! It's crazy how it takes one good bout of an illness to make you appreciate your health!
Today, I'm sharing with you a little project I have been working with HomeGoods on. They invited me to organize my kitchen, yes you heard me right, organize my kitchen using wares I found at HomeGoods. I jumped at the chance because honestly, the little kitchen has needed some reorganizing for a long time. The week before they emailed me, Curtis opened the cabinet that has all of our storage containers and lids and containers came crashing down. He dubbed that cabinet the "crapalanche." He has a way with words. Haha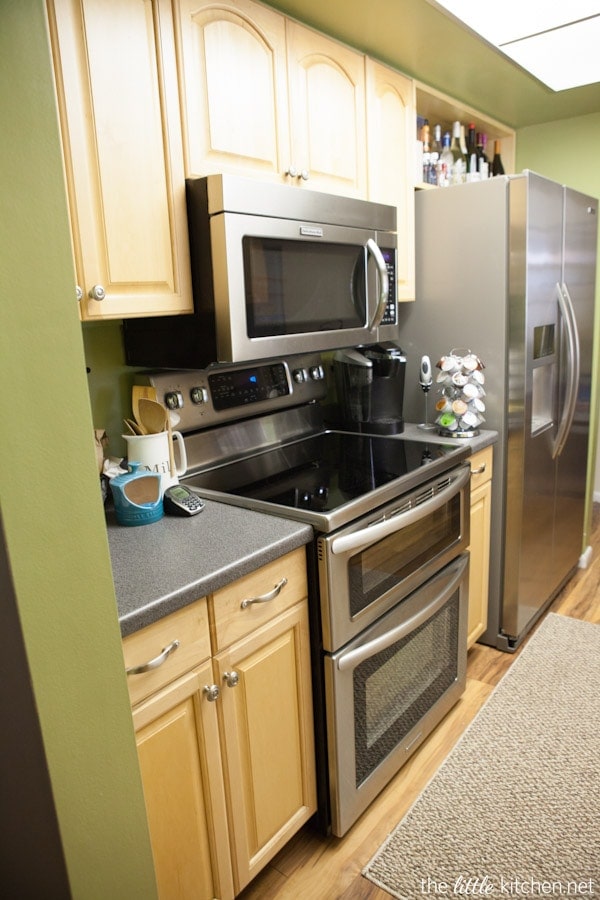 I'm excited to share with you some tips, tricks and products I found at HomeGoods to make my organizing not only functional but also stylish! Yes, organizing your kitchen doesn't have to be boring…that's for sure!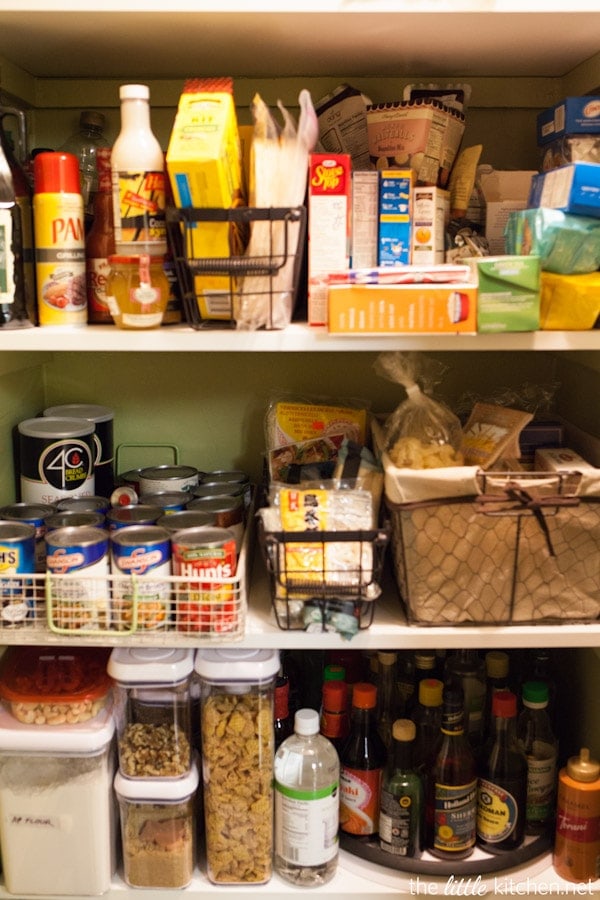 First things first, I tackled my pantry.
1. Get rid of what you don't need and make things that you use every day accessible in your pantry.
I got rid of expired food items, donated unexpired food that I didn't need anymore and reorganized. I put one or two shelves worth of food on a rectangular folding table so I could easily access items. It's actually faster to organize that way versus doing it with everything still in the pantry.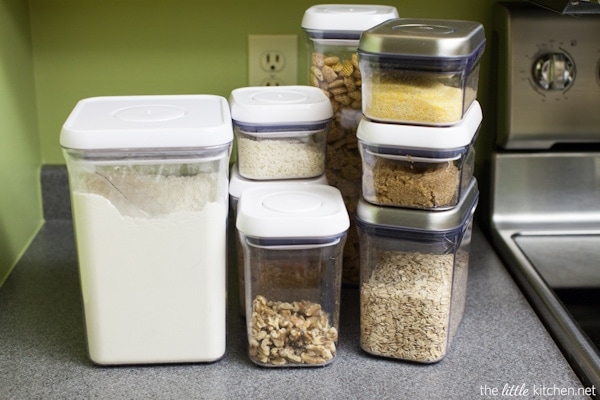 I put a lot of the stuff I still had in opened bags into storage containers like these OXO POP containers. You can find sets or individual pieces at HomeGoods.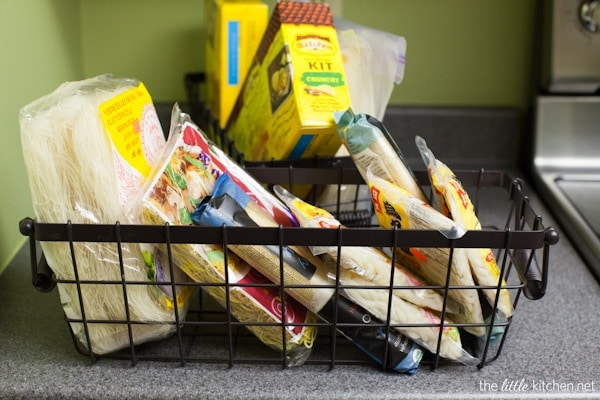 And I also bought a lot of baskets at HomeGoods. These skinny profile baskets make it easy for you to grab stuff you need. I bought two of these, one for Asian noodles and the other one I use for tacos and tortillas. These kinds of bags slide and don't stack very well so putting them in a basket makes them easy to grab!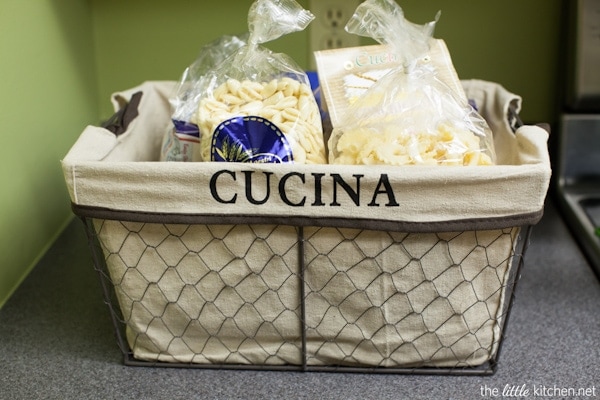 I bought a big basket just for pasta. I buy pasta in bags and boxes and often it's hard to see what I actually have. This basket makes them accessible and organized.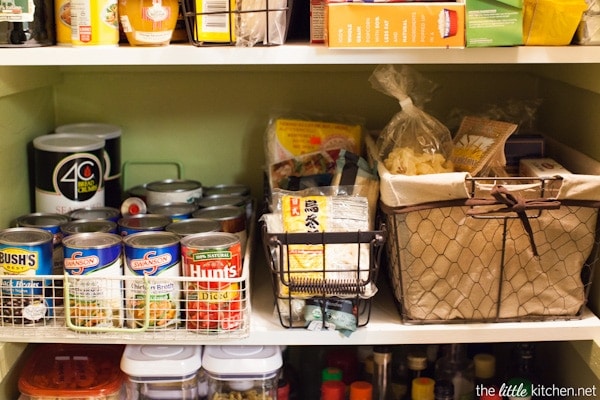 I bought a basket for my canned goods too! The shelves that are accessible height-wise is where I put everything I use frequently that way I can easily find it and grab it without having to dig around.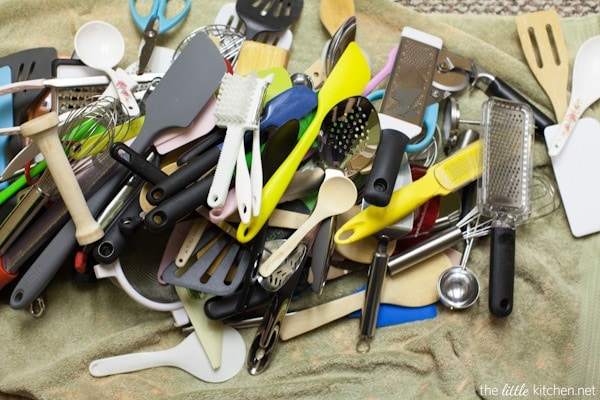 Next up is my kitchen tool and gadget drawer. This is real life, folks. I needed to show you what I was dealing with beforehand. I put every single tool onto a towel on my kitchen floor. Then, methodically went through and laid out what I would keep, donate or throw away. I purged a lot of the stuff I don't need or use all that often.
Some of my specialized baking stuff is going into a cabinet, I'll show you that later.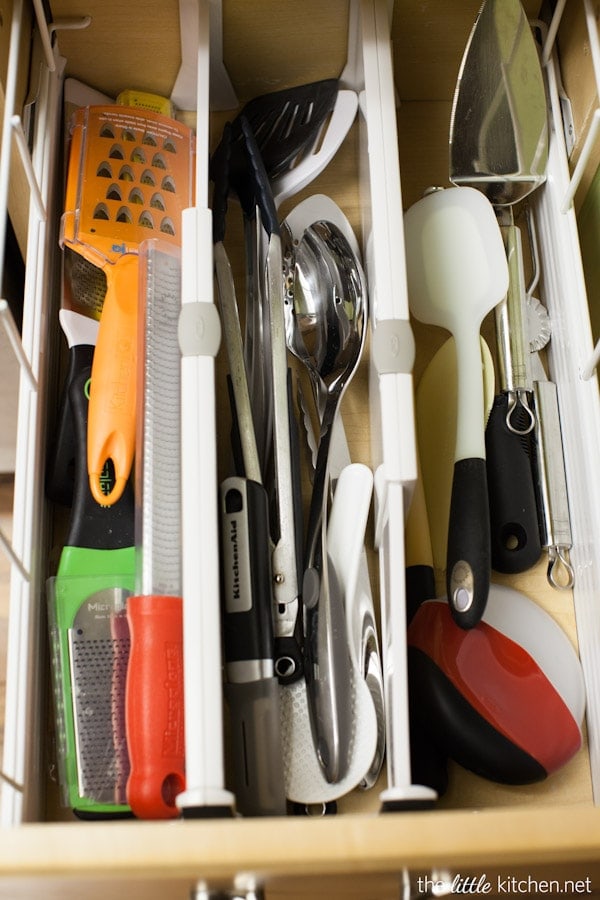 My gadget drawer is really deep.
2. In your gadget drawer, use drawer dividers and drawer organizers to keep every day items easy to find.
I used drawer dividers for the bottom of the drawer and put my zesters and graters on the left, my spatulas and spoons in the middle and odds and ends on the right.

On top of those drawer dividers, I put a drawer organizer. And this organizer has my every day items. The stuff I use every day so it's easy to grab and get to work.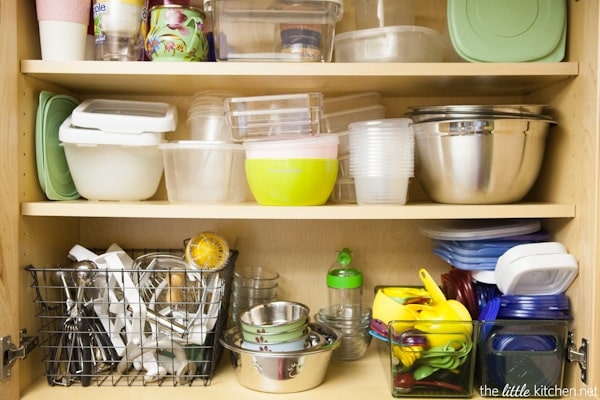 3. In your cabinets, use baskets and bins to organize food storage containers & lids as well measuring cups and spoons.
I told you I bought a lot of baskets at HomeGoods. I'm using one of those baskets to store my cookie scoops, juicer, KitchenAid stand mixer attachments and baking odds and ends. Can you see the dog and cat bowls? We use those every day so they are placed in an easy to reach spot.
All of my baking measuring cups and spoons are in one refrigerator bin…these bins I bought at HomeGoods are actually bins for sodas for inside your fridge. When I saw them, I knew I could use them in my cabinet. The other one holds the little lids for our storage containers.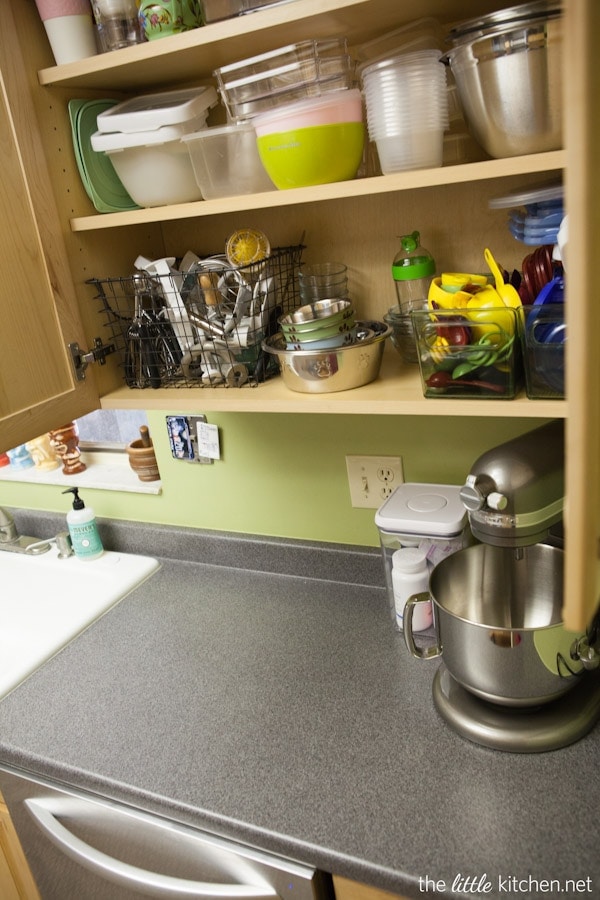 I also got rid of the mismatched storage containers — the ones that don't have lids and lids that don't have a container. And I purged the old ones and we're left with the ones we use all the time.
And no more crapalanche! Mission accomplished!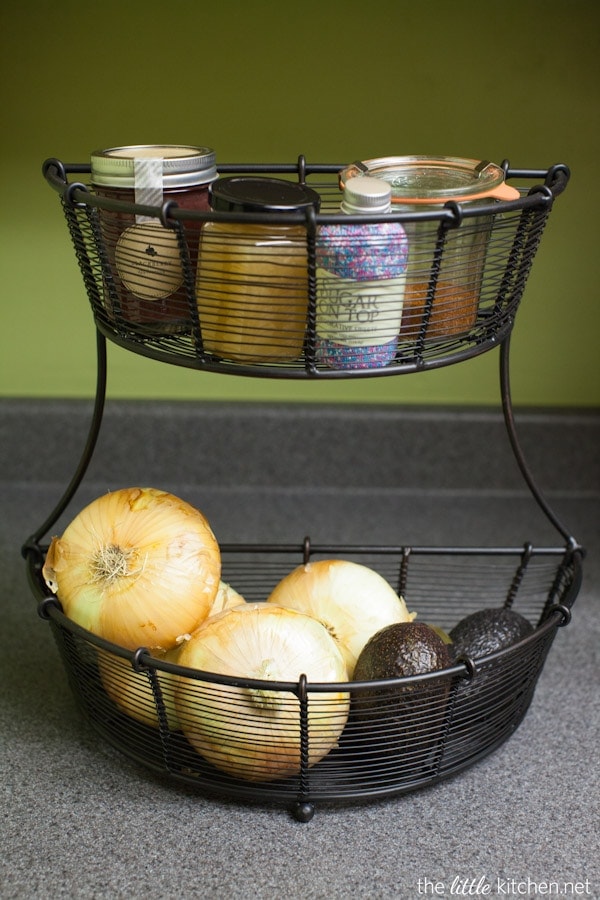 4. Remove clutter (put away things you don't use every day) and utilize vertical space on your counters.
More baskets! When I saw this at HomeGoods, I knew I had to have it. It's genius really. It's flat in the back so I can push it against the wall and it's vertical space. I can store more without having as much clutter on my counter top.
I found this OXO 2-Tier Adjustable Turntable, the "sugar" jar and the Milk pitcher at HomeGoods! I put all of my every day use things like salt, pepper and olive oil on the turntable and it's always there for me to use. We use sugar every day so I changed up the sugar shaker for the cute chalk screwtop container.
And the milk pitcher, it's so cute, I'm using it as a utensil holder for my wood spoons and a couple of my soup ladles.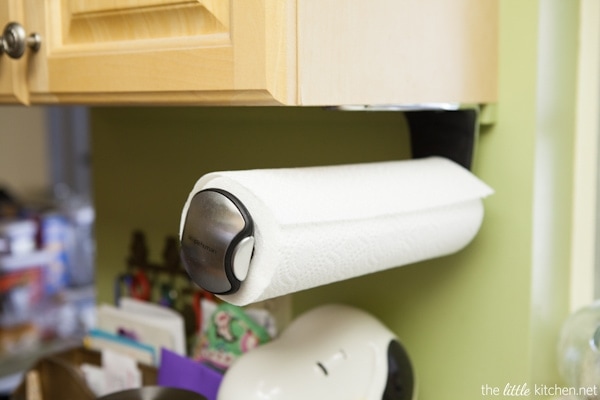 We also found this Simple Human paper towel holder. I can't tell you how many times we would move the paper towel holder to make space and then I'm not able to find it. This makes it super simple, it's always in the same spot to the left of the sink and it doesn't take up any counter space!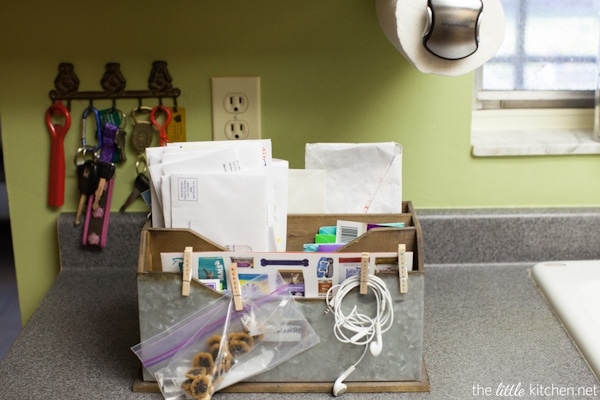 5. Use a great looking mail center to relieve the clutter from daily mail.
One of the biggest things I knew I had to tackle is this counter where we put our mail. It gets out of control and becomes the junk counter. So, when I saw this cute little rustic mail center at HomeGoods, I knew I had to have it.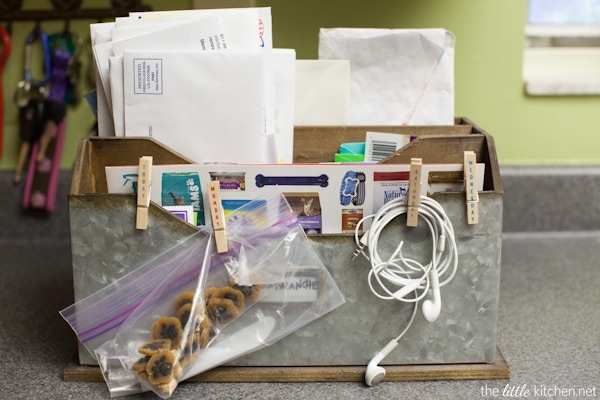 See those cute little clothespins? I found those at HomeGoods too! They have the days of the week, Today, Tomorrow…etc stamped on them. I use these to clip things to the mail center to remind myself to take something with me. Those are dog treats…so I don't forget to take them with me when I was taking Charley to rehab.
We keep our mail, coupons, gift cards and cluttery kind of stuff in this little mail center. Isn't it so cute?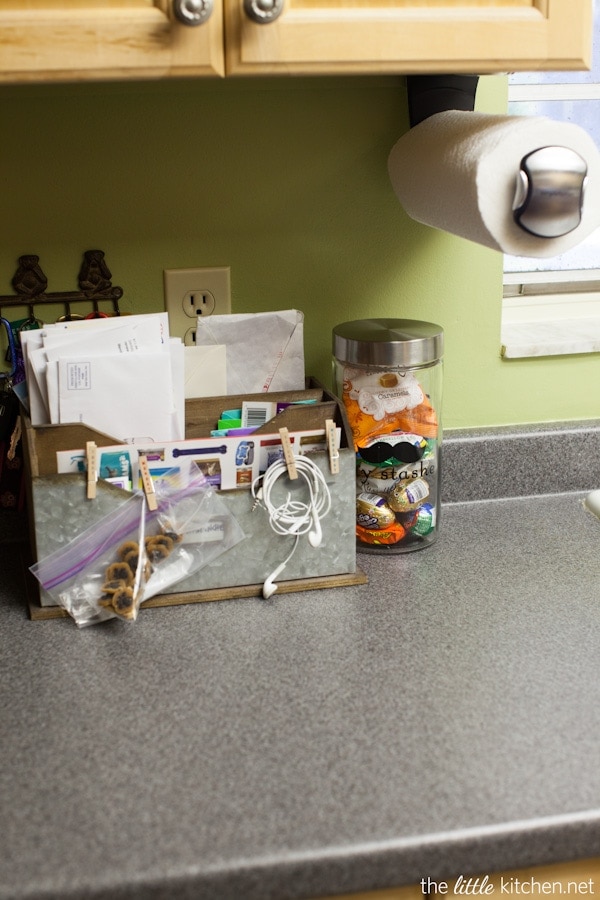 And that's my stashe…isn't that cute? Chocolate and candy fix in my stashe. I got it in the kitchen organization section of HomeGoods.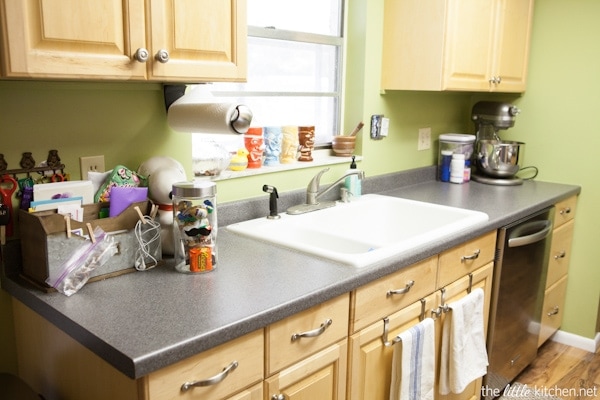 And last but not least.
6. You can use your cabinet doors as storage too!
I found these towel holders at HomeGoods and we use these every day. It's super useful and helps you cut down on using too many paper towels.
And those kitchen towels? I found them at HomeGoods. They have the cutest kitchen towels, cloth napkins, placemats and tablecloths…their kitchen linens section is a can't miss section.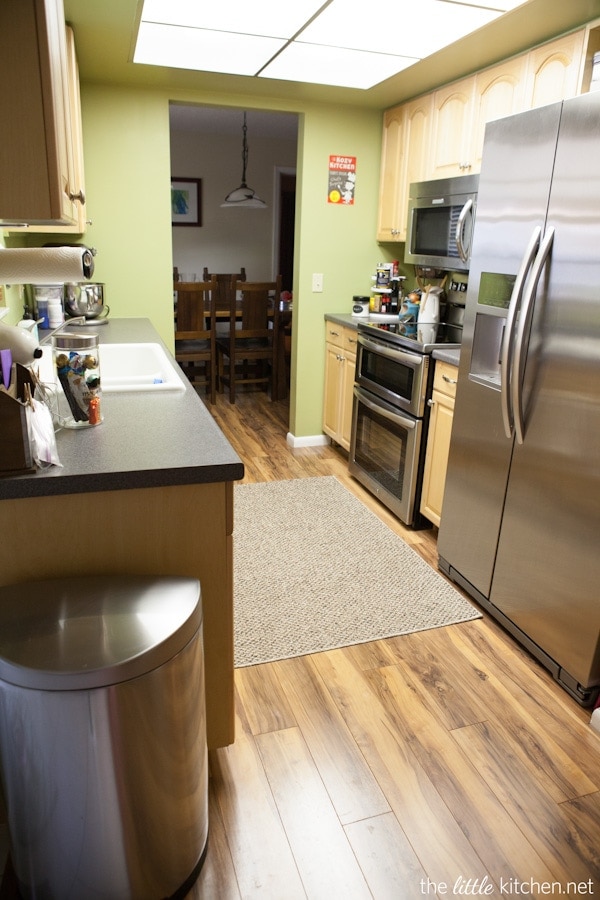 And there's to my organized kitchen! PS I got that new stainless steel trash can at HomeGoods too. They always have a few in stock and you save tons of money buying it at HomeGoods. We love love this addition to our kitchen. It matches well with the appliances and it's super convenient because it has a foot pedal to open the lid. Swoon. Who knew I would fall in love with a trash can?
I hope you find these ideas useful! Which tip did you find the most useful? What part of the kitchen are you going to tackle next to organize?
Be sure to enter in the HomeGoods giveaway!
Disclosure: Thanks to HomeGoods for sponsoring this post and for helping me organize my kitchen. As always, I only work with brands that I love and the opinions shared here are my own.