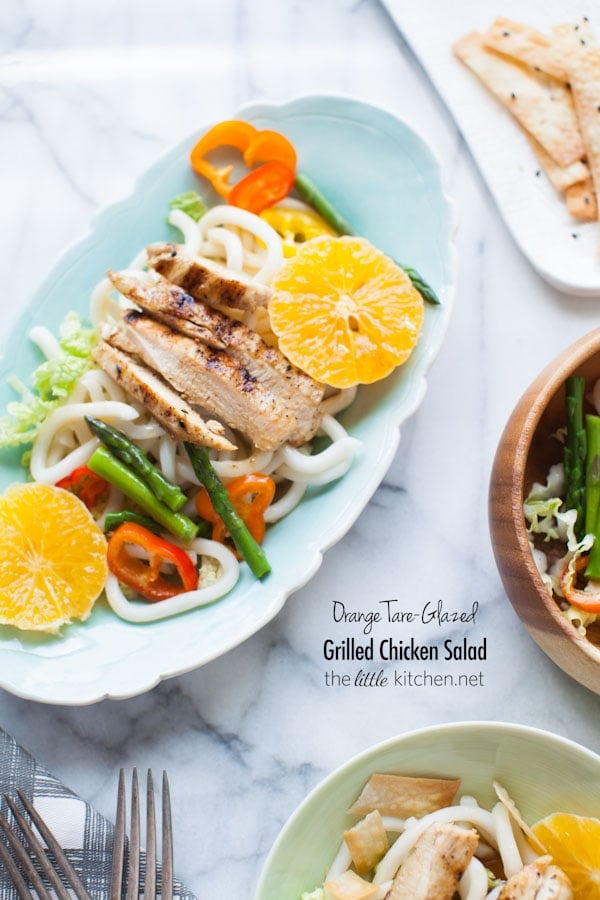 Looking for an easy peasy recipe? I have something to share, I'm so excited to be guest posting over on the Better Home and Gardens Delish Dish blog today! Hop on over for the recipe.
Please also, if you plan on pinning this recipe on Pinterest, please hop over and pin from the guest post. Thanks!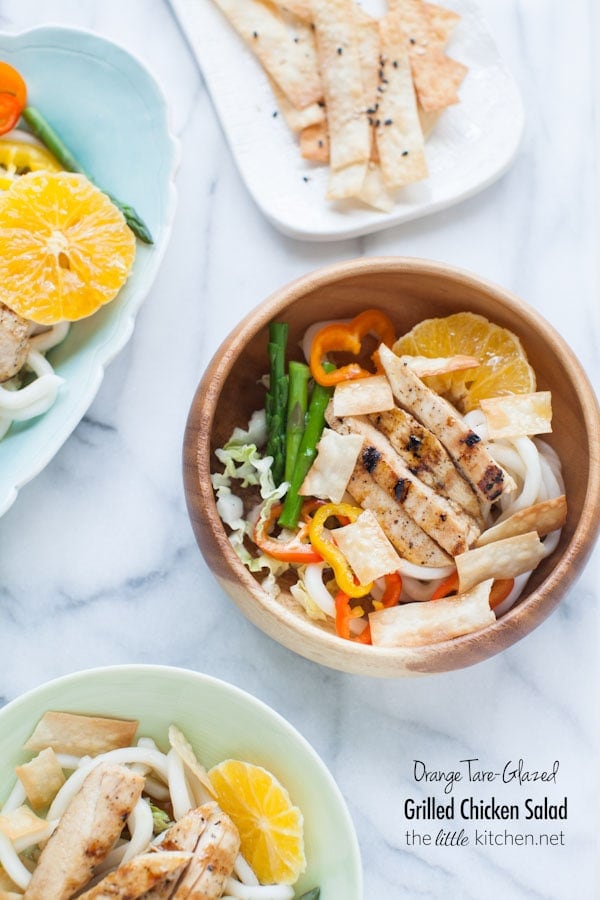 I'm completely obsessed with this recipe, I have been since May when I first saw it on the BHG website. It packs so much flavor, the colors and the textures are what I would call an ultimate salad!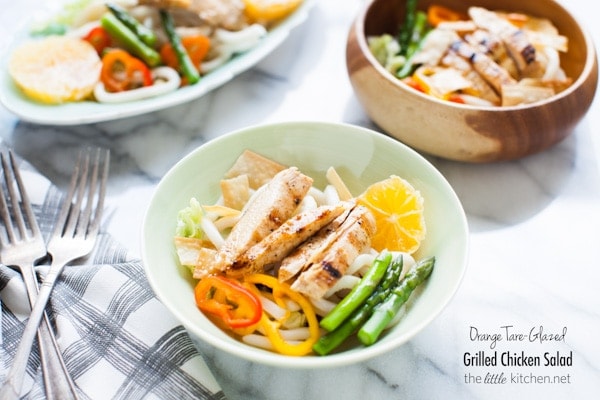 Have I convinced you enough to try it? Hop on over for the full recipe on the BHG site. Leave a comment and tell me what you think.
By the way, have you ever made an Asian noodle salad before? I'm beginning to think I need to make more of these!
Recipe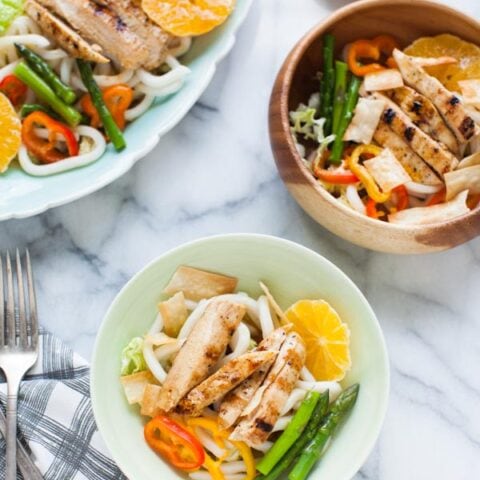 Print
Pin
Tangerine Tare-Glazed Grilled Chicken Slaad
Ingredients
Tangerine Tare- Glazed Grilled Chicken Salad:
1/4

tsp

salt

1/4

tsp

ground black pepper

1

recipe

Tangerine Tare Glaze and Dressing

10

cups

shredded napa cabbage

6

oz

udon (broad white noodles)

1

cup

fresh snow pea pods, trimmed and halved

4

miniature sweet peppers, sliced into rings

2

tangerines or clementines, peeled and sliced crosswise

8

wonton wrappers

1

tbsp

toasted sesame oil

1/2

tsp

sesame seeds
Tangerine Tare Glaze and Dressing
1/2

tsp

finely shredded tangerine peel or clementine peel

1/2

cup

tangerine juice or clementine juice

1/3

cup

reduced-sodium soy sauce

1/4

cup

coarsely chopped green onions (2)

1/4

cup

sweet rice wine (mirin)

2

tbsps

sake or dry white wine

1

tbsp

sugar

1

clove garlic, smashed

3

tbsps

canola oil

3

tbsps

rice vinegar
Instructions
Tangerine- Tare Glazed Grilled Chicken Salad:
Sprinkle chicken with salt and pepper. For a charcoal or gas grill, place chicken on the rack of a covered grill directly over medium heat. Grill for 12 to 15 minutes or until no longer pink (170 degrees F), turning once halfway through grilling and brushing with Tangerine Tare Glaze during the last 5 minutes of grilling.

Spread cabbage on a large serving platter. Cook udon according to package directions; drain. Rinse with cold water to cool; drain again. In a large bowl combine udon, pea pods, sweet peppers, and tangerines. Add Tangerine Tare Dressing; toss to coat. Spoon udon mixture on top of cabbage.

For wonton crisps, preheat oven to 400 degrees F. Cut wonton wrappers into 1/2-inch-wide strips. In a small bowl combine wonton strips, sesame oil, and sesame seeds; toss to coat. Spread strips on an ungreased baking sheet. Bake for 5 to 6 minutes or until golden and crisp.

Slice chicken crosswise. Arrange chicken slices and wonton crisps on top of salad.
Tangerine Tare Glaze and Dressing
In a small saucepan combine tangerine peel, tangerine juice, soy sauce, green onions, rice wine, sake, sugar, and garlic. Bring to boiling, stirring to dissolve sugar; reduce heat.

Simmer, uncovered, about 15 minutes or until reduced by half (about 2/3 cup). Strain mixture; discard solids.

Remove half of the mixture for glaze. Whisk oil and rice vinegar into the remaining mixture for dressing.
Notes
From the Test Kitchen
To Make Ahead:
Prepare as directed through Step 2, except do not spoon udon mixture on top of cabbage. Cover and chill chicken, cabbage, and udon mixture separately for up to 24 hours. Prepare wonton crisps as directed in Step 3; cool. Store in an airtight container at room temperature for up to 24 hours. To serve, spoon udon mixture on top of cabbage and continue as directed in Step 4.
Shortcut:
Instead of making Tangerine Tare Glaze and Dressing, use 1/3 cup bottled teriyaki glaze for the glaze and 2/3 cup bottled Asian ginger sesame salad dressing for the dressing. Substitute 1/3 cup toasted sliced almonds for the wonton crisps.