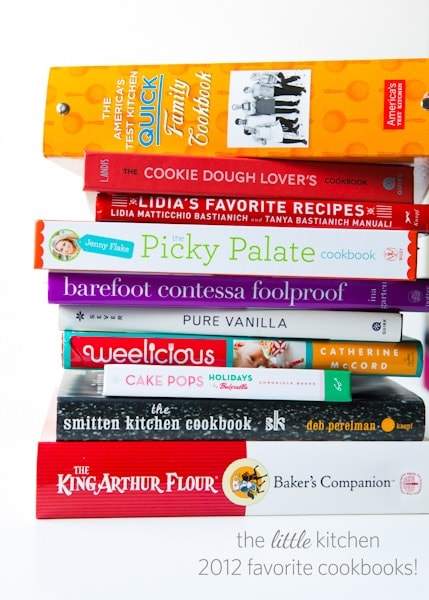 I have added a ton of cookbooks to my collection this year and I wanted to share with you my favorites. First off, it was really hard to make this list and decide. So many gorgeous cookbooks were released this year!
In no particular order: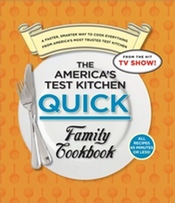 The America's Test Kitchen Quick Family Cookbook: A Faster, Smarter Way to Cook Everything from America's Most Trusted Test Kitchen – Have I said how much I love spiral bound books? They are great for in the kitchen! This cookbook has over 750 recipes take you less than 45 minutes from start to finsih. What I love about America's Test Kitchen is that you know their recipes are tested over and over again. I love quick recipes and I definitely want to try the Coconut Rice Noodles with Shrimp and Pineapple and the Quick Cream Biscuits which only has five ingredients! Retail price: $34.95
Cookie Dough Lover's Cookbook by Lindsay Landis – I have to admit that I'm good friends with the author, Lindsay Landis…but I would be telling you that I adore this cookbook even if we weren't friends. It's gorgeously photographed and the recipes are to die for. I love the chocolate chip cookie dough ice cream (the best cookie dough ice cream I have ever had) and her cookie dough stuffed dark chocolate cupcakes. The next things I need to try are the old-fashioned cookie dough ice cream sandwiches and the deep fried cookie dough fritters! Retail price: $18.95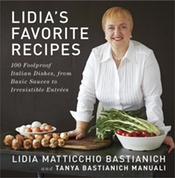 Lidia's Favorite Recipes by Lidia Matticchio Bastianich and Tanya Bastianich Manuali – Lidia has written 9 cookbooks and I cannot believe I only recently heard of her. My friend, Gwen, interviewed her and said such nice things about her. I got to taste her food and watch her speak at the KOHLER Food & Wine Experience last month. Her recipes were amazing and I can't wait to dive into her cookbook the fried rice balls look to die for! From her previous cookbook, try her Spaghetti with Pesto Trapanese. Retail price: $24.95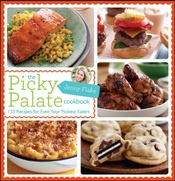 The Picky Palate Cookbook by Jenny Flake – Jenny is another good friend, I adore her! She's so sweet in real life, I just want to eat her up! Her book – look at the cover, I want to eat everything on the cover. I can't believe I have never made her famous Oreo-stuffed chocolate chip cookies and I totally need to make her oven-baked BBQ chicken! Retail price: $24.99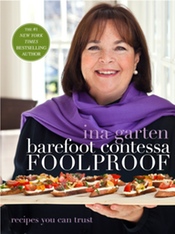 Barefoot Contessa Foolproof: Recipes You Can Trust by Ina Garten – Ina is the celebrity chef I want to meet, cook with and hang out with. I love her show and she has such a calm, soothing way about her. I love her no-stress entertaining, I want to be her when I grow up. Every single Ina recipe I have ever tried has been amazing. So I was sooo excited when she came out with this new one – Foolproof recipes. I'm dying to try her lobster mac and cheese and her gorgeous raspberry crumble bars. Retail price: $35.00
Pure Vanilla: Irresistible Recipes and Essential Techniques by Shauna Sever – Who doesn't love vanilla? It's an essential in baking and I love that Shauna wrote an entire cookbook paying homage to this wonderful ingredient. The recipes I bookmarked to try are her vanilla bean bread pudding and her vanilla cream pie (omg). Retail price: $22.95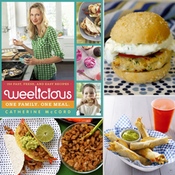 Weelicious: 140 Fast, Fresh, and Easy Recipes by Catherine McCord – When I was growing up, my Mom only made one meal for the entire family. I love that Catherine encourages that in her household and I love that she shows you how to put it into practice. Even though I don't have any children, I love her tips & techniques and I'm drooling over the recipes in her book. I totally want to make her breakfast cupcakes and shrimp tacos! And her cheesy chicken tacquitos…yummy! Retail price: $27.50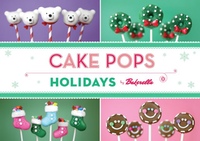 Cake Pops Holidays by Bakerella (aka Angie Dudley) – If you have never heard of cake pops before, I don't know what to say. Angie is the queen of cake pops and I'm loving her new Cake Pops book just for the holidays. If you follow her blog, you know how incredibly creative she is – her red cardinal cake pops are super cute and I'm dying over her little snow globes! Retail price: $14.95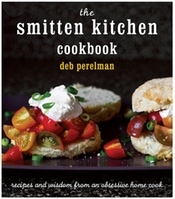 The Smitten Kitchen Cookbook by Deb Perelman – I love Deb's blog. It feels so comforting and inviting and I love that she wrote a cookbook! It's gorgeously photographed and it's all about the food. I love the stories she tells with each recipe as well, it's like she's talking to you (just like on her blog). I have to try her shaved asparagus pizza and her recipe for gnocchi in tomato broth. Retail price: $35.00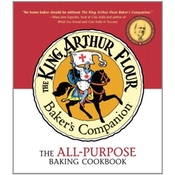 The King Arthur Flour Baker's Companion: The All-Purpose Baking Cookbook – I was so excited when I got my little hands on this book. It's huge and has over 600 pages full of recipes, tutorials with line drawings, tips, tricks and even a listing of essential baking tools. I have a feeling this is going to be a resource for me for a while. I definitely want to try the corn muffins with a kick recipe and chocolate lava cake. Retail price: $24.95
And now for the giveaway…
The giveaway includes:
Retail Value approx. $260+
Please use the form below (comments will not count toward entry into the giveaway). Good luck!
This giveaway has ended.
Congrats to Stacy G. for winning ALL of these cookbooks!
Check out our other open giveaways!
Disclosure: All of these cookbooks for giveaway have also been provided to me for the purpose of review. All opinions of course are my own. There are affiliate links in this post.