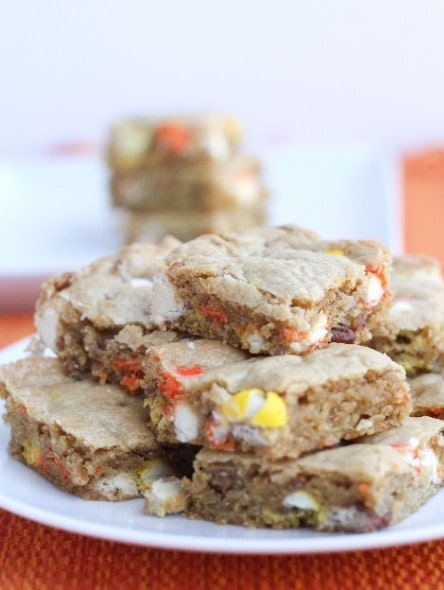 I have my Mom to blame credit for my love of white chocolate. She loves white chocolate candy and growing up we always had access to it. As I got older, I realized that I have the same obsession love. I found myself buying white chocolate truffles and candies. And I love, love baking with white chocolate.
I know there are some who say white chocolate is not real chocolate and to them I say so what? It's pretty darn good and I don't care what's it called.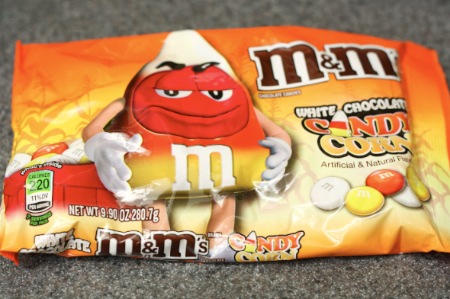 When I heard about M&M white chocolate candy corn candies, I just had to try them. When I was able to find them, I bought two bags and didn't think about it. I was just going to eat them, what else?
Then I got to thinking, what about making my favorite blondies with the M&Ms instead of the usual white chocolate chips. I did keep some of the pecans from the original recipe because I was worried with the candy shell on the M&Ms, it would be too sweet. The pecans added a nice balance.
If you don't like pecans or nuts, you can certainly omit them. I make blondies without pecans for my brother all the time because he doesn't like them.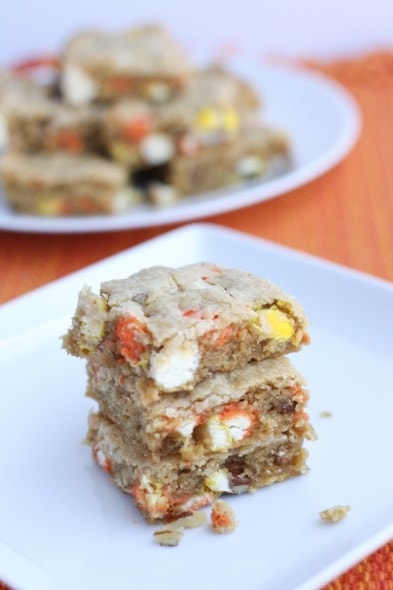 And I'm sharing these with my co-workers. I wonder if they are getting tired of me bringing sweets into work?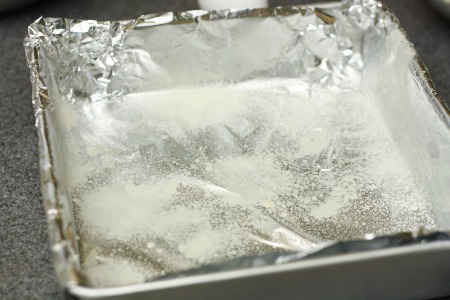 This is my no mess way to make brownies and blondies. I cover my pan with foil and spray with Baker's Joy. Works every time and I usually have little to no clean up.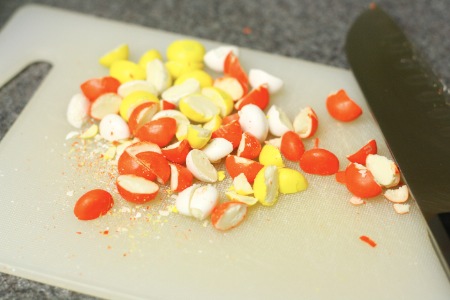 I chopped the M&Ms in half as best as I could. You can leave them whole too but I wanted the white chocolate flavor to come out and plus it will be easier to cut up the blondies with the M&Ms in pieces.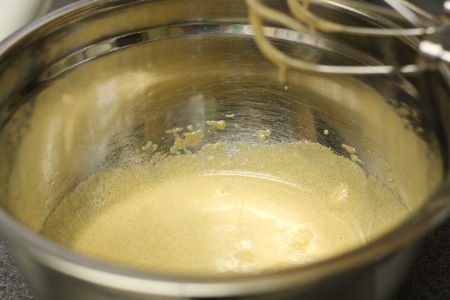 Cream the egg and brown sugar. Using a hand or stand mixer makes a huge difference here. I made my blondies many years by mixing the egg and sugar by hand using a spatula but it's much nicer and easier when you use a hand mixer to bring the egg and sugar to a fluffy consistency.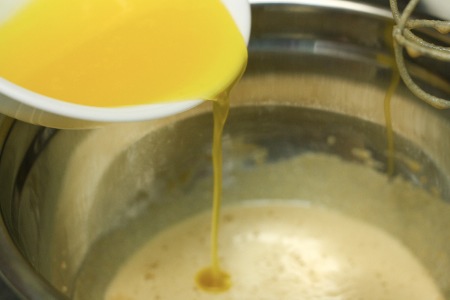 Besides the white chocolate, this is my other favorite part of this recipe. The butter of course!

When adding the flour mixture to the batter, I do it in two batches and carefully mixing in as to not overmix or overwork the batter. You're looking for a brownie-like bar not a cake. Overmixing the blondie batter will make your blondies more cake-like or cakey.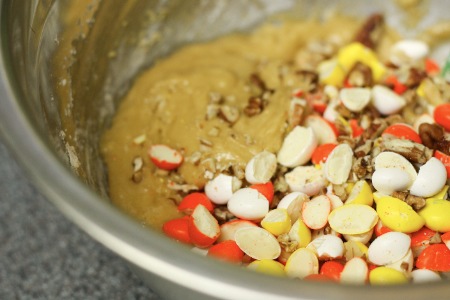 Add the M&Ms and the pecans (if you're using) and gently mix in. Don't overmix.

Transfer batter to the prepared pan and spray a butter knife or offset spatula. I use the same spray I prepared the pan with, spraying the spatula prevents the batter from sticking to it.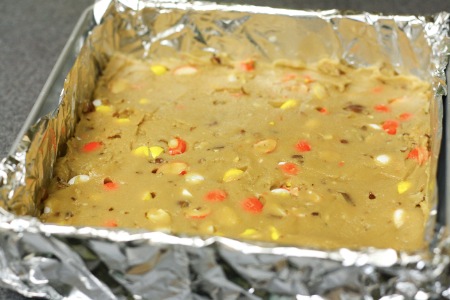 Using the sprayed spatula, smooth the batter out. This ensures even height bars and a smooth top.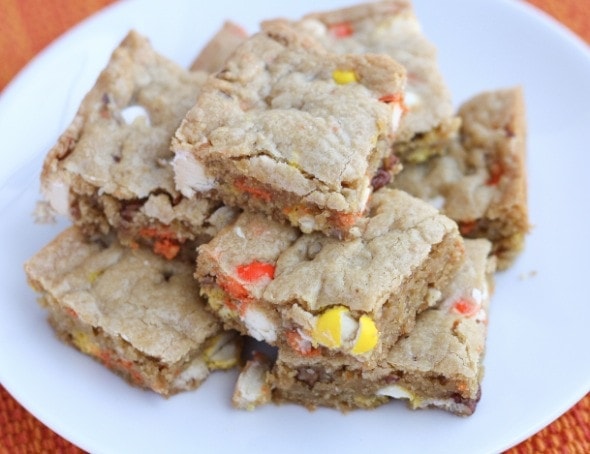 And there you have it…wonderful M&M White Chocolate Candy Corn Blondies perfect for serving at a Halloween party. I love the flakiness of the top of the blondies and the richness and chewiness of the inside of the blondie. It's a perfect marriage of sweetness and chewiness…brown sugar, butter and white chocolate…perfection!
Recipe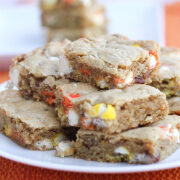 Print
Pin
M&M White Chocolate Candy Corn Blondies
Ingredients
3/4

cup

plus 2 Tbsp packed light brown sugar

1

large egg

2

tsp

vanilla extract

8

Tbsp

1 stick unsalted butter, melted, I used Kerrygold unsalted butter

1 1/2

cups

all-purpose flour

1/2

tsp

baking soda

1/8

tsp

salt

1/4

cup

chopped pecans

3/4

cup

M&M white chocolate candy corn candies

,

chopped
Instructions
Preheat oven to 325 degrees.

Take an 8-inch square pan and cover in foil and spray with baking spray.

Using an electric mixer, cream brown sugar and egg until it's light and fluffy. Add vanilla extract and melted butter, mix well with electric mixer.

In a separate bowl, mix together with a rubber spatula the flour, baking soda and salt.

Add the dry ingredients to the wet mixture in batches and incorporate with a rubber spatula. Be careful not to over mix your batter.

Stir in pecans and M&Ms, using rubber spatula. Again, do not over mix.

Add batter to the square pan. Spray an angled spatula with baking spray and use it to smooth over the top.

Bake for about 25-28 minutes. The top will be dry and flaky and a toothpick test should come out clean with a few crumbs attached.

Allow to cool for about 10 minutes on a wire rack. Hold using foil sides and remove from square pan. Makes 16-20 blondie squares.
Now I need to go pick up another bag so I can make another batch of these for my Mom. I think that's the least I can do!
Disclosure: Nothing to disclose except that I'm obsessed with white chocolate and Kerrygold butter (I have worked with them in the past). This is NOT a sponsored post.