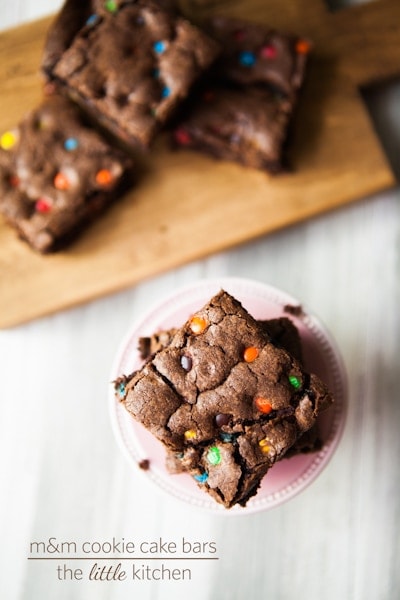 What's a cookie cake bar? It's a cake that you can hold in your hand and eat and it's a little cookie-like but more moist and softer like a cake. I'm terrible at describing this. Let's just say you'll love it, okay? I know you will!
Instead of yellow cake mix, I used devil's food cake mix and used mini M&Ms that I bought recently. It has a nice balance of chocolate and as Curtis' co-workers said not too overly sweet. And I would say, if you like a more cake-like brownie, I think you'll like this recipe.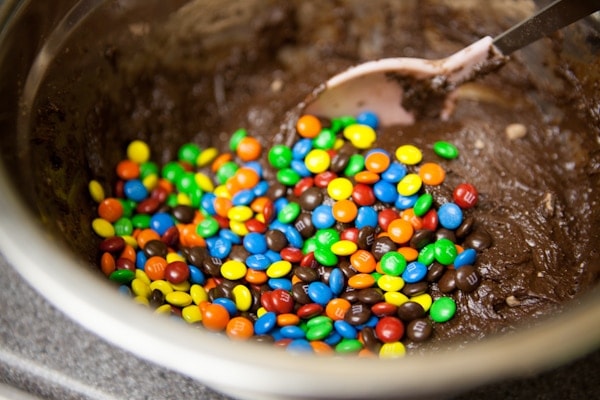 This recipe is super easy – I know some will say it's not homemade but it was made with my hands even if it's not from scratch. Just dump all of the ingredients into the bowl except for the M&Ms and mix but don't overmix. Then, slowly fold in the M&Ms and you're almost done!

Dump it into your greased or foiled & greased 9×13 pan and using an angled spatula that's also greased, spread the batter mixture and smooth off the top.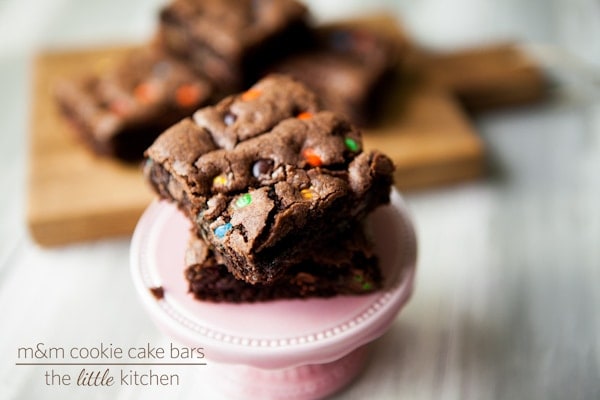 These were so good and so easy…perfect for when you want something sweet and chocolatey but don't want to have to work so hard!
Recipe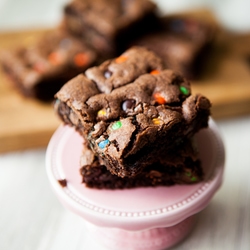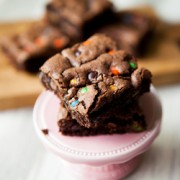 Print
Pin
M&M Chocolate Cookie Cake Bars Recipe
Ingredients
1

box Duncan Hines Devil's Food Cake Mix

,

no pudding

2

large eggs

,

beaten

1/2

cup

vegetable oil

2

Tablespoons

water

3/4

cup

mini M&Ms

,

candy coated chocolate candies
Instructions
Heat oven to 350 degrees. Take a 9x13 pan, cover with foil and spray the foil with Baker's Joy or other baking non-stick spray.

Mix cake mix and wet ingredients just until combined (be careful not to over mix). Add swirled chips and mix until just combined (be careful not to over mix).

Pour batter into the pan and smooth out with an angled spatula that has been sprayed with Baker's Joy.

Bake at 350 for 20-30 minutes or until a toothpick comes out (almost) clean.

Allow the pan to cool on a cooling rack for at least 10-15 minutes before cutting.