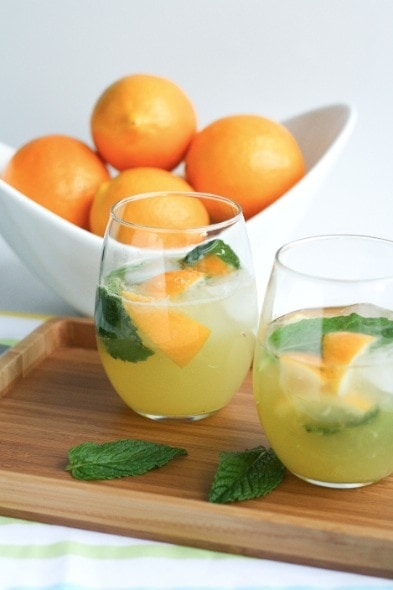 Duda Farm Fresh Foods recently approached me about developing a Meyer lemon drink recipe along with a recipe for celery (which I'll share soon) to share at their booth at the PMA Fresh Summit Convention & Expo in Atlanta. I jumped at the chance. I had never done something like this before and since I'm such a fan of Duda's Dandy Farm Fresh brand, I had to do this.
I had a lot of fun making these drinks and well, ummm drinking them. I love mojitos so I thought I would do a twist on them with Meyer lemons. Check out the Cook's Notes in the recipe on how to make simple syrup. It's the perfect way to sweeten up the drink.
Meyer lemons aren't as tart as the regular lemons we're used to and they look more like oranges. They are also a little bigger than regular lemons. In the U.S., they will be in season until February…so get on it, what are you waiting for?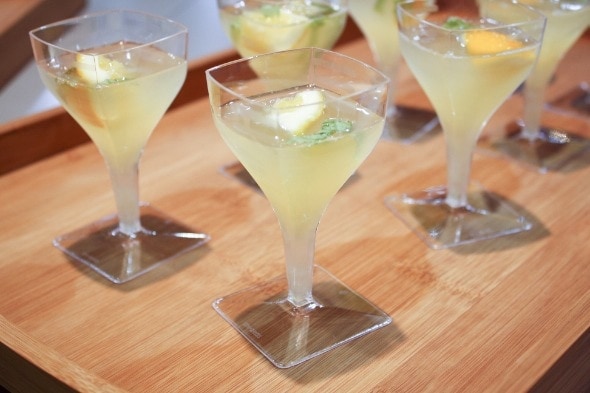 This is how we served them at the Duda Farm Fresh Foods booth and they seemed to go over very well. I told everyone to imagine they had rum in them! For the convention, I made them a mocktail with club soda. Please promise me you'll make them with your favorite citrus rum (only if you're over 21)!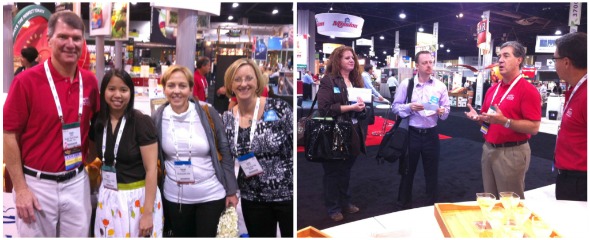 I had some hiccups prepping and preparing food in the little kitchen (haha, get it) in the booth, hey it was my first time doing this sort of thing. Despite that, I had a blast. I got to meet a bunch of Duda employees, who are so warm and welcoming. They all made me feel like a part of the Duda family. On the left, that's Sammy Duda, me, Gwen and Lucy. The picture on the right is Chris, a journalist, Bill and Tim (thanks for helping me clean up the ice, Tim). Huge props to Nichole & Megan who are so awesome & nice to work with and to Ralph for shopping for all of the supplies and ingredients for my recipes.
Again, I can't thank the Duda folks enough for giving me this wonderful opportunity and allowing me to share my recipes with the Fresh Summit Fresh Experience Tour.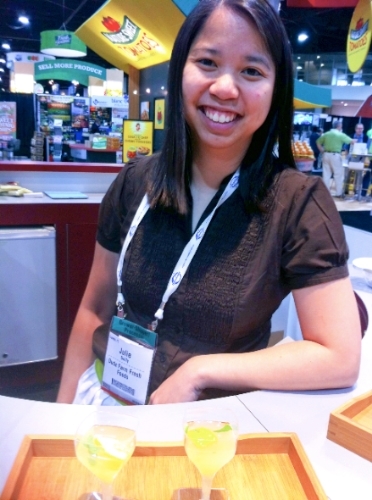 Thanks to Broderick of Savory Exposure for taking this picture. Look at me, I know I'm a total cheeseball.
By the way, Broderick had the coolest iPhone case, it looked like a cassette tape. It was great seeing him and all of the other food bloggers who participated in the Fresh Experience Tour. I also had a lot of fun catching up with Tami too. It was great to meet with some chefs even though it was intimidating to have them try my recipes as well as journalists who were on the tour.
I learned so much. I learned the Duda has sugar cane fields, I learned this from Mark while we were talking to a chef about Vietnamese shrimp paste that's cooked and served on sugar cane sticks. I knew this already but I felt it firsthand, how passionate Duda is and how passionate their employees are about sustainability and are about getting the best product out to market. And you gotta love that Duda Farm Fresh Foods has nothing to do with GMOs.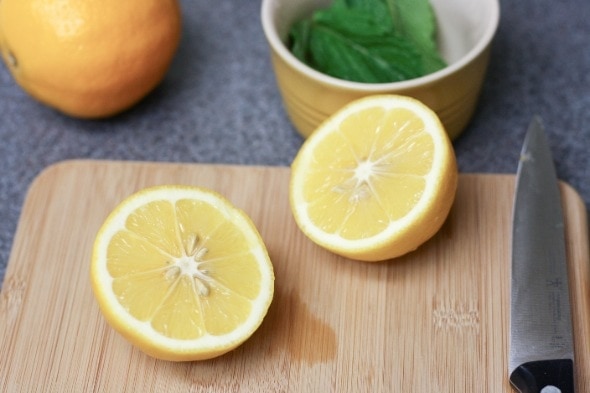 Back in the little kitchen…look at the pretty Meyer lemons. I used a juicer to squeeze all of those juices out. In the booth at the PMA Fresh Summit, I made a note to myself, when you want to juice 30 Meyer lemons, bring an electric juicer. My arms hurt the next day.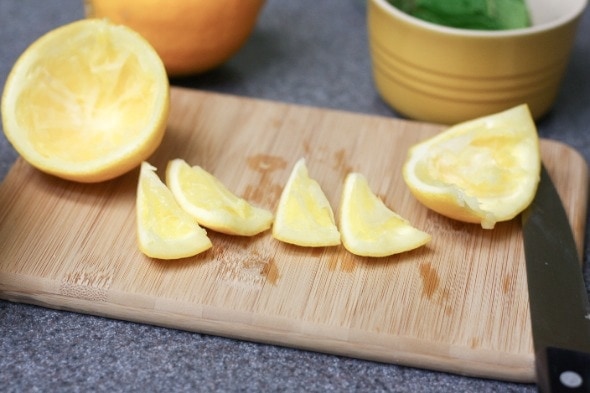 Cut up 1/4 of the rind to include in your drink. You can cut them even smaller if you want. You will be using this cut up rind to make your drink.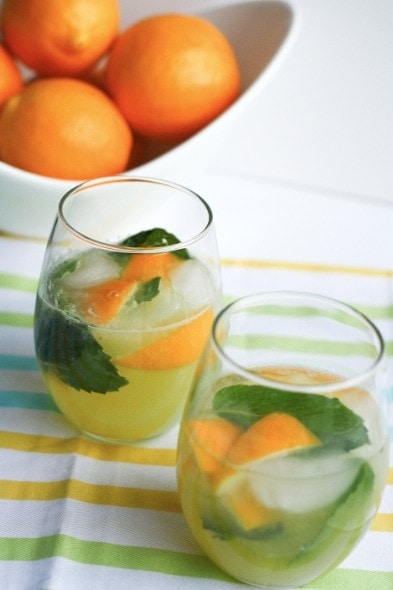 It's a really simple and refreshing drink to make…and really easy to make! I swear it will take you less than 10 minutes to make, okay 15 if you include making the simple syrup.
Recipe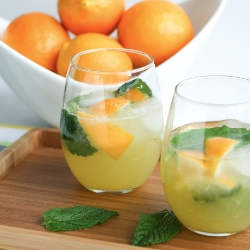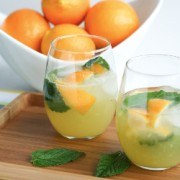 Print
Pin
Save
Meyer Lemon Mojito
A different take on the classic mojito! Make it a mocktail by using club soda instead.
Ingredients
1

Meyer Lemon

,

squeezed (reserve the rind & cut up 1/4 of it)

3

mint leaves

1/2 to 1 1/2

Tbsp

simple syrup

1/2

cup

citrus rum

,

or club soda

club soda

,

if using rum

1/4 to 1/2

cup

ice
Instructions
Place 1/4 of the cut up rind, 1/2 of the Meyer lemon juice, simple syrup and mint leaves into a tall glass cup. Using a mottler or small wooden spoon, mottle (or push down on) the mint leaves and Meyer lemon rinds a few times.

Taste and add more simple syrup to taste if needed. Transfer to drinking or mojito glass along with the rest of the Meyer lemon juice. Add club soda and/or rum along with ice. Give one quick stir with a spoon or drink stirrer and serve immediately.
Cook's Notes:
Mojitos usually have rum and club soda. You can leave out the club soda if you wish. If using, add as much or as little as you wish.

To make simple syrup, add equal parts granulated sugar and water (at least 3/4 cup) to a small saucepan, bring to a boil for 1 to 2 minutes and lower heat to a simmer for 4-5 minutes. Allow simple syrup to cool completely before using in your drink. If you don't have time to make simple syrup, you can always mix equal parts sugar and warm water in a cup and mix until the sugar is completely dissolved.
I hope you enjoy it! Mojitos are my favorite cocktail and this one has definitely become a top favorite…so now, tell me what your favorite cocktail or mocktail is.
Disclosure:  This is a sponsored post. You all know that my opinions expressed on The Little Kitchen are always my own!