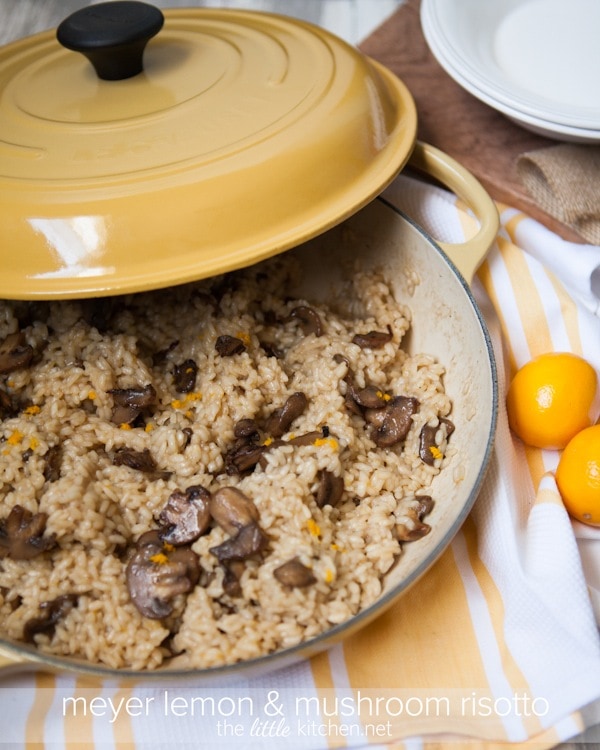 Meyer lemons, oh how I love thee. It's so sad that Meyer lemon season is coming to a close this year. If you have any or get a chance to get your hands on some, make this risotto! It's so easy and I love the combination of mushrooms and the lemons!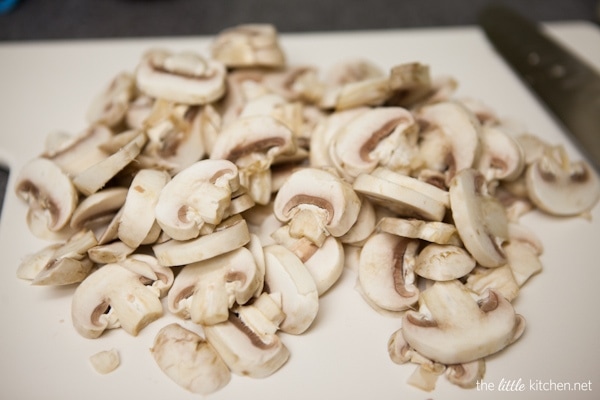 First roughly chop your mushrooms.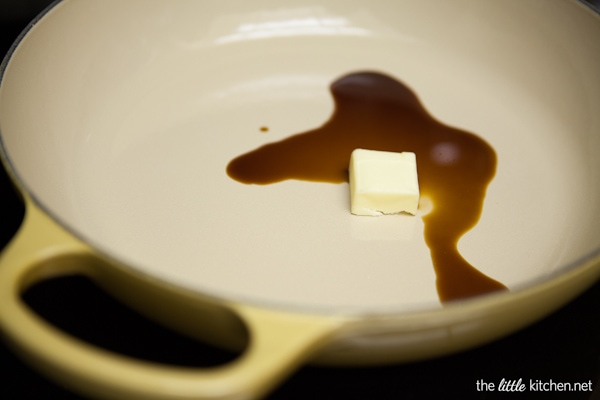 How to sauté the perfect mushrooms
I learned this from a family friend when I was a kid, she always sautéed mushrooms in butter and soy sauce! It's magical.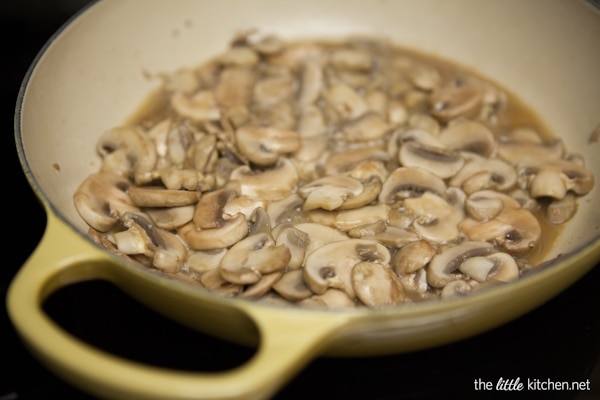 When cooking your mushrooms, you'll notice a lot of water accumulates into your pan. Just stir and keep cooking, the moisture will evaporate off.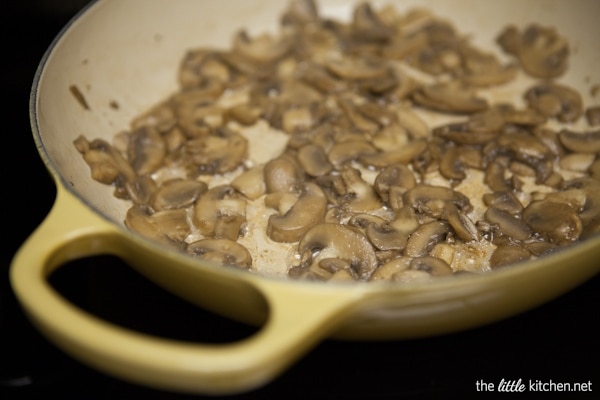 And then you're left with this.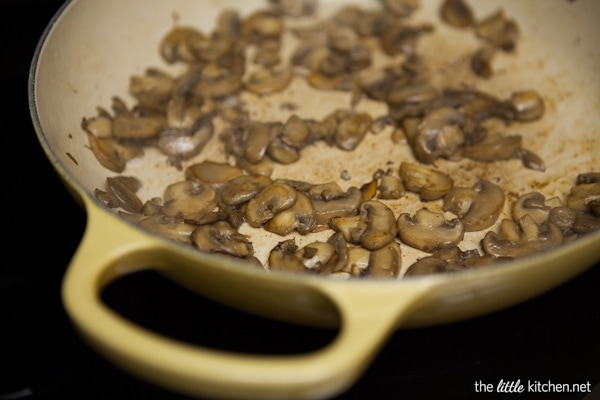 And then you can brown them. And all done. Depending on how much mushrooms you're doing, it will take 8 to 10 minutes or more to sauté them!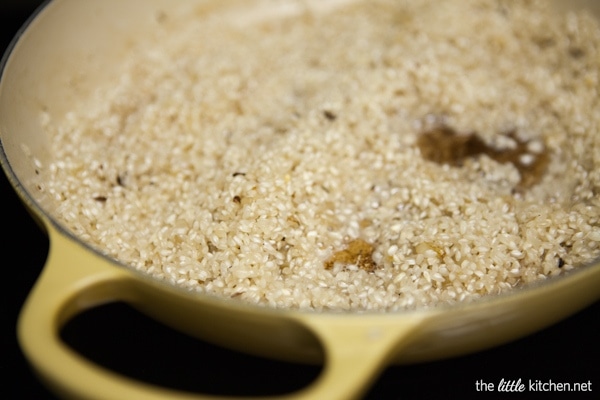 Remove the mushrooms and then start on the risotto.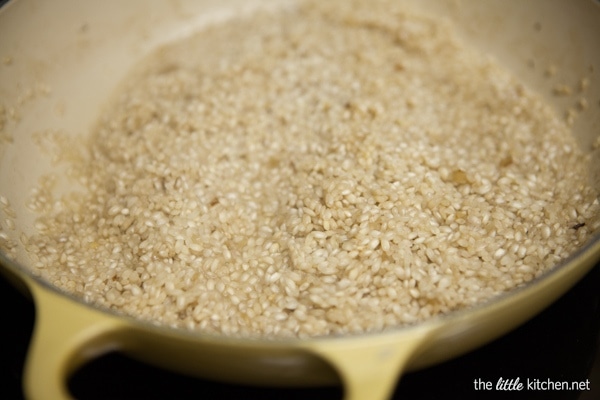 Add 1/4 to 1/3 of chicken broth or vegetable broth to the arborio rice until it's absorbed. Continue to stir the rice constantly.
This is comfort food.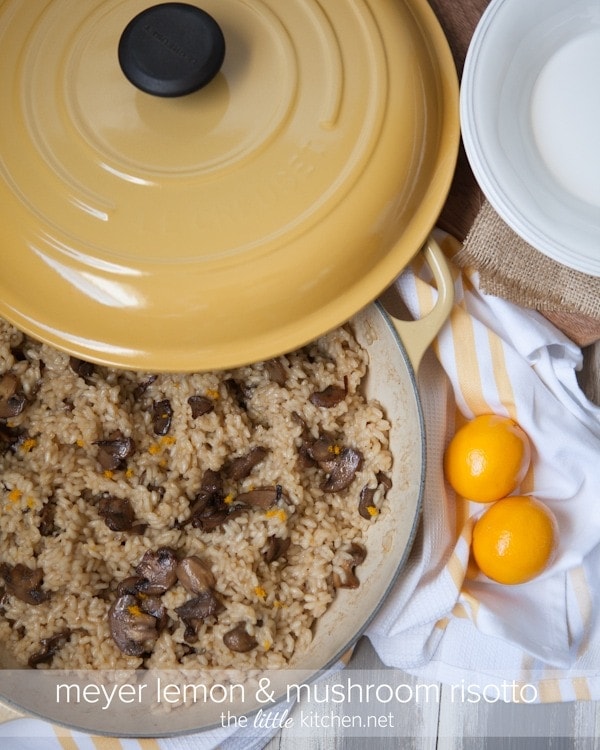 I was fortunate to participate in a Pinterest photo contest for the new color –  Le Creuset Quince carried exclusively by Williams-Sonoma. Don't you love the bright yellow collor? I was given the Le Creuset Signature Braiser — and I love the size of it. And the wide handles. I didn't win the contest but I I get to keep the braiser! 🙂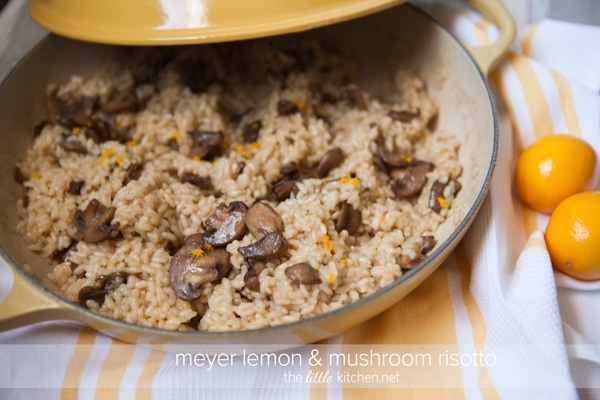 Easy recipes are my forté and it was obvious for me to combine my love of Meyer lemons and mushrooms! Hope you enjoy this dish if you make it!
Recipe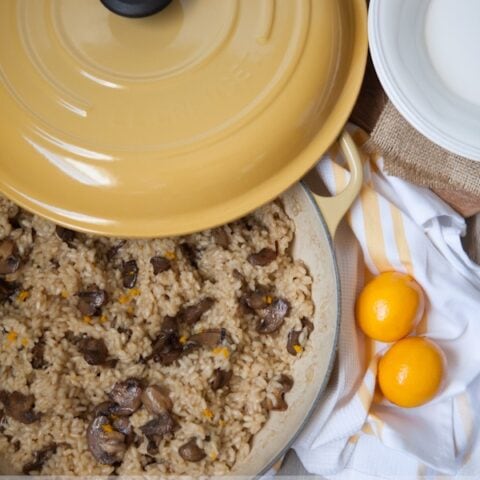 Print
Pin
Save
Meyer Lemon and Mushroom Risotto Recipe
Ingredients
Sautéed Mushrooms
1

Tablespoon

salted butter

2

teaspoons

soy sauce

10

ounces

white button mushrooms

,

sliced (about 4 1/2 cups)

4

Tablespoons

unsalted butter

2

Tablespoons

olive oil

2 1/2

Tablespoons

onion

,

chopped finely (about 1/4 onion)

2

cups

arborio rice

6 to 8

cups

low sodium chicken broth

,

about 3 to 4 cans

2

Tablespoons

Meyer lemon zest

,

from about 2 Meyer lemons

2 1/2

Tablespoons

Meyer lemon juice

grated Parmesan cheese for serving
Instructions
How to Sauté Mushrooms
Add 1 Tablespoon of salted butter and 2 teaspoons of soy sauce to a Le Creuset braiser or a large non-stick skillet. Turn heat to medium and add mushrooms. Cook for about 8 to 10 minutes, juices will be released but cooking will not be complete until all juices are gone. Remove mushrooms from braiser and set aside.

Add chicken broth to a medium sized pot and bring to a boil then lower heat and allow broth to simmer.

Melt 4 Tablespoons unsalted butter and heat olive oil in braiser. Add onions and cook until translucent for about 3 to 4 minutes. Add rice stir. Allow butter and onions to coat the rice. Add 1/2 to 1/3 cup of chicken broth at a time, stir with rubber spatula or wooden spoon and allow the rice to absorb the chicken broth. Continue doing this until the rice is the right consistency, the inside will be al dente and the outside will be a little creamy. You may not need all of the chicken broth.

Mix in mushrooms, lemon zest and lemon juice. Add salt and peper if needed. Top with Parmesan cheese and serve immediately.
Notes
From The Little Kitchen
Other Meyer Lemon Risotto recipes:
Meyer Lemon Risotto from Simply Recipes
Meyer Lemon Risotto from 101 Cookbooks
Disclosure: I was given a braiser by Le Creuset for the purpose of participating in a photo contest. I was not required to post about it and I only share with you my honest opinions. There are affiliate links in this post.