I'm so excited to share with you this recipe for Linguine and Clam Sauce from my friend, Jenna's new book, White Jacket Required: A Culinary Coming-of-Age Story. Jenna is such a sweet person. Her blog, Eat, Live, Run, is how I got to know her. My dear friend, Aggie, actually introduced me to Jenna's blog. If you read her blog, you know what I mean; if you haven't, you need to.
She shares a lot about herself, what she cares about in addition to amazing recipes. So I kinda felt like I already knew her before we finally met this year. I was so happy to…she's just as funny, sweet and cute (she has the cutest shoes & little outfits) in person as she is on her blog. I love her recipes too, okay, I just love everything about her!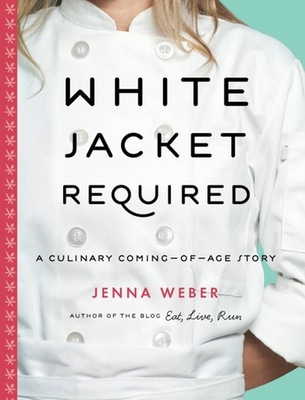 When I heard her new book was coming out, I was so excited and when I was invited to receive a review copy, I was even more thrilled. I couldn't put the book down when I started it. I cheered her on, I cried for her and I smiled when she found love. I really felt like I was reading a novel even though I knew full well I was reading about Jenna's life. I love how she shares a few recipes at the end of each chapter…including this wonderful recipe for Linguine and Clam Sauce.
Jenna was kind enough to sit down and answer some questions I had for her and I'm happy to share them with you! And a big oooops on my part, I called her non-fiction book a novel!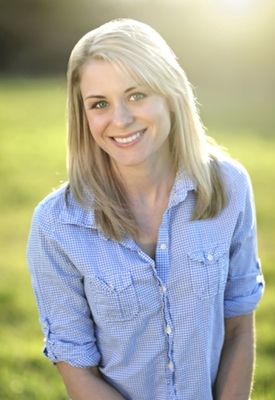 When and why did you start your blog?
I started the blog when I was in culinary school back in December of 2007. I wanted to share my experience with family and friends.
Would you recommend culinary school to others in a similar situation as yours?
Yes! I definitely recommend culinary school to others looking to gain a greater understanding about food and cooking. It was such a valuable experience and I don't regret it for a second. That being said, I do think you can become an incredibly successful chef and/or food writer without attending cooking school. It really just depends on the individual and what their goals are. This particular path worked for me.
Can you tell us a little bit about what was going on while you were writing your novel? How was it juggling everything?
Well, first of all, it's not a novel. It's nonfiction! Some parts probably read like a novel though, which is a good thing! 🙂 Since this was my first time writing a book, I'm not sure if my writing process could be considered "normal" or not. Basically, I told myself that I wouldn't go to sleep at night without writing 1,000 words. Every day. 1,000 words. Those words could be tossed out the next, but getting myself into a habit of constantly writing helped me immensely. Writing a book is tough, for sure, but not impossible! The first sentence is always the hardest…then it goes from there.
What is your most favorite recipe from the book?
My favorite recipe in the book is linguine and clams—it's always been my favorite meal! Somehow it always tastes best when my mom makes it for me though.
What do you want others to take from your book after reading it?
I want others to figure out what their passion is in life and go for it! I'm a big believer in taking big risks in order to see big rewards. You'll never get anywhere by sitting on your couch wishing your life away. If you have a dream you need to go after it!
I hope you pick up her book, I know you'll enjoy it as much as I did!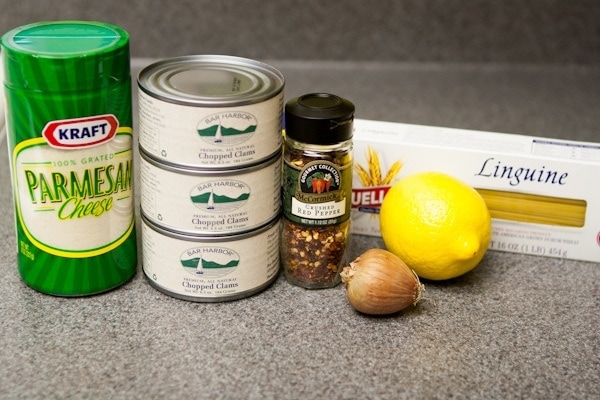 Now onto the Linguine and Clam Sauce! It's a super simple recipe and not too many ingredients.

One thing I have to say about this recipe is, it's really quick to prepare. Love that. From cooking the garlic to getting the pasta into the pot, it's only 10-12 minutes.
I have actually never had canned clams before and was so happy that they are easy to work with and taste good! We're lucky here in Florida to have a long clam season but this gives me new ideas and I'm excited to try new things with canned clams.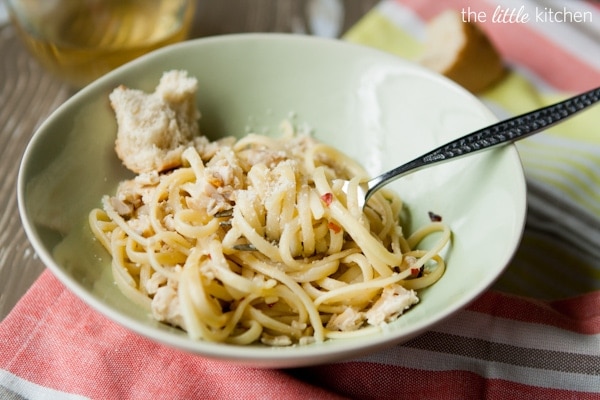 Easy peasy and it's great as leftovers too. I'm so guilty…I ate 2/3 of the pan by myself and before I could even start photographing the plated dish, I had to gobble down a whole plate!
Recipe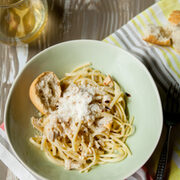 Print
Pin
Linguine and Clam Sauce Recipe
A note from Jenna Weber: hands down, my favorite dish. Since there's no need to buy fancy live clams from the seafood counter, you can make this year-round.
Ingredients
8

ounces

dried linguine

1

tablespoon

extra-virgin olive oil

1

large shallot

,

minced

3

6.5 ounce cans clams, drained, with ½ cup juice reserved

Juice of one lemon

¼

teaspoon

red pepper flakes

,

or to taste

½

cup

freshly grated Parmesan cheese
Instructions
Cook the pasta in boiling salted water until al dente. Drain and set aside.

Heat olive oil in a large pan over medium-high heat until it shimmers. Add minced shallot and sauté until very soft and tender, about 5 minutes.

Add clams and continue to cook for another 3 to 4 minutes. Add reserved clam juice, lemon juice, and red pepper flakes. Bring to a simmer and cook for 3 minutes.

Toss pasta with sauce, adjusting red pepper flakes to taste. Divide among four plates and serve with freshly grated Parmesan cheese on top.
Notes
Reprinted with permission from White Jacket Required: A Culinary Coming-of-Age Story © 2012 by Jenna Weber, Sterling Epicure, an imprint of Sterling Publishing Co., Inc.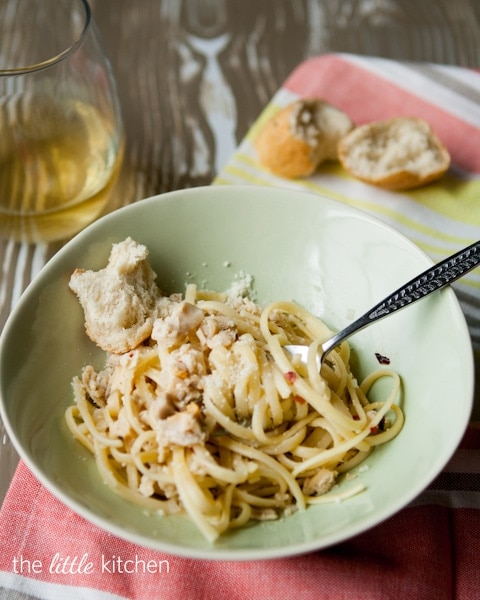 Serve with some crusty bread and a glass of white wine and you're golden!
Huge, huge congrats to you, Jenna! I'm so happy for you and proud of you! So thankful to be able to call you a friend!
Disclosure: I was provided with a review copy of White Jacket Required. All of the opinions expressed are my own and yep, there are affiliate links in this post.