KitchenIQ Knife Sharpener Review and Giveaway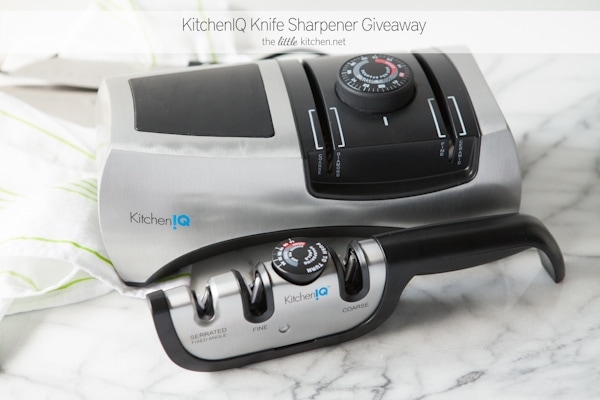 Do you own expensive knives? Did you know that taking care of your knives are very important and a good way to protect your investment? If you don't own expensive knives, do you want to know of a way to get them pretty close to how sharp they were when you first bought them? I'm excited to partner with KitchenIQ to share with you some tips for caring for your knives as well as a giveaway!
Having a sharp knife to use in the kitchen is so important. It's actually not safe to cut food with a dull knife, you're likely to cut yourself if it's dull. I actually have a few favorite knives and Curtis is NOT allowed to use them. He likes to put his knives in the dishwasher, this is a no no. Sooo umm that's why he's not allowed to use my knives.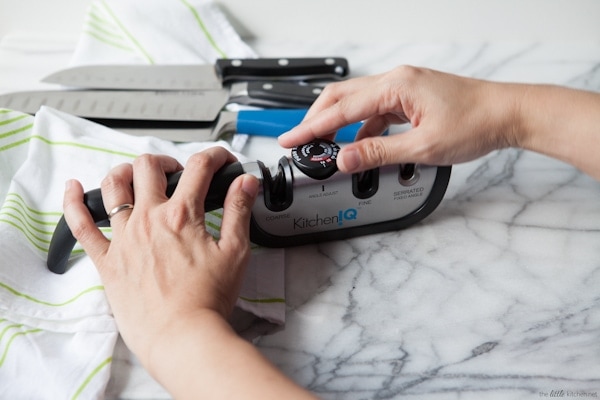 I have been using KitchenIQ's zesters and graters and love love love them! When they emailed me to ask me if I would like to use their Manual Adjustable and Electric Knife Sharpeners, I had to try it. It's a necessity. My favorite knife, this one with a blue handle hasn't cutting as smooth as butter like it did when I first got it…so this was perfect timing. I say, a good knife can cut chicken breasts and tomatoes like it's cutting butter.
This is the Manual Adjustable Knife Sharpener, on the box there are instructions on how to set the angle and what angle to set it at. It's easy to change the setting.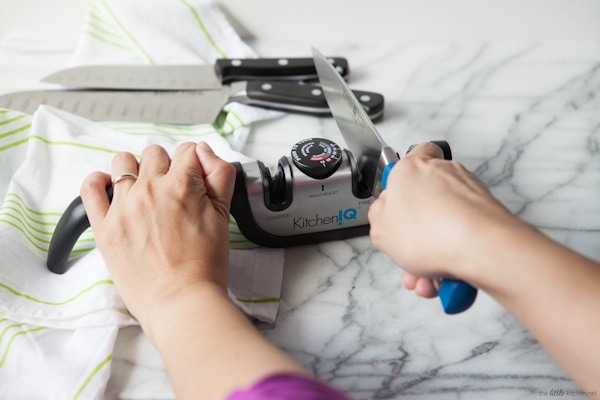 And then, you sharpen by putting the heel (the longer end of the knife) to the tip (the pointy end). Don't go back in forth, go from one end and then lift. Do this a few times on the coarse opening and then a few times in the fine opening. It's really easy to use and grip, this sharpener is going in the drawer right next to my knives. The only thing I wish is the instructions would have come on a card with a little elastic band attached so I can keep it together with the sharpener. I'm going to cut out the instructions (along with the knife type and angle setting) and keep them all together.
And now to try out the Electric Knife Sharpener. First you, change the setting to 10 degrees (to reset it) then find the correct setting for your knife. This time, there's a little card that comes with the sharpener that I will be sure to keep it with.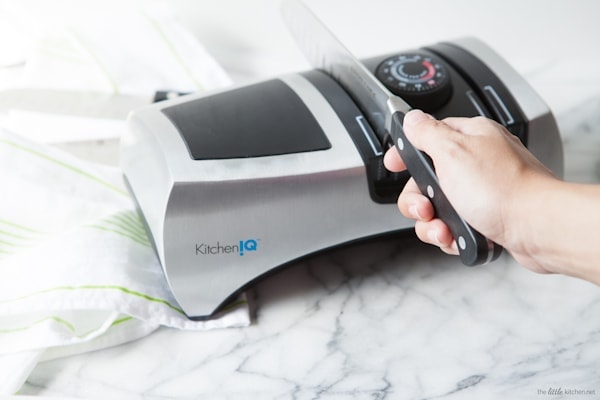 Turn it on and using the markings (the white square brackets) and that's where you want to start your knife at (the heel). Pull back…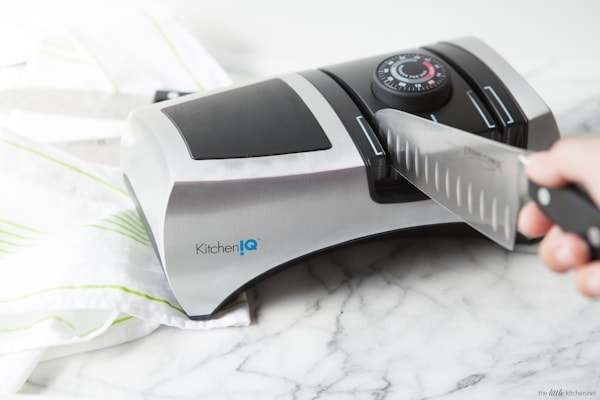 And then as it's hitting the front of the knife, lift up.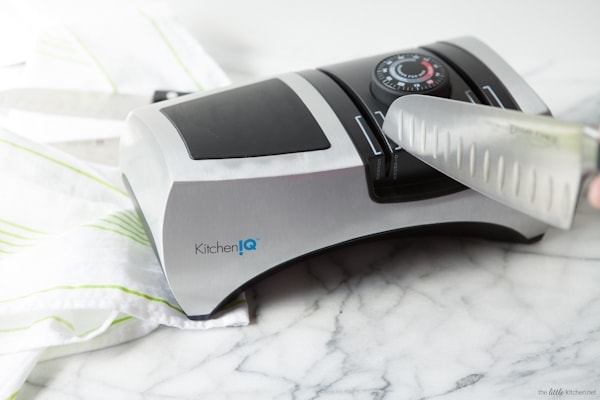 I need to admit, I was scared at first. I thought I was going to ruin my knife, do this wrong…and the noisy machine scared me a little. But once I got the hang of it, easy peasy. And my knives now cut like I'm cutting butter. The electric knife sharpener comes with a little felt attachment to clean the actual sharpener in between knife sharpenings.
Don't forget to wash and scrub your knives after sharpening before using them.
Right now, both knife sharpeners from KitchenIQ is available at the Bed, Bath and Beyond stores below! To find your local one, click here.
California
Chula Vista
Los Angeles
San Francisco
San Jose
Florida
Brandon
Miami
Sarasota
Virginia
Manassas
Midlothian
New Jersey
Paramus
Secaucus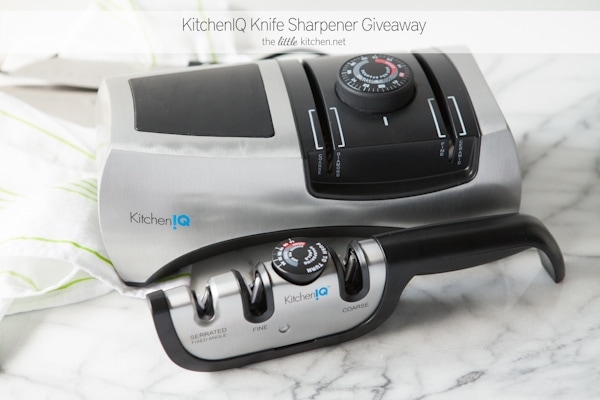 And now for the giveaway!
There will be two winners! The prize is:
Retail Value: $240.00 per prize
Please use the form below to enter in the giveaway. Good luck!
Oops! We could not locate your form.
Disclosure: This post and this giveaway is sponsored by KitchenIQ.
Check out our other giveaways!