Congratulations, Stacie! I hope you like your prize package and I can't wait to hear how your party goes!

Look at this pretty plate! It was designed by Jacque Pepin and made by Villeroy & Boch for KitchenAid's support of Susan G. Komen for the Cure via Cook for the Cure events. I want one and I'm telling you right now…I'm getting one. How? I signed up to participate in the 1,000 Cooks for the Cure event between July 15-24 and I committed to raising at least $50. Being one of the first 1,000 participants to raise $50 (for Susan G. Komen for the Cure) will guarantee you a 2011 Pass the Plate platter. I know you want one too!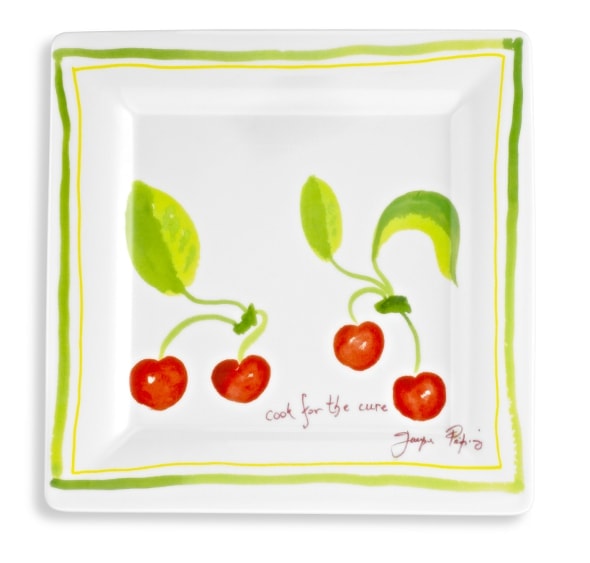 Here's some information about Pass the Plate:
Each plate is specifically numbered and every time you pass the plate on to a friend or family member, they can go online and register that it's been passed and KitchenAid will then donate $5 to Susan G. Komen for the Cure!
And there's another KitchenAid giveaway. This time a bunch of great kitchen tools! I'm doing my part by planning a party in conjunction with my Bunko group. But I also wanted to go a step further and encourage people like you to hold one of your own parties. If you promise to hold a party and register, you can enter in this giveaway!
Why am I doing this? Because I care about breast cancer…if you have visited my blog before, you may have seen me mention that my grandmother is a breast cancer survivor. I also have a good cake decorating buddy who was diagnosed last year. I care about finding a cure for breast cancer. Susan G. Komen for the Cure is a great organization and I volunteer for my local Affiliate.
Hosting a 1,000 Cooks for the Cure event is very easy. While some hold a Cook for the Cure party in their homes and schedule the event specifically for this very purpose, others like me hold it in conjunction with an already planned event. You can ask your book club, church group, bowling group, scrapbook crop or any other get together and ask your guests to donate $5 or more. You can have pink themed desserts or just pink themed decor. It's completely up to you and doesn't have to be super complicated. I will be encouraging my guests to donate at least $5 and for every $5 they will be able to be entered into a raffle for some great KitchenAid products.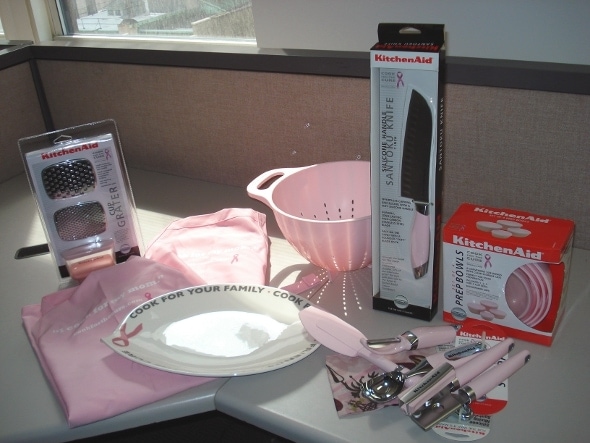 KitchenAid Prize Pack includes:
2 Cook for the Cure pink aprons (priceless)
2010 Cook for the Cure Pass the Plate platter (priceless)
colander
pink scarf
This package is valued at more than $100. They are the perfect items to get your party started. This giveaway is being done a little different than other giveaways, so please read carefully. The purpose of this giveaway is to encourage people to sign up to host a Cook for the Cure party and raise money for Susan G. Komen for the Cure. Thanks for your help in spreading the word!
Mandatory Entry
Register for the 1,000 Cooks for the Cure event and promise to host a party. Leave a comment below with the email address you registered your party with and your host number (this is required). Your host number will be sent to you after you register on the KitchenAid site. (1 entry)
Mandatory Entry must be completed before bonus entries will count.
Bonus Entries
(leave a comment for each one you do)
I would love to get the word out on the 1,000 Cooks for the Cure event and have you help me. Share this giveaway post with 3 or more of your friends via email.  Be sure to share the link with them. If they register and leave a comment saying who referred them, you will receive 2 extra entries. Leave a comment saying you sent an email to your friends. (1 entry for sending the email / for every referral who registers – does the mandatory entry – 2 extra entries for you)
Tweet about this giveaway w/ link and leave a link to your tweet. Use the sample tweet below or the tweet button at the bottom of this post. (1 entry)
Host a 1K Cooks for the Cure party & enter for a chance to win a @KitchenAidUSA prize pack #CookfortheCure  http://bit.ly/qBC7kL via @TheLittleKitchn
Share a link to this giveaway on facebook (whether it's your fan page or your personal profile). Be sure to use the @ & mention the little kitchen's facebook page so I can verify. (1 entry)
Subscribe to this blog via email and verify the subscription, the email address you leave in the email field must match the email address you subscribed with. (1 entry)
Follow KitchenAid on twitter and leave your twitter handle. (1 entry)
'Like' KitchenAid on facebook and leave your first name & last initial. (1 entry)
This giveaway is open to U.S. residents only (I'm very sorry to my international readers).
Leave a separate comment on this post for EACH entry to make all of your entries count. (If you already like on fb or subscribe via email, just leave a comment saying so.)
At the conclusion of the giveaway, the entry drawn as well as the mandatory entry will be checked and verified. If your entry cannot be verified at that time, it will not count.
You have until 11:59pm EST on Friday, July 15, 2011 to enter.
One random winner will be chosen via random.org from all valid comments submitted in this post. Once the winner is chosen, the winner will be contacted via email and if winner does not respond within 24 hours, winner forfeits prize and another winner will be chosen at random.
Some other notes on entering giveaways on The Little Kitchen:
* How to get the URL of your tweets
Disclosure: I received a similar (not exactly the same) gift pack that the winner will receive. I have a lot of the stuff already because I'm a huge KitchenAid fan so I'm using some of these items as a raffle to raise even more money at my Cook for the Cure party. I <3 KitchenAid products and just so you know, I only work with brands that I love. All opinions are my own, of course.