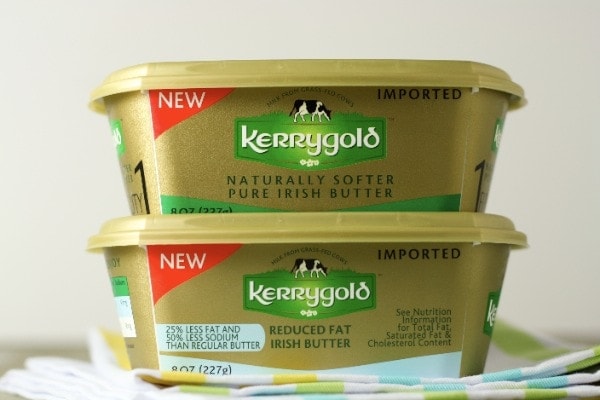 Last month, Kerrygold contacted me about participating in a blogger contest involving their new spreadable butter products. I immediately wrote back saying, yes! Of course! You may know that I'm a huge a Kerrygold stalker fan.
I became a fan immediately after first trying Kerrygold butter last year. I can't even begin to explain to you what I love about it. It just tastes better than any other butter I have had. It must be the cows, their butter and cheese are made from the milk of grass-fed cows.
I had my husband about 80% sold on Kerrygold butter. He absolutely loves it and I have even caught him stealing butter. I need to explain the stealing of butter. I had 1 1/2 blocks of Kerrygold butter out on the counter, needing it to be soft in order to make a batch of buttercream icing. He took some for something, I don't even remember what for, because it has been on the counter, it had essentially become spreadable!

He still clung to his "fake" spreadable "butter" because Kerrygold didn't have a spreadable butter product. But now…no more, I can now declare the little kitchen as a NO FAKE BUTTER zone! And I love they have a new reduced fat version to make me feel less guilty about slathering butter on my favorite rolls. The reduced fat butter is 25% less fat and even better, 50% less sodium than traditional butter.
I have so many ideas for what you can do with Kerrygold's new Naturally Softer Pure Irish Butter and their Reduced Fat Butter.
Above, I made a basil butter…it's simple and took less than 3 minutes for me to make. Chop about 10-12 fresh basil leaves (be sure to rinse them and dry them with paper towels) and mix with 8 teaspoons of Kerrygold's Naturally Softer Pure Irish Butter. Serve on top of your favorite grilled steak. You can use any of your favorite herbs, such as Italian parsley.
The possibilities are endless, think no more torn up toast or English muffins!
I remember having yeast rolls with honey butter when I was a kid. Try mixing your favorite raw honey with a little bit of Kerrygold Reduced Fat butter for a wonderful treat on yeast rolls.
I have made a Dubliner cheese sauce for steak and using a little bit less heavy cream with the reduced fat butter, it will make it a little lighter without missing out on the richness!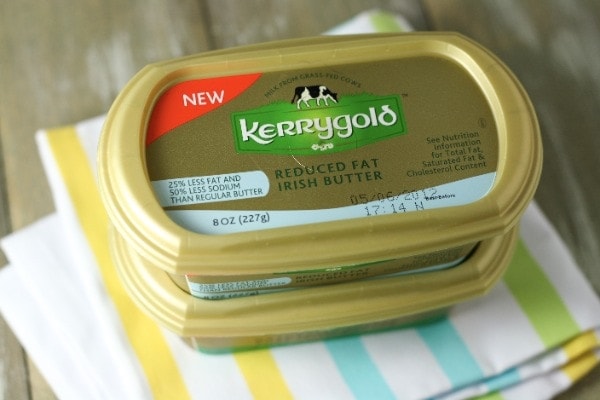 Make cinnamon sugar toast with the Reduced Fat Irish Butter for a nostalgic favorite! Spread the butter on a lightly toasted piece of bread and top with a cinnamon sugar mixture. It will bring you back to when you were a kid!
Using either the Naturally Softer or Reduced Fat Irish Butter, spread butter on one side of two medium sized tortillas and fill with shredded Kerrygold Whiskey cheddar cheese and chopped roasted red peppers, heat through in non-stick skillet on the stove (flipping at least once) to make a wonderful quesadilla snack!
It's easy to spread and naturally soft because during the summer, the milk Kerrygold cows produce is a naturally softer milkfat. Using a proprietary process that increases the softer milkfat, the result is a naturally more spreadable butter. And it's real butter. REAL BUTTER…sorry I just had to shout. While it's a great product because it saves you time and it's perfect for cooking, it's important to note that this product is not suitable for baking. I would stick to Kerrygold unsalted butter for baking.
Use it on your favorite vegetables and easy to spread on corn on the cob…you'll thank me!
So now, tell me what would you use Kerrygold's Naturally Softer Pure Irish or Reduced Fat Butter for?
Disclosure: I'm participating in a Kerrygold contest (I hope I win!) and they sent me their product to sample for the purpose of this contest. I only share with you my favorite brands and ONLY share my honest opinions!