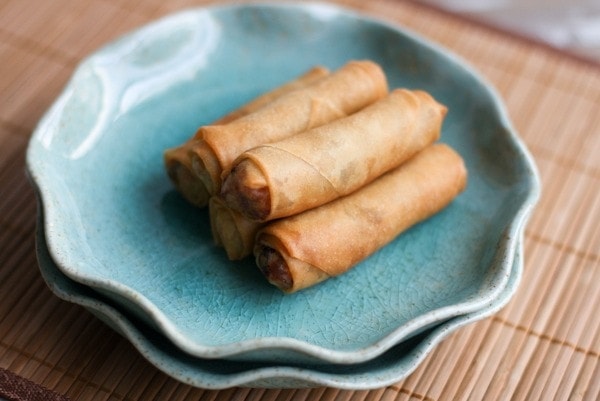 Okay, first of all, don't tell my Mom…that I made someone else's Mom's egg rolls! I might be in trouble!
You see…I had plans, plans to make Vietnamese egg rolls with my Mom on Christmas Eve but then we changed our holiday plans and we ended up driving over to Orlando to see family & have dim sum on Christmas morning instead of having Christmas Eve dinner at our house. Anyways, long story short…no Vietnamese egg rolls!
I still wanted egg rolls and we were invited to a small block party with neighbors. The cul-de-sac next to our street…every year on Christmas Eve they light luminaries and have a pot luck. We get invited every year but since we host Christmas Eve for my family, we have never been able to attend but since plans changed, we decided to attend and I made Chinese egg rolls. Jaden's egg rolls…she made them for me, Jessica and Bev last month.
By the way, the egg rolls were a hit at the block party! The party was so fun and we're so lucky to have such great, fun neighbors. We even fed a few of our city's police officers. One of my neighbors'…their daughter-in-law is a police officer and was off-duty. She told her co-workers to come on over and have some food with us. You wouldn't believe, not even after 2 minutes sitting down with us and after making their plate…they got called out on a call. One of the officers ran back and grabbed an egg roll for the road.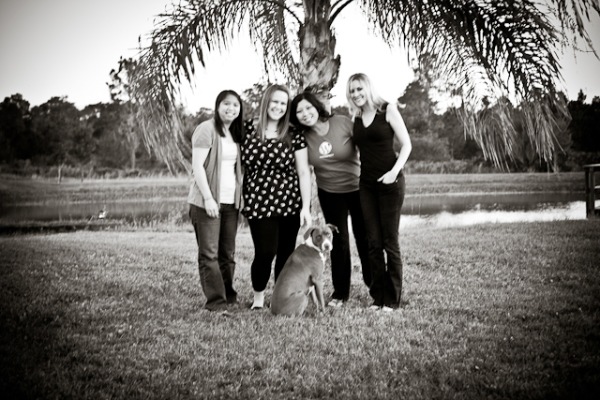 I can't say enough how thankful I am to have such wonderful friends. Last month, Jaden invited us to her house for a girls' weekend. There we are with Coco, her sweet dog! Don't tell my dog, Charley, but I love staying with friends who have dogs…they become my fill-in petting and playing when I have to be away from my doggie.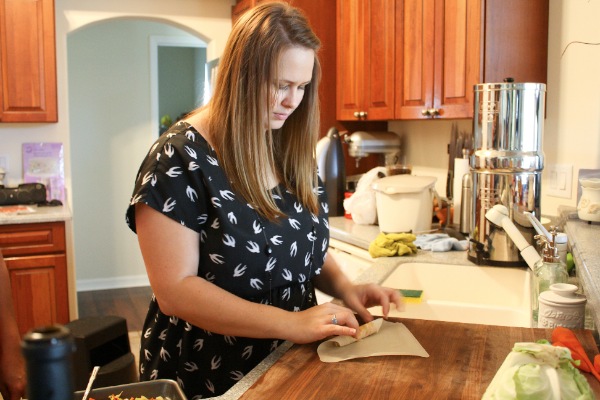 We made egg rolls, remember? When I was rolling egg rolls by my lonesome self, I texted Jessica (above) and told her how much quicker it was when we made rolled them all together at Jaden's. PS Love Jessica, she's so awesome, a friend and tons of baking talent!!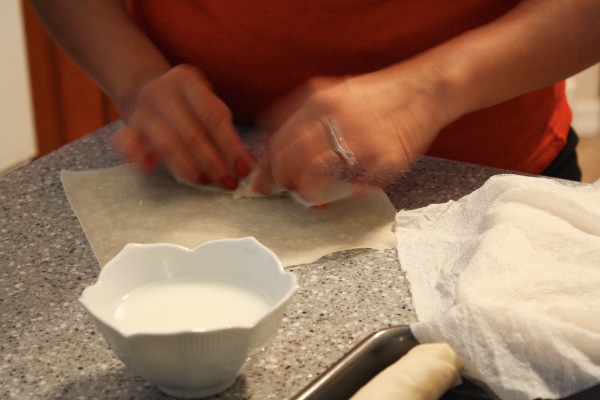 Jaden's hands move quick…she was showing us how to roll them up. For the best tips on how to roll egg rolls and mishaps you want to avoid, check out Steamy Kitchen.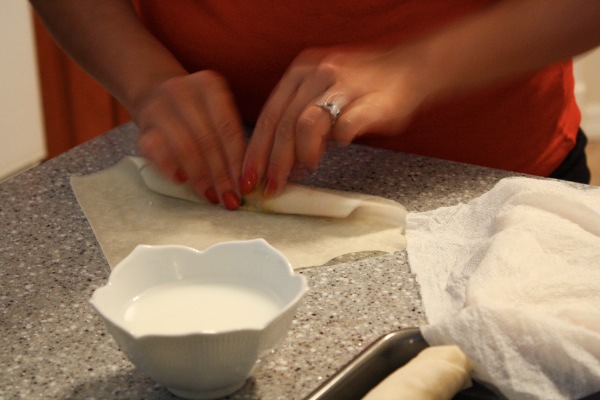 Have a bowl of cornstarch and water, dip your finger in and dab the closing edge of the egg roll. Be sure to the cover the egg roll/spring roll wraps that you're not using while you're preparing the egg rolls, you don't want the wraps to dry out and become brittle.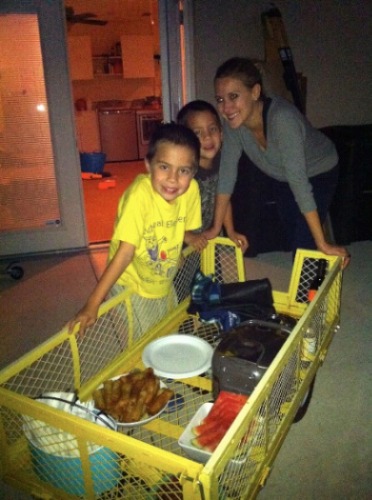 Aren't Jaden & Scott's boys cute? They are so cute and such helpful, sweet kids! Love them! Love Bev too, she is so hilarious and fun!
Dinner is ready and we wheeled our dinner out to…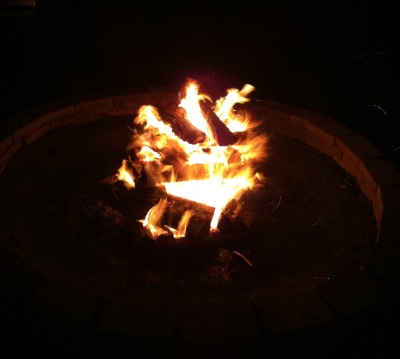 a nice fire. We have been wanting to buy a fire pit for our backyard forever. Going to Jaden's and sitting by this nice fire during dinner makes me want one even more!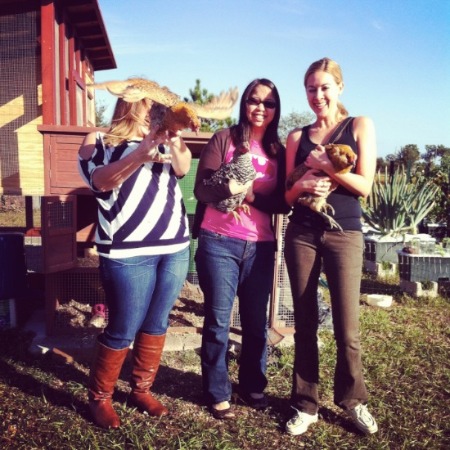 The next morning Jaden watered her beautiful garden and we held chickens. I handed my iPhone to Andrew, Jaden's son, and asked him to take a picture. This is the only picture he snapped before Jessica's chicken ran off! I just love that he caught this moment.


Then, we went over to Jaden's lake (it's huge!) and fed the fish. And then Coco the attack dog proceeded to attack Jessica with wet, slobbery kisses.


I love Coco! Spending a little time with her reminds me of how much I miss having a girl dog. We lost our Cinder over three years ago and still miss her terribly. I've been thinking and we keep discussing it, I think 2012 is the year we're going to adopt a little girl dog! Charley needs a buddy again. Of course no dog will ever replace her!
What a fun weekend we had! Thanks to Jaden for having us. We had so much fun!! Can we do it again?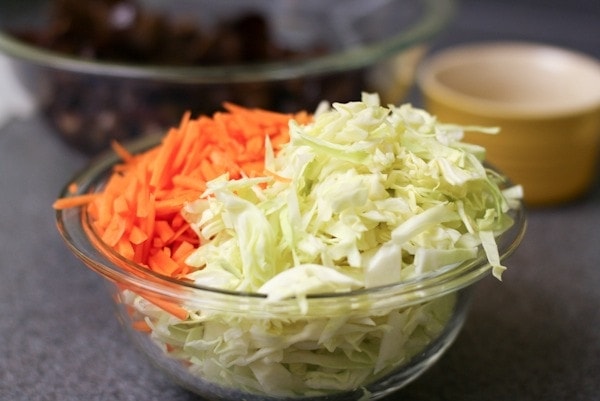 Carrots all shredded up and the cabbage too. I really need a mandoline or a shredder tool for the carrots, I know it would make my life much easier.


I used dried black mushrooms that you can buy at the Asian grocery store, the bag is usually labeled black fungus. Soak them for them overnight or for at least 4 hours and then then slice them thinly. You can also use fresh shitake mushrooms.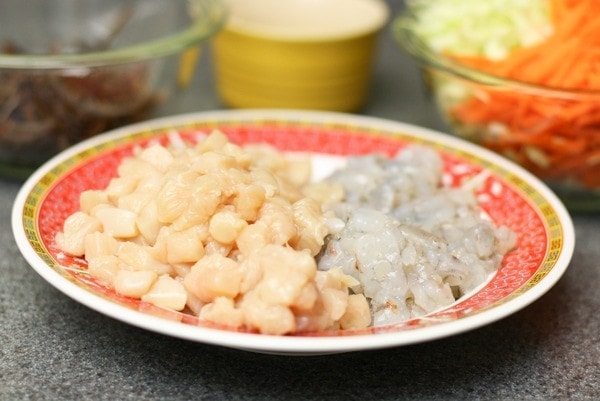 The perfect amount of meat for the filling!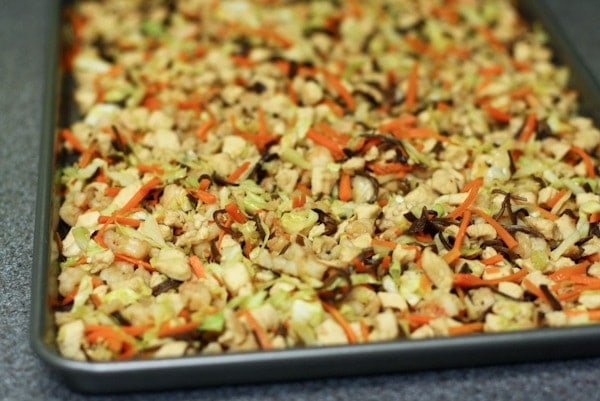 Jaden says that a very wet filling will make for soggy egg rolls so be sure to blot the mixture with paper towels and to drain the oil and juices by tilting the baking pan to one end and allowing it to drain or blotting with a paper towel once again.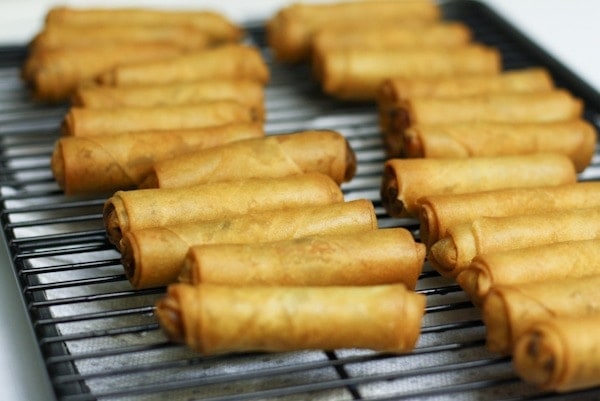 Now for the fun part, you need to wait (you don't want to burn your mouth) but you don't have to wait that long. Allow them to cool a little. They're sitting atop a (baking) cooling rack set on top of a baking sheet that has a paper towel in it.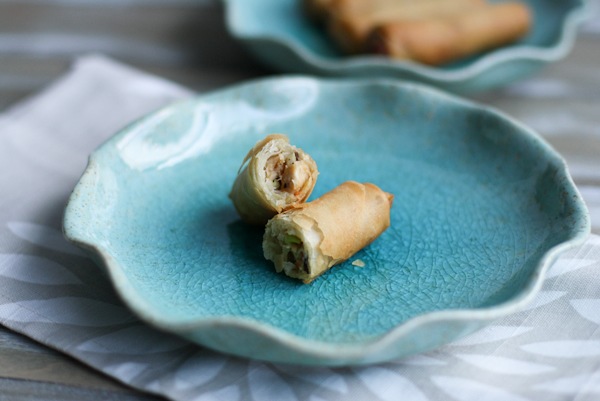 They are light and crispy and not at all greasy tasting. I love the ginger flavor and it has the right amount of filling…3 bites and it's gone! I ate the one above as soon as I was done photographing it.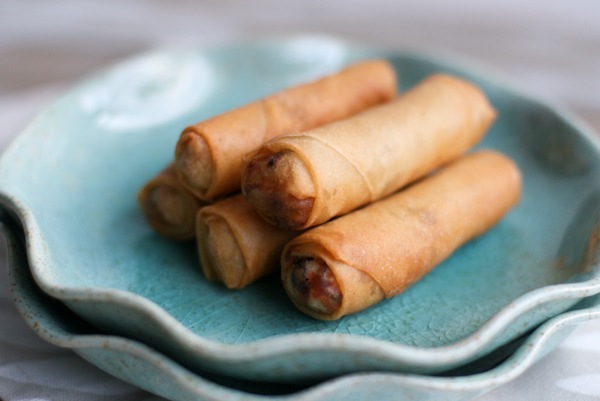 Recipe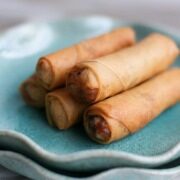 Print
Pin
Jaden's Chinese Egg Rolls
These egg rolls are incredibly easy to make and even faster to roll up if you have family or friends to help you.
Ingredients
For the Meat
1

lb

boneless

,

skinless chicken breasts, diced small

3/4

lb

peeled & deveined shrimp

,

diced small

1

Tbsp

soy sauce

1

tsp

cornstarch

1/4

tsp

sugar

fresh ground black pepper
For the Vegetables
1/2

head of cabbage

3

carrots

,

shredded

3

garlic cloves

,

finely minced

2-3

tsp

grated fresh ginger

10

fresh shiitake mushrooms

,

or dried black mushrooms soaked overnight, stems discarded, sliced into thin strips

1

Tbsp

Chinese rice wine

1

Tbsp

soy sauce

1/4

tsp

sugar

1

tsp

salt

1

tsp

sesame oil

Fresh ground black pepper

50

Spring/Egg Roll Wrappers

,

2 packages, defrost them in the refrigerator for at least 2 hours

1

Tbsp

cornstarch

,

or flour mixed with ¼ cup of cool water

1

Tbsp

vegetable oil plus more for frying
Instructions
Combine the ingredients under the 'for the meat' heading (chicken, shrimp, soy sauce, cornstarch, sugar and ground pepper) in a medium sized bowl and allow to sit at room temperature to marinate for at least 10 minutes.

In another bowl or large measuring cup, mix together the rice wine, soy sauce, sugar, salt, sesame oil and pepper and set aside.

Add 1 Tbsp of vegetable oil in a wok or large, deep saute pan and turn heat to the high setting. Heat pan until the oil coats the pan easily when turning and rotating it. Add the chicken & shrimp mixture and cook for 4-5 minutes.

Turn heat down to low or medium low. Move the chicken and shrimp mixture to one side of the pan. Add the vegetables (carrots & cabbage), garlic, ginger and mushrooms and stir-fry for 2 minutes or until the vegetables are softened. Add the rice wine-sesame oil mixture. Continue cooking the vegetables for 1 to minute and then mix the vegetables with the chicken and shrimp.

Remove the filling from the wok or pan, scoop with a large slotted spoon (don't pour) onto a baking sheet. Spread the filling out and allow the mixture to cool. Using paper towels, blot it to remove the juice from the cooked filling. Tilt one end of baking sheet to allow the oil and juices to drain to one end of the baking sheet. Blot with a paper towel or drain the juices. Allow the filling mixture to sit and cool for at least 15 minutes.

Clean wok or pan and fill with at least 2 inches of vegetable oil. Heat pan on high for at least 5 minutes until it reaches 350 degrees. Carefully add 6-8 egg rolls and fry for 3-4 minutes or golden brown. Allow egg rolls to cool slightly on a rack set up on another baking sheet.
Cook's Notes:
These egg rolls freeze great (freeze them after rolling them & before frying them). I put them in a plastic zippered bag separating the layers with parchment paper. No need to defrost them, add them to the heated oil (very carefully) and fry them a couple of minutes longer than usual.

Chinese rice wine has been so hard for me to find. I finally found it at my local Asian grocery store and was able to purchase a huge bottle for less than $2!

It's mine and Jaden's advice to buy the paper thin egg roll/spring roll wrappers at your local Asian grocery store in the freezer section. Don't buy the refrigerated brands that you can in your produce section near the tofu. They will not taste the same nor will they come out the same. The recommended egg roll wrappers are the same wrappers my Mom uses when she makes Vietnamese egg rolls.

Try Jaden's original recipe with ground pork!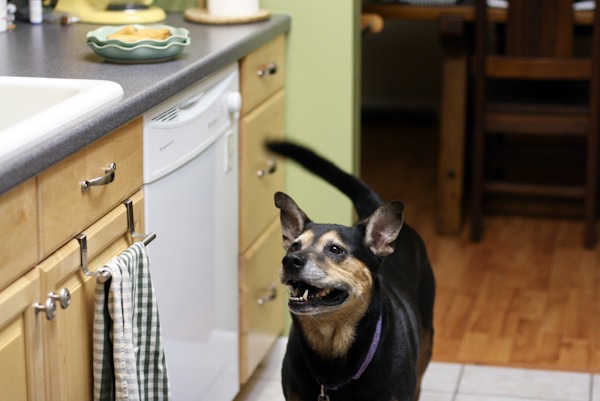 Don't tell Meemaw (my Mom) how much Charley loved the egg rolls. He was begging for them after I photographed them and every time I fired up the wok to fry some up. I seriously need to make more of these…this weekend.
Not shown above but my dog was getting unruly and barking at us to give him the egg rolls. He only got a bite or two…he can't get too many table scraps because of a health condition but we don't let him go completely without!
Now I need to call my Mom and reschedule our egg roll making session!