This Instant Pot Tortellini Soup is jam packed with flavor. I've seasoned this soup up with lots of spices, fresh herbs, and cheese. It's good, and good for you!
Beef Tortellini Soup includes lots of fresh veggies like onions, garlic, carrots, spinach, and tomatoes. It's perfect for this time of year when we are all trying to stay happy and healthy!
There are affiliate links in this post. I get commissions for purchases made through these types of links in this post. As an Amazon Associate I earn from qualifying purchases.
The weather is cooler, at least in some parts of the country (I'm looking at you, Florida). It's finally soup weather! It's been snowing in some places for weeks now, which is mind blowing to me! And with everything going on, we all need some comfort food. I love making soup in my instant pot!
Making this instant pot tortellini soup is like combining a couple of comfort foods together. This recipe combines beef stew and cheesy tortellini pasta all together to make the ultimate comfort food — soup!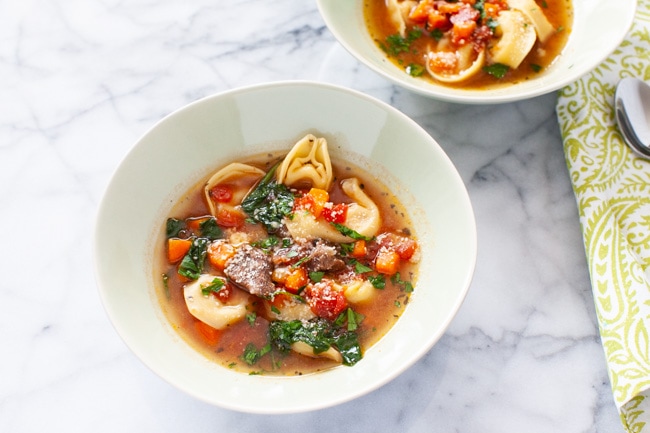 Can I Make This Instant Pot Beef Tortellini Soup With Frozen Beef?
Yes, you can make this instant pot beef tortellini soup with frozen beef. Ideally, the stew meat was already chopped up before it was frozen. But you can just cook it in one whole piece, chop it later, and add it back the soup.
You will want to add a few extra minutes to the Instant Pot cook time if the meat was frozen.
How Long Will Tortellini Soup Last?
This easy tortellini soup will last about 4-5 days in the refrigerator, and 3-4 months in the freezer.
Be sure to completely cool the soup on the counter before adding it to the fridge or freezer. And if you're freezing the tortellini soup with beef, leave some extra space in the container because liquids expand as they freeze.
Pro tip: always label food you're putting in the freezer with the name of the recipe, the date (with the year!) and any short reheating instructions. This is a lifesaver to your future self. Believe me, I know!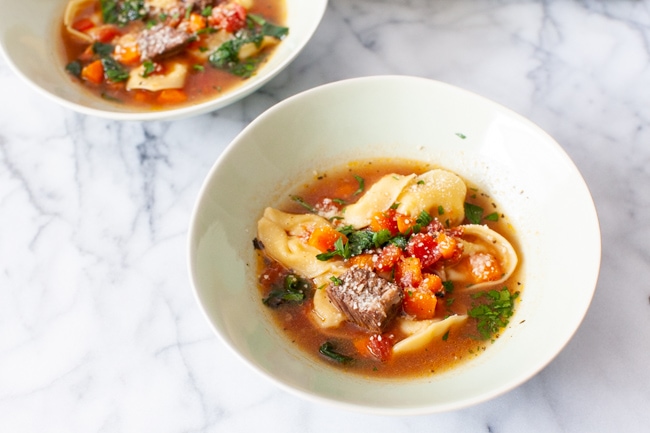 Can I Substitute Ravioli for Tortellini?
Yes, you can substitute and use ravioli instead of tortellini for this tortellini soup! I prefer fresh ravioli in this beef tortellini soup. In my grocery store, the fresh pasta is in a case near the cold cuts section.
But you can use frozen ravioli, too! The cooking time (in step 6) might increase though if you use frozen ravioli.
What Goes Well With Tortellini Soup?
I love pairing this Instant Pot Tortellini Soup with a nice, fresh salad or toasted garlic bread!
Spices for Tortellini Soup with Beef
I use salt, pepper, garlic powder, dried basil, and fresh parsley to season this easy tortellini soup.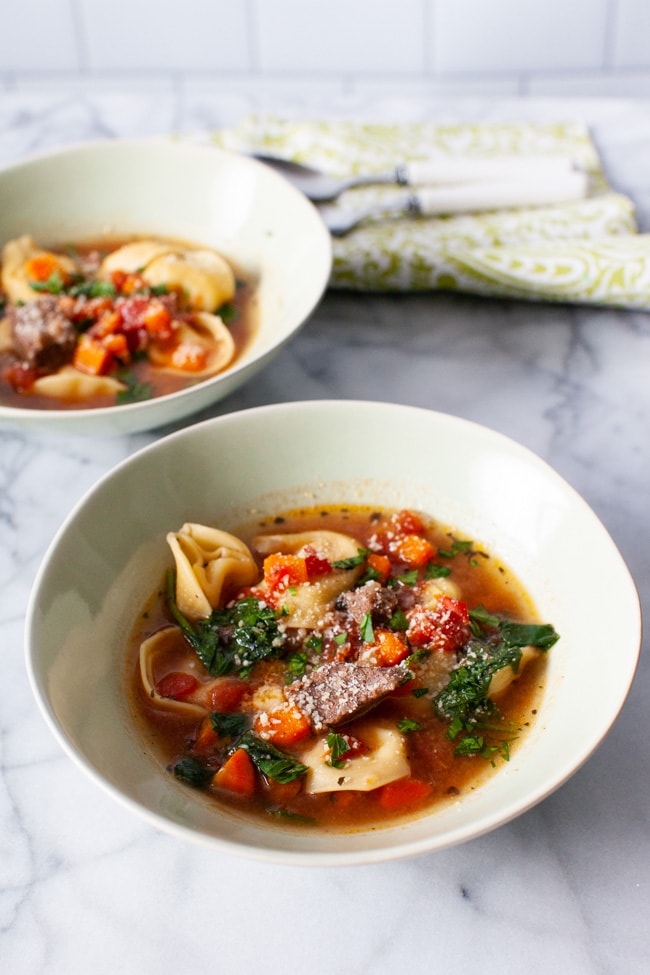 How to Make Instant Pot Beef Tortellini Soup
Step 1: Begin by chopping up the vegetables — the onions, garlic, and carrots.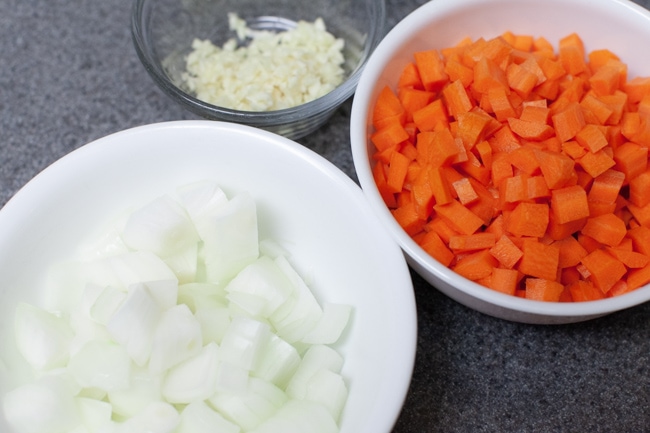 Step 2: Before searing the beef stew meat in a 6-8 quart Instant Pot, pat it dry with a paper towel to ensure even browning and caramelization. A good sear equals lots of flavor!
Season the beef liberally with salt and pepper.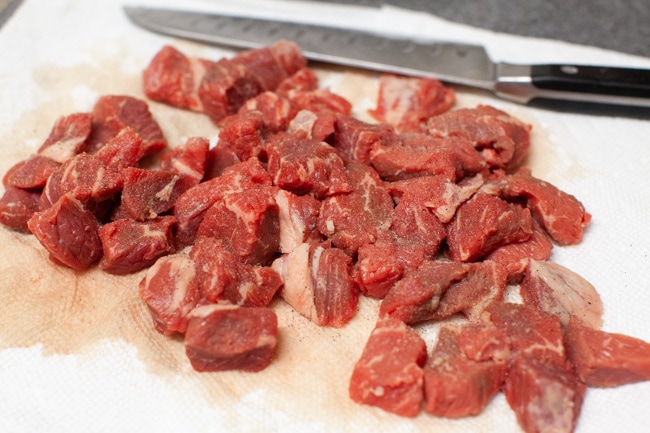 Step 3: Select Sauté on your Instant Pot and add one tablespoon of olive oil. Add the meat and cook for 5 minutes or until brown.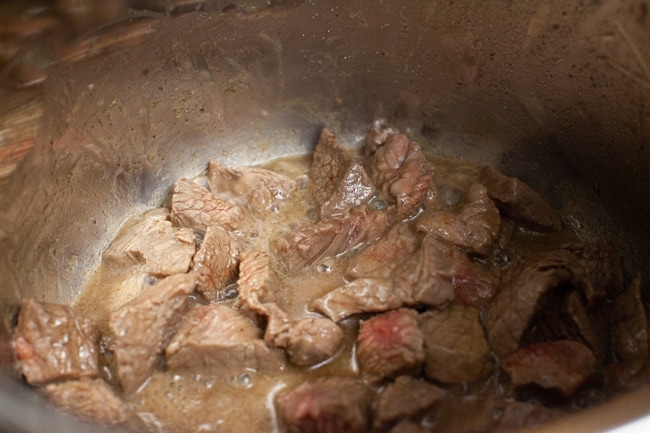 You might need to brown the meat in batches to prevent overcrowding the pan. After all the meat is brown, set it aside.
Step 4: Add onions, and cook for 2 minutes. Add the garlic, and cook for 60 seconds or until fragrant. Add the chopped carrots, and cook for an additional minute.
Add the diced tomatoes, beef broth, and spices next. Stir until combined.
Note: When you add the beef broth, be sure not to go over the maximum fill in your Instant Pot.
Step 5: Add the lid to your Instant Pot or Ninja Foodi. Select Pressure Cook, then High, and cook for 20 minutes. Then allow the pressure to manually release for 10 minutes.
Step 6: Add the cheese tortellini on Sauté and cook for 8-10 minutes. In the last few minutes, stir in the spinach and season to taste with salt and pepper.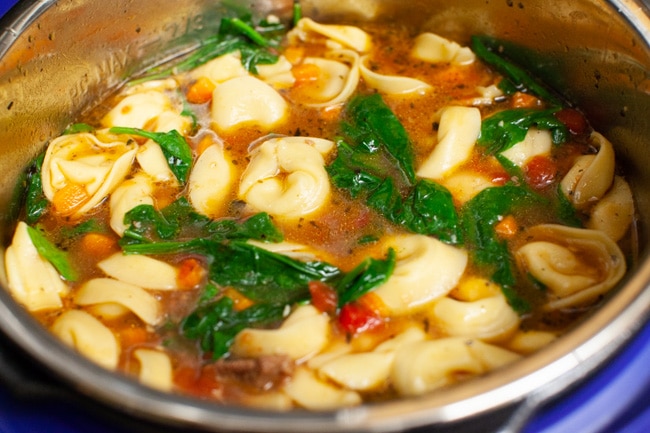 Step 7: Serve hot topped with freshly minced parsley and parmesan cheese!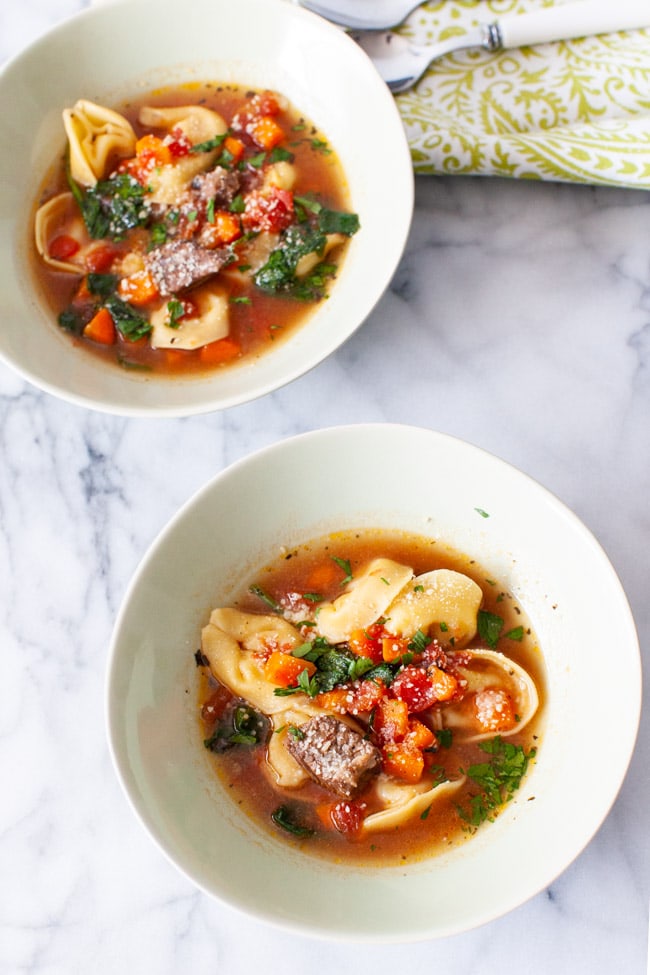 This recipe for tortellini soup with beef is such a warm and cozy recipe. I have some in the freezer right now…now I'm craving it!
I love love how easy it is to prep and cook in the Instant Pot too!
Recipe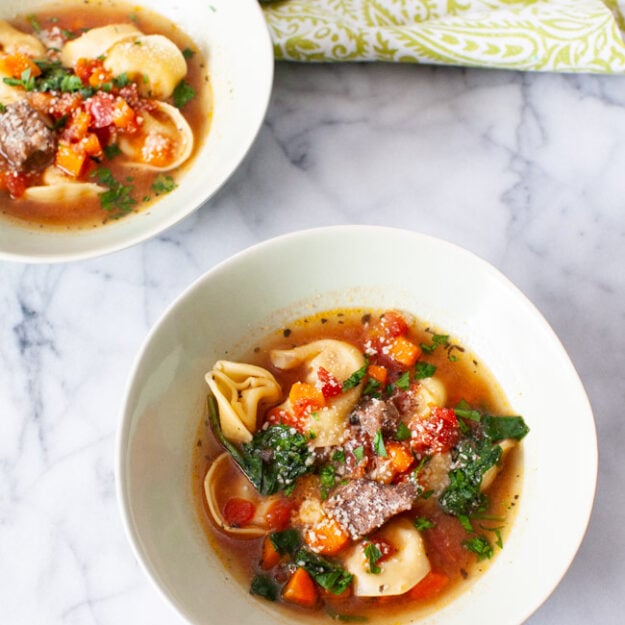 Print
Pin
Save
Instant Pot Beef Tortellini Soup
Ingredients
2

Tablespoons

olive oil

1 1/2

pounds

beef stew meat

,

chopped

1

medium sweet onion

,

peeled and chopped

3 to 4

large garlic cloves

,

peeled and minced

2

cups

peeled and diced carrots

1

14.5-ounce can of diced tomatoes

1

32-ounce carton of unsalted beef broth

1

teaspoon

salt

1/2

teaspoon

ground black pepper

1

teaspoon

dried basil

1/2

teaspoon

garlic powder

2

9-ounce packages cheese tortellini

4

ounces

fresh baby spinach

chopped fresh Italian parsley

,

flat leaf

grated Parmesan cheese
Instructions
Prep vegetables.

Pat meat dry. Add salt and pepper to both sides of the beef.

Take a 6 or 8 Quart electric pressure cooker (like an Instant Pot or Ninja Foodi). Select Saute, add 1 Tablespoon of olive oil. Add half of the beef and cook for 5 minutes until seared and browned.

Remove the beef and add oil again. Cooking the rest of the beef in the same way. Remove the beef.

Add onions and cook for 2 minutes. Add garlic and cook for 60 seconds. Add carrots and cook for another minute. Add beef back into the pressure cooker. Then, add diced tomatoes, beef broth, 3 cups water (making sure that the liquid stays below the max level), 1 teaspoon salt, 1/2 teaspoon black pepper, dried basil and garlic powder. Stir until ingredients are combined.

Add pressure cooker lid and position steam valve to seal. Turn lid to lock and select Pressure Cook. Choose high and set timer for 20 minutes.

Allow pressure cooker to come to pressure (about 15 to 18 minutes). Once the timer goes off, allow the pressure to manually release for 10 minutes. Then, turn the steam valve to release. Once that's finished, remove the lid carefully.

Select Saute and add the tortellini to the soup and cook for 8 to 10 minutes, stirring occasionally. In the last couple of minutes of cooking, add the baby spinach and mix. Season with salt and pepper to taste.

Serve topped with parsley and Parmesan cheese.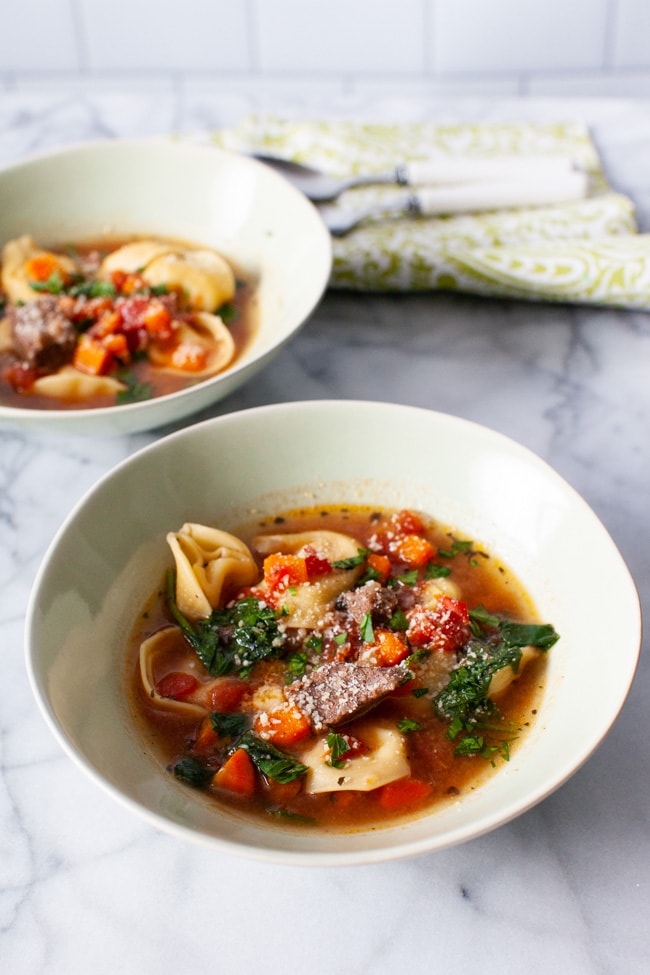 Pin it for Later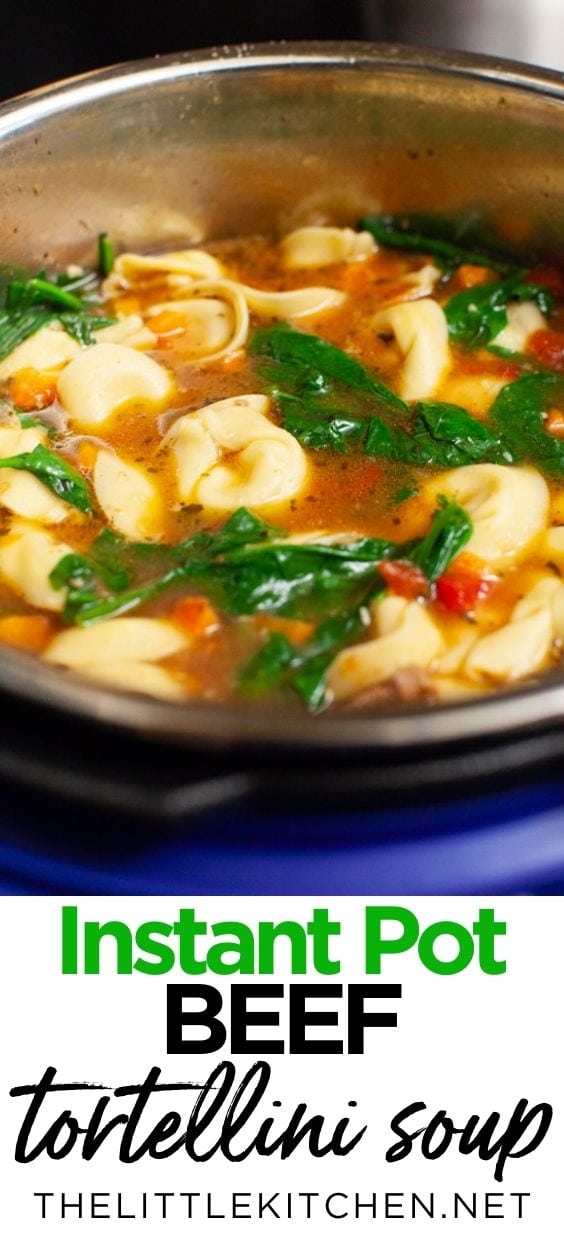 Other Tortellini Soup Recipes
Creamy Tortellini Soup from Gimme Some Oven
Tortellini soup with Italian Sausage & Spinach from Yellow Bliss Road
Turkey Meatball Tortellini Soup with Spinach from Skinnytaste