Homemade Taco Seasoning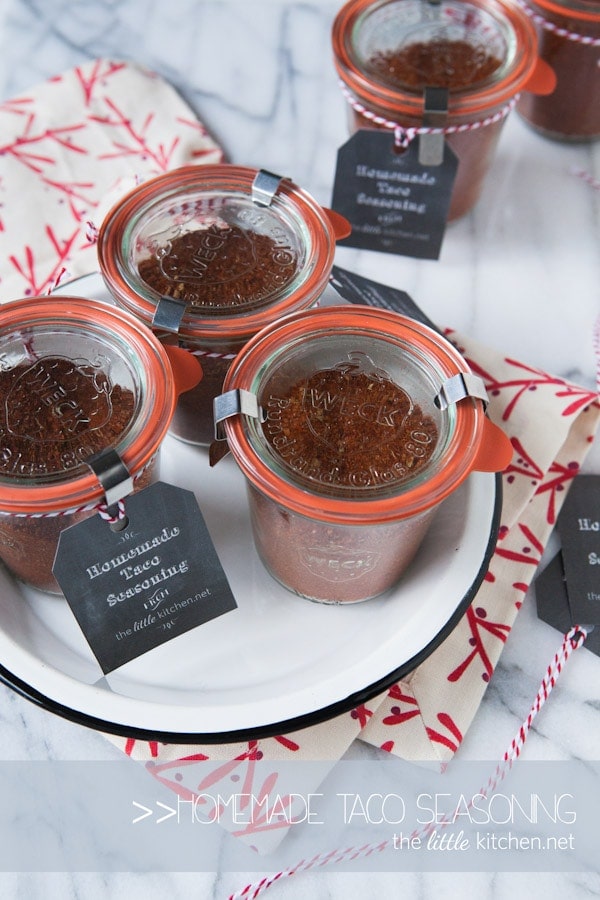 If I had a dime for every time Curtis has requested tacos for dinner, we would have enough money to build a pool. That sounds so specific but Curtis really wants to build a pool. Haha Every week, it never fails, he says let's have tacos! I love making them (and eating them) so 9 times out of 10, I say okay.
I have used this taco seasoning recipe from all recipes for years. We have slightly tweaked it to our taste and honestly it took too much time to gather all of the bottles to put the seasoning mix together so whenever I would put this together, I would make two batches. But then every other time I would have to gather all of the bottles and start over.
So months ago, I decided to make an entire jar of spices. We have been making tacos out of this jar for a few months so I wanted to make more. For gifts, for hostess gifts and for just because gifts and for us. I made a total of eight jars and am so excited to have taco seasoning for tacos for a while!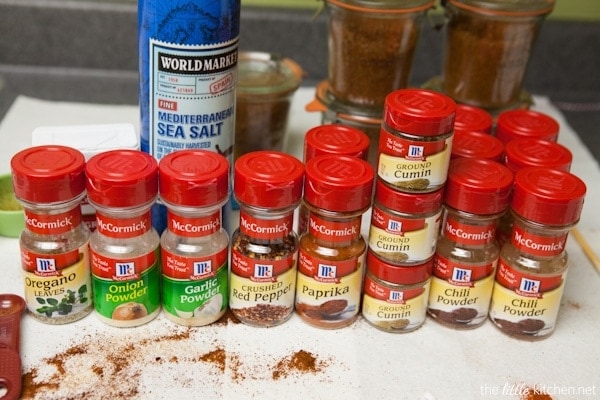 Line them up! This is how many jars of spices it took to fill 8 9-ounce jars.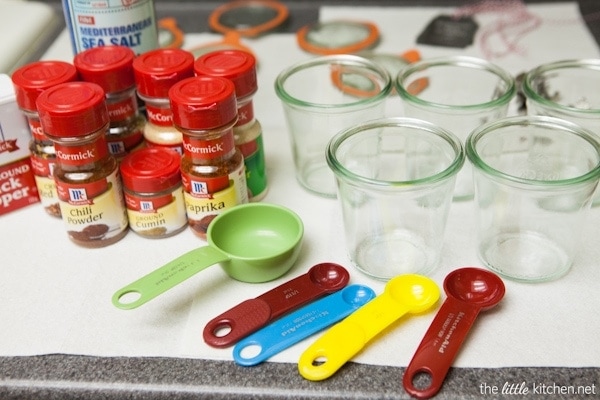 First, get all of your tools ready. I laid down a paper towel because I knew I would lose some and the paper towel kept my counter clean. You'll need 1/4 cup measuring cup, a Tablespoon spoon, a teaspoon spoon, a 1/14 & a 1/2 teaspoon spoon.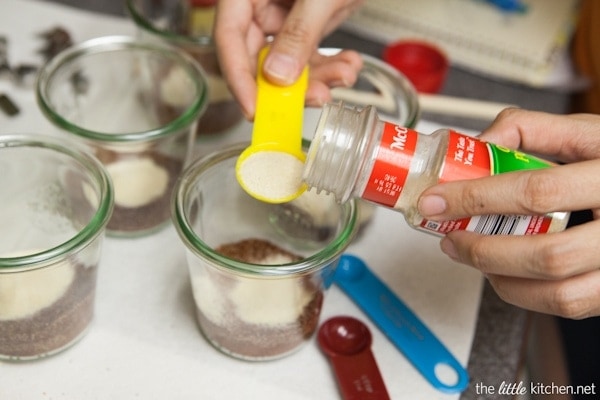 Measure out the spices, do one spice at at time so it's easier to keep track of it.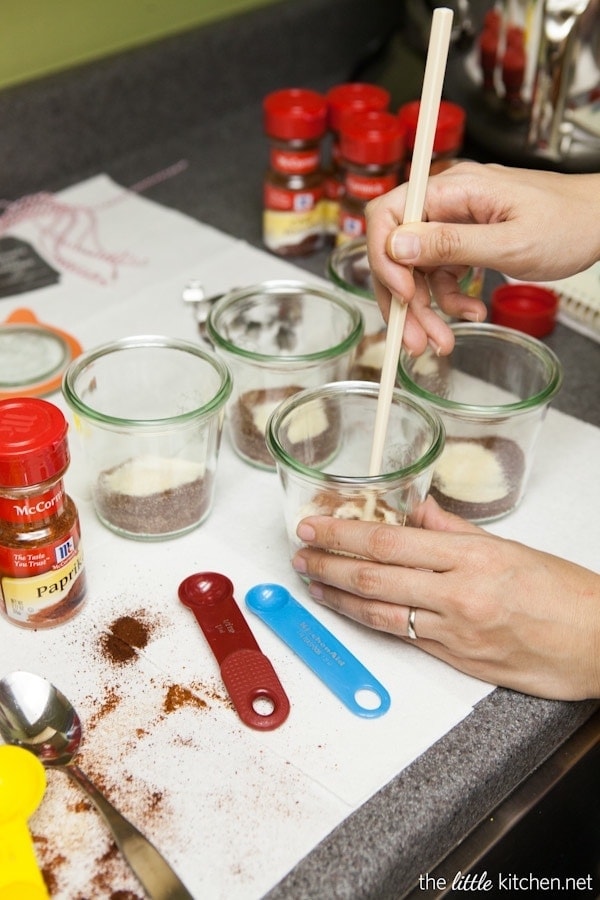 After an addition of a spice, mix with a chopstick (hey it's a great kitchen tool! not just an eating utensil) or a butter knife just to ensure all ingredients get incorporated.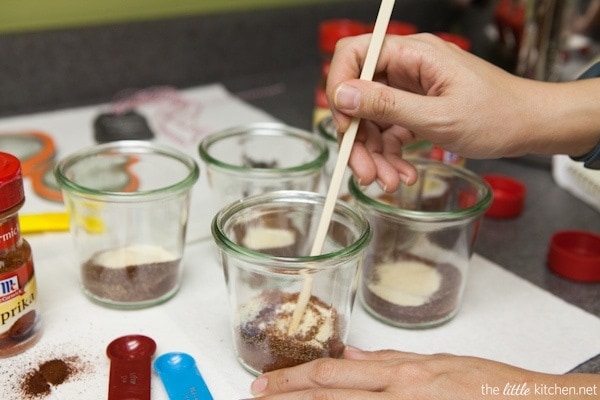 Easy peasy.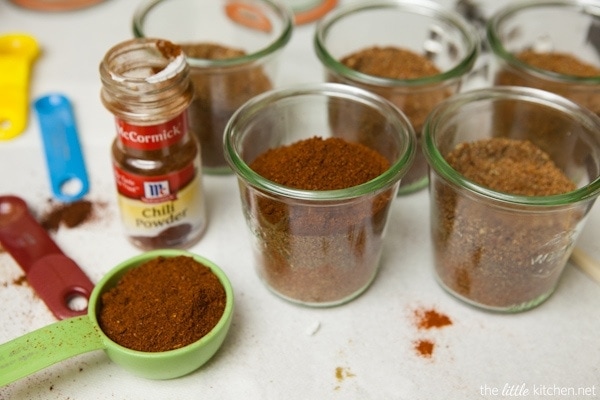 I add the 1/4 cup of chili powder last.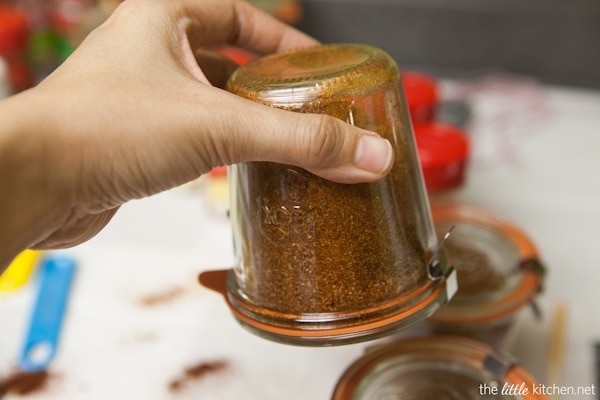 Close the jars with the lids. I used the 9 ounce Weck jars…love them. I love that I can reuse them too! I flip over and shake just a little bit just to make sure everything is incorporated.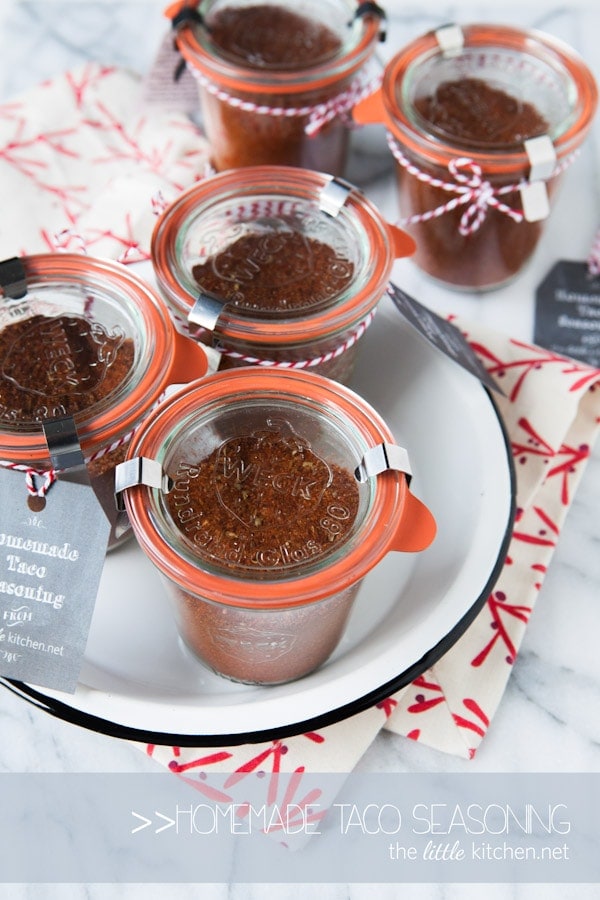 Here's my favorite way to make tacos using this taco seasoning recipe. And if you decide to give them out as gifts, I made printable gift tags for you to use! (Please don't link directly to the download link, if you're going to link to these tags…please link to this post. Thanks!)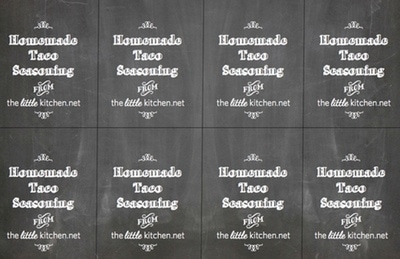 Recipe
Homemade Taco Seasoning Recipe
Yield: Fills (one) 9-ounce jar
Prep Time: 10 minutes
Total Time: 10 minutes
Ingredients:
For a 9-ounce jar
1 3/4 teaspoons garlic powder
1 3/4 teaspoons onion powder
1 teaspoon crushed red pepper flakes (optional)
1 3/4 teaspoons dried oregano
1 Tablespoon + 1/2 teaspoon paprika or 3 1/2 teaspoons
1 Tablespoon + 1/2 teaspoon ground cumin  or 3 1/2 teaspoons
1 Tablespoon + 1/2 teaspoon sea salt  or 3 1/2 teaspoons
1 Tablespoon + 1/2 teaspoon black pepper or 3 1/2 teaspoons
1/4 cup + 3 Tablespoons chili powder
For dinner tonight, if you're not putting a jar together
1 Tablespoon chili powder
1/4 teaspoon garlic powder
1/4 teaspoon onion powder
1/8 teaspoon crushed red pepper flakes
1/4 teaspoons dried oregano
1/2 teaspoons paprika
1/2 teaspoons ground cumin
1/2 teaspoons sea salt
1/2 teaspoons black pepper
Directions:
Add spices to jar one at a time, after each addition, mix with a butter knife, spoon or chopstick. Close jar tightly and flip to and shake slightly to ensure it's completely mixed up.
When using in a recipe, use 1 to 1 1/2 Tablespoons for one pound of meat. Give my favorite beef tacos recipe or chicken tortilla soup a try!
Have you tried this recipe?
How much did I use up to make 8 9-ounce jars of taco seasoning?
1/2 container of 4 ounces black pepper
6 containers of 2.5 ounces chili powder
2 1/2 containers of 0.9 ounce ground cumin
1 1/2 containers of 2.12 ounces paprika
1/2 container of 1.5 ounces crushed red pepper flakes
2/3 container of 3.12 ounces garlic powder
2/3 container of 2.62 ounces onion powder
3/4 container of 0.75 ounce dried oregano leaves
barely put a dent in the huge container of sea salt I had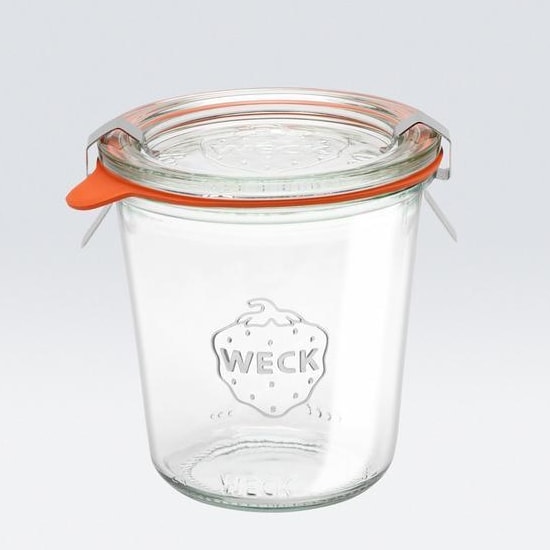 Buy these 9.8 ounce Weck Jars at Amazon.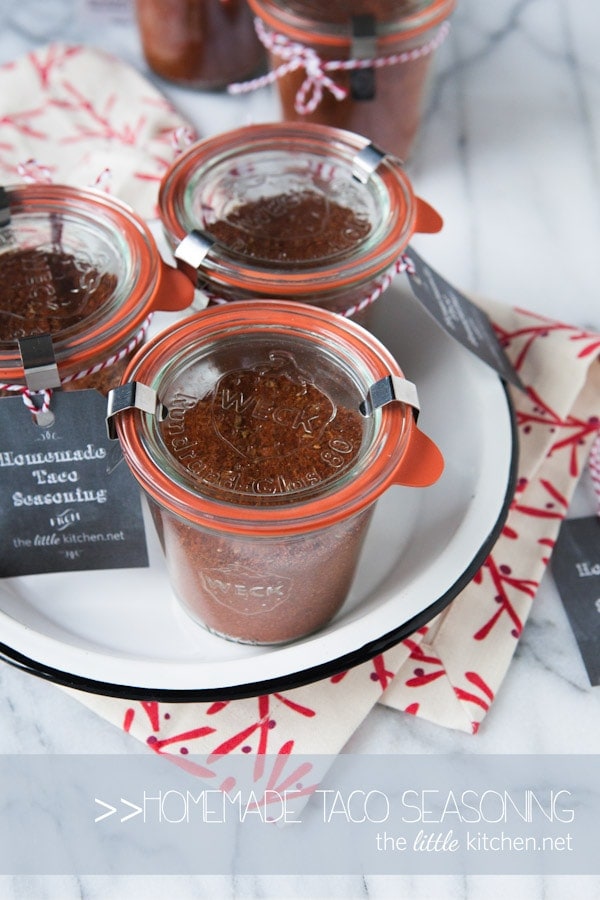 This is NOT a sponsored post. There are affiliate links in this post.