Bread and Celery Stuffing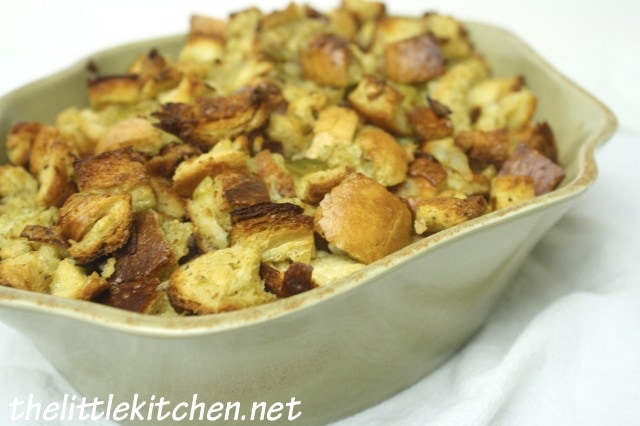 I have been using this recipe for five years now since I found it on allrecipes.com and my family loves it. My sister, who attends law school in Boston, can't make it down every year for Thanksgiving and she makes it for her boyfriend and his parents. This has become a family favorite and I really can't imagine having any other stuffing.
There is a great debate on what makes the best stuffing. I never had an opinion on stuffing before I adopted this recipe as a family staple for Thanksgiving. Once that happened, I became a huge proponent of traditional stuffing. The traditional is a bread, celery, onion, butter, poultry seasoning and chicken broth recipe, right? There are no apples or any fruits. There is no sausage and certainly no cornbread.
I don't like my stuffing all that moist and soggy (or so I call it). This recipe gives best of both worlds, this recipe calls for only one cup of chicken broth and slightly moistens the bread while giving it some room to get crunchy in the oven. It is slightly moist but does not become very dense. If you like it more moist, you can always add more chicken broth.
For this recipe, I think the key is the bread. I buy the bread from the Publix bakery and it's called Homestyle bread. It used to be called butterbread but they recently changed the name. It got its previous name from the stripe of butter they put on top of the bread before baking. You can taste the butter in every bite of this bread and I love making sandwiches with it. Don't use just some plain bread for your stuffing. You need to love the bread you're using for this stuffing recipe and it will pay off! I add in the baguette to give it a different flavor combination and texture.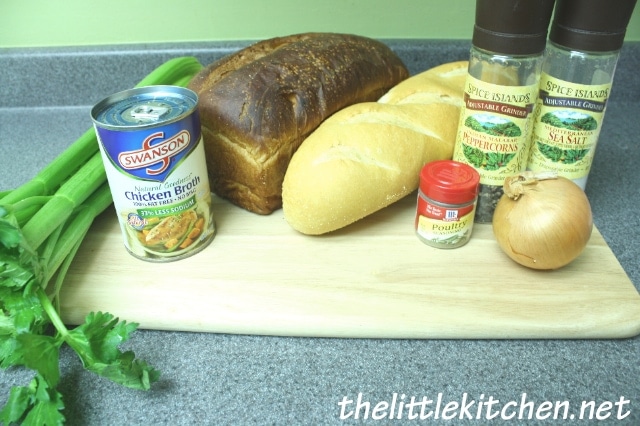 Cooking up the celery and onions. This is after the poultry seasoning, salt and pepper have been added.

Right before going into the oven.
Recipe
Traditional Bread and Celery Stuffing
Ingredients:
1 (1 pound) loaf of white bread, unsliced
1/2 of a French baguette
3/4 cup unsalted butter (12 Tablespoons)
1 onion, diced small
4 stalks celery, diced small
2 teaspoons poultry seasoning
salt and pepper to taste
1 cup low sodium chicken broth
Directions:
Slice and then cube the load of bread and baguette.
In a large pot or dutch oven, melt butter over medium heat. Add onion and celery and cook for 8-10 minutes or until soft. Add poultry seasoning, salt and pepper.
Gradually add in 1/3 of the bread cubes at a time. With each add, mix and ensure evenly coated.
Add in 1/2 cup of chicken broth and mix well. Repeat.
Butter (grease) a 9×13 baking dish and add stuffing to it. Bake at 350 degrees F for 38 to 40 minutes.
I want to hear about your favorite stuffing and why. Is it a family tradition? What do you think of my favorite stuffing? Also, I would love to hear if you have a butterbread recipe to share with me.