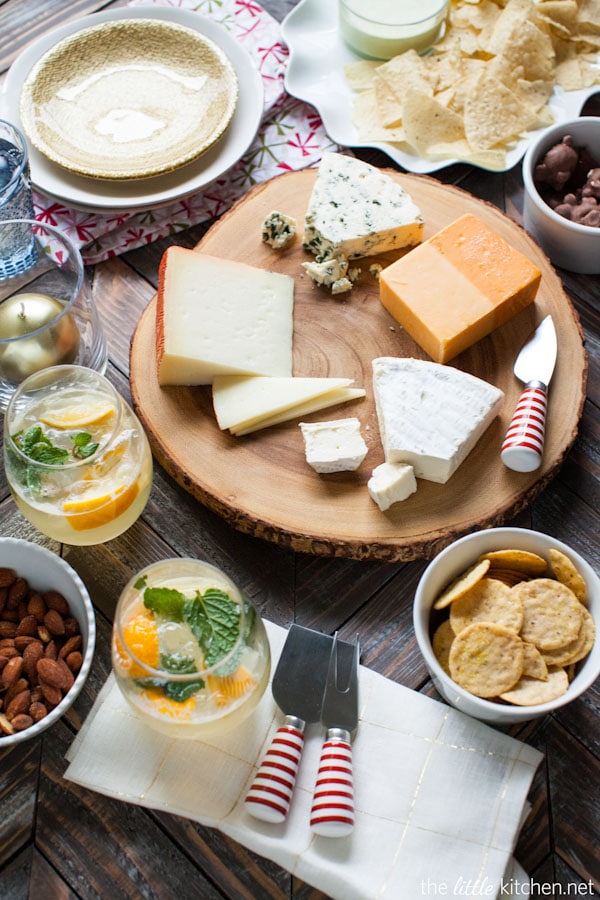 Thank you Crate & Barrel for sponsoring this post. While this was a sponsored opportunity from Crate & Barrel all content and opinions expressed here are my own.
I'm a huge fan of Crate and Barrel! I have so bought so much of my bakeware, kitchenware, you name it from C&B over the years- so when I had the opportunity to work with them, I was so excited and jumped at the chance!
There's so much to love about Crate and Barrel- they definitely are your entertaining resource. I'm going to share some tips for entertaining as well as share with you some recipes I'm going to make for our annual holiday party!
And since we're talking about entertaining, you should check out my tips for stress-free hosting that I shared on the Pioneer Woman's Food & Friends last month!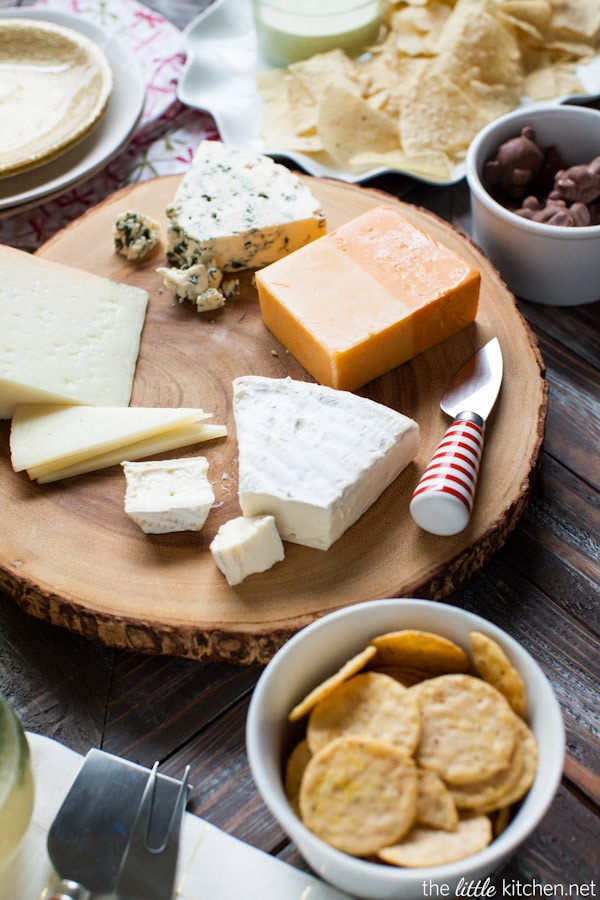 First things first, can we all agree that every party needs cheese? And lots of it? I like to do a couple of hard cheeses (manchego, cheddar) and a couple of soft cheeses (blue and read triple creme brie!) at least. Cheese makes the world go round, right?
Make sure you put other things near the cheese plate, including crackers, almonds and chocolate!
Love these appetizer plates, they come in silver & gold. This serving platter is awesome and stylish (perfect for the holidays and year-round), these nosh bowls are great for dips and individual desserts like this! Ramekins and bowls make great vessels for snacks. I love this acacia wedge server as a cheese tray! And these festive cheese knives add some flair to your holiday table.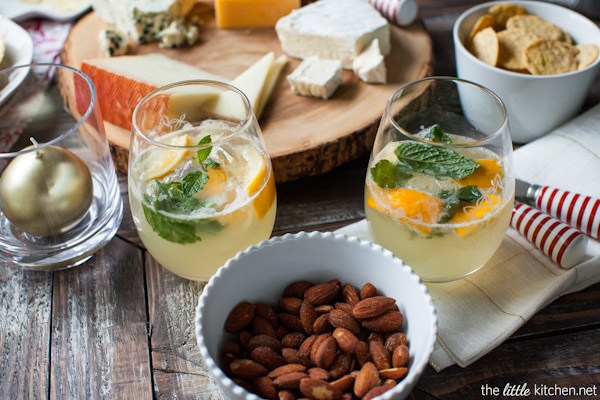 I love having a couple of cocktails already made to share with friends. I'm definitely sharing my meyer lemon mojitos at our annual party this year.
Aren't these candles cute? (They come in silver too.) And the small glass hurricane candle holder it's in.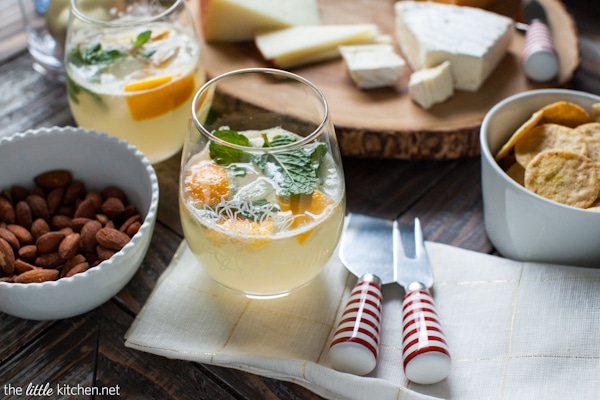 The stemless wine glasses I served the mojitos in. There's an etched snowflake on the glasses – perfect for the holidays! I'm also obsessed with these mallorca mini bowls. (I also have the medium-sized serving bowl too!)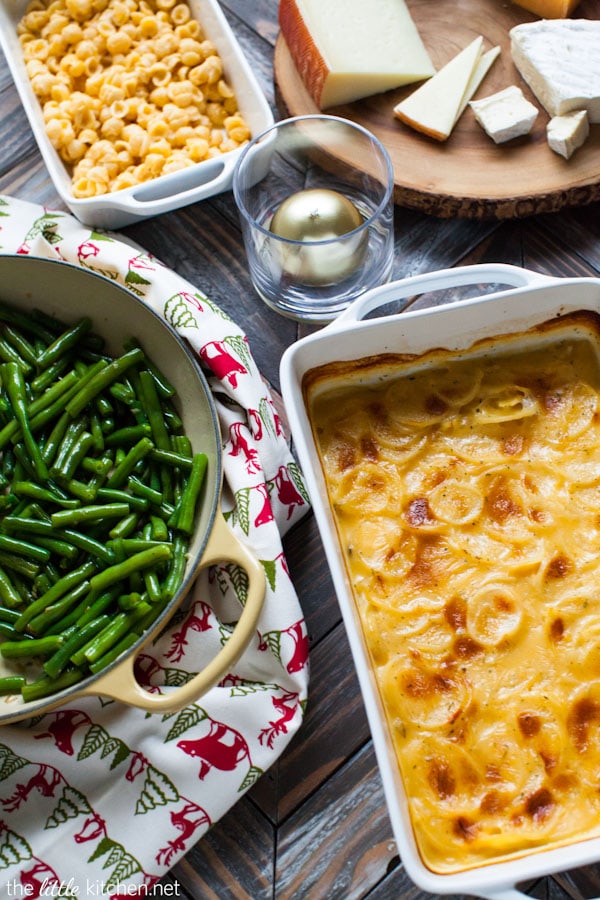 I'm a big fan of comfort food and of course, vegetables- we always have a little bit of both. 🙂 I love love pieces of bakeware and cookware that look good enough to serve as serveware for parties too. Dual purpose items because I'm sure like you, I don't have a ton of room in my kitchen!
I love making my green beans (easy easy), this mac & cheese recipe and my three cheese scalloped potatoes.
I love Crate and Barrels everyday bakeware line…it's great for year round use! (Pictured above are the everyday large baking dish and the everyday small baking dish. I also use the square one all the time!) I cooked and served the green beans in my yellow Le Creuset everyday pan.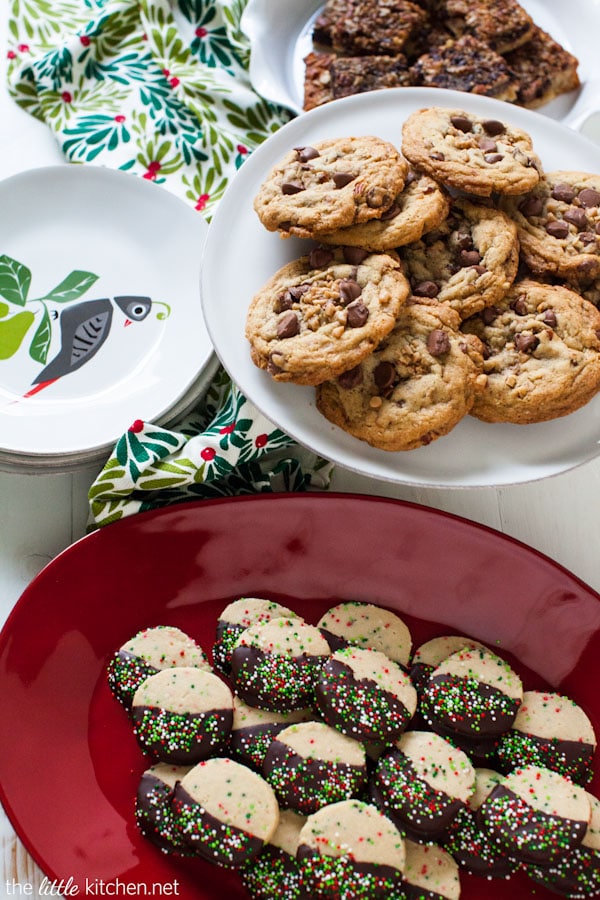 And we have to have desserts at EVERY party. That's a tip (for sure)!
I made you chocolate chip pecan pie bars, these brown butter milk chocolate toffee almond cookies (I'll share the recipe later this month) and dark chocolate dipped funfetti shortbread cookies!
I love using every day platters, plates and serveware and injecting colorful and holiday accents. Like this red oval Marin platter and this mistletoe dish towel. (I'm a huge fan of the Marin collection at Crate and Barrel- I own a lot of the collection!)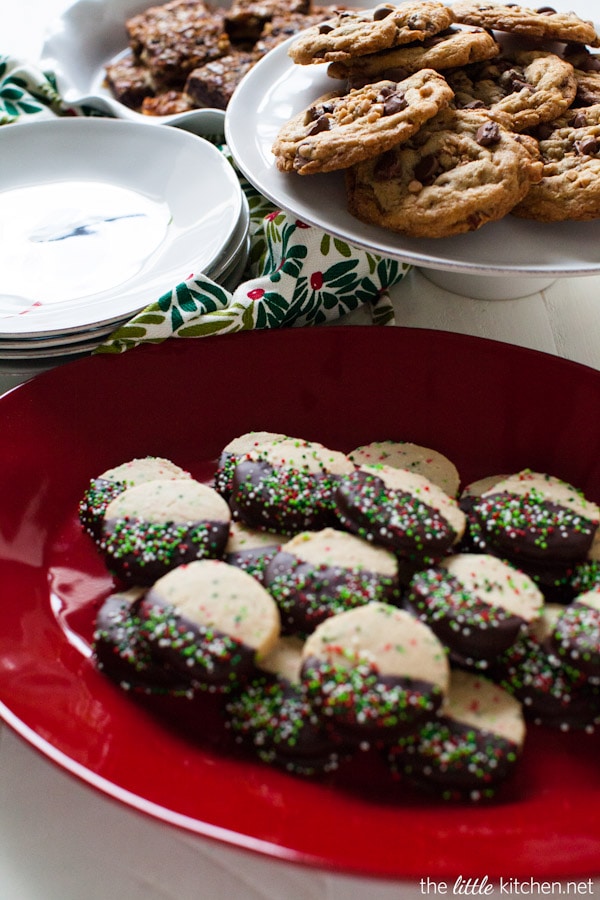 I love using cake stands for not just cake- serving cookies or any other desserts.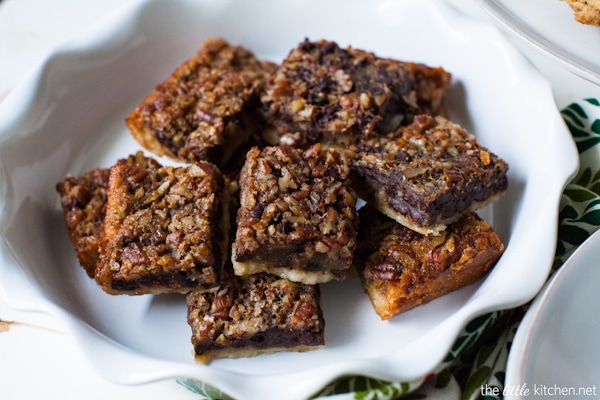 And using bakeware for serving pieces even if you didn't bake the dessert in it- like this ruffled pie dish!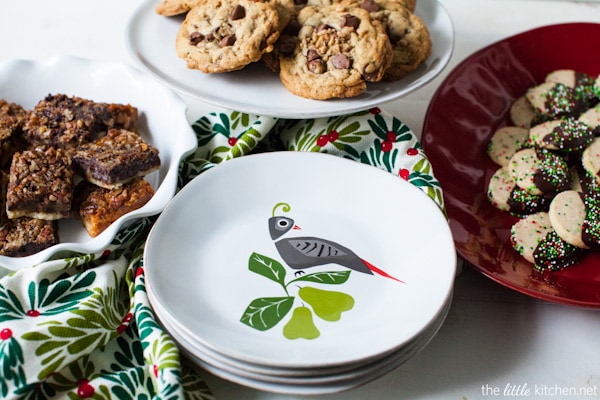 And these bird plates…love love them! It's a set of 4 and they are Marin plates too! 🙂 They are all different and Curtis noticed this first, it's a partridge in a pear tree!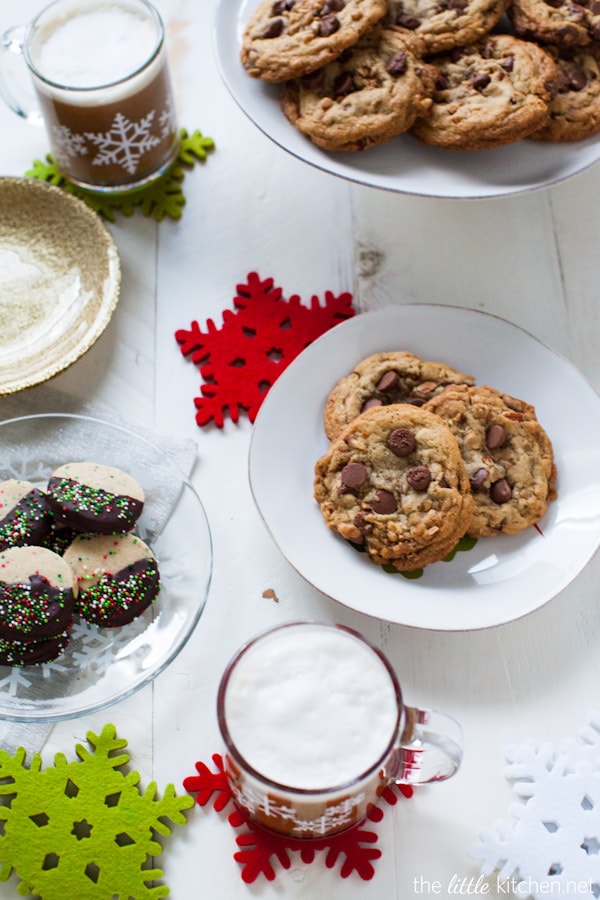 And for the holidays, because it's cold or in Florida, I say cooler :)…we have to have warm drinks. I'm obsessed with these snowflake mugs. I had to resist buying all of them off the store shelves! They have matching plates too!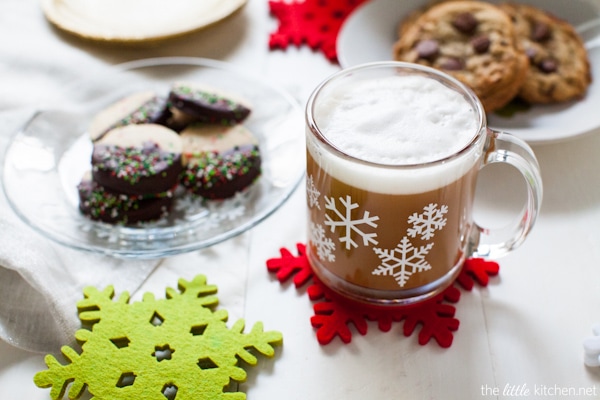 And seriously, I'm obsessed with these snowflake coasters. I'm trying to figure out how I can get away with using them year-round…what do you think?
I hope you found my entertaining tips useful! Do you have any to share? I would love to hear yours!
Disclosure: This post is sponsored by Crate and Barrel. Thanks for supporting the brands that support The Little Kitchen so that I can continue to share with you. I only share brands that I love and always share with you my honest opinions. There are affiliate links in this post.