12 days of giveaways: Day 2 – Harry & David Gift Basket (Closed)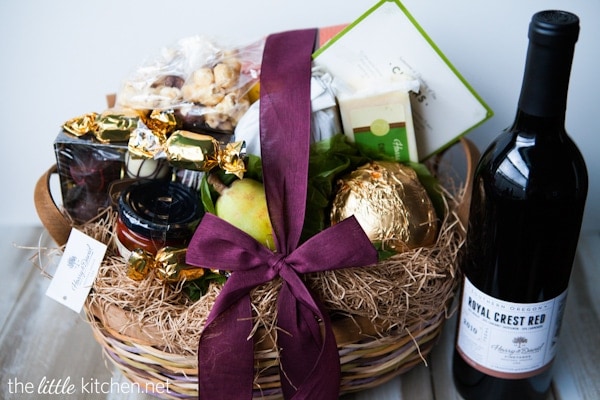 I'm so excited to share this wonderful giveaway with you from Harry & David. When they asked me if I wanted to review and give away one of their wonderful gifts…I jumped up and said yes! I think the first time I had a Royal Riviera Pear was when my Mom brought home a Harry & David basket she received as a gift from one of her friends. Here's what I have to say about their pears…once you have one, no other pear will ever measure up. They are sweet but not too sweet, light and airy and ever so soft.
Harry & David recently launched their own private label wine collection and I'm so excited to try it!! This gift basket includes a full size bottle of Royal Crest Red Cabernet Sauvignon. Crack open the crackers and the extra sharp cheddar and you have the perfect holiday cocktail and appetizer.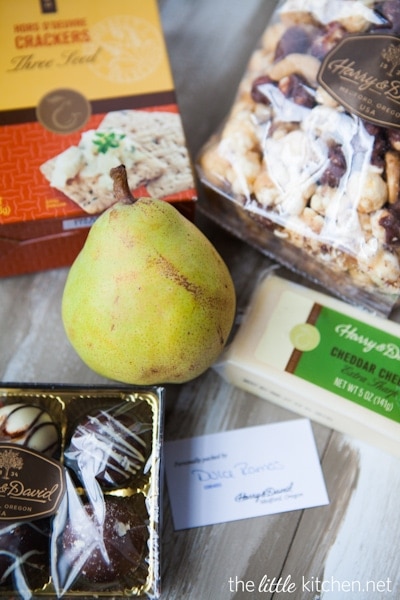 To me the Harry & David brand evokes quality and their quality sweets, treats and savory eats are amazing in this gift basket. It's the perfect holiday gift – well it's the kind of gift I would want! I love that they guarantee all of their products and will replace it or refund if you're not happy. I love that they stand behind their products and that in each gift or gift basket, there's a little card in it that tells you who packed the gift. It's an extra touch that didn't go unnoticed.
this giveaway includes:
Crater Lake Gift Basket Classic (wine not included)
6 Royal Riviera Pears
Milk Chocolate Moose Munch Popcorn (10 oz.)
White Extra-Sharp Cheddar Cheese (5 oz.)
Three Seed Crackers (4 oz.)
Classic Recipe Pepper and Onion Relish (2.45 oz.)
Chocolate Cherries (6 oz.)
Assorted Truffles (4 oz.)
3 Milk Chocolate Mini Mints (0.4 oz. each)
Total Retail Value: $70
Please use the form below (comments will not count toward entry into the giveaway). Good luck!
This giveaway has ended.
Congrats to Natalie S!
Check out our other open giveaways!
Disclosure: I received the same gift basket the winner will receive. I love sharing my favorites and my own opinions with you.