Next weekend, I'm turning 30. As can be expected, I'm not too excited about this milestone birthday. It's so different from turning 20. I know everyone else older than 40 reading this is rolling their eyes. I still have vivid memories of high school, middle school and even elementary school. I still remember what it's like to be a teenager and trying to fit in. So it seems weird to me that I'm turning 30 soon! I know I'll be fine because I'm so lucky to have such a wonderful husband and some really great friends.
Anyways, Friday morning I get this email from my friend and co-worker, Angela, inviting my husband and I over for dinner on Saturday night. They wanted to grill out. She talked about how her husband wanted to grill and how they were making chicken kebabs which sounded exciting to my husband. He is always wanting to have teriyaki kebabs and I'm never thrilled about this idea because I have not found a teriyaki marinade recipe or bottle that I am happy with.
Yes, I will get to the guacamole recipe soon. I asked Angela if I could bring anything but she said not to worry about it.
We had a busy Saturday morning/afternoon because we were meeting my former high school English teacher & yearbook advisor, Kim, her husband, Dave, my sister, Cathy, and her girlfriend, Camila at the zoo and we were going to go kayaking. It was a great trip to the zoo and we had a great lunch at the Suntree Family Restaurant. I love their gyros and their fries are to die for. All day, I kept thinking about making guacamole and chips to bring over to Angela's house. But I didn't say anything to Angela because I wanted to be sure I could get ripe avocados at the grocery store.
After the zoo, we spent some time with my sister and Camila at the World of Beer. The time went by really fast and I had to get to the grocery store. The day before, my husband suggested that we get the supplies to make mojitos and bring them over to Angela's as well. I had mojitos for the first time when we went to St. Augustine last year and they are my new favorite drink. I tried my hand at them and it came out really gross. I posted this on facebook and a friend, Gina, from middle school promptly responded offering to send me a recipe for mojitos courtesy of her bartender friend. I filed it away and dug it back out yesterday. Thanks, Gina! They turned out great and everyone who had one loved it. I'll definitely share the recipe soon in a later post.
I'm rushing to fry up the tortillas and make the guacamole and pack everything up to bring over to Angela's and I HAVE to stop and take pictures of them for this blog…hehe. Soooo, we end up being a half an hour late to Angela's. When we get there, the first thing I see what I thought was our mutual friend, Crystal's car. I told this to my husband. My husband later told me that he thought the surprise had been blown when my sister called his cell phone earlier while we were still at home. He thought I knew what was up and I was just humoring him. I'm sure telling him I think I see Crystal's car didn't make him feel any better about the situation.
We get to the door and I didn't even remember that Angela's husband, Fred, was the one who opened the door. What I saw was one empty table with a tablecloth on it that said 30 all over it and a tissue ball hanging from the ceiling fan. Angela says, oh we decorated a little bit. We round the corner and I see Crystal sitting at the dining table and all I can think about is, I should have brought the disks with the pictures I took at Crystal's baby shower! Then, in the kitchen, I start seeing more people and more people. There must have been at least 25 people in the kitchen. I don't remember if they yelled "Surprise!" or not. I just remember that I started crying because I was really surprised and genuinely touched. My sister says she took a video of my reaction, I'm scared to see it. I do remember apologizing for being late, I'm always late. I don't remember who but someone said this to me, you had no idea you were bringing food to your own party, huh? 🙂
Thank you so much to Angela for planning my surprise birthday party. Thanks to both you and Fred for hosting it at your house. You guys are such great friends and we are so happy that we have you in our lives and as such good friends. Thank you to everyone who came out and for the wonderful presents. I'm so lucky to have such great friends and co-workers and a wonderful sister who made the trip over for the party. I hope everyone had fun, I know I did!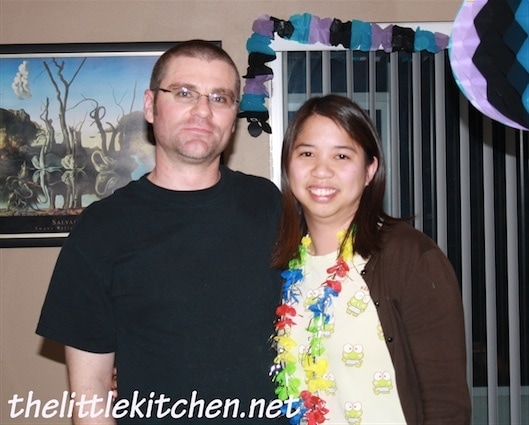 Sadly, I only got a couple of pictures on my camera. Thanks to Angela for taking this. Thank goodness, you can't really see how red my face got from the mojito I drank. Darn the picture didn't capture my blinking 30 pin. 🙂
Okay now onto the guacamole recipe. I have been making guacamole for years now and I never measure but I did a little measuring yesterday for this post.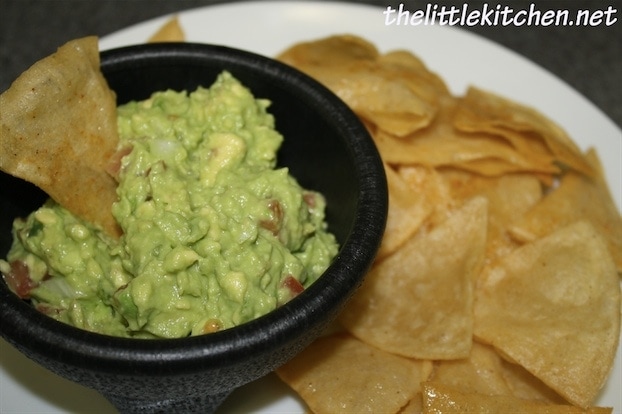 Recipe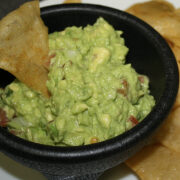 Print
Pin
Very Easy Guacamole & Fried Tortilla Chips
Ingredients
Very Easy Guacamole Recipe
2

avocados

,

peeled, rough chopped, reserve one avocado seed

1

small tomato

,

seeded, diced very small

3/4

small onion

,

peeled, diced very small

1/2

jalapeno pepper

,

remove ribs, reserve seeds, diced very small

1/2 to 3/4

lime

,

quartered

1/2

tsp

salt

,

more to taste
Fried Tortilla Chips
corn tortillas

,

cut in half then each half in thirds

vegetable oil for frying

seasoned salt

,

I used McCormick Season All - Seasoned Salt
Instructions
Guacamole
Place the chopped avocado in a medium sized bowl or plastic container. Squeeze lime over the avocado. I used 3/4 of a lime this time. Depending on your taste and the ripeness of the avocado, I may use less.

Using a fork, gently mix the avocado to even distribute the lime juice.. Then gently mash the avocados. Don't over mash as you want to leave chunks. Season with 1/2 tsp of salt. Taste and add more if needed.

Mix in tomatoes, onion and jalapeno peppers gently.

Taste and add a dash or more of salt if needed.

Place in a plastic container with lid with the reserved avocado seed and refrigerate for at least 15 minutes.

Serve with tortilla chips.
Fried Tortilla Chips
Heat oil in frying pan for 5-8 minutes on medium.

Place cut corn tortillas in pan in batches to cover oil in one layer. Fry on each side for about 60-90 seconds.

Place on plate with paper towels and immediately sprinkle with seasoned salt.

Repeat until finished.
Notes
Tips:
I cut up the tomatoes and onions really small. I don't really like raw onions but they are essential to guacamole and I dice them up really small about 1/4 inch pieces. But you can chop them whatever size you would like.
I cut up the tomatoes and onions really small. I don't really like raw onions but they are essential to guacamole and I dice them up really small about 1/4 inch pieces. But you can chop them whatever size you would like.
Guacamole usually isn't good the next day so it's best to not cut open the avocados and prepare the guacamole ahead of time, it needs to be done pretty close to when you're going to serve it. You can however, cut up the other ingredients a day ahead.
After the tortilla chips cool and if you have leftovers, you can store them for a couple of days in a zip plastic bag and enjoy them later. I like to eat them plain too.
I have made these tortilla chips many times before but I would use salt to season them. I just recently watched an episode of Private Chefs of Beverly Hills on the Food Network. One of the private chefs who was catering a dinner party for high school kids before a prom or homecoming dance and he made what he called crack chips. He fried up tortillas and instead of using salt, he used seasoned salt. I tried them and they definitely are addicting and the way to season fried tortilla chips.