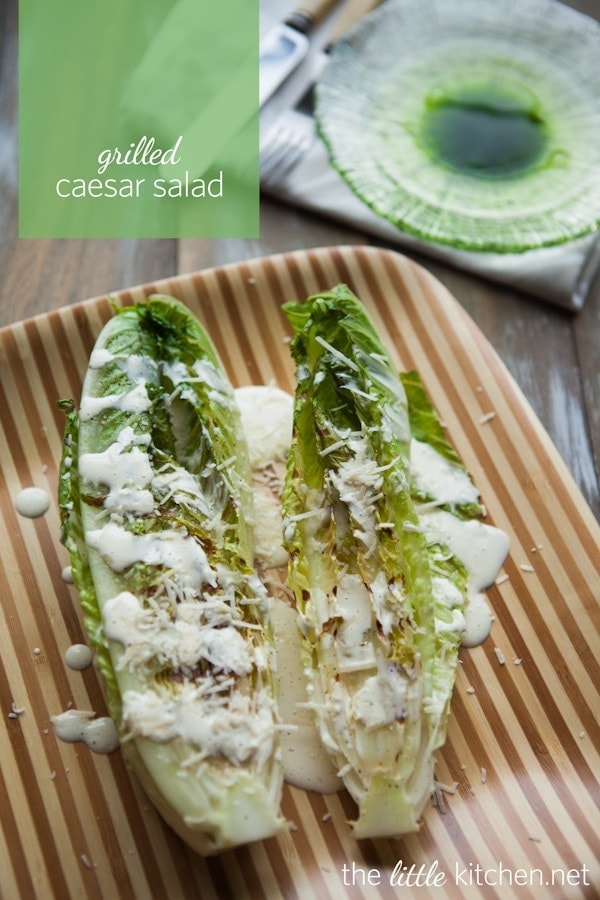 It's 4am on Monday morning and I'm still awake! Sooo yesterday I woke up and sat up and noticed a tingling sensation in my left arm and my neck was killing me. I actually told Curtis, I think I'm having a heart attack (okay I know I'm totally dramatic) and he just laughed at me. I told him something's wrong because I can't move my neck without it hurting. I tried going back to sleep and I woke up feeling way worse. It was time to go to the urgent care clinic. The whole time, Curtis thought I was being totally dramatic and I felt bad for him because he has been battling a cold.
Well, I wasn't too dramatic because the doctor said I pinched a nerve in my neck and he gave me some steroids and sent me on my way. Thank goodness I didn't wait because while it's still painful, it's a little bit better because of the meds (but I can't sleep because of them, go figure). Hot showers and heat compresses are helping too…which leads me to this salad, I'm so glad I photographed it on Friday, I'm not sure I could have tried to photograph it yesterday or today. Haha. Most embarrassing thing or dumb thing about this whole situation? I just moved or just got of bed and this started? The doctor and the nurses asked if I was injured or in a car accident…nope, I did nothing and I pinched a nerve. So Embarrassing.
Grilled salad – is it actually good? I love it. The lettuce is a little wilty but who cares, it tastes so good! I first tried grilled salad at my old company I used to work for. We used to do these Monday lunches, everyone was split into teams and the teams took turns cooking lunches for the rest of the group. It was really fun…I tried a lot of fun food and recipes from my co-workers back then. This was all before I had a food blog. I learned all about grilled salad from my old co-worker, Mike, his group made this a couple of times and it was so easy. They served it with grilled chicken even!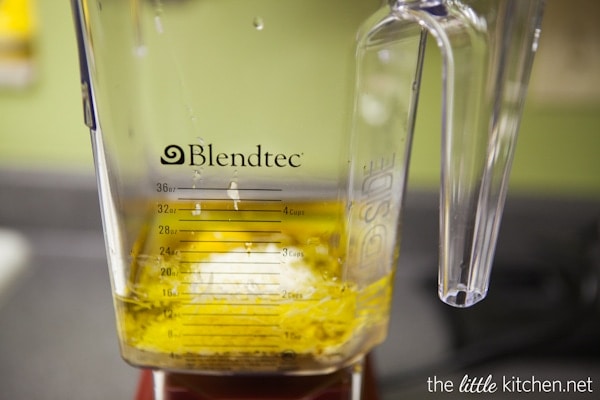 I recently received a Blendtec blender from the amazing folks at Blendtec and I was so excited. I have been making milkshakes, smoothies, drinks and this Caesar salad. It's so easy to use and clean up is so easy.
When I opened the box, Curtis actually made fun of how it looked and I just made a face at him. Who cares how it looks, if it works, it's all good. This is definitely my appliance and it has earned a place on my crowded kitchen counter. There are only three appliances that get to sit out on my counterspace at all times (because it's a little kitchen!) and this is one of them.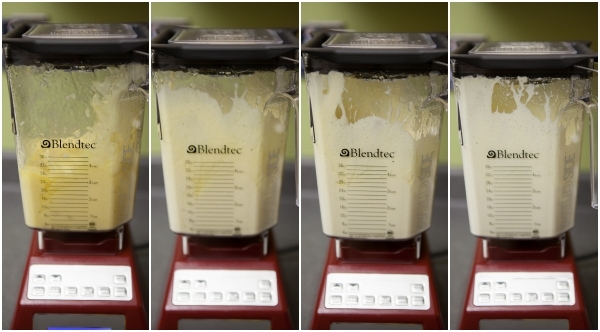 I love this blender and I highly recommend it. I love love how clean up is so easy, just add soap and water to the blender and blend.
I made the caesar dressing that's in Blendtec's cookbook that I received and it says it tastes even better the next day after sitting in the fridge overnight. I thought the dressing was tasty either way.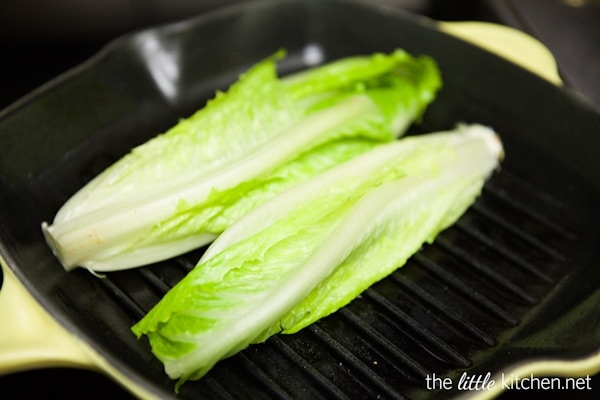 I grilled my salad on my favorite grill pan – to show you that you can do this inside even in the winter!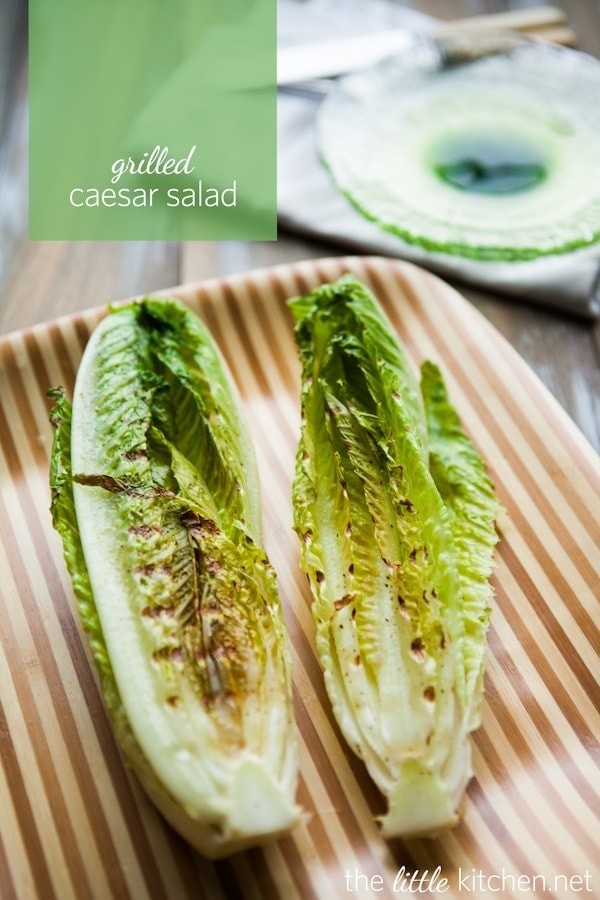 Here's the salad right after I grilled it and right before it got a hit of dressing and parmesan cheese!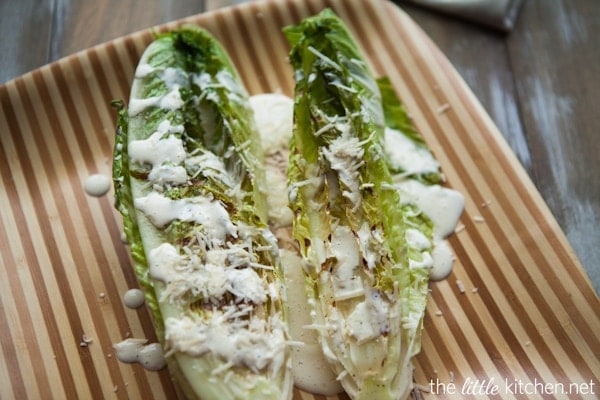 Is it okay to admit that I ate the entire salad all by myself? This is my new favorite caesar dressing and grilling salad even inside is so easy – this is going to become my go to quick lunch or the perfect side salad for a weeknight dinner even!
And PS look out for a giveaway, I'm giving one of these Blendtecs away!
Recipe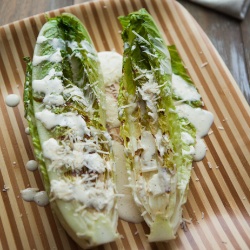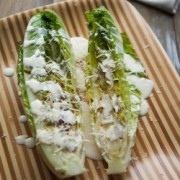 Print
Pin
Grilled Caesar Salad Recipe
I made the dressing for this salad with my Blendtec and let it sit in the fridge overnight. Putting together the salad just takes a few minutes when you make the dressing ahead of time! To grill the salad, use your gas grill outside or a grill pan inside. The salad just takes a few minutes to grill and serve immediately!
Servings
2
-3 / Dressing makes 2 cups
Ingredients
Caesar Dressing
1

cup

olive oil

1/4

cup

water

2

Tablespoons

white wine vinegar

1

teaspoon

Kosher salt

1

teaspoon

Worchestershire sauce

1

teaspoon

Dijon mustard

1/4

teaspoon

ground black pepper

1

large egg yolk

2

cloves

garlic

,

peeled

1/4

cup

Parmesan cheese

,

freshly grated

1

heart of romaine lettuce

,

rinsed and cut in half lengthwise

salt & pepper

olive oil

,

optional

Parmesan cheese

,

freshly grated
Instructions
Caesar Dressing
Add ingredients to Blendtec jar in order listed and secure lid. Select "Dressing" and serve. The dressing tastes best when you refrigerate it overnight in a sealed container - the ingredients are allowed to marry together.
How to Grill Salad
If using a gas grill, turn on the gas and turn the heat to high. Let the grill heat up for at least 10 minutes. If using a grill pan inside, heat grill pan on medium to medium high for 3 to 5 minutes.

Salt and pepper the insides of your romaine lettuce halves. Sprinkle olive oil on the halves, if you wish. Add to hot grill or grill pan and cook for about 1 to 3 minutes tops. Flip to grill the other side for 1 to 2 minutes and you're done. Serve immediately with caesar dressing and parmesan cheese on top.

*Store the dressing in the refrigerator for about a week. If serving as a side salad, one whole heart can serve up to 4 or 5 people. For an entire meal, it serves 1 to 2 people and try grilling some chicken (or use leftovers from my

chicken slow cooker

recipe) to serve with it too!

*If you're worried about the raw egg, be sure to use pasteurized eggs.
Notes
Caesar Dressing from Blendtec's Fresh Blends cookbook.
Disclosure: I received a Blendtec blender for the purpose of review. All opinions are always my own and I did include at least one affiliate link in this post.