Need I say more? You don't even know how excited I was when Casey from TasteStopping emailed me and told me I had won a gourmet s'mores kit from RegionalBest.com. You see, I really really wanted to go to CampBlogaway last month but it just didn't work out. BUT I got to enjoy the same s'mores that Casey served at CampBlogaway. A week ago, Casey asked me and some of the other winners if we would like to be a part of a S'mores Tasting Party. I said of course! I'm excited to be a part of the TasteStopping S'mores Tasting Party. At the end of this post, you'll see links to the other bloggers participating in the party.
I should have taken a picture of the box when it arrived before I opened the marshmallows and ate four of them! The gourmet s'mores kit included gourmet vanilla marshmallows from Kitchen Witch of Pennsylvania, Middlebury Maple Crackers from Castleton Crackers of Vermont and Artisan Chocolate Puddles from Grocer's Daughter Chocolates of Michigan. A complete kit to make amazing s'mores! Here's a picture of all of the ingredients below: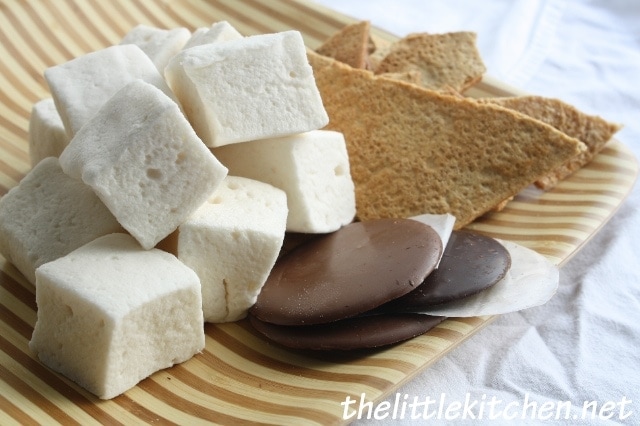 Now, can you see why I popped four of those marshmallows in my mouth immediately? They are so pillowy soft and yummy! I wish it was cold right now so I can pop one of those marshmallows in a cup of hot chocolate. Or I can just imagine how they would taste in homemade rice krispies treats.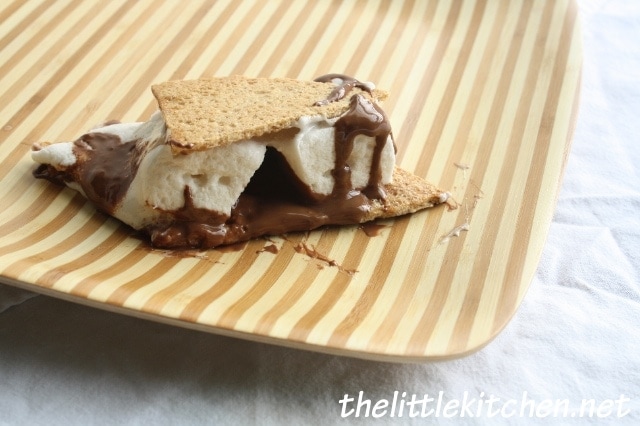 I learned from Casey that the marshmallows don't burn but toast nicely. I toasted mine on a metal skewer stick over my stove turned on medium high. I took one milk chocolate puddle and placed it on a cracker and placed it in the microwave for a total of 45 seconds (on high) in 15 second intervals.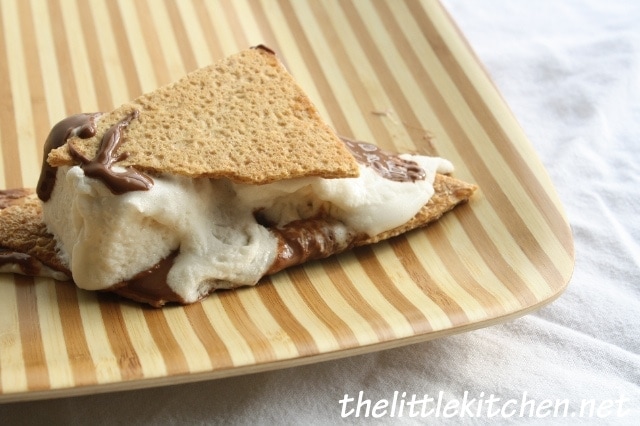 Here's the other side…alright I have to admit that I was licking my figures every time I had to arrange the s'mores for these pictures. LOL!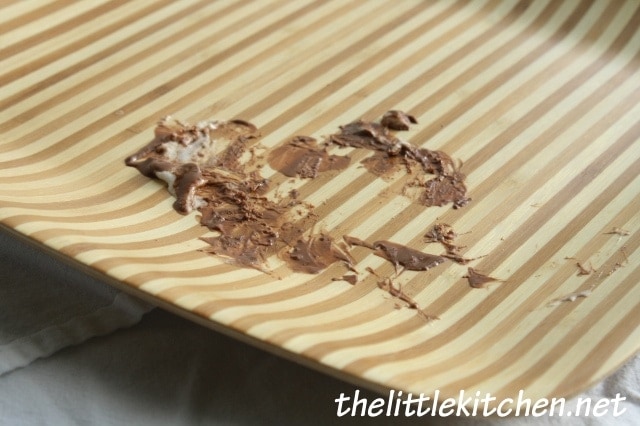 There's the plate after my gourmet s'mores taste test. Is that evidence that there used to be s'mores?
So here's my review, it was amazing. I love the sweet maple crackers, the soft pillowy marshmallows and the amazing chocolate! This is how I'll describe it, how am I ever going to go back to crackers out of a box, tearing open a bag of uniform sized marshmallows and unwrapping some chocolate when I have had gourmet s'mores??? I heard that RegionalBest.com may start carrying this gourmet s'mores kit instead of just as separate products. I think it would make a great gift if they do.
Alright, hope you enjoyed my post, I'm now going to enjoy some more. 🙂 Now, click below to see the other bloggers who have joined the party!



Disclosure: I won the s'mores kit from TasteStopping in a contest. I was asked if I wanted to participate in this S'mores Tasting Party and jumped at the chance! This post is not sponsored and the opinions are my own.